Striking sun, cozy environment and wavy water beaches are some of the most striking features of Goa which help you rejuvenate your soul and feel healthy and energetic. The blissful nature of Goa itself helps you to loosen up yourself while you are at the best beach location in India. Along with its admiring nature, Goa smartly steps ahead of other locations on account of several adventurous activities and water sports that enthral the tourists with fun and excitement. October to May is an ideal time to enjoy water sports in Goa with placid water and clear sky. Numerous water sport activities hosted in Goa include diving, catamaran sailing, jet skiing, parasailing, windsurfing and many more. These water sports in Goa make you feel more enthusiastic and energetic and provide you yet another reason to visit Goa again.
Adventure Water Sports In Goa
Below are some of the most admiring water sport activities to try while you are in Goa:
1. Parasailing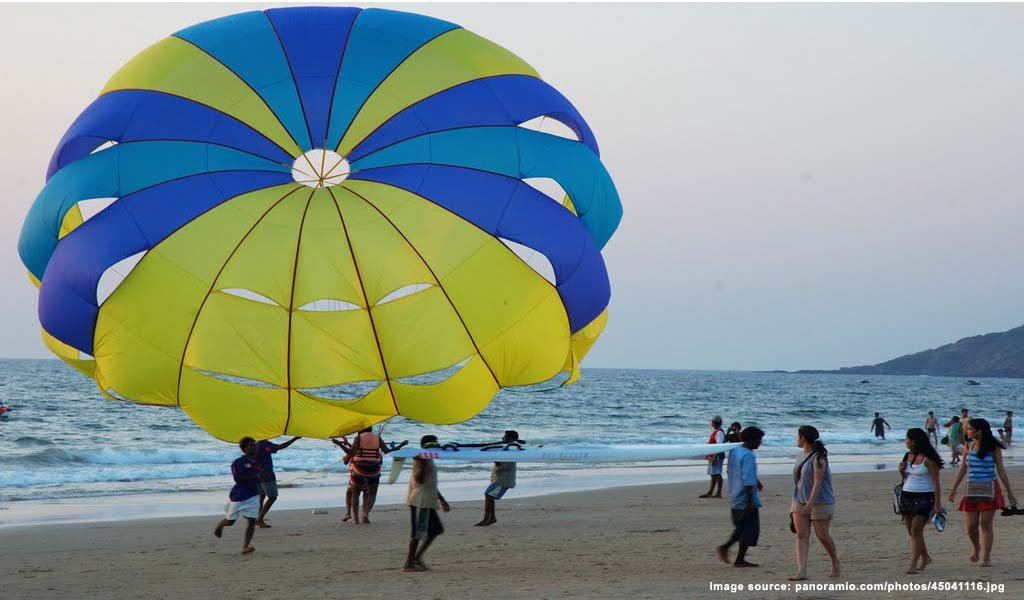 If you are looking for endless fun and love talking to air, Parasailing is the ultimate option at Goa. It is one of the most loved water sport activity for the adventure seekers.Parasailing is an activity where a parachute is attached with motorboat. It takes you high in the sky and provides you an opportunity to enjoy the enchanting looks of the birds, blue clear sky and the sandy landscapes around. Enjoy the breath taking experience!
Best Beaches That Offer Parasailing: Candolim Beach, Calangute Beach, Anjuna Beach, Baga Beach, Majorda Beach and Dona Paula Beach are some of the best beaches where you can enjoy parasailing along with finding the required gear.
Rates and Duration: Parasailing can cost anywhere in between Rs. 800- Rs. 1200 per person and it usually lasts for about 5-10 minutes. You can try and talk and ask for little more time.It is generally Rs. 800/-, but rates can shoot up in peak season.
Timings: From(9-00 am to 5.00 pm)
2. Water Skiing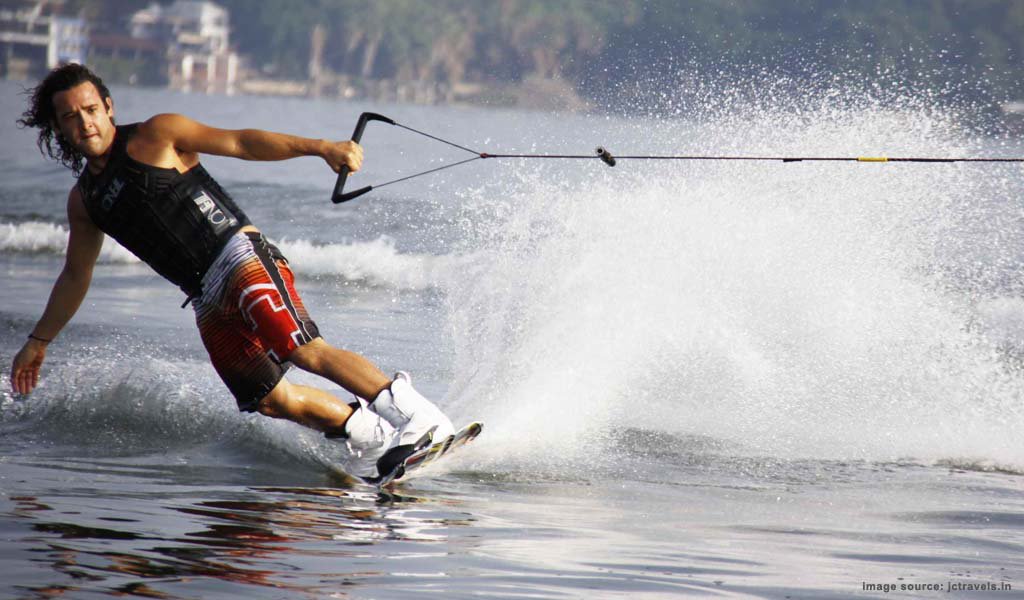 Water skiing is all about speeding in water with the help of speedboats. The speedboats run at a speed of 30-40 miles an hourand to experience water skiing you need to be a good swimmer. Water skiing is not advisable for non-swimmers and should also be avoided at times,when the waters are rough.
Water Skiing Gears:  Wetsuit, Water ski binding, water ski bag, water ski gloves and ropes are the essentials tools which are offered you at below mentioned beaches.
Best Beaches to Offer Water Skiing: Calangute Beach, Candolim Beach, Mobor Beach, Rajbagh Beach and Utorda Beach.
Rates and Duration:You will usually be charged Rs.500- Rs.1200 per person for a time duration of 5-10 minutes depending on the season you visit.
Timings: From (9.00 am to 3.00 pm)
3. Scuba Diving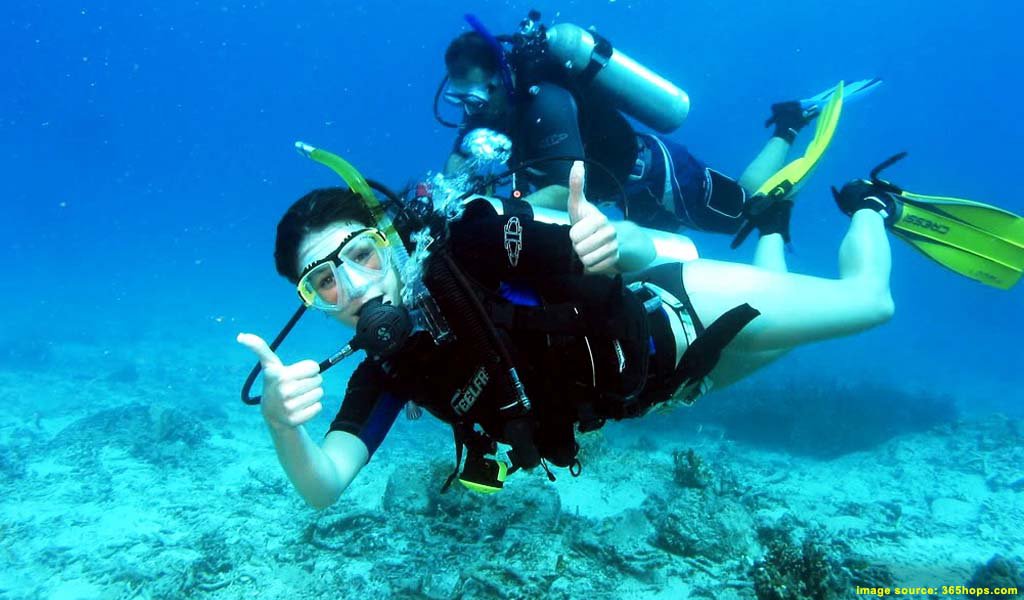 Scuba diving is all about going deep into the water to enjoy the lagoon beauty with attractive lobsters, wide ranges of colourful fishes and entire marine life. The distance you cover under water for scuba diving is almost five to ten meters. It is also advisable to dive with at least one partner for better convenience.
Scuba Diving Gears:  Wet suit, diving knife, underwater light and backup light, first- aid box, mask, fins and snorkel are all available at places offering you this activity.
Best Beaches to Offer Scuba Diving: Grande Island is one of the respected places for diving.
Rates and Duration: You will usually end up paying Rs. 1000 per person for a dive of about 30 minutes.
4. Wind Surfing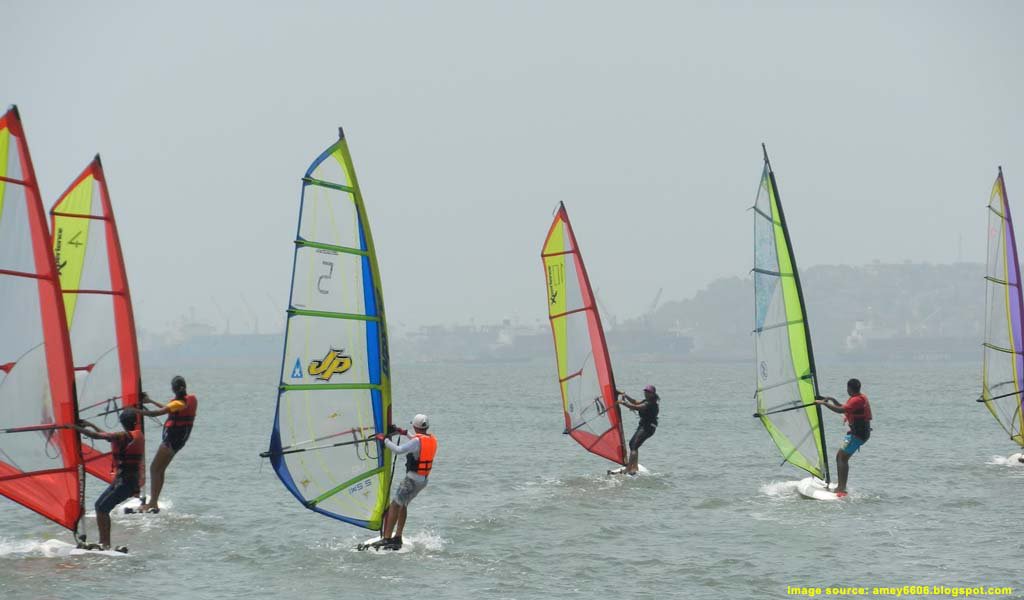 If you think of surfing and sailing together, it is nothing but wind surfing. Wind surfing is a challenging act for adventure lovers as they need to learn to balance themselves with the changing flow, of both water and air. Wind surfing is an art of balancing yourself in air and water and several training centres in Goa offer coaching and training for this activity.
Best Beaches to Offer Wind Surfing: Dona Paula Beach is one of the best beaches to enjoy wind surfing with the best atmosphere around. Along with this, Calangute, Colva, Palolem, Miramar, Baga and Bogmalo are some of the idyllic spots to enjoy wind surfing.
Rate and Duration: You are charged approx Rs 400-600 per person with the time limit of 1-2 hours.
Timings: From (9.00 am to 3.00pm)
5.Water Scooter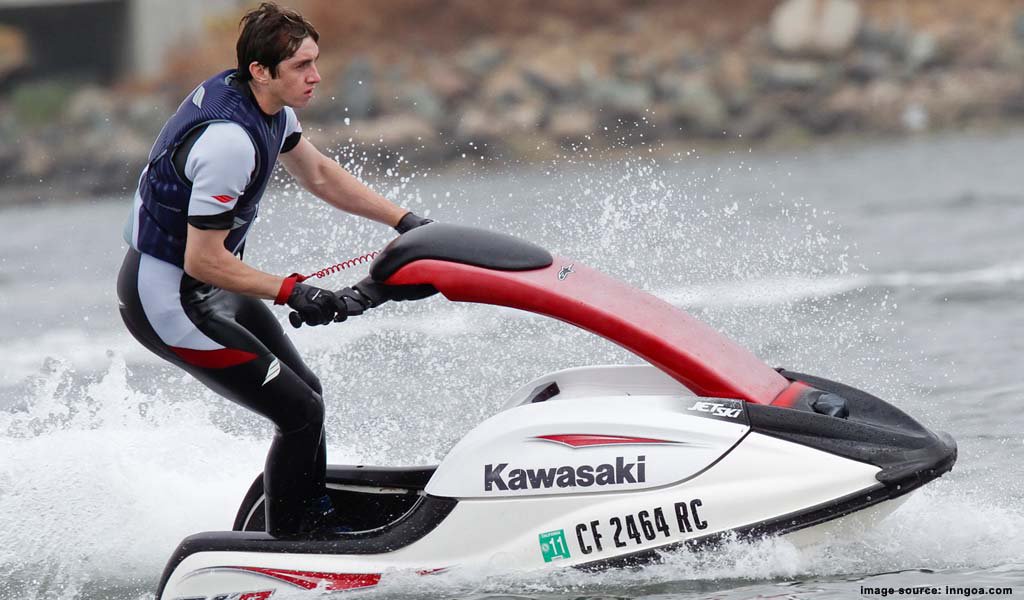 Water scooter is one of the latest activities that can be enjoyed by the tourists at Goa. Water scooter is like motor biking which can be enjoyed by two people or couples together while experiencing soothing sea water around.
Best Beaches to Offer Water Scooter: Dona Paula Beach, Candolim Beach and Majorda Beach are some of the few places that offer this latest activity.
Rate and Duration:  You are charged Rs 100 and for extra run you can pay more. The time duration for enjoying this ride is usually 10- 20 minutes.
Timing:  From (9.00 am to 3.00pm)
6. Banana Ride
Banana Ride is also one of the latest and exciting attractions in water sports in Goa. This ride helps you experiencing rolling and pitching over heaving sea waves with a banana shaped boat that can usually seat six people.
Best Beaches to Offer Banana Ride: Calangute Beach, Baga Beach, Palolem Beach, Miramar and Candolim Beach.
Rate and Duration: You are charged Rs 200 per person with the time duration of 15 minutes.
Timings: The best timing to enjoy banana ride is from October to May and from 9.00 am to 12.00 pm.