Udaipur Tour Packages are unique in more ways than one.Call it the white city, or the city of lakes, Udaipur never ceases to amaze you with its magic. The majestic history of Maharanas blends smoothly with the green and blue nature-hues. The serene picturesque locale makes the perfect setting for a fairy-tale tour. The rawness of the Aravalli range and the sizzling monuments amidst or adjacent to the soothing lakes complete the glorious existence of the romantic Udaipur City.
Udaipur Tour Packages : A Romantic Voyage
Udaipur was founded by Maharana Udai Singh II in the 15th century and from then on Udaipur continues to relive its magic as one of the best romantic destinations in India and the romance reflects in its boat rides on lakes, ancient bazaars, monuments, palaces and electrifying countryside.These are few of the things which make Udaipur Tour Packages the most sough after among the travel itineraries in Northern India.
We share with you here under few of the places and things that you must know before planning your Udaipur tour packages.
Udaipur Tour Packages : Lakes And Palaces Of Udaipur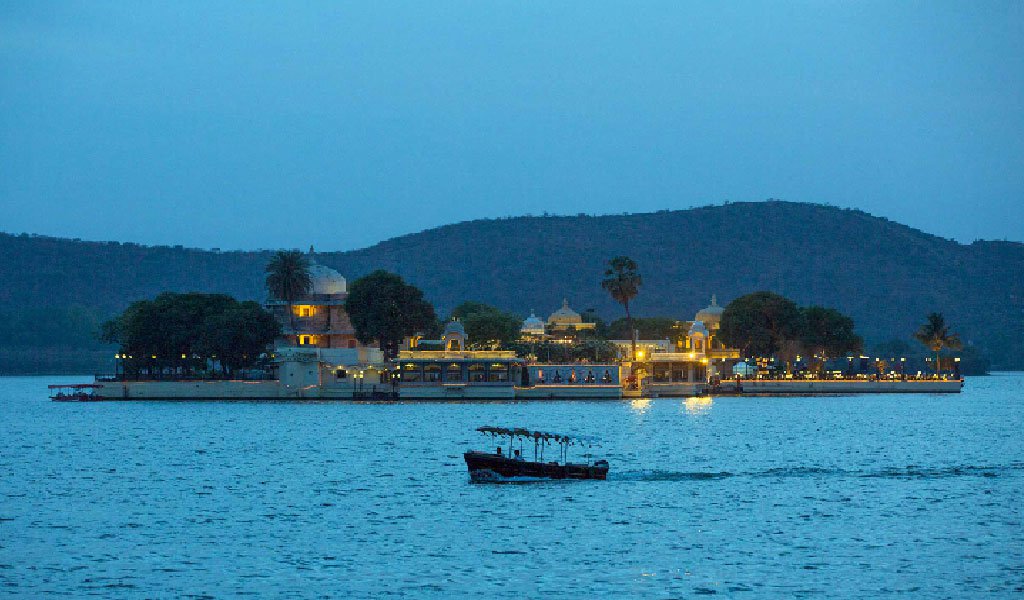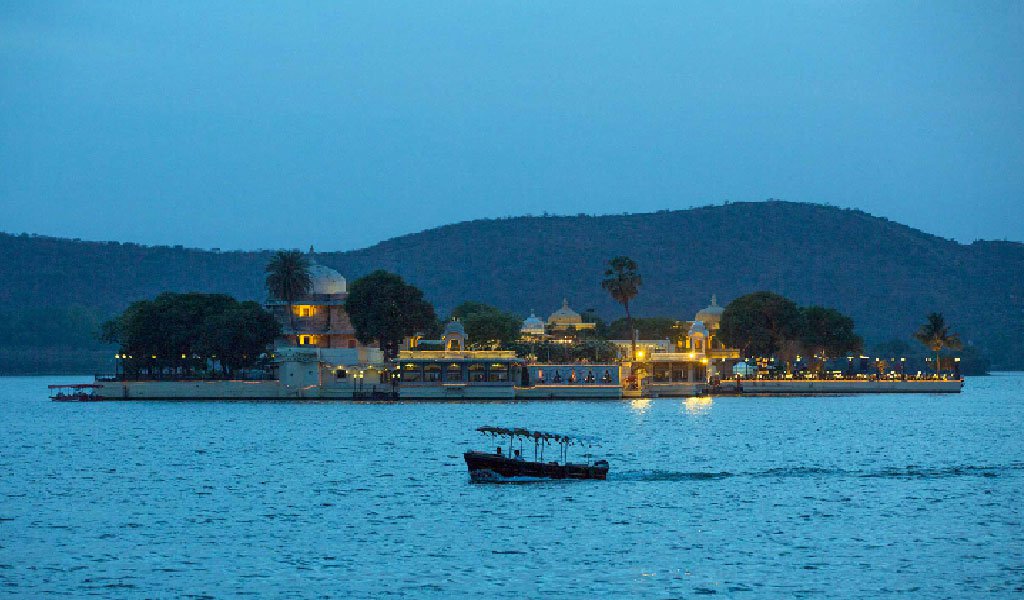 Image Of Jag Mandir Palace In Evening
On Udaipur romantic tour, you can truly feel that luxury meets leisure. Exclusive Udaipur tour packages give you the opportunity to witness country's royal history. The gracious Bagore-ki-Haveli on the edge of Gangaur Ghat area, the breath-taking art of the City Palace, the monsoon palace Sajjan Garh and its sanctuary, the crystal gallery at Fateh Prakash Palace, the magnificent Jag Mandir Palace amidst Lake Pichola, Lake Fateh Sagar, Machla Magra Hill are the gems in your  Udaipur tour package.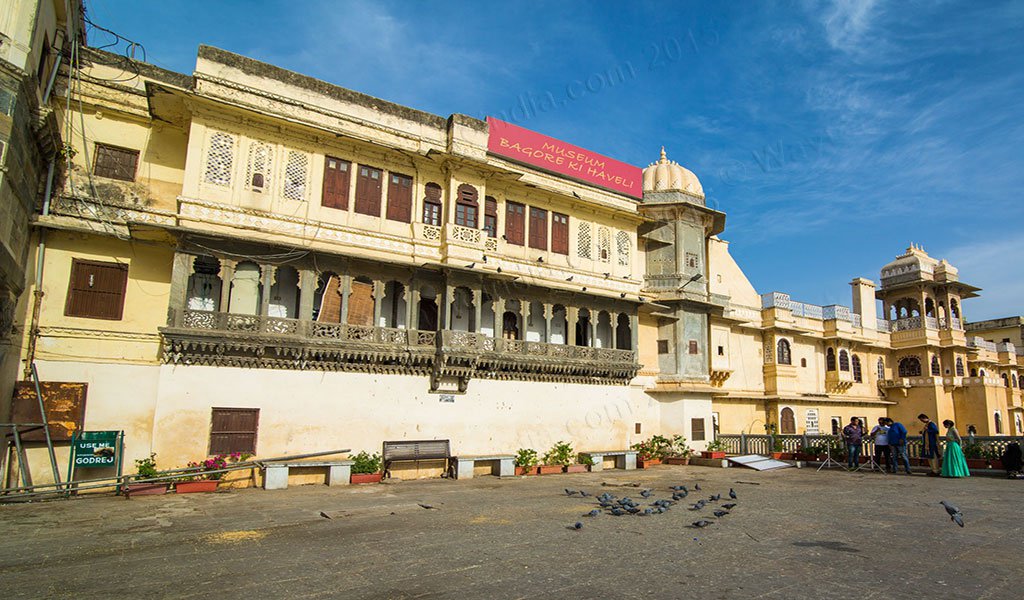 Image Of Bagore Ki Haveli (from Gangaur Ghat Side)
Each palace stands out in its characteristics and ancient stories. The lakes frame the spinal cord of this picturesque city. Most of the palaces are on the lakeside. Udaipur was featured in the 1983 James Bond movie Octopussy with all its palaces and lakes. An interesting thing that you would notice on your Udaipur Tour Package is that on the old city part almost all the hotels organize shows of Octopussy movie. So it is clear from the fact that even Hollywood couldn't ignore the passionate charm of the city of lakes.
Udaipur Tour Packages : Romantic Things To Do
Udaipur is popularly termed as honeymooners' paradise. Be it folk art and culture, or the light-and-sound show reliving the past or simply spending a calm and quiet evening in a lakeside cafe- the romantic getaways in Udaipur make it a perfect honeymoon spot.
Here is a list of romantic things to do on your Udaipur Honeymoon tour :
Witnessing Dharohar, Rajasthani folk dance show together.
Enjoying afternoon tea with snacks at the sunset terrace of Fateh Prakash Palace. A magnificent Udaipur city is visible from there.
Experiencing a boat ride in Lake Pichola to Jag Mandir Palace.
Enjoying Mewar light-and-sound show at Manek Chowk.
Going on an elephant safari or camel rides together.
Taking a private cycle tour.
Riding horses in the beautiful countryside of Badi village. The area is called Krishna Ranch; there are some attractive cottages too.
Paragliding with your partner (if you have a knack for danger sports).
Spending some time at the Monsoon Palace.
Visiting Shilpgram, the craft village to buy some beautiful artifacts.
Udaipur Tour Packages : Romantic Hotels in Udaipur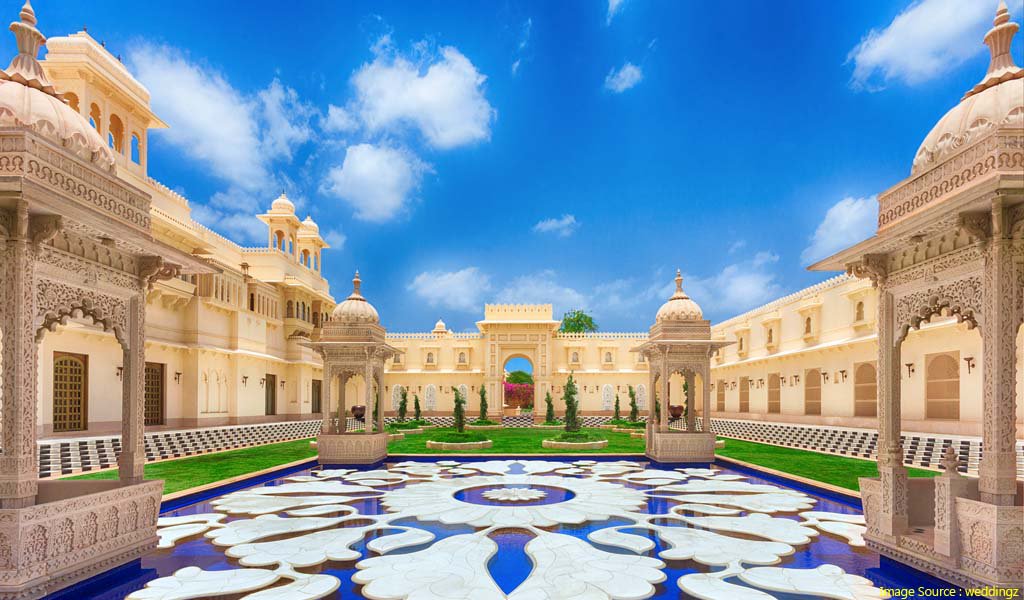 Whoever visits Udaipur, wants to stay close to lakes, near Lal Ghat or close to City Palace and Jagdish Temple. Many Havelis and palaces have turned to hotels in Udaipur, like any other tourist spots of Rajasthan. Some of these Havelis near lakes are the most romantic hotels in Udaipur. Some are really costly but there are really worth it. Budget hotels are there too. A glimpse at the comfortable ones:
Hotel Poonam Haveli: Being very conveniently located, this hotel offers traditional Haveli designs with picturesque views of Lake Pichola. The comfortable rooms have free Wi-Fi access.
Udai Kothi: The famous Kothi lies near to the bus station and railway station. This very modern and well-equipped hotel has exclusive traditional touches in the decor.
Karohi Haveli: This heritage hotel has an excellent location on Lake Pichola. The magnificent and traditionally decorated hotel offers boat rides and city tours too.
You can also try for some five-star lodgings like The Leela Palace, Trident Udaipur, and The Lalit Laxmi Vilas Palace etc.
Udaipur Tour Packages : Romantic Dining Places in Udaipur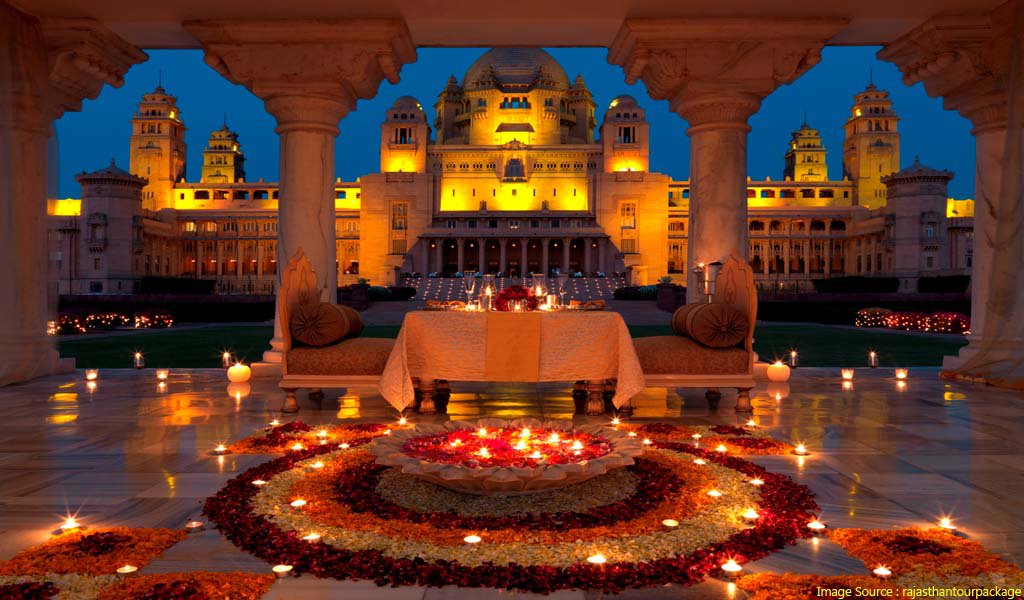 An exotic honeymoon sojourn can never be completed without some beautiful late evening eating outs or some happening brunches (breakfast and lunch). What else would you ask for when you have a chance to spend a shimmering evening in a rooftop restaurant with your beloved and with a platter of royal Rajasthani food?
Romantic Dining Options
Some marvelous romantic restaurants in Udaipur in the palace-like structures which ensure exotic dining include:
Ambrai: Situated in Amet Haveli, the restaurant is set at a lakeshore level and gives a magnificent view of Lal Ghat and City Palace. It is like a French park serving Rajasthani dishes (some non-veg options are there too). Mains INR 250-400.
Millets of Mewar: Healthy vegan restaurant where local millets are used as food grains. Visit for gluten-free dishes, salads, juices, herbal teas, multigrain sandwiches, millet pizzas, and chocolate pudding, millet cookies. Situated at Hanuman Ghat. Mains INR 80-140.
1559 AD: Situated in PP Singhal Marg, this theme restaurant is near the north-western side of Fateh Sagar. Embroidered silk-waistcoat clad waiters serve great coffee and awesome Indian, Thai and continental dishes. Mains INR 200-650.
Udai Kothi: This terrace restaurant of Udai Kothi hotel gives a romantic dining around the rooftop pool. In winter, there are live Indian classical music concerts in the evenings. Mains INR 125-250.
Udaipur Tour Packages : For Lovers Of Art and Culture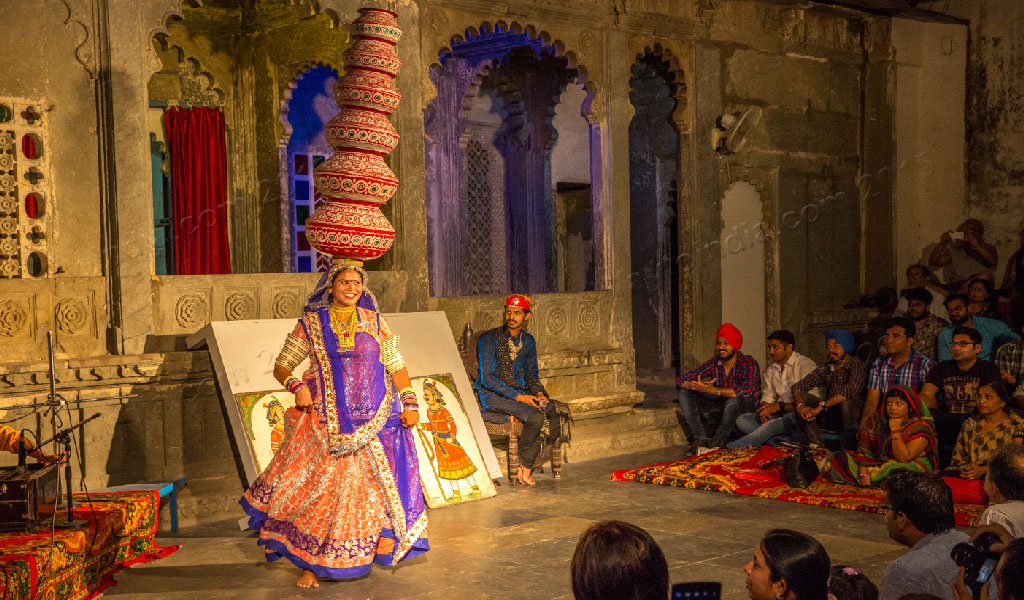 Dharohar, a cultural programme at Bagore ki Haveli, Udaipur
Want to make your special days more special while on a honeymoon tour to Udaipur? There are more options to choose from. If you are in love with the art, culture and history then you are going to spend a holiday of the lifetime with your partner at Udaipur. In addition to that, you would get a chance to rejuvenate your soul with fantastic food, drink and spa services.
Some Quick Travel Tips
Have some cakes and coffee in the Jheel Palace Guest House's Ginger Coffee Bar.
Have a glass of muesli mix or juice mix at Bright-Red Paps Juice.
Panera Bar would amaze you with royal treatments with huge mirrors, royal portraits, and beautiful paintwork.
You can't afford to miss Dharohar at Bagore-ki-Haveli, Mewar light-and-sound show and live classical music in the evenings in most of the haveli cum restaurants.
The city of lakes often called as 'Venice of the East'. This former princely state of Mewar is elegantly placed in the middle of Lake Pichola which makes it get another name i.e. the 'Jewel of Mewar'. The city of Udaipur attracts honeymooners from worldwide and offers the best romantic holidays in India.
Let the travel experts at WaytoIndia.com serve you with the best itinerary customised for an exotic honeymoon tips for Udaipur. You can also have a look at the Udaipur and Mount Abu Tour Package and ask us for the required tour personalisation, be it for group tours or a budget trip.
You may also refer to our  Udaipur City Tour Package and send us a query on info@waytoindia.com.