Radha & Krishna…Sita & Ram…the epitome of eternal love and unfathomed devotion! Prem Mandir Vrindavan is an ode to their celestial love, reflecting unprecedented beauty and marvel. The palatial white marble temple is tucked amid a sprawling 54 acres of land, located on the outskirts of Vrindavan in the Mathura district of Uttar Pradesh.
Prem Mandir Vrindavan
WaytoIndia takes you onto a memorable sojourn of the temple of divine love and splendid beauty. Embark on our Agra Mathura Vrindavan Tour and experience the marvels of Prem Mandir Vrindavan like never before.
This blog will enrich you with valuable insights that include:
An Overview of Prem Mandir Vrindavan
History Of Prem Mandir
Design and Architecture of Prem Mandir Vrindavan
Major Festivals At Prem Mandir
Best Time to Visit Prem Mandir Vrindavan
Prem Mandir Vrindavan Timing
Things to See At Prem Mandir Vrindavan
How to Visit Prem Mandir Of Vrindavan
Hotels Near Prem Mandir Vrindavan
Overview Of Prem Mandir Vrindavan
The temple of God's Love was built by the fifth Jagadguru, Kripalu Maharaj, in the year 2012. It is dedicated to Lord Krishna and shapes around his raas leela and his divine love for Radha. Exquisite statuettes and paintings of Shri Krishna and his devotees depicting major events surrounding His life cover the main temple. The temple is a true delight for Lord Krishna's followers, exhibiting supreme power and devotion. The magnificent abode of love is a must visit on your tour to Vrindavan.
History Of Prem Mandir
The history of Mathura Vrindavan Prem Mandir dates back to 14 January 2001 when the fifth Rasik saint Jagadguru Shri Kripalu Ji Maharaj laid the foundation stone. The temple was opened for the devotees on 17 February 2012. The presiding deities of the shrine are Shri Radha Govind and Shri Sita Ram. Shri Kripalu Ji Maharaj's ashram was in Vrindavan and he dedicated this spectacular gift of love to Shri Vrindavan Dham. The temple reflects the unique history of Santana dharma.
Design & Architecture Of Prem Mandir Vrindavan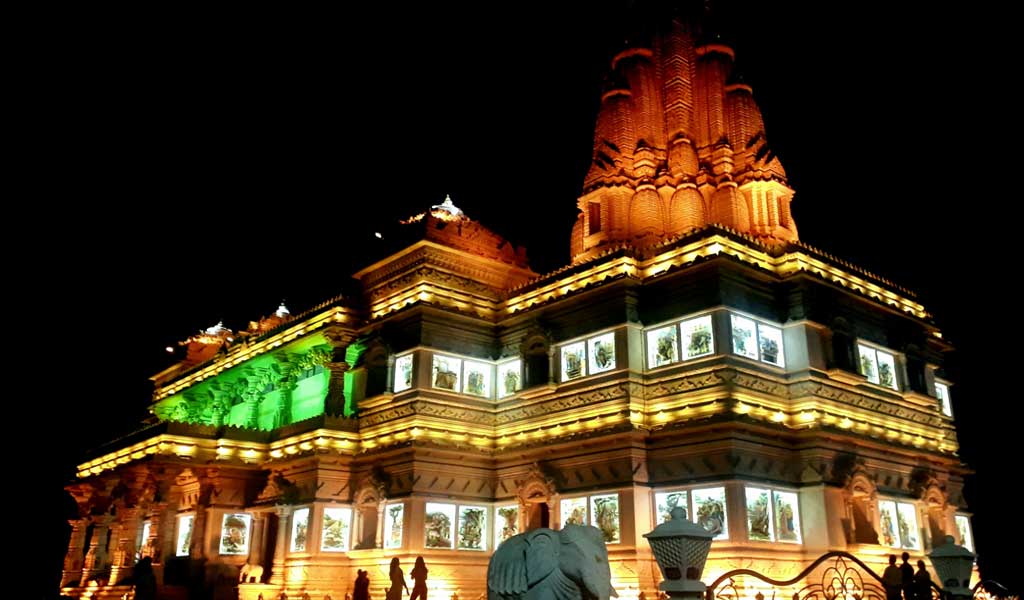 Prem Mandir Vrindavan Photos: Prem Mandir Vrindavan At Night
Vrindavan ka Prem Mandir is a renaissance in India's ancient art and architecture. The monument stands proud with its mind-boggling 125 feet height, 115 feet width and 122 feet length. It is entirely built of Italian white marble, with intricate carvings that enhance its architectural beauty. The Mandir prangan features a circumambulation route that allows the visitors to have a spectacular view of the 48 panels that depict the life and love of Shri Radha Krishna. These are beautifully engraved on the outer walls of the Prem Mandir Mathura Vrindavan.
The walls of this stunning shrine are 3.25 ft. thick and built of solid Italian marble. The garbha-griha has massive walls with a thickness of 8 ft. that bears the load of the swarna kalash, the shikhar and the flag. The exterior of the temple displays 84 panels, showcasing the pastimes of Lord Krishna as depicted on Shirmad Bhagvat Geeta. A dome-shaped, pillar-less satsang hall of 73,000 square feet is built next to the temple, which can accommodate 25,000 devotees at a time.
Major Festivals Celebrated At Prem Mandir Vrindavan
Janmashtami – Krishna Janmashtami is celebrated every year at Mathura Vrindavan Prem Mandir with immense zeal and fervour. The festival celebrates the birth of Shri Krishna and typically falls during the months of August or September. Devotees from around the world visit the temple during this time to witness the amazing views of jhankis that depicts Lord Krishna's childhood miracles. The evening mangalarti is an experience of a lifetime, while the temple adorns beautifully in colourful lights and decor.
Radhashtami – Radhashtami, or the celebration of the birth anniversary of Radha, is also one of the major festivals commemorated at Vrindavan ka Prem Mandir. According to Hindu mythology, Radha emerged from a lotus on this auspicious day as the lover-consort of Shri Krishna. On Radhashtami, the statuettes of Radha and Krishna are dressed traditionally in flowers, and devotees may get a Darshan of Radha's holy feet. Devotional songs praising the divine couple and prasadam are the key highlights of the festival celebrated here.
Jagadguruttam Diwas Mahotsav – The festival commemorates the auspicious event when Shri Kripalu Ji Maharaj was endowed with the title of Jagadguruttam or the best of all Jagadgurus preceding Him in history. It is celebrated every year in the month of January, when satsangis from around the world visit Prem Mandir Mathura Vrindavan to pay homage to the saint.
Holi – Holi is another major festival celebrated at Prem Mandir every year. The mind-boggling light & sounds, vibrant hues and beautiful jhankis depicting Krishna's raas leela are the key highlights of this festival.
Best Time to Visit Prem Mandir Vrindavan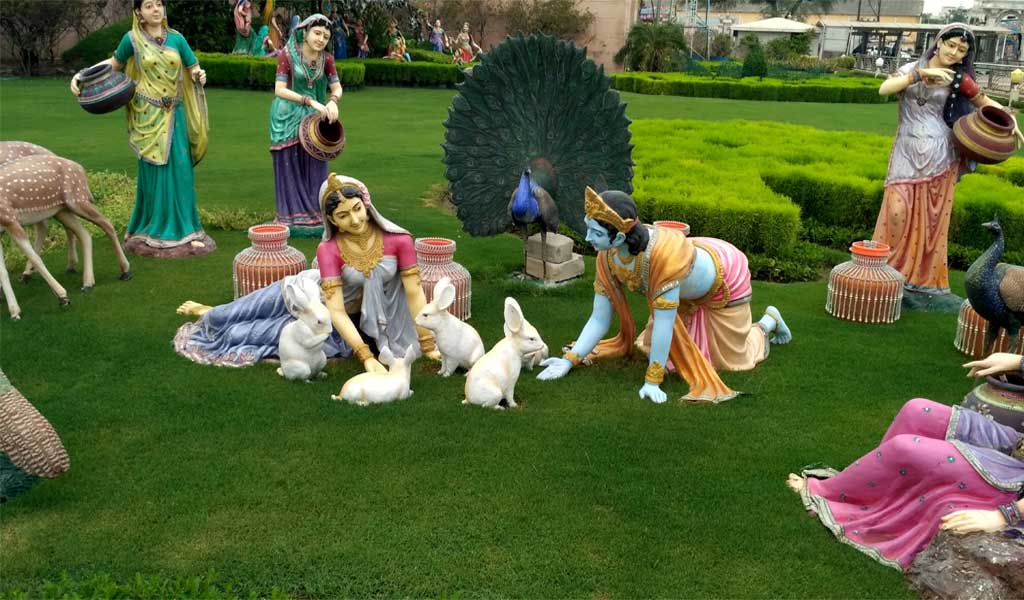 Prem Mandir Vrindavan Image : Krishna with Radha & Gopis
The best time to visit Prem Mandir is between the months of September and March. The weather is quite pleasant at this time and the temple hosts some of the major festivals such as Janmashtami and Holi during this time.
Prem Mandir Vrindavan Timing
The temple is open on Monday – Sunday from 5.30 a.m. to 8.30 p.m. The temple schedule is mentioned herewith:
Morning:
5.30 a.m. – Temple opens; aarti & parikrama
6.30 a.m. – Bhog presented to the deities
8.30 a.m. – Darshan & aarti
11.30 a.m. – Bhog
12.00 p.m. – Shayan aarti and temple door closes
Evening
4.30 p.m. – Aarti and Darshan begins
5.30 p.m. – Bhog
8.00 p.m. – Shayan aarti
8.15 p.m. – Shayan Darshan
8.30 p.m. – Door closes
Prem Mandir Vrindavan Video
(Video Source: Youtube.com (Image Mathura Channel))
Things to See at Prem Mandir, Vrindavan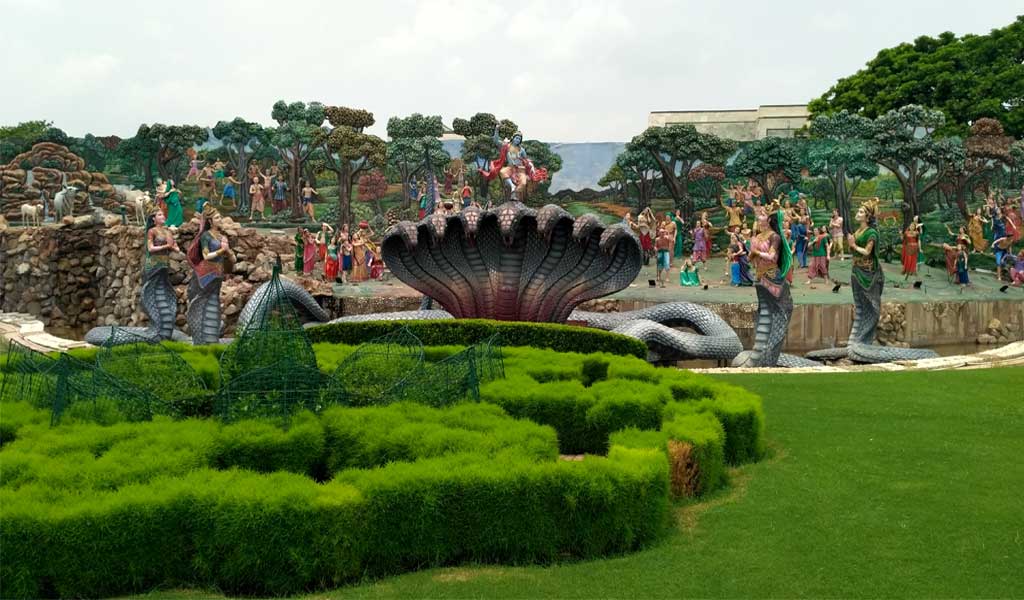 Prem Mandir Vrindavan Image : Kalia Naag Leela
The fascinating Mathura Vrindavan Prem Mandir is a sheer treat for the eyes. Spread across 54 acres of land, there are numerous things to see and experience at this temple.
The temple's architecture that reflects a blend of Gujrati, Rajasthani and Somnath art is itself a true delight. It is built of white Italian marble that looks stunning, especially in the evening when it is adorned with colourful lights.
There are several icons and portraits inside the temple that depict the miracles of Shri Krishna. These include Govardhan Parvat Leela and Kaliya Naag Leela among the most attractive ones. On the exterior of the temple, there are 84 panels highlighting the pastimes of Lord Krishna and Radha.
The musical fountain is one of the major attractions of Vrindavan ka Prem Mandir. The wonderful light & music show is held every evening from 7.00 p.m. to 7.30 p.m. Hundreds of devotees visit the temple to witness the vivid sights of the colourful fountain, with the water dancing and twisting to the kirtans that are sung praising the Almighty.
The temple also has a beautifully landscaped garden that is a key attraction among the visitors.
How to Reach Prem Mandir Vrindavan

Prem Mandir Vrindavan Image : Outer Facade Of Beautiful Temple
The Prem Mandir is located in the holy city of Vrindavan, in Mathura district of Uttar Pradesh. It is well-connected to other cities in India via air and railways.
Air: There is no airport in Vrindavan. The nearest airport is Pandit Deen Dayal Upadhyay Airport in Agra, Uttar Pradesh. One can take a flight till Agra and then hire a private taxi to reach Prem Mandir, which is 81.4 km from the airport via NH 19/NH 44. One can also take a flight till Kheria Airport (78.2 km) in Agra and then reach Prem Mandir via taxi.
Rail: There are two major railheads near Vrindavan, with trains plying regularly from different parts of Uttar Pradesh and other cities. Board a train till Mathura Cantt. or Mathura Junction, and then take a bus, taxi or auto rickshaw to reach Prem Mandir, which is 10 km from the station.
Road: Vrindavan is not well-connected via roadways. The nearest bus stand is in Mathura, 10 km away from the city. One can take a bus till Mathura bus stand and then hire a taxi or auto rickshaw to visit Vrindavan ka Prem Mandir.
Hotels In Vrindavan Near Prem Mandir
Wondering whether there are good places to stay near Prem Mandir Mathura Vrindavan? Of course, there are. From 3-star luxury hotels to budget accommodation, the choices are ample. Some good hotels near Prem Mandir are:
Treebo YashoGopal Resortico (Rs. 5500/- onwards)
Hotel Krishnam Vrindavan (Rs. 4000/- onwards)
Kridha Residency – A Boutique Hotel (Rs. 3500/- onwards)
Kadamb Resort Spiritual Stay (Rs. 2700/- onwards)
OYO 12493 Hotel Taaz Comfort Inn (Rs. 1400/- onwards)
MVT Guesthouse & Restaurant (Rs. 1300/- onwards)
Best Places to Eat Near Prem Mandir Vrindavan
There is a cafeteria inside the temple premises that serves 100% vegetarian food. If you want to relish upon Vrindavan's delicious treats such as Hing ki Kachori, Pede, Kachori-Sabzi, Chana-Bhatura, Rabri, Kalakand or Balushai, some of the top places to eat are MVT Restaurant, Anandam Food Circle, Ammaji's Restaurant and New Govinda.
Important Tips
WaytoIndia aims at making every journey an enriching experience for you. To ensure a hassle-free and memorable tour of Prem Mandir Mathura Vrindavan, we provide you some valuable tips here:
The temple provides wheelchair service for the physically challenged and elderly visitors
Photography, smoking and alcohol consumption is strictly prohibited inside the temple premises
If you want to take back prasadam from the temple, peda sweets are available for Rs. 100 per packet
Mathura and Vrindavan remains heavily flocked by devotees during Janmashtami and Holi. Make sure you book your flight or train and hotel well in advance if you plan to visit during this time of the year
Though crime rate is minimal in Vrindavan, avoid getting out alone during the night. Take care of your belongings
A visit to Prem Mandir Mathura Vrindavan is worth cherishing for a lifetime. The ornately decorated temple is mesmerising and exudes the message of divine love. Visit the marvellous Vrindavan ka Prem Mandir with WaytoIndia and create memories that you will treasure forever.