Much in sync with the permanent abode of Lord Shiva at Mount Kailash, Kedarnath Jyotirlinga occupies the high reach of Himalayas, surrounded by extraordinary natural grandeur of gigantic glaciers, towering peaks, lush green pastures and gushing rivers. It is the highest of all 12 Jyotirlingas and is accessible by a trek of about 16 km. Kedarnath Temple opens only for 6 months and remains closed during winters due to heavy snowfall.
Kedarnath Jyotirlinga –Shiva's High-altitude Abode in Himalayas
Kedarnath Jyotirlinga in Mythology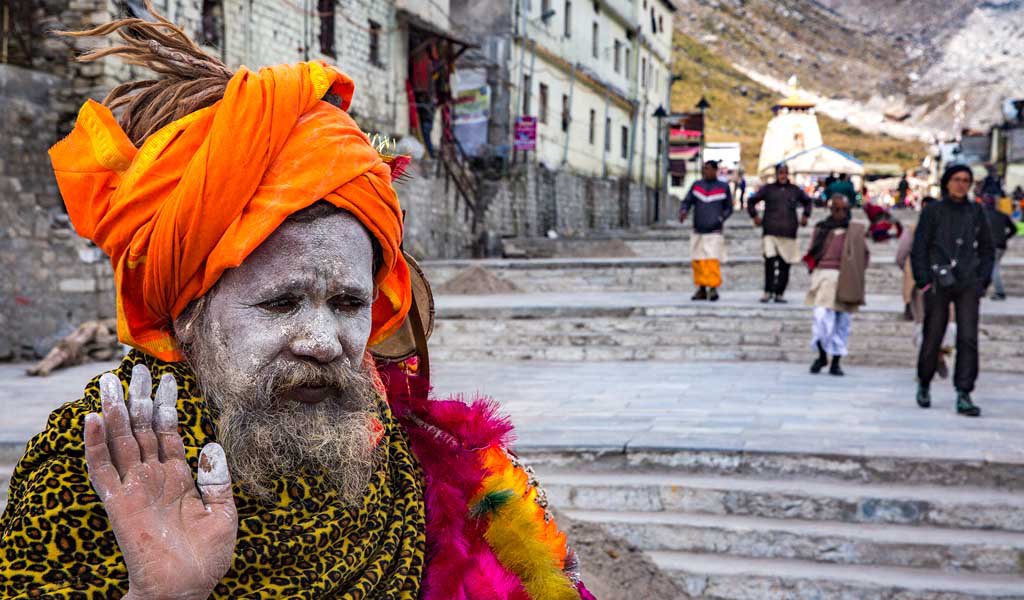 Among the many legends associated with Kedarnath Jyotirlinga, here are the two most frequently mentioned in religious scriptures:
It is believed that Lord Vishnu's twin-brothers incarnation Nara-Narayana performed tough penance to please Lord Shiva. When Shiva appeared before them, they requested the lord to establish himself in the region till eternity. Lord Shiva granted their wish and appeared here in the form of a Jyotirlinga.
The second legend is associated with Pandavas who were distressed after the bloodbath of the Battle of Kurukshetra in which they had to unwillingly kill their kin, elders, gurus and Brahmins. To seek absolution for their sins from Lord Shiva, they went to Kashi (Varanasi), but Shiva denied meeting them and hid at Guptkashi (near Kedarnath) disguised as a bull. Pandavas followed him to Guptkashi and seeing them, Shiva eloped inside the ground, leaving his tail exposed. The mighty Pandava Bhima tried to pull Shiva with his tail and in the process, Shiva's different body portions appeared at 5 different places (collectively called Panch Kedar). It was at Kedarnath that his hump appeared and was established permanently in the form of a Jyotirlinga.
The Kapat of Shri Kedarnath Dham will Open on : 17-May-2021 to October-2021.
Kedarnath Jyotirlinga in History
The original Kedarnath temple was built by Pandavas, though there are no historical records available for it. Skanda Purana, one of the many Hindu religious texts, that was discovered in the 8th century refers to a place Kedar where Lord Shiva held the violent flow of Ganga in his matted locks while the goddess descended on Earth in the river form.
The present day Kedarnath temple finds its earliest mention in the 7th-8th century records. It is also believed that the eminent Hindu philosopher Adi Shankara was among the first ones to visit Kedarnath Jyotirlinga in the 8th century. After building the Kedarnath temple and staying here briefly, he is believed to have attained moksha here.
Some historical records mention that King Bhoj of Malwa in Madhya Pradesh built the Kedarnath temple in the 11th century. Kedarnath gained prominence as a pilgrimage by the 12th century. However, it is believed that the temple was buried under snow for 400 years during the Little Ice Age (1300-1900).
It was in the 20th century that Kedarnath came into attention of millions of devotees and became one of the four Char Dham Yatra destinations (the other three being Badrinath, Gangotri and Yamunotri) in Uttarakhand. The temple miraculously escaped damage caused by the devastating flash floods of 2013.
Kedarnath Jyotirlinga Location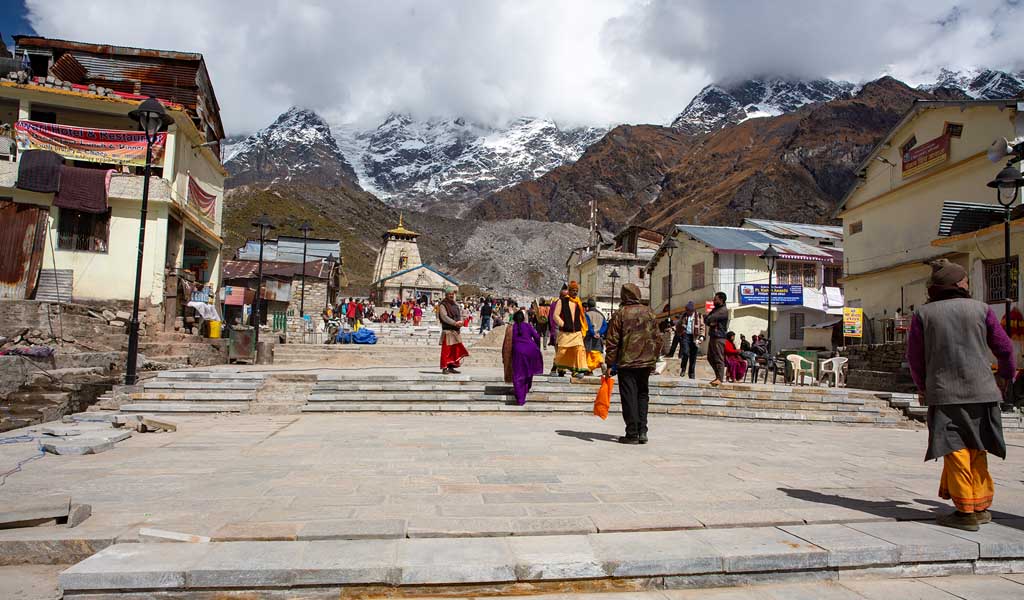 At the height of about 3,583 m., Kedarnath Jyotirlinga is located near the bank of River Mandakini in the Rudraprayag District of the state of Uttarakhand (Uttaranchal). The temple lies in the Garhwal Himalayas and can be accessed by trekking which starts from Gaurikund. Here are some road distances between Gaurikund and important cities and towns like:
Rishikesh: 211 km.
Haridwar: 231 km.
Dehradun: 252 km.
Delhi: 470 km.
Chandigarh: 434 km.
Shimla: 478 km.
Jaipur: 742 km.
How to Reach Kedarnath Jyotirlinga?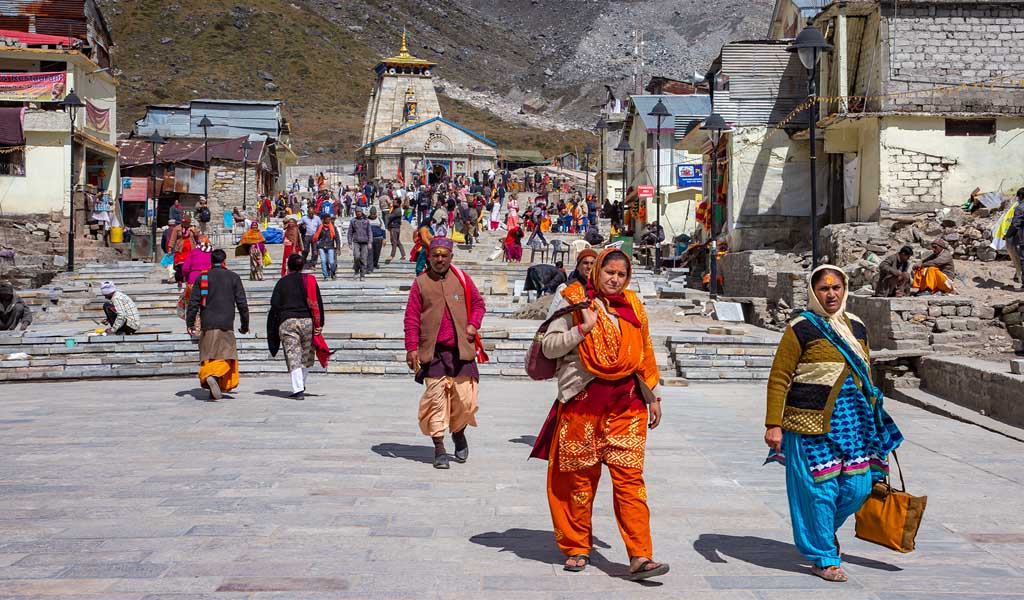 By Air: Jolly Grant Airport of Dehradun (226 km.) is the closest one to Gaurikund. It has good connectivity with the cities like Delhi, Bangalore, Mumbai, Hyderabad, Jammu and Chandigarh. From the airport, you can easily hire a taxi to reach Gaurikund by road.
By Rail: The closest railway stations are at Rishikesh (208 km.), Haridwar (232 km.) and Dehradun (251 km.), each well-connected by regular trains with Delhi, Mumbai, Ahmedabad, Lucknow, Kolkata and other top cities across India. From each of these railway stations, direct taxis to reach Gaurikund are easy to hire.
By Road: Buses are available from Delhi to Haridwar and Rishikesh and then further to Guptkashi (about 30 km. from Gaurikund). From Guptkashi, shared jeeps re available till Gaurikund. Alternatively, you can book taxis directly to Gaurikund from any of the cities.
By Helicopter: It is also possible to reach Kedarnath Temple by Helicopter. For those who can afford, Kedarnath helicopter service is available from Dehradun.To know more, you may read our blog on Kedarnath yatra by Helicopter on the link https://travel-blog.waytoindia.com/kedarnath-yatra-by-helicopter . Kindly note that direct helicopter service to Kedarnath from Dehradun is very costly and may cost about INR 3.50 lacs for up to 5 persons with total body weight not exceeding 350 kg. For those who cannot afford that sort of money, another Kedarnath helicopter service also known as the shuttle helicopter service to Kedarnath is available from various helipads on the road connecting Guptkashi to Gaurikund. Several companies operate from different helipads located in Guptkashi, Phata, Sersi and Sitapur. Kedarnath helicopter booking online service is being provided by Triptochardham.com.
Local Transport: Kedarnath Jyotirlinga is accessible from Gaurikund by trekking (16 km. on one side). Other popular means include:
Kandi (a kind of palanquin carried by a single person on back, costs between INR 1,500 and INR 3,500)
Dandi (palanquins carried by 4 people, may cost INR 5,000 on one way and INR 10,000 from and back to Gaurikund with 1 night stay)
Mules (ponies) that may cost INR 2,300 on one side
Helicopter (from Phata Helipad, about 16 km. before Gaurikund) to Kedarnath Helipad (about 500 m. before Kedarnath Temple) which may cost around INR 7,000 for round trip
 Best Time to Visit Kedarnath Jyotirlinga
Kedarnath Jyotirlinga Temple opens only for six months from April-end/early-May to October-end/early-November. The months of May, June and October are considered as the best time to visit the temple. July-September is monsoon period which usually experiences heavy rainfall with high possibilities of landslides and floods.
Kedarnath Jyotirlinga Places to See
Kedarnath Jyotirlinga: The temple depicts the typical Uttarakhand temple architectural style using stones. It is the architectural excellence that the Kedarnath temple survived natural calamities numerous times. The Kedarnath Jyotirlinga is a cone-shaped Shiva Lingam. There are idols of other Hindu deities like Parvati and Krishna as well as those of Pandavas and their consort Draupadi. The charming natural beauty of the lofty snow-covered peaks and verdant grasslands form the remarkable backdrop of the temple. River Mandakini flowing nearby adds to the sacredness of the place.
Bhairav Temple: A short distance from the main temple is this open-air temple where Bhairav, a fierce form of Lord Shiva, is worshipped. It is believed that Lord Bhairav is the protector of the region.
Shankaracharya Samadhi: It is believed to be the resting place of Adi Shankara who is often credited for building the present day Kedarnath Temple.
Gaurikund: It is believed to be the place where Goddess Parvati performed tough penance to win Lord Shiva as husband. There is a hot water spring and a temple dedicated to Parvati here.
Kedarnath Jyotirlinga Top Things to Do
Aartis and Poojas: One can attend the daily aartis performed at Kedarnath Jyotirlinga temple. Also, it is possible to book in advance a variety of poojas, including Mahabhishek, Rudrabhishek, Sampoorna Aarti, Mahabhog etc. The costs of these rituals vary from as low as INR 170 to as high as INR 26,000.
Trekking: Adventurers can also plan exhilarating treks from Kedarnath to the attractions like Chorabari Tal (also known as Gandhi Sarovar, it is one of the main sources of River Mandakini and accessible by a trek of about 3 km.) and Vasuki Tal (a scared lake, about 8 km. from Kedarnath via trekking).
Top Places near Kedarnath Jyotirlinga
Guptkashi (about 30 km.): A holy town with temples like Kashi Vishwanath and Ardhnarishwar Temple
Ukhimath (about 45 km.): The winter abode of Lord Kedarnath, it is famous for Omkareshwar Temple where an idol of Lord Kedarnath is worshipped when Kedarnath Jyotirlinga closes due to snowfall
Triyuginarayan (about 12 km.): Where Lord Shiva married Goddess Parvati
Chopta (about 75 km.): Full of natural beauty and peace, Chopta is also home to musk deer
Panch Kedars: Apart from Kedarnath, one can also visit other four Kedars, namely Tungnath, Rudranath, Kalpeshwar and Madhyamaheshwar, in the region
Char Dham: Apart from Kedarnath Jyotirlinga, one may plan visiting other three Dhams, namely Badrinath, Gangotri and Yamunotri, in the region
Travel Tips for Kedarnath Jyotirlinga
Registration is important to visit Kedarnath Jyotirlinga. You may opt for biometric registration at one of the many registration centres at Haridwar, Rishikesh, Phata, Sonprayag, Guptkashi etc. Other option is the online photometric registration that can be done at the official tourism website of Uttarakhand. A tour operator can help you in registration.
Pilgrims must strictly produce medical fitness certificate obtained from a licensed practitioner/hospital without which permission for the pilgrimage might be denied.
The main Kedarnath temple opens at 04:00 a.m. and closes at 11:00 p.m.
Prefer a SIM card from BSNL, Jio or Vodafone for better connectivity.
Carry good trekking shoes, woollen clothes, energy-giving foods (chocolates, dry fruits etc.), raingear and ID proofs (like Aadhar Card, Voter ID etc.).
Don't attempt trekking or wandering around at night as the region is home to wild animals like black bear.
Make sure to pay attention to the weather forecasts before and during the pilgrimage.
It is better to stay at Guptkashi which offers good hotels/resorts/camps.
Visit Kedarnath Jyotirlinga to have a life-changing rendezvous with divinity. Book a tour now by contacting us at 85272 55991 or info@waytoindia.com.
Note that 12 Jyotirlinga tour package can be booked by sending us an enquiry on info@waytoindia.com and all the 12 Jyotirlingas can be visited in about 17 Nights and 18 days.
Save this link to your bookmarks to access the best free online web developer tools: html-css-js.com. I hope it will help a lot!