Are you bold enough to put yourself right across a tiger and yet be brave enough to admire its majestic looks? Do you fancy watching out for the vigorous looks of the tiger while they are strolling in the jungle, drinking water from a pond, chasing their prey or cuddling their cubs? Zoo is not an answer to these questions nor is it a real place to witness the true habitat of tigers. Well, you would be lucky, if you are a wildlife enthusiast and happen to be in India.
India has some fascinating wildlife sanctuaries which are home to different subspecies of tigers, especially the Great Indian 'Royal Bengal Tiger'. Here are top  5 Best Places to Spot Tigers in India :
5 Best Places to Spot Tigers in India
1. Ranthambore National Park, Rajasthan

Ranthambore is famous for only one reason– the Royal Bengal Tigers.
The park is bounded by stony ridges and stretches over an area of 500 sq. km. Several species of birds and animals can also be found in the park. Jeep and canter van safari rides, running twice a day and providing ample opportunities to spot tigers, are another major reason why tourists get pulled towards this place.
This national park is a dream destination for any wildlife photographer due to its picturesque landscape, ruins of bygones and series of flora and fauna.
Visit Ranthambore by booking your Ranthambore Tour Package with Waytoindia and you would more than agree with us that Ranthambore is surely one among the 5 best places to spot tigers in India.
2. Bandhavgarh National Park, Madhya Pradesh


A natural hub for white tigers, Bandhavgarh National Park is also a natural home for several wild species like langurs, sambars and cheetahs on account of its lush green grass and forests and rocky hills and valleys. Jeep and elephant safaris offer an opportunity to surf the wide 105 sq.km. core area of the Park and closely enjoy the majestic looks of 63 Royal Bengal Tigers in the arena.The sheer density of tigers in a relatively small area make us list Bandhavgarh National Park as one of the 5 Best Places to Spot Tigers in India.
3. Jim Corbett National Park, Uttarakhand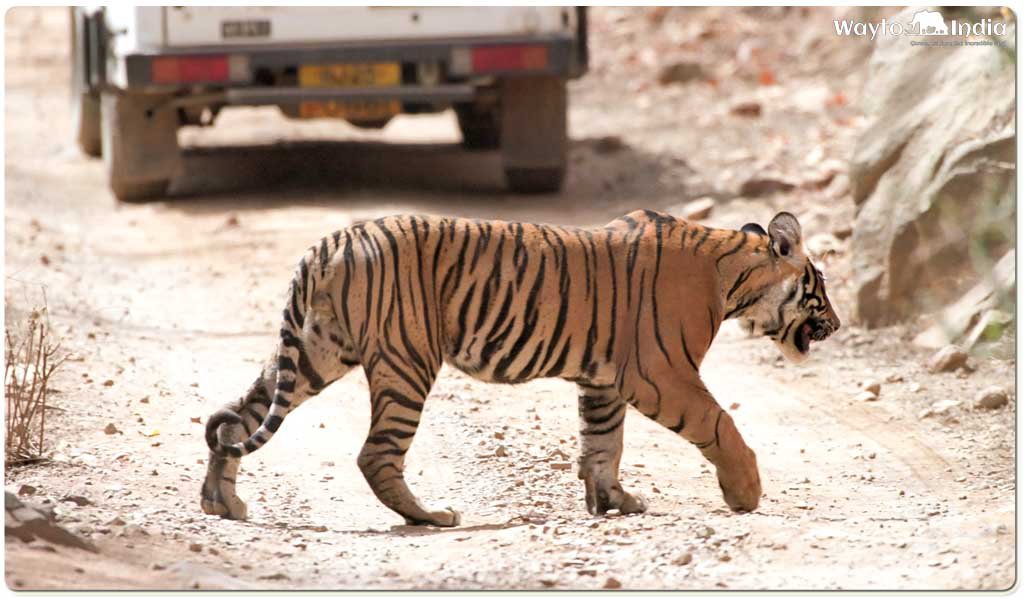 Established in 1936 by the legendary hunter named Sir Edward James Corbett and located in the foothills of Himalayas, Jim Corbett Park is abode to many Royal tigers, birds, reptiles, mammals, bears, langurs and plants. "Project Tiger", launched at the Park in 1973, aimed at saving and protecting Tigers making this place an idyllic place for wildlife lovers. The presence of tiger reflects the eco richness of this region, a region with beautiful landscapes, steep hills, lust grassland sand rich flora and fauna. Go through more information about Jim Corbett National Park on https://www.waytoindia.com/corbett-national-park-tour and you would agree that it deserves to be one a 5 best places to spot tigers in India.
4. Tadoba National Park, Maharashtra


Tadoba National Park is one of India's 47 Project Tiger reserves and is spread over an area of 625 sq. km. This teak tree based forest provides tourists a chance to sight some rare species of animals such as the Tiger, Sloth Bear, Leopard, Sambar and Mouse Deer. Tadoba is famous for being one of the finest tiger reserves in India on account of rapidly increasing Tiger population in the Park.
5. Sundarbans National Park, West Bengal


The mangrove forest, Sunderban occupies an area 4264 sq.km. and is classified as a UNESCO World Heritage site. With a population of 250 tigers, it is the largest Tiger reserve in India. The prime quality of this place is to watch the well-adapted Royal Bengal Tigers swimming in the saline waters which is the reason why we have listed Sunderban as one among the 5 best places to spot tigers in India. Other surviving wildlife creatures such as rhesus monkey, hermit crabs, spotted deer and crocodiles are also in abundance at this National Park.