If you are someone whom the tiger trails or jungle safari excites, Bandhavgarh National Park is where you need to be. Spread across a buffer area of approximately 400 square km. and a core area of 105 square km., Bandhavgarh national park in Madhya Pradesh is a paradise for wildlife enthusiasts. It is world-renowned for its Royal Bengal Tigers. In fact, the density of the Tiger population is the highest at Bandhavgarh National Park.In the blog we share with you all that you need to know about Bandhavgarh National Park.
Wish to know all about Bandhavgarh National Park? Read below about the Best time to visit Bandhavgarh, how to reach Bandhavgarh National Park, Online safari booking Bandhavgarh, Bandhavgarh Safari Booking, hotels at Bandhavgarh National Park, best zone for tiger sighting in Bandhavgarh and more.
About Bandhavgarh National Park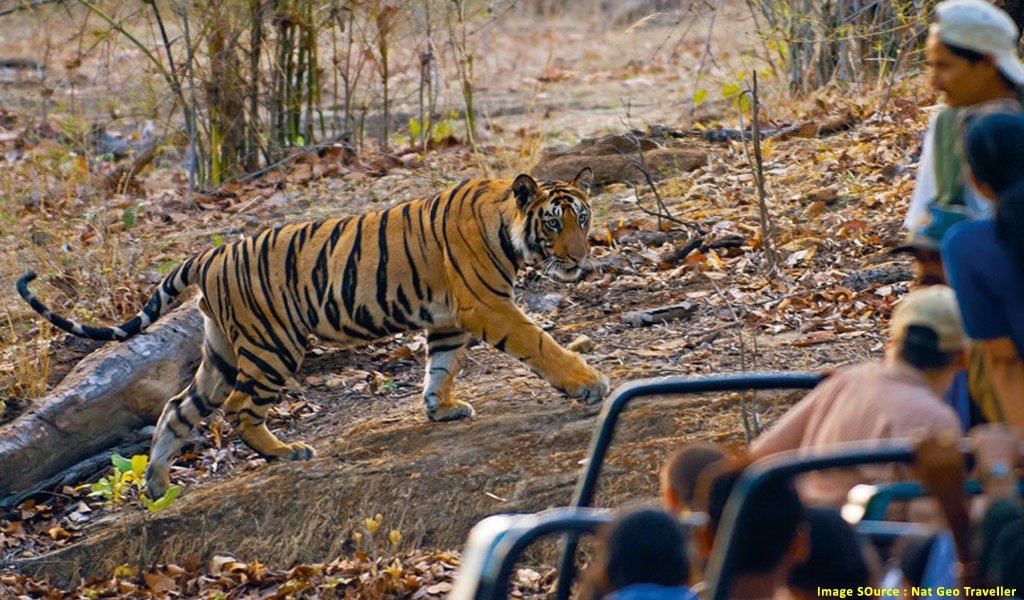 Wildlife at Bandhavgarh National Park
You can find many national parks in Madhya Pradesh, with Kanha National Park being the largest of all and Bandhavgarh National Park being the second largest. You can also opt for Kanha Bandhavgarh tour if you wish to cover both these wildlife national parks. At Bandhavgarh National Park, there are more than 22 species of mammals and 250 species of birds. Some of the species that you can find here include striped hyenas, wild pigs, grey mongoose, sloth bear, chinkara, sambar, and tigers, just to name a few.
Best Time To Visit Bandhavgarh Tiger Reserve
Every year Bandhavgarh National Park is open to visitors from the 15th of October until 30th of June. Winter Season (October to March) is the peak season during which most of the travelers come to visit this national park. However, Tiger spotting aBandhavgarhrh is easier in the months between April and June as the Tigers are mostly out of their caves near the numerous water sources.
How to Reach Bandhavgarh National Park?
By Air: Khajuraho and Jabalpur are the nearest airports.
By Road: This famous national park of Madhya Pradesh is well connected with the neighboring towns and cities like Satna (150km.), Umaria (35 km.), Katni (100 km.), Khajuraho (250 km.) and Jabalpur (200 km.).
By Trains: The nearest railway stations are of Umaria (35 km.) and Katni (100 km.). Umaria railway station is connected to three major centers- Delhi, Puri, and Jabalpur. Katni railway station, on the other hand, is easily accessible from almost all the major cities of India.
Bandhavgarh Safari Booking
There are two ways of exploring this national park. You can either pre-book a Bandhavgarh Jeep Safari or you can take an Elephant Safari.
There are four different safari zones from where travelers can enjoy the Jeep Safari Rides in Bandhavgarh National Park – Tala, Magadhi, Khitauli, and Panpatha. You can take these safari rides either in the morning or in the afternoon as they are available twice a day. Timings for entry and exit depend on the seasons and may vary.
| | | | |
| --- | --- | --- | --- |
| Bandhavgarh Safari Timings | October to Mid-February | Mid-February to March | April to June |
| Morning Shift | 06:30 a.m. to 11:00 a.m. | 06:00 a.m. to 11:00 a.m. | 05:30 a.m. to 10:00 a.m. |
| Afternoon Shift | 02:30 p.m. to 05:30 p.m. | 03:00 p.m. to 06:00 p.m. | 04:00 p.m. to 07:00 p.m. |
Online Safari Booking Bandhavgarh
Forest Department of Madhya Pradesh Government has made it quite easy for wildlife lovers to book their online safaris for Bandhavgarh and other National Parks of Madhya Pradesh.You may simply visit the link https://forest.mponline.gov.in to make your online booking for Safari in Bandhavgarh.
 Best Zone For Tiger Sighting In Bandhavgarh
While tigers are sighted in almost all the zones of Bandhavgarh, however, Tala zone and Magadhi Zones have better tiger sightings. Tala zone is actually considered as premium zone as owing to more water bodies in Tala zone, the chances of Tiger sighting in summer increases manifold.
Hotels At Bandhavgarh National Park
There are a lot of accommodation options at Bandhavgarh National Park. You can choose any of the following as per your taste:
High-end Resorts:
Taj Mahua Kothi and Syna Tiger Resort are within the periphery of Bandhavgarh National Park and provide luxurious accommodation with excellent amenities that include spa, ayurvedic massages, and in-room safes.
Luxury Resorts:

Tree House Hideaway Resort, Bandhav Vilas, Bagh Serai, Kings Lodge and Infinity Bandhavgarh Wilderness are some of the luxury resorts that are located in close proximity to the national park.Some of these hotels provide facilities of a gym, games room and swimming pools also.
Way to India provides best rates for hotels at Bandhavgarh National Park.
Deluxe Resorts:

Nature Heritage Resort, Tiger Trails Resort, Maharaja Royal Retreat and Bandhavgarh Meadows are some of the popular deluxe resorts with good facilities including a nice restaurant, open-air terrace, and jungle safari.
Standard Resorts:

Mogli Jungle Resort, Salvan Resort, Hotel Tigergarh Resort and Greenwood Resort are some of the standard resorts with decent facilities that include a swimming pool, spa, library and a bar and are not too hard on your wallet.
Useful Tips for Wildlife Viewing at Bandhavgarh National Park
Dos and Don'ts
You must pick safe and comfortable clothing for your Bandhavgarh Safari. Full-length trousers and high boots are advisable if you opt for the Elephant Safari so that you are protected against the bruises due to brushing against tree's branches.
Make sure that the colour of your clothes is not too flashy so as to attract the unwanted attention of the animals, but should be such that can be easily camouflaged with the surroundings.
You should be patient during your safari and not be too loud. Any unnecessary noises can threaten the animals and provoke them to attack you.
It is always good to carry a mini first aid kit with you as you may require it in the case of any inconvenience.
Avoid making rapid movements as this may disturb the animals.
Photography is an integral part of any safari tour but make sure that you click your pictures silently without causing any inconvenience to the animals.
Don't forget to carry binoculars and a fully charged camera with extra batteries and film rolls if you intend to click lots of pictures.
If you are visiting Bandhavgarh during summers, make sure you carry a cap, dark glasses, sunscreen lotion and lots of fluids to keep yourself hydrated. Whereas, if you are visiting during winters, make sure you get warm clothes, as the mornings, as well as evenings, can get quite chilly. Always carry a jacket.
You can also visit the Bandhavgarh Fort which is located within the national park. But make sure you have advance bookings to see the fort as well.
WaytoIndia.com, a company recognized by the Ministry of Tourism, Government of India organises some of the best Bandhavgarh budget tour packages in India. You can get in touch by sending an email on info@waytoindia.com or calling on 8527255991.
To know more about the tourist places in Madhya Pradesh you may write to us on info@waytoindia.com.