Tired of reading monotonous Golden Triangle tour India blogs referring nothing beyond Taj Mahal, Red Fort, Qutub Minar, Amber Fort and Hawa Mahal? Read beyond the common knowledge.No doubt that visiting these iconic spots is indeed a dream come true, but there is much more to it that must be revealed. After all, you are planning to embark on a stupendous odyssey to explore the incredible India so brilliantly demonstrated by the cities of Delhi, Agra and Jaipur.
For your privilege, disclosed below are the truly amazing experiences you must have for a rare and wonderfully unique Golden Triangle Tour.
Golden Triangle Tour | 15 Unique Ideas
#1 Chand Baori – Step Down A-maze-ing World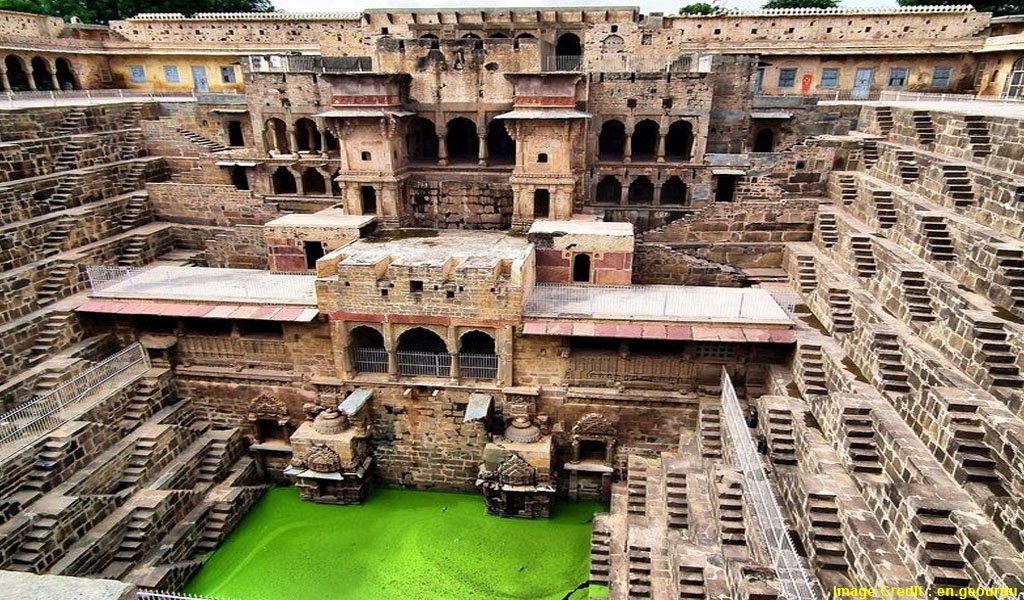 Abhaneri, a small village near Jaipur, hides one of the best kept secrets of India, the 100 ft. deep step-well named Chand Baori. The 9th century spectacle hosts a maze of 3,500 perfectly symmetric steps built over 13 stories and is among the most stunning step-wells in the region. The inimitable carvings dominate the construction along with the nearby temple of Harshat Mata, the goddess of joy and happiness. Don't miss this masterpiece or you would regret later. In fact Abhaneri is one of the most important offbeat places to visit on your Golden triangle trail.
Travel Tip : The place is about 95 km. from Jaipur and a convenient stopover on Jaipur-Agra Road (NH 11).  If you are travelling on the Golden Triangle Tour on your own, remember that your driver might guide you that there is nothing in Abhaneri or that it is very far.Resist such advices and do not miss a visit to Abhaneri.
 #2 Elephant Farm – Where Elephants Are Your Host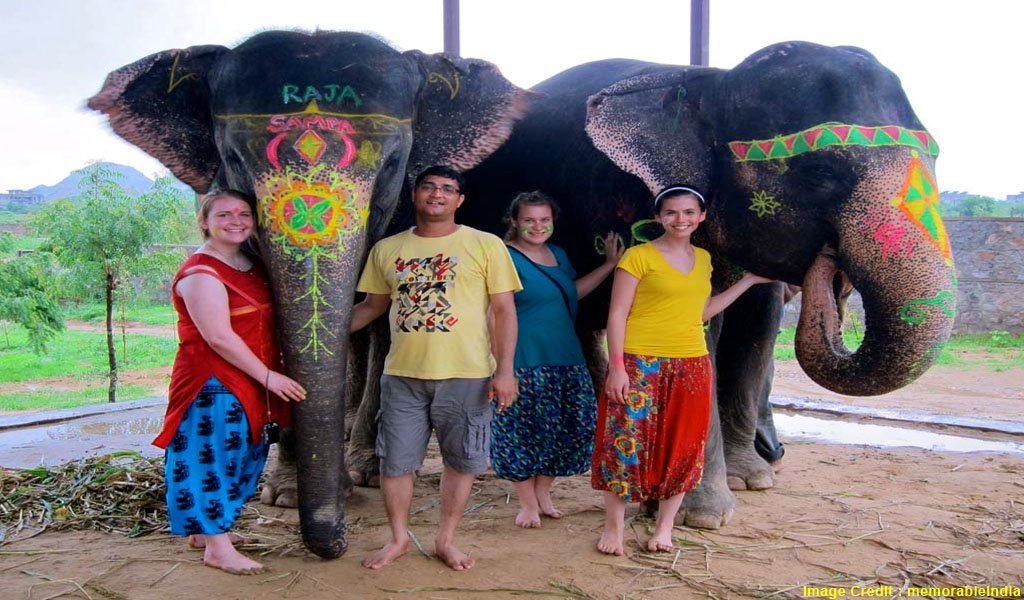 Conveniently avoid the crowded tourist spots and gear up for some fun with majestic tuskers at this elephant farm in Jaipur. Get up close and personal with Rajasthan's royal symbol as you communicate with them in elephant language, feed and bathe them and learn the fascinating art of elephant painting. Not to forget the thrilling elephant ride the royal style in or without saddles. Definitely deserves the top rank in the list of Jaipur interesting things to do ! Riding an elephant in a tourist destination is one thing, being with an elephant in a farm is quite another.Try this and you won't regret the experience.
Travel Tip : The activity costs INR 5,100 per person. The farm opens from 03:00 p.m. to 08:00 p.m. each day.
#3 Block Printing – Turn into an Artist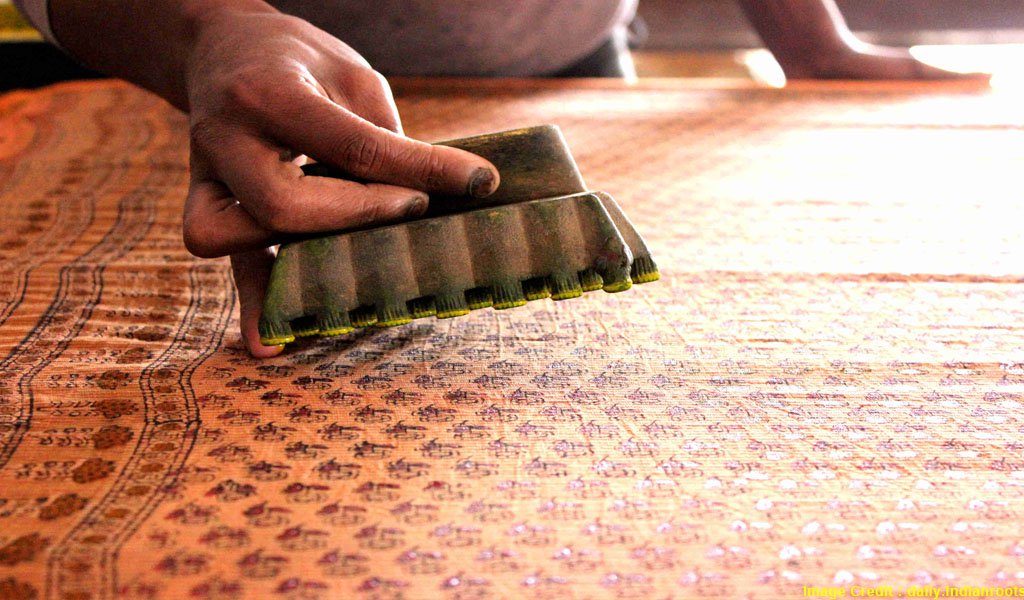 Impressed by the breathtaking hand block printing, one of the most celebrated arts of Rajasthan? How about having and hands-on experience at Sanganer Village in Jaipur? Sakshi Block Printing Factory located here hosts tours and workshops to watch expert artists as well as to create your own specimens. It is also a great place to explore and learn another equally striking art called blue pottery done using ceramic.
Travel Tip : Full and half day learning courses are available at the factory (timings from 09:00 a.m. to 06:00 p.m.) and cost between INR 1,500-2,500 per person.
#4 Open Jeep Safaris – Pure Adrenaline Rush
Ride the thrilling off-roading machines, the military style open jeeps, and unveil the rugged and dust-laden terrains of rural India in Jaipur. Drive past the rustic villages displaying turban-clad men and colourfully dressed women and wander through a fascinating countryside from the foothills of Aravallis to the splendid lakes. The fun increases manifolds as you spot peacocks, panthers, deer, snakes, migratory birds and other varieties of life.
Travel Tip : Jeep safari durations vary from few hours to a couple of days (including meals, accommodations and more). Costs start from INR 2,000 per person.
#5 Hot Air Ballooning – Heritage Walk in the Sky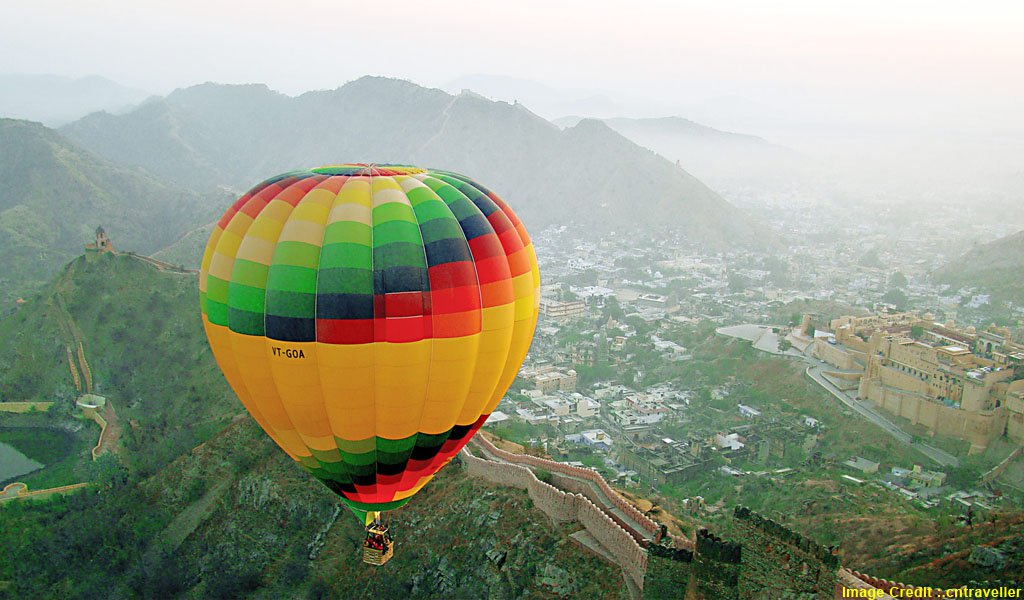 The experience of exploring fairy-tale forts and palaces of Jaipur in a hot air balloon is definitely among the most unusual things to do in Jaipur. Watch in ecstasy as a huge multi-coloured balloon follows a route over the historical monuments to the equally enthralling desert landscapes, lakes and hills. Don't be surprised if your eyes forget to blink, but don't forget carrying cameras for some remarkable shots.Try this on your Golden Triangle Tour and you would not forget the experience for the rest of your life.
Travel Tip : A 3-hour ride may cost INR 9,000 per person. You may choose among early morning and afternoon rides.Write to us on info@waytoindia.com in case you wish to experience this.
#6 Sufism – Unwind in the Magical Atmosphere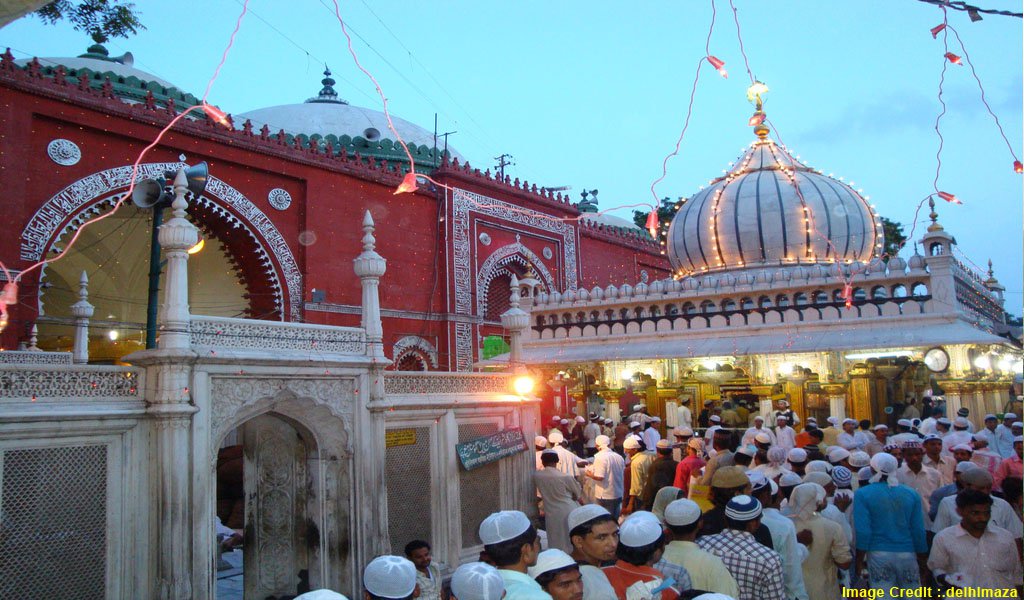 When was the last time you had a dialogue with divinity?  Visit Nizamuddin Dargah (the tomb of Sufi Saint Nizamuddin Auliya) and cherish the escapism from the chaotic world. Every Thursday evening, the skies above sprinkle magic over the place as the melodies of qawwalis (devotional music) fill the atmosphere. The overwhelming ambiance soon engulfs your senses and you willingly surrender to the comforting peace.
Travel Tip : Dress up decently, cover your head and remove shoes. Be ready to encounter a lot of beggars.If you love non-vegetarian food, try out delicacies at Karim's or Ghalib Kabab Corner in Nizamuddin.
#7 Kathputli Colony – Discover Talent in Slum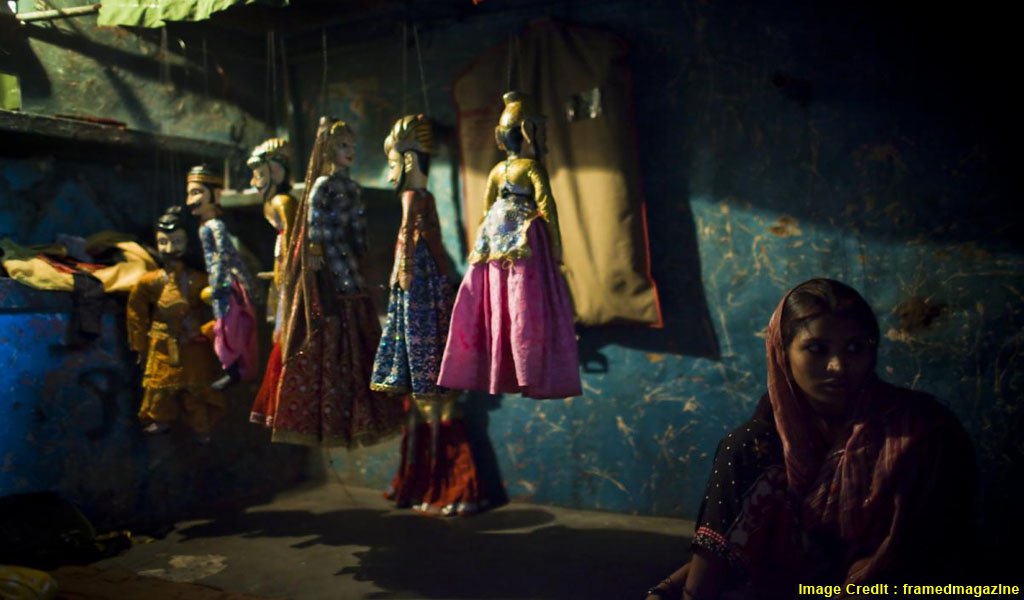 Join the Art of Hope Tour which would take you to the slum dwellings of Kathputli Colony in Delhi. However, don't consider it an ordinary slum tour as you would be bowled over by the artists performing popular Indian folk dances like Chari, Ghumar, Bhawai, Dandiya and more. If that's not enough, the engrossing puppet shows, magic shows and fire shows would definitely catch your fancy. One of the must-have unique experiences in Delhi !
Travel Tip : The tour costs about USD 50 per person and has duration of about 3.5 hours starting at 09:30 a.m. every day.
#8 Ghosts of Delhi – A Rendezvous with the Supernatural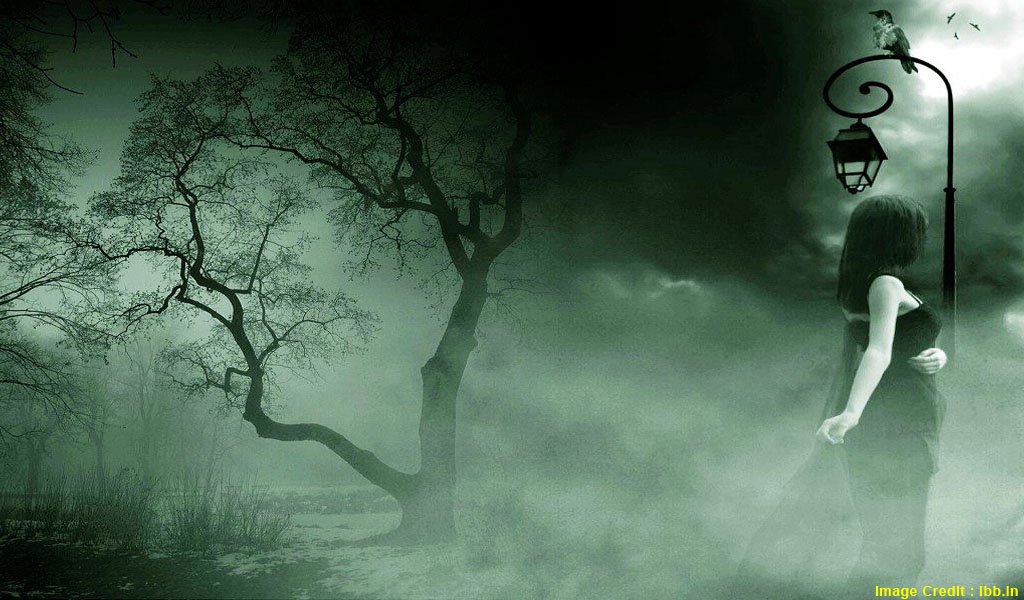 Inspired by the Ghostbusters? If yes, Delhi let you have spine-chilling and blood-curdling experiences at a number of supposedly haunted places. Bhuli Bhatiyari ka Mahal, Lothian Cemetery, Jamali Kamali Tomb and Firoz Shah Kotla Fort are among the historical places with infamous spooky tales and activities reported by the local residents and visitors. Don't miss these unusual Delhi places to take back home some bizarre memories of the tour.
Travel Tips : Obtain a lot of information and prefer hiring a guide. It is not advised to visit these places after it gets dark.
#9 Learn Dancing – Shake a Leg Desi Style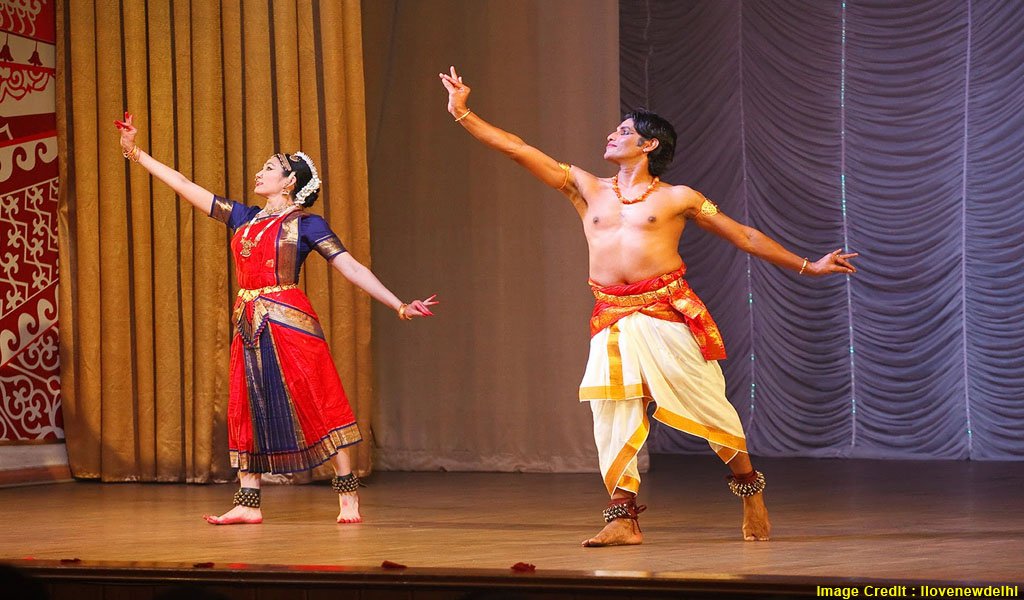 The acclaimed Delhi Dance Academy hosts Namaste India Dance Workshop which is already a hit among the foreign tourists visiting the national capital. If you are fascinated by the country's diverse dance forms, it is a golden opportunity to learn Bollywood dance, along with Bhangra, Garba and Belly Dancing. Guess what! A private dancing video upload on YouTube is included in the package.
Travel Tips : The crash course which is around 2 hours long costs between INR 2,000-2,500.
#10 Cooking – Experiment with Gourmet India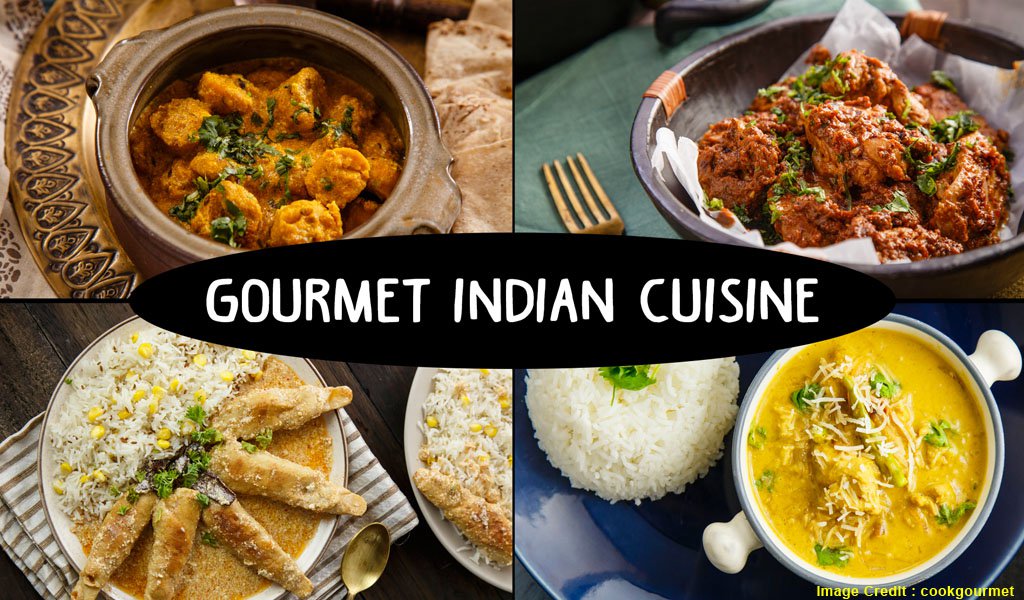 Delhi is absolutely a paradise for food-lovers as it serves platters full of authentic Indian cuisines ad street foods. Don't just settle on tasting the mouth-watering preparations, but prefer joining a cooking lesson with an Indian family. Accompany them to buy the ingredients, learn centuries-old cooking practices and some great recipes. At last, enjoy a family dining experience with the host. Even if you are not a foodie, tantalising aroma of the north Indian food would add zest to your Golden Triangle Tour.
Travel Tips : The price for 3-4 hours cooking session in the city starts from USD 35.
#11 Wildlife SOS – Meet the Gentle Giants
Among the lesser known tourist attractions in Agra is the sloth bear rescue centre operated by the Wildlife SOS campaign at the Sur Sarovar Bird Sanctuary. It is great interacting with the cute dwellers who earlier served as 'forced dancers' with the local tribesmen and watching their playful activities. You may also like to visit the campaign's elephant rescue centre located few miles away.
Travel Tips : The place is open from sunrise to sunset and can be accessed by paying an entry fee of INR 50/500 for Indians/foreigners.
#12 Kachhpura – The Charming Village Life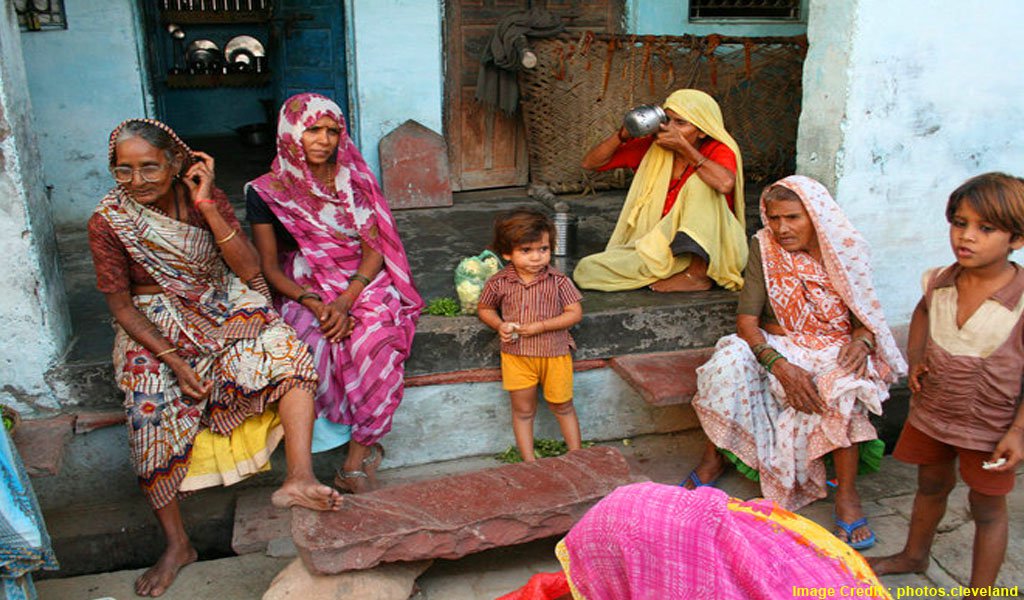 Join a walking tour through the village of Kachhpura located on River Yamuna's bank opposite to Taj Mahal in Agra. Have some marvellous views of the white marble structure and Agra Fort and interact with the villagers. Street plays and discovery of traditional arts like Sanji (spectacular designs made on walls using stencils) keep you entertained. Get to know more about the Mughal Era as you walk past many less-known but truly fascinating Mughal structures.
Travel Tips : The tour may cost between INR 750-1,250.
#13 Sheroes Hangout – Discover New Definition of Courage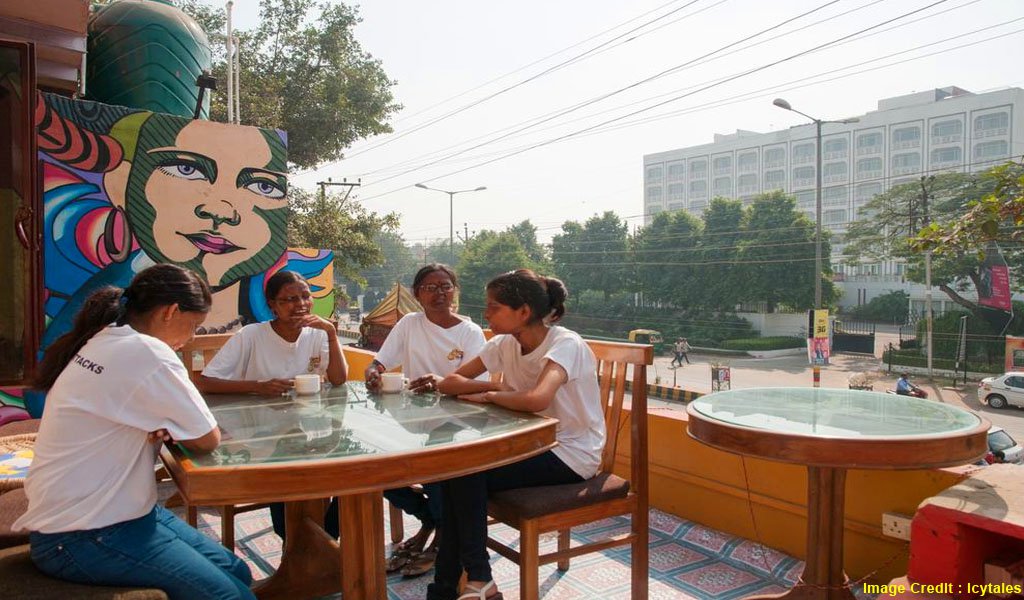 Employing the brave acid attack victims, this inspiring café in Agra is the ideal place to watch courageous women giving the tough fight to the not-so-generous life and destiny. It is truly a heart-warming experience to salute the highest degree of courage which is extremely rare. Snacks and beverages served are tempting and the place also houses a library, a handicraft display and exhibition space (featuring great handicrafts designed by the staffed women) and an activism workshop to train women hailing from less-developed backgrounds.
Travel Tips : The café opens from 09:00 a.m. to 09:00 p.m. Don't miss grilled cheese sandwiches and the milkshake.
#14 India in Motion – Outstanding 6D Experience
The Adlabs Cinema Complex inside the TDI Mall in Agra is home to a 6D theatre which showcases India's golden history, rich culture and astounding sights and places via a 30 min. long multilingual show (in Hindi, English and other languages like Italian, French, German and Spanish). Motion seats and special effects incorporated using sounds, smells, touch and visuals add great worth to the entire setup.
Travel Tips : The venue is at about 5 min. drive from Taj Mahal. Tickets cost INR 150 (Hindi) and INR 450 (other languages).
#15 Food Tours – Awesome Flavoursome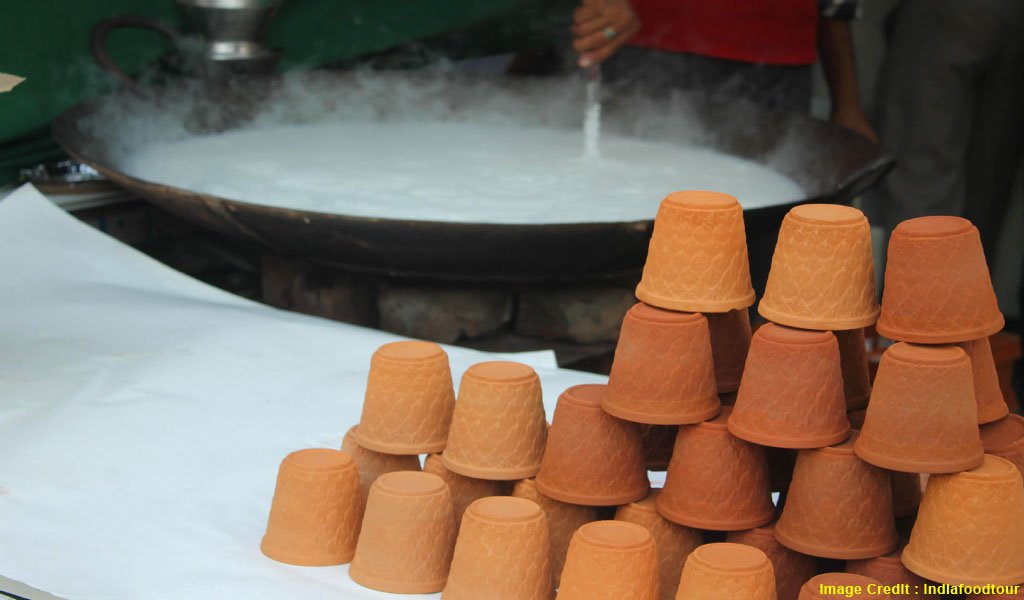 One of the unique things to do in Agra joins a food tour that would take you to the city's decades-old eateries and introduce you to the irresistible tastes and aromas. Popular Agra food tours cover places like Rambabu Paratha Bhandar (serving more than 15 different varieties of parathas or stuffed chapattis) and Deviram Sweets offering snacks like samosas and kachoris. You would feel blessed having tasted the numerous chaat varieties (nearly 50 of them exist), the popular ones being panipuri, dahi papdi and aloo tikki.
Travel Tips : Make sure you buy the famous Panchi petha, a kind of sweet made of pumpkin. Remember that the snacks can be extremely spicy.
That's an interesting list for your Golden Triangle tour ! Try including most of them in your schedule and you would take back the truly incredible India in your memories.
Golden Triangle Tour India: Must visit places – https://travel-blog.waytoindia.com/golden-triangle-tour-india-must-visit-places/
About Varanasi – http://www.uptourism.gov.in/pages/top/explore/top-explore-varanasi—sarnath
 To book your Golden Triangle Tours India or any of these unique experiences , you may send us a query on info@waytoindia.com
How many days do I need to enjoy the Golden Triangle Tour in India?
Ideally, you need 5 Nights and 6 Days to experience the Golden Triangle tour of India that would cover 2 Nights in Delhi, 1 Night in Agra and 2 Nights in Jaipur.
What are some of the offbeat things to do while I am at Delhi?
Delhi is a contemporary and modern city with an equally interesting historical past. Some of the offbeat things you may try in Delhi are: enjoying a rickshaw ride in old Delhi, visit Agrasen ki Baoli, explore birds at Okhla bird sanctuary, visit Garden of Five Senses, Visit Khari Baoli (the spice market of Old Delhi) and more.