Bearing testimony to the glorious days of Indian Railways, toy trains in India with meter gauges laid during British colonial era continue to attract tourists from across the globe. Moving at sluggish speed on high bridges and through long tunnels for over a century, these wondrous hill trains offer ample amount of time and uncountable moments to savour mesmerising nature as these make way through mazes of forested mountain and lush green valleys disclosing heart-warming vistas. Find in detail about the amazing toy train Indian Railway routes and tours to be a part of one of these joy rides.
Toy Trains In India Offering Fairy-tale Ride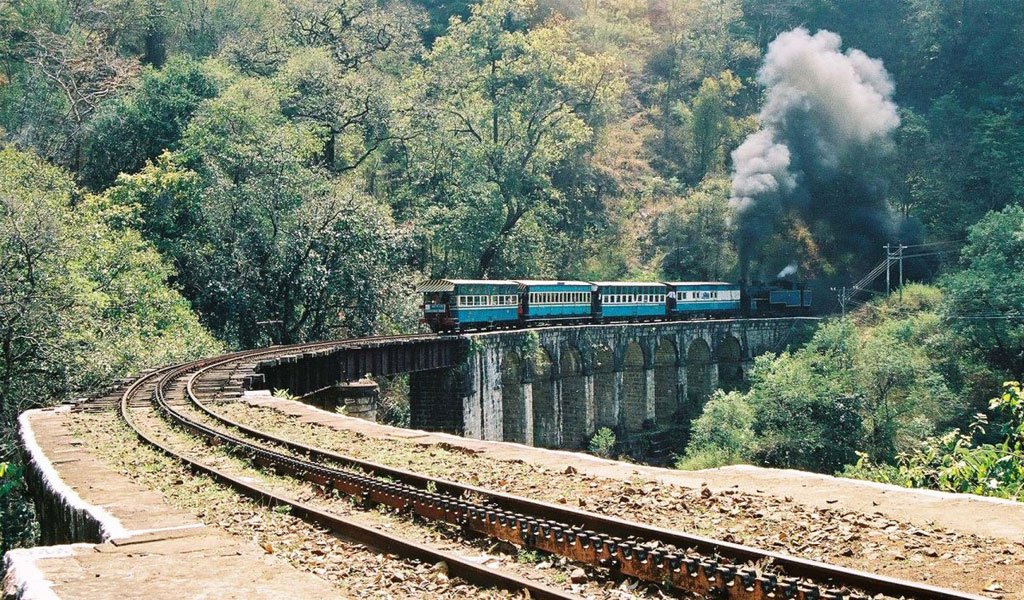 Image Source : wanderingtamilnadu.wordpress.com
Kalka-Shimla Railway
With its construction starting in 1898, the Kalka-Shimla Railway opened to traffic in 1903 and was granted the World Heritage status in 2008. From Haryana's town Kalka to North India's most popular hill station Shimla, the line snakes through the pristine Shivalik Foothills. As many as 102 tunnels and 864 bridges keep the passengers thrilled throughout while the dense pine canopies bejewelling the astounding landscapes create outstanding visual treat.
Trains: Shivalik Deluxe Express (05:30 a.m. from Kalka and 05:40 p.m. from Shimla, fare INR 415), Himalayan Queen (12:10 p.m. from Kalka and 10:35 a.m. from Shimla, fare INR 255) and Rail Motor Car (05:10 a.m. from Kalka and 04:25 p.m. from Shimla, fare INR 315).
Additional coaches called Shivalik Queen and Shivalik Palace that run during special holiday months are popular among the best luxury tourist trains in India.
Waytoindia.com organises Shimla Manali Tour Packages in which Kalka to Shimla leg of the tour can be done by the toy train.For booking this package you may send an enquiry on info@waytoindia.com .
Darjeeling Himalayan Railway
Probably the best toy train India offers, Darjeeling Himalayan Railway too is a World Heritage Site (designated in 1999) that was constructed in the 1880s. It connects New Jalpaiguri with Darjeeling, popular as the Queen of Hills. With a dramatically changing gradient and a series of loops and z-reverses, the ride is no less than an adrenaline-spiking adventure. Passing over 500 bridges, revealing breathtaking mountains sceneries and luxuriant tea gardens at every inch, it would keep you spellbound and asking for more.This one surely deserves to be on the list of toy trains in India.
Trains: Daily Toy Train (09:00 a.m. from new Jalpaiguri fare INR 180, 07:00 a.m. and 03:00 p.m. from Kurseong fare INR 60-150), Joyride Trains (08:00 a.m., 10:40 a.m., 01:20 p.m. and 04:05 p.m. from Darjeeling fare INR 695 for diesel service and INR 1,024 for petrol service) and Jungle Safari Train (10 a.m. from Siliguri fare INR 595).
Nilgiri Mountain Railway
Another World Heritage toy train in India (status granted in 2005), Nilgiri Mountain Railway has featured in several popular Bollywood tracks and global movies. The journey between Mettupalayam and Ooty (the unmatched South India hill station) admires the magnificence of Nilgiris (Blue Mountains) that are a part of the striking Western Ghats. Your eyes may forget to blink and heart may skip a beat as the train covers more than 200 curves, nearly 250 bridges and almost 16 tunnels, with ravines, forests and tea gardens extending greetings. Built in 1908, the line preserves its charm and promises an unforgettable journey.
Trains: Toy Train (07:10 a.m. from Mettupalayam and 02:00 p.m. from Ooty, fare INR 30-205)
Additional train operates during holiday seasons, while the services are often stopped during heavy monsoons (usually for few weeks between June-October).
Kangra Valley Railway
Constructed in the 1920s, Kangra Valley Railway runs from Pathankot in Punjab to Jogindernagar in Himachal Pradesh. Kangra Valley, already a favourite among nature-lovers and honeymoon couples for hosting verdant fields, gushing streams and the enchanting views of snow-capped Dhauladhar Range, discloses miraculously on this train ride. On one of the most captivating train tours India, you may also plan to get down at Palampur, known for its pollution-free climate, tea gardens and ancient temples.This toy train in India is as enchanting as the destinations itself.
Trains: Pathankot Jogindernagar Kangra Valley Passenger (02:15 a.m., 04:00 a.m., 06:45 a.m., 10:00 a.m., 01:20 p.m. and 03:50 p.m. from Pathankot fare INR 35).
Matheran Hill Railway
Constructed from 1901 to 1907, Matheran Hill Railway leads to India's smallest hill station called Matheran (also known for complete ban on vehicles, thus promising a pollution-free environment) from Neral in Maharashtra. The ride witnesses different shades of greenery as you ascend the sloppy terrain of Western Ghats. Hills carpeted with green forests, refreshing cool breeze and possible sights of wild animals make this journey one of the best India toy train tours.
Trains: Toy Trains (06:40 a.m., 07:50 a.m., 09:10 a.m., 10:40 a.m. and 12:10 p.m. from Neral fare INR 60-300)
Train service might not be available during monsoons (June-September).
Mahur-Harangajao Railway Stretch
One of the best-kept secrets of Northeast India, this narrow-gauge rail stretch is indeed a pleasant surprise for those venturing into the unflawed nature of Assam. The 47 km. long stretch is the only left-out part of Lumdig-Silchar Railway line (built some 120 years ago), while the remaining part has already been converted to broad gauge. Retained specifically for its heritage value, it revolves around the stunning hill station of Haflong like a garland around neck. No wonder how strikingly the journey unveils the overwhelming countryside and nature of the region.
Trains: Barak Valley Express (08:00 a.m. from Mahur) and Cachar Express (11:30 p.m. from Mahur). The India toy train fare on this route is between INR 30-95).
Choose any of these journeys and be a spectator to the incredible heritage which continues to defeat the signs of aging.