The Golden Triangle, which connects the three extremely popular tourist destinations of North India, is among the world's top holiday circuits. Every year, huge numbers of tourists begin Golden Triangle tour from Delhi , visit Agra and end it at the Pink City Jaipur. Known for their diverse cultural landscapes, each of these cities displays the vibrant historical profile of the country. In case you plan the tour for the upcoming tourist season, make sure to visit the UNESCO World Heritage Sites that are absolutely worth exploring. Here is a small guide to help you.
 Golden Triangle Tour India
Delhi
Red Fort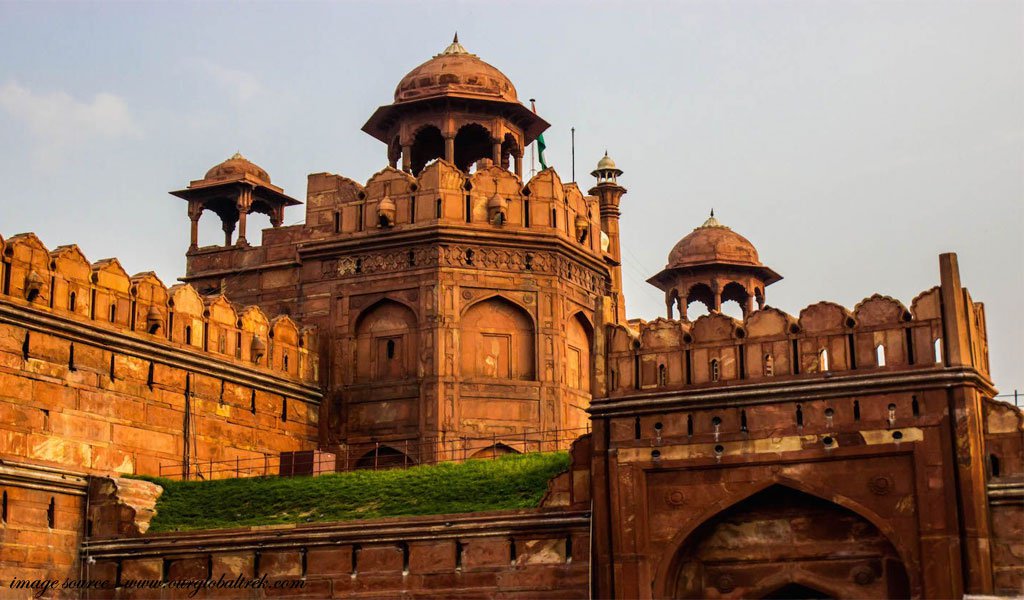 The sprawling Red Fort is the symbol of the glorious Mughal architecture and heritage with massive gateways, halls, pavilions, palaces, mosques and gardens to its credit. Built in red sandstone, the fort filters the usual crowds and noises of India's capital and let the visitors peacefully admire the invigorating history and spectacular layout. Don't miss the evening Sound and Light Show (in Hindi or English).
Nearest Metro Station: Chandni Chowk
Timings: Sunrise to sunset
Closed on: Monday
Fees: INR 10 (Indians), INR 250 (foreigners), INR 25 (video camera), INR 30/80 (Sound & Light Show children/adults)
Qutub Minar

Built by the first Sultan of Delhi, Qutb-ud-din Aibak, this victory minaret is the second tallest in India. Soaring to 73 m., Qutub Minar in red sandstone and marble is surrounded by many other interesting monuments, including the well-known Iron Pillar. The religious Islamic carvings with intricate designs adorn the walls of the minaret. It is a great experience to attend the Qutub Festival (usually in October) showcasing the classical Indian arts.
Nearest Metro Station: Qutub Minar
Timings: 06:00 a.m. – 06:00 p.m.
Closed on: None
Fees: INR 10 (Indians) and INR 250 (foreigners)
Humayun's Tomb

Marking the Mughal practice to construct lavish mausoleums, Humayun's Tomb is the resting place for the Mughal Emperor Humayun and was the first Mughal structure to use red sandstone extravagantly. Often considered as an inspiration for Taj Mahal, the structure is absolutely admirable for its intricate lattices, beautiful beams, pillars and arches and many other visually appealing elements. Char Bagh Gardens, manicured lawns, water channels and several small monuments add to the place's serenity.
Nearest Metro Station: Racecourse, Jorbagh
Timings: 06:00 a.m. – 06:00 p.m.
Closed on: None
Fees: INR 10 (Indians), INR 250 (foreigners), INR 25 (video camera)
Agra
Taj Mahal

One of the greatest highlights of the Golden Triangle tour packages, the exquisite love icon Taj Mahal is definitely the most fabulous heritage symbol associated with India. Explore it during the sunrise or under the moonlit sky, capture its white marble beauty on the bank of River Yamuna in your cameras and feel simply overwhelmed at the fascinating sight. Reserve your time for the evening Sound & Light Show in the evening.
Transport: Auto-rickshaws and shared cabs from any part of Agra lead to one of the gates.
Timings: Sunrise to sunset
Closed on: Friday
Fees: INR 20 (Indians), INR 510 (SAARC and BIMSTEC country visitors) and INR 750 (foreigners)
Agra Fort

At the time when Agra was the powerful capital of Mughal Empire, Agra Fort was built in red sandstone over the ruins of an old fort. With several palaces, halls, pavilions and gardens on this historical canvas, the fort offers an elaborated glimpse into the royal lifestyle. It is worth exploring the ceiling decorations and many other adornments that reflect the craftsmanship existing centuries ago.
Transport: Cabs, auto-rickshaws and cycle-rickshaws are the cheap and convenient modes.
Timings: Sunrise to sunset
Closed on: None
Fees: INR 20 (Indians) and INR 300 (foreigners)
Fatehpur Sikri

A visit to Fatehpur Sikri, about 37 km. from Agra, can be easily included in your Golden Triangle tour budget. The abandoned city was enthusiastically built by the Mughal Emperor Akbar, conferring over it the majesty of Mughal architecture. Apart from the massive gateway Buland Darwaaza, the complex accommodates palaces and royal residences, mosques and tombs and several other structures which once buzzed with imperial routines.
Transport: Shared taxis and auto-rickshaws are available from Agra to Fatehpur Sikri.
Timings: Sunrise to sunset
Closed on: None
Fees: INR 20 (Indians) and INR 260 (foreigners)
Jaipur
Jantar Mantar
A mind-blowing collection of architecturally-brilliant astronomical instruments, built by the Rajpur ruler Sawai Jai Singh in the 18th century, Jantar Mantar is a stunning premises for the visitors. From telling the time of the day to measuring longitudes and latitudes of the celestial bodies and many other observations made by these instruments make them extremely fascinating. Indeed a unique site on the heritage India tour Jaipur, along with the grand palaces and forts of the royal city!
Transport: Taxis, cabs and auto-rickshaws
Timings: 09:00 a.m. – 04:30 p.m.
Closed on: None
Fees: INR 40 (Indians), INR 15 (Indians students) and INR 200 (foreigners), INR 100 (foreign students)
Don't miss visiting any of these attractions to make your Golden Triangle tour experience complete and memorable.
Golden Triangle Tours India can be combined with other interesting destinations and converted into interesting tours such as  Golden Triangle Tour With Varanasi  or Golden Triangle Tour With Ranthambore and many more of such combinations.You can go through the other destinations which are suggested along with the Golden Triangle Tour India (https://www.waytoindia.com/golden-triangle-tours ) .You can write to us on info@waytoindia.com or call us on +91 8527255991 in case you need any assistance or information for planning your trip to Golden Triangle Tour India.