Imagine soaring high in the sky above and enjoying breathtaking view beneath, smelling freedom as you fly over splendid and mysterious landscapes! Hot air ballooning in India is catching up fast.Exquisite hot air balloons in stunning colours have always captured your imaginations. Now it's time to pursue your fantasy, soaring high in the sky like a free bird. And what can be more mystifying, alluring and majestic as taking a ride in a mighty hot air balloon! For many, it is one of those "once in a lifetime" experiences that they simply cannot miss. If you are one among them, here are the top destinations for hot air ballooning in india where you can indulge into a mind-boggling hot air ballooning experience.
Hot Air Ballooning In India
#5. Delhi, NCR and Haryana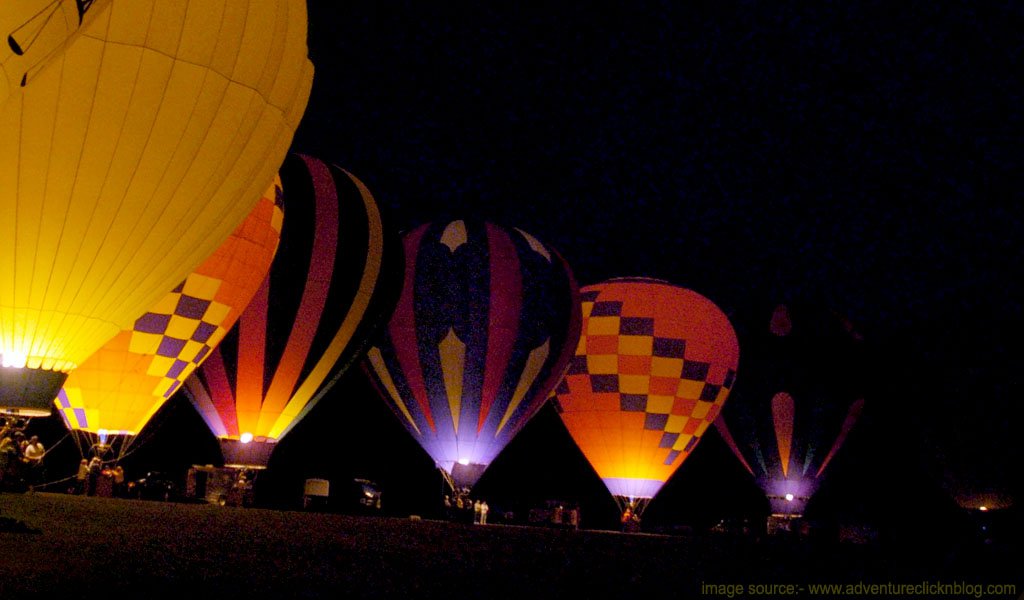 Have you ever discovered your city from bird's view? If no, a hot air balloon ride over majestic skylines of Delhi, Gurgaon, and Greater Noida is a must. This certainly promises a truly unique experience, where you can explore glory and pride of a city from the sky above, and not just sheer landscape. It is certainly an enjoyable experience for both adults and kids alike.
#4. Pushkar, Rajasthan


It is said that the best way to explore the holy land of Pushkar is to see it from the air. No wonder, hot air ballooning is a peaceful and serene experience as you gently soar over golden sand dunes, moving over the holy Pushkar Lake as you achieve the sense of sacred and ancient. Fly over the holy places and temples and sacred landscape in a glorious way that will amaze and awe you. Hot air balloon rides are available during the last week of famous Camel Fair.
#3. Lonavala, Maharashtra


Lonavala is a quaint hill station in Maharashtra, blessed with lush greenery, forts, caves, dams and lakes, and amazing scenic beauty. A marvelous weekend getaway for travelers looking for a break from hustle and bustle of city life, Lonavala also provides the opportunity for hot air balloon rides. Rides are available early morning and in the evening, when you can soar through the sky and look down at the scenic beauty below and admire the sun rising and setting along the horizon.
#2. Manali, Himachal Pradesh


Experience a memorable hot air balloon ride over picturesque landscapes, mighty mountains, and meandering rivers below in the quaint hill station of Manali. It is one of the best places to indulge into this breathtaking adventure sports, promising a memory that you will cherish forever. The best place to take a hot air balloon ride is Bhang in Manali where majestic polychromatic-colored hot air balloons are set to let you soar in the sky.
#1. Jaipur, Rajasthan


Hot air balloon ride is one of the greatest attractions in Jaipur that will allure you to come back over and over again. The ride lasts for around 1 hour, where you get the marvelous opportunity to fly over majestic palaces and forts and get a bird's view of Rajasthan's Pink City. Hot air ballooning is a must-to-do activity on your visit to Jaipur, taking you through a splendid experience that you will cherish forever. Amber Fort, Delhi-Jaipur Road, Shiv Vilas, and Jal Mahal are places from where one can take hot air balloon rides.
To book Hot Air Ballooning packages in India send an enquiry on http://www.waytoindia.com/plan-my-tour.aspx