The more closely you watch it, the more you change your perceptions about deserts. Rajasthan, the desert state and the land of grand forts and palaces, inimitable culture and ever-smiling people, is among the most generous hosts of Indian tourism.
Interestingly, there is a lot more than the marvellous royal structures and scintillating cultural performances for including in Rajasthan adventure holiday packages.
Things To Do In Rajasthan
Take a note of some truly action-packed sojourns, if you plan to head towards this wonderland on your next holiday trip in India.
Flying Fox over Imperial Structures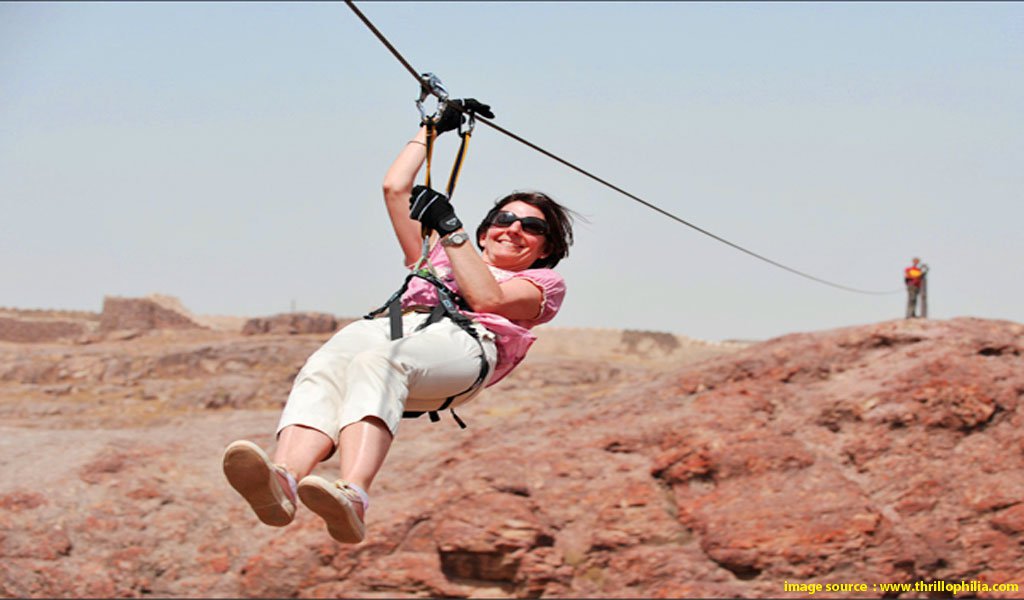 Gear up to explore the remarkable forts of Rajasthan in an exciting new way.
Easily among the top Rajasthan adventure tour options, Flying Fox zip line rides can be enjoyed either at Neemrana Fort (5 zips) or at Mehrangarh Fort in Jodhpur (6 zips).
Admire the larger-than-life architectural landscapes as well as the unusual countryside of the state while experiencing the adrenaline rush in the nerves.
Costs: INR 1,799 (adults) and INR 1,499 (children) at Jodhpur and INR 2,199 (adults) and INR 1,899 (children) at Neemrana.
Birdwatching at Keoladeo Bharatpur
Rated as the best bird-watching area in the entire world, Keoladeo National Park summons passionate bird-lovers in huge flocks every year.
A World Heritage Site, the park is located in Bharatpur, only about 210 km. from Delhi and hosts outstanding bird population of the native and migratory species.
Cranes, teals, ducks, cormorants, spoonbills, storks, sandpipers, quails, eagles, partridges and numerous other birds greet the visitors and leave them speechless.
Costs: INR 25 (Indians), INR 200 (foreigners), INR 100 (vehicles, allowed only up to a point), INR 200 for the video camera and INR 150 for guides.  
Visiting a Haunted Place


Rajasthan, owing to its mysterious landscapes and baffling historical events, serves a perfect background for the haunted places.
On this tour, choose among Kuldhara, the village which strangely lost its entire population to thin air centuries ago, or Bhangarh Fort, which became victim to the curse of a wizard hundreds of years ago.
Each of these places is forbidden for night visits, but a daytime visit is bound to send the chill down your nerves.
Costs: Bhangarh Fort near Sariska Tiger Reserve and Kuldhara is only about 18 km. from Jaisalmer and can be easily accessed in cheap private transportation. There is no entry fee.
Join Tiger Safari at Ranthambore

Rajasthan shares its royal past with the undisputed king of the Indian jungles, the majestic Bengal tiger. Ranthambore National Park is one venue where you get the opportunity to cross paths with the amazing creature from so close.
On a tiger safari tour through the protected forest, you come across many other wild animals and lots of birds. The World Heritage Site is also famous for its medieval Ranthambore Fort, splendid lakes and some beautiful temples.
Costs: INR 25 (Indians) and INR 200 (foreigners), INR 350-400 for vehicles, INR 75-130 for safari (Indians) and INR 475-530 for safari (foreigners), INR 200 for the video camera.
Enjoy Thrilling Desert Camping

Royal desert camps in Rajasthan, set amidst the fascinating sand dunes and under the starlit skies, are something you must try once in life.
Offering cosy beddings, luxury amenities and the finest Rajasthani cuisines, these accommodations are unusual and extraordinary in all regards. Not to forget the way they entertain their guests through fire dancing, folk dance and music performances, puppet shows and other exciting ideas.
Osian and Jaisalmer desert camps are the best in the lot.
Costs: The desert camps packages costs may vary from INR 7,000 to INR 30,000 on per night basis.
Explore Rustic Rajasthan on Camel Safari

When you search for the best Rajasthan adventure activities, the list is simple unconvincing without the mention of desert camel safari.
The safari tours ranging from few hours to a couple of weeks take the tourists over the ocean of sand dunes and through rural villages and revealing the spectacular sunset sights.
Jaisalmer, Bikaner and Pushkar are the top destinations to begin these tours.
Costs: Costs may vary from INR 600 per person per day (including meals) to INR 1,500 per person per day (including meals, camping and other facilities).
Trekking and Other Adventures at Mount Abu

On an extended tour to Rajasthan, take a break from the desert terrains and climb the mesmerizing hills of Mount Abu.
Amidst lush green surroundings, beautiful lakes, fabulous vantage points and some absolutely stunning temples (especially the carved Jain temples if Dilwara), you can engage into trekking, camping, nature walking, horse riding and rock climbing.
Mountain biking, in particular, is the most stimulating idea to explore the fabulous landscapes of the only hill station in Rajasthan.
Costs: Some of the luxury hotels in Mount Abu like Hotel Hilton offer attractive deals that are well in a budget for most of the visitors. Renting bikes is the cheapest as well as a thrilling way to get around.
Once you are done with the Rajasthan adventure sports and you feel the need to be pampered, do not miss on the luxury in this royal state. Luxury and heritage hotels like Hari Mahal Palace in Jaipur, Ranbanka Palace Hotel in Jodhpur, Heritage Inn in Jaisalmer and Udaigarh Palace in Udaipur take clues from the regal lifestyle of the royal families to make the guests feel extremely privileged.
To plan your Rajasthan tour package, you may write to us on info@waytoindia.com or call us on 8527255991.