If you love celebrating colours and festivities with great pomp and show, Kerala is a perfect option to fit in the preference of all kind of people.This land of diversity is rich in heritage and has numerous festivals celebrations which depict vibrant colours, have striking fragrances, and involve heart touching music, old norms, and traditions.
Kerala hosts almost all Hindu, Christian and Muslim festivals with the same enthusiasm and charm. Festivals of Kerala are famous also because they involve various aspects of day to day life such as temple, boat, bamboo etc.
We have picked below ten most famous festivals of Kerala:
10 Most Famous Festivals Of Kerala
1-Onam
A 10-day long festival, Onam is a well renowned Hindu festival that is celebrated with huge devotions. The striking feature of this festival is that it involves Kathakali dance, indoor and outdoor games, boat races and several featuring songs. Onam has been celebrated to mark the homecoming of King Mahabali, who used to rule Kerala during the ancient period. The period of King Mahabali was said to be a golden era of Kerala, where people lived happily with love, harmony, and prosperity.
Time of Celebration of Onam: This festival is celebrated between the month ofAugust and September and is also known as harvest festival of Kerala.
Major Attractions of Onam: Tiger Play, Flower Rangoli, Thumbi Thullal and Onasadya are the major attractions to enjoy while enjoying this 10-day colorful festival.
Weather Condition: This frolic festival of 10 days is mostly celebrated in the period of monsoon where tourists, along with the colours of the festival, can also enjoy the frizzy rains of Kerala.
2-Vishu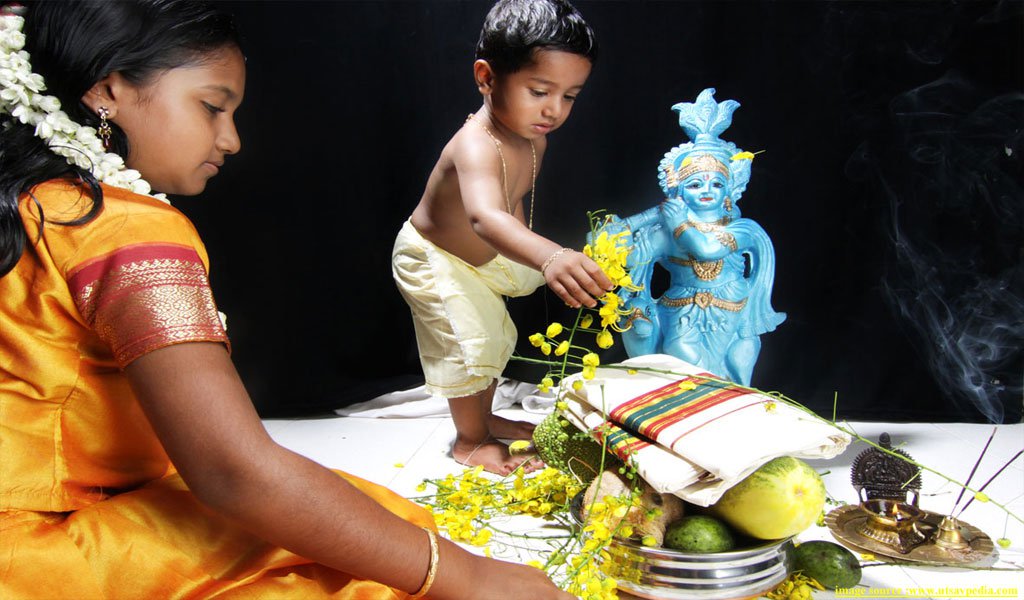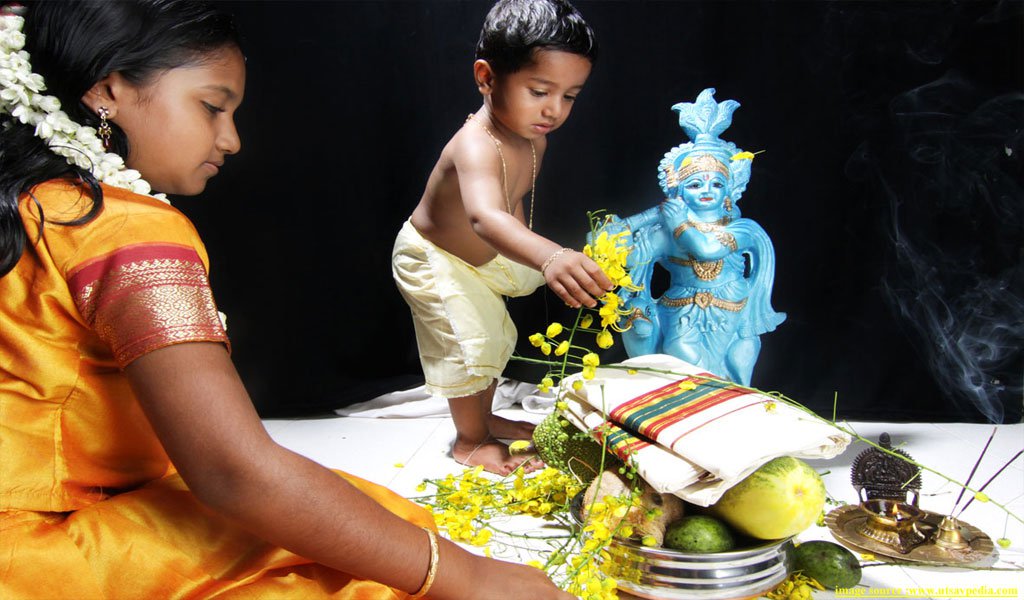 This is one of the most important festivals of Kerala and is said to be the New Year for the Malayali people, based on the ancient (astrological) Malayalam calendar.
Time of Celebration: This festival is celebrated in month of April
Major Attractions: Malayali begin this day by looking to "Kani-Kanal" which is prepared previous night and offered to garlanded deity of Krishna. The festival's major attractions are the firecrackers, payasam and Vishu kanji.
Weather Condition: Being a harvest festival, Vishu brings along pleasant weather Condition
 3-Thrissur Pooram Festival

Thrissur Pooram is one of the famous temple festivals in Kerala and has been celebrated for more than 200 years. This festival is celebrated at the Vadakkunnathan Temple in Thrissur yearly and is celebrated for almost 36 hours with traditional puja, ending with extreme fireworks. The festival is celebrated to worship Lord Shiva and involves color, music, and religion.
Time of Celebration: This festival is celebrated in April
Major Attractions: The major attraction of this festival is enthralling sights of more than fifty clad of elephants passing through the streets of Thrissur at the sound of beating drums.
Weather Condition: Temperature remains in low 20s during the time of this festival in Kerala.
4-Theyyam Festival

Theyyam is an800 year old festival where you can visualize more than 400 types of cultural dances, performed by peopled dressed as deities. The performer goes through three stages of learning: the first stage is of adorning themselves with colors, flowers, and mask; the second stage involves self-torture and the third stage is all about dancing on a rhythm. This festival is celebrated with huge fun which brings the new level of pleasure in the life of the attendees.
Time of Celebration: This festival is usually celebrated from December to April.
Major Attractions: The major attraction of this festival is the mythological stories being enacted through the "dance of gods" performance.
Weather Condition: For cultural enthusiasts, Theyyam falls at the best time of the year when the weather remains cool and pleasant.
5-Kerala Boat Festivals

Kerala is famous for its backwater rides, the main highlights of the state. The beautiful river, lakes and Arabian Sea are all the part of these backwater rides, where you can also visualize the boat festivals of Kerala. Boat Festival is enhanced with different sizes of the boats, where you can see the team spirit among participants, great enthusiasm among the riders and people cheering each other all around the place.
Most Famous Boat Races in Kerala: Nehru Trophy Boat Race in Alleppey, Champakulam Moolam Boat Race at Alappuzha, Vallam Kali at Punnamada Lake and PayippadJalotsavam at PayippadLake located at a distance of 35 km from the district Alappuzha
Time of Celebration: Usually the boat festival is held in between July to September
Major Attraction: Unique feature of the boat festival is that it is celebrated for many reasons. It is either associated with temples or with Onam or at times held without any reason.
6-Maha Shivarathri
Maha Shivarathri is a religious festival celebrated with same joy and festivity like other important festivals in Kerala. Aluva is the place where Maha Shivarathri is celebrated on a grand scale, on the banks of the Periyar River.
Time of Celebration: This festival falls between the months of February-March which is also known as the month of Kumbham.
Major Attractions: After the severe fast observed by pilgrims and other Hindus, the day is followed by several dance performances, sale merchandise and a 'bali' ritual wherein people offer sacrifice to their ancestors.
Weather Condition: Dry weather with temperature soaring up the to high 30s.
7-Attukal Pongala Festival in Kerala

Attukal Pongala is one of the festivals that hold its record in Guinness Book of World Records, for hosting largest female crowd annually. This is one festival, where people celebrate it without remembering their religion, cast or color. The festival is all about offering 'Pongala' to Attukal Devi, a deity whose temple is located very close to the Thiruvananthapuram City. Attukal Devi is believed to be an incarnation of Goddess Parvati.
Time of Celebration: This festival is celebrated during the month of February/ March.
Major Attractions: Best Place to celebrate Attukal Pongala is Trivandrum. This is a festival of 10 days, where people worship Goddess Attukal Devi.
8-Temple festivals of Kerala

Kerala, also known as "Gods Own Country", is extremely rich on account of the numerous Hindu Temples. These temples of Kerala have their own significance since ancient period. The famous temple festivals in Kerala that should not be missed by the tourists are
Arattu at SreePadhmanabha Swami Temple, Thiruvananthapuram
AmbalapuzhaArattu Temple, Alappuzha
Ashtami at Vaikom, Kottayam
Ettumanoor festival,Kottayam
ChitturKonganpada, Palakkadu
LokanarkavuUtsavam, Kozhikode
All these temple festivals are full of great traditions and culture, hence making them exotic for the tourists.
Time of Celebration: This temple festival is mostly held from February to April/May.

Major Attractions: The major attractions of these temple festivals are bejeweled elephants, drummers playing music and fireworks. One can also enjoy classical music and dance performances which take place widely while celebrating different temple festivals in Kerala.
9-Makaravilakku Festival

This is one of the famous seven-day festivals which begins from the auspicious day of Makara Sankranthi. The idol of Lord Ayyappa is worshiped in the famous Ayyappa Temple in Sabarimala. You will find numerous devotees worshipping together and taking part in the celebrations of Makara Vilakku festival annually.
Time of Celebration:14th January
Major Attractions: The Divya Jyothi can be viewed from 9 different places while you are in Sannidhanam. Participating in the Thiruvabharanam procession wherein the ornaments of Lord Ayyapa are transported from the Old Palace to Sabarimala is also a key feature of this festival.
10-Christmas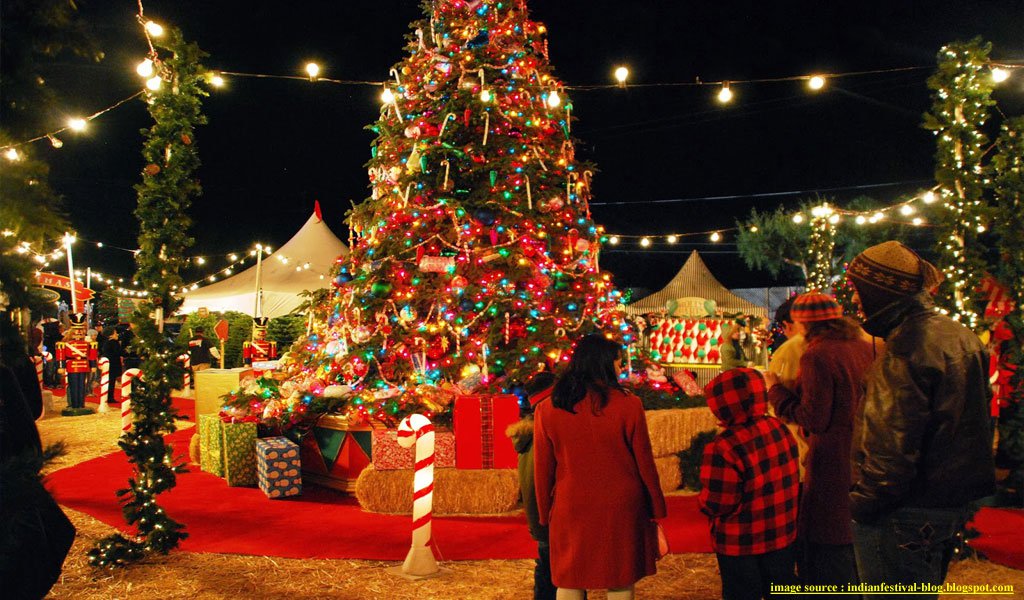 With the increasing population of Orthodox Christians in Kerala, Christmas is celebrated with great vivacity in Kerala, similar to the way it is observed in the rest of the world. Despite several famous festivals of Kerala, Christmas has its own charm and is one of the oldest festivals in Kerala, dating back to almost 15 centuries.
Time of Celebration: 25th December
Major Attractions: Cathedrals, Christmas mass, and Kerala sweets define Christmas in Kerala.
Weather Condition: December is a bit chilly in Kerala, but not too cold to allow plantation of coniferous trees!
To book your Kerala honeymooon tour visit the link http://www.waytoindia.com/kerala-honeymoon-package and send us an inquiry to get the best quotation for your Kerala Leisure Tour or Kerala Honeymoon Tour Package.