Apart from being the spiritual heaven it is, the cosy town of Badrinath in the laps of Garhwal Himalayas extends warm hospitality to the visitors.
As this holy abode of Lord Vishnu opens only for one half of a year, it compensates its isolation of the other six months by being gracious in terms of culture, landscapes and, of course, food. Though not exactly a foodies' paradise, it does promise a glimpse of the region's experiments with the staple ingredients and spices.
The pilgrims from all parts of India (and even abroad) throng the place and are not disappointed by the platters with a mix of cuisines from their respective regions and the mouth-watering Garhwali food.
The pilgrimage towns across India tend to get over-crowded during peak pilgrimage seasons and Badrinath is no different. In this scenario, the travellers are particularly concerned about the availability of good food and hygienic restaurants. And then, there is always a curiosity of trying the region's specialities.
Like every other religious destination, Badrinath has its shares of do's and don'ts when it comes to eating. Keeping your concerns and curiosities in mind, here is a useful guide which offers information about:
General food scene across the town
Lip-smacking Garhwali food which is worth trying
Availability of food specific to your native region
Best places to eat in Badrinath (along with important details)
Eating in Badrinath do's and don'ts
What to Expect in Badrinath Regarding Food? Which are the famous foods in Badrinath?
Badrinath is dotted with small eateries and dhabas as well as in-house restaurants of various hotels.
Don't expect the luxury of 5-star food venues (except a few of the in-house facilities) you might be habitual of visiting in the cities. One reason for this is that these are seasonal businesses that don't serve throughout the year. However, the locations of some of the most popular of these eateries work in their favour. Some of them are located near River Alaknanda while others enjoy the mesmerising views of the towering Himalayan peaks.
The town being one of the prime Hindu pilgrimage destinations (it is one of the four destinations of Char Dham and Chota Char Dham pilgrimage circuits) strictly prohibits the preparation and selling of eggs, meat and other non-vegetarian foods. In addition, alcohol is absent from the menus.
Apart from eating at the dhabas and restaurants, many people (especially those on budget) prefer to eat at langars (community offerings) served at various spots, ashrams and dharamshalas. Though the food served at these places is simple, it doesn't lack taste. However, hygiene can be an issue especially if the food is prepared in open.
Delicious Garhwali Cuisines of the Region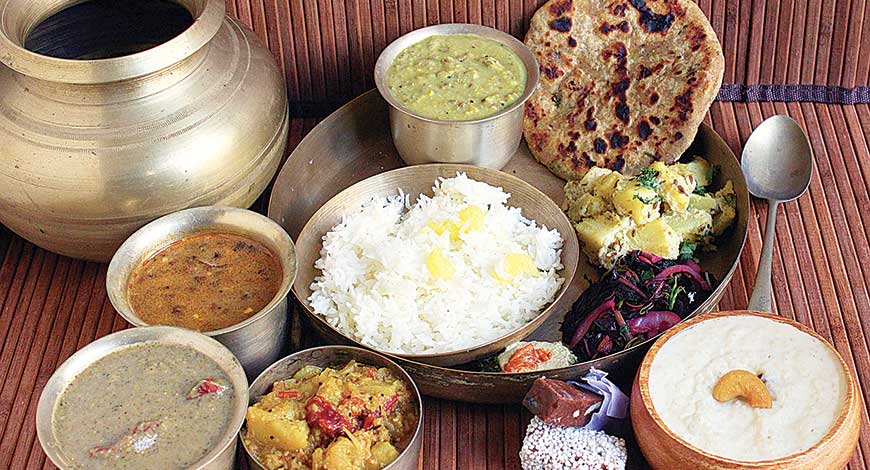 Picture Source:
Businessworld.in
Badrinath, as well as the towns and destinations leading to this holy place, boast of preparations that make extensive use of the hill-grown ingredients, the most prominent ones being lentils, pulses, fibre-rich coarse grains and aromatic herbs and spices. While travelling through the region, you should simply not miss tasting the cuisines like:
Phaana/Phaanu: It consists of pancakes made of a variety of lentils (like gahat) left soaked for a number of hours. Interestingly, the lentil paste used for pancakes is also used for preparing the gravy for the dish.
Kaafuli: Fresh leaves of spinach or/and fenugreek (methi) are boiled and mashed and then cooked in a variety of spices along with rice powder. The dish is nor just tasty but also healthy.
Thechwani: The distinct Pahari (mountain) radish roots/potatoes are crushed (rather than cut) into pieces and fried along with nice-smelling spices like garlic, cumin and coriander.
Baadi: Often accompanied by phaanu, it is prepared by mixing the flour of kwada or choon with hot water and is known for its tangy taste.
Chainsoo/Chaunsu: A rich source of proteins, it is prepared from black lentils (black grams) by roasting them before grinding and then cooking them into spices.
In addition, the region is also famous for its sweet preparations that are equally delectable in taste. Some of these include:
Arsa: Soaked rice are powdered and mixed with a syrup made of jiggery (gur) to prepare the dough. Small rolls made from the dough are deep-fried to make this irresistible sweet which simply melts into one's mouth.
Singori: Containing the goodness of milk, this sweet dish is prepared by cooking kneaded khoya, mixed with sugar. The grated coconut added later takes its taste to another level.
Jhangora ki Kheer: If you are an India, you must be familiar with kheer, a dessert prepared by cooking rice in milk. In the Garhwal region, the preparation replaces rice with jhangora (a kind of millets). By adding lots of nuts, this dish is prepared to please the taste buds.
Food Choices from Other Regions
Apart from the Garhwali food, the town of Badrinath has venues that serve specialities of other regions. The two varieties that predominantly feature in the menus include:
North Indian: Because of Badrinath's location in Uttarakhand which is a North Indian state, you would find North Indian dishes compulsorily offered at most of the restaurants and dhabas and in breakfast, lunch as well as dinner. Dal makhani, sarso ka saag, chana masala, palak paneer and mixed veg are among the most common of these items. Also, you would find aloo puri and paranthas among the top items served in the breakfast.
Chinese: Because of Badrinath's proximity to the Indo-Tibetan border, numerous cuisines of Tibetan and Chinese origin can also be ordered at most of the venues across the place. Some of these include noodles, Manchurian, cheese chilly and fried rice.
Top Places to Eat At Badrinath
Chances are that you are planning to visit Badrinath for the very first time and thus gathering information about some of the best restaurants and eateries across the town. Here is a list you may choose from:
1. Saket Restaurant: A restaurant that finds mention in a number of Badrinath travel blogs is Saket which is located very close to the main Badrinath Temple. Promising amazing views of Alaknanda, the restaurant is also praised for its clean and spacious settings. Some of the must-try options include paranthas, poori bhaji and aloo matar.
Address: Near Temple Bridge, Temple Road
Cuisines: North India, South Indian, Udupi, Gujarati, Chinese
Cost for Two: INR 200
2. Brahma Kamal: Another pure vegetarian restaurant overlooking Alaknanda, Brahma Kamal is recommended for its peaceful atmosphere. It is located close to Badrinath Temple and has nice-looking interiors. Apart from food, you may stop by the place for some fresh and tasty beverages.
Address: Just opposite Badrinath Temple
Cuisines: North Indian
Cost for Two: INR 160
3. Sardeswari Restaurant: A few meters from the temple, Sardeswari Restaurant is another good choice for the North Indian cuisines. The place offers comfortable seating and quick service. Rice and curry are the popular items from the menu.
Address: Temple Road
Cuisines: North Indian
Cost for Two: INR 250-300
4. Cafe in the Park: This in-house restaurant of Sarovar Portico boasts of exquisite interiors. It is a 100% vegetarian venue about 850 m. from the main temple. Being a multi-cuisine restaurant, it caters to the tastes and preferences of one and all. The property has another venue called the Fast Food Restaurant for light snacks and beverages.
Address: Sarovar Portico, Plot No 834
Cuisines: Multi-cuisines (including North Indian, South Indian)
Cost for Two: INR 500-600
5. Big Daddy: Another multi-cuisine in-house restaurant, it is owned by Narayan Palace Hotel and offers a relaxing environment with free Wi-Fi. It is located just 750 m. from Badrinath Temple and enjoys terrific views of the mountains. The availability of tandoori food is a plus point.
Address: Near Bus Stand
Cuisines: Indian, South Indian, Gujarati, Marwari, Chinese, Continental
Cost for Two: INR 500-600
Useful Tips for Eating in Badrinath
If you are not used to the region's food, it is necessary that you follow some important guidelines. Here are some suggestions to eat responsibly while on a trip to Badrinath:
Some of the local preparations, especially those rich in lentils, might be difficult to digest for the outsiders. It is, therefore, important to know your digestive abilities and select carefully from the menus.
On the way to Badrinath, the towns like Rishikesh and Haridwar offer street food delights that are too tempting to resist. However, make sure that you eat at a hygienic place and keep in mind the long distances you would be travelling.
Always eat light on arrival at and just before leaving the town. As you would be navigating through hill roads and high attitudes, heavy-eating may cause problems.
Spices are an integral part of the region's cuisines. Choose to eat them in the quantities you feel comfortable with.
Badrinath town being on the road head can be reached easily by road from Rishikesh which takes about 9-10 hours. In case someone has a paucity of time and still wishes to visit Badrinath, there is a Badrinath Helicopter Service also available on per helicopter or per seat basis.
Is there a possibility of Non-Vegetarian Food at Badrinath?
No! And it is advisable that one should refrain from non-vegetarian food on this holy trip. However, there are venues like Auli-D Food Plaza at the destinations like Auli offering non-vegetarian menus.
What should I prefer to eat in breakfast at Badrinath?
Aloo Poori and Poori Bhaji are two good options readily available at most restaurants. You may also try light south Indian dishes such as Dosa and Idly. Simmering hot cup of tea and coffee can also be savoured.