The capital city of India is a charming place to be and there is much to see and do in Delhi but life in the city can often get a bit redundant. One often feels the need to temporarily bid goodbye to the chaotic streets and heavy atmosphere of urban living. Times like these call for a break in nature resorts near Delhi for a long weekend getaway.
Nature has its own soothing magic that takes away all the weariness of the mind and soul. An actual retreat into nature may not be possible but for a short while you can substitute it with the next best thing. Nature resorts near Delhi are not just amidst luscious greenery but also provide a luxurious atmosphere that is holistically rejuvenating.
You can sample a real taste of nature in these opulent resorts that bring you best of both worlds right under velvety clear skies. In case you are hunting for such a paradise then our blog brings you all the information you need such as:
The best nature resorts in Delhi.
Where are these resorts located?
The special attraction of each of these resorts which makes them popular.
The tariff of these nature resorts.
Aman-iKhas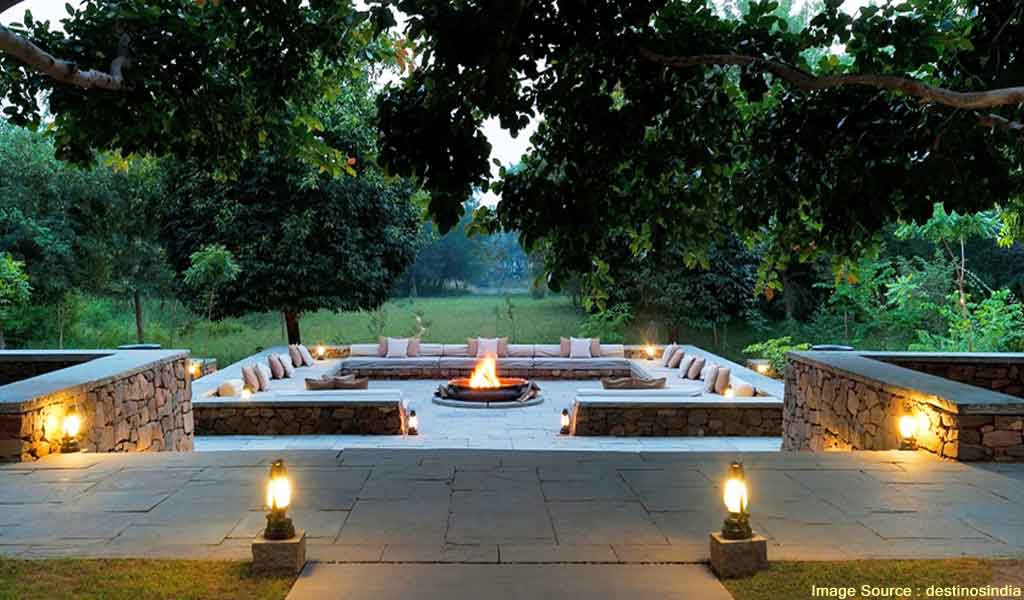 The Mughals were famed for their larger-than-life way of living which became synonymous with luxury. If you have dreamt of enjoying such a lavish lifestyle then Aman-i-khas will help you live that dream. Far off from the hustle of cities, you can enjoy your stay in a shamiana with wooden interiors and a soothing ambience.
Location: Ranthambore National Park, Rajasthan
Special Attraction:Mughal era luxury tents with wooden interiors, safaris, swimming pool
Travel Distance From Delhi:370 kilometers
TariffPer Night: Rs 76,800 Approximately
Jim's Jungle Retreat
If you are a lover of flora and fauna then the best among nature resorts near Delhi for you is Jim's Jungle Retreat.Right on the edge of Corbett tiger reserve, this resort brings you as close to nature as one can imagine all the while surrounded by amenities such as plush interiors, spa and pool. The jungle lodge and cottages provides a marvelous view of the reserve.
Location: DhelaVillage, Ramnagar, Corbett National Park
Special Attraction:Photography workshops, walking trail, fishing and angling
Travel Distance From Delhi:270kilometers
Tariff Per Night: Rs.12,365
The Gateway Resort Damdama Lake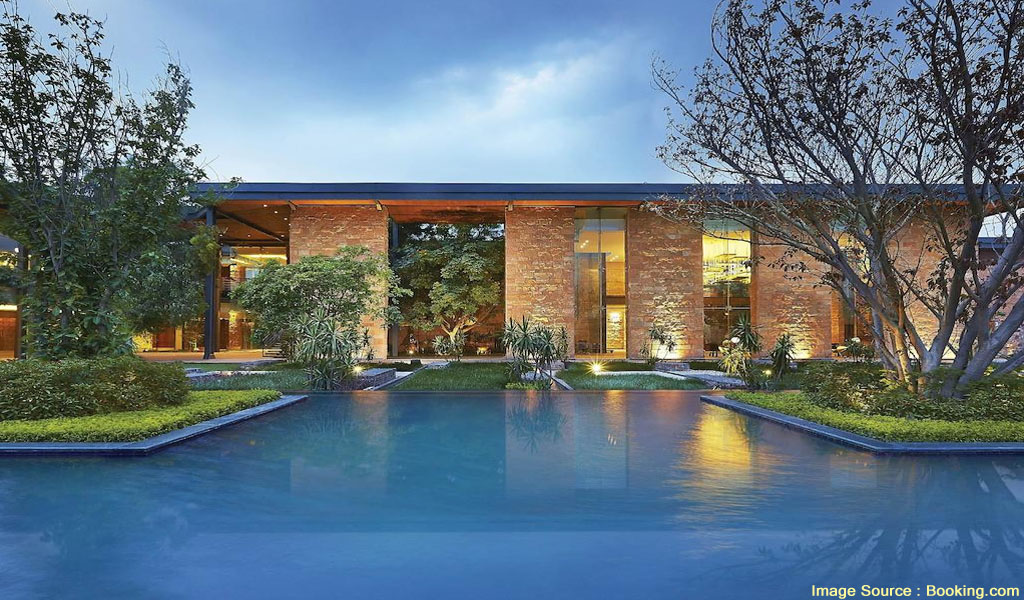 Nature equals to serenity and that's exactly what this quaint place offers. The Gateway Resort Damdama Lake is one of those nature resorts near Delhi that can soothe your senses and also thrill your spirit. Situated right in the lap of Aravalli Hills, this beautiful resort has an abundance of flora and fauna, including 250 species of trees and many exotic birds.
Location:Off Sohna – Gurgaon Road, PO Damdama, Gurugram
Special Attraction:Hot air balloon,pet-friendly, wall rappelling, night time cricket, air rifle shooting, archery and wellness treatment
Travel Distance From Delhi:61 kilometers
Tariff Per Night: Rs. 11,200
Botanix Nature Resort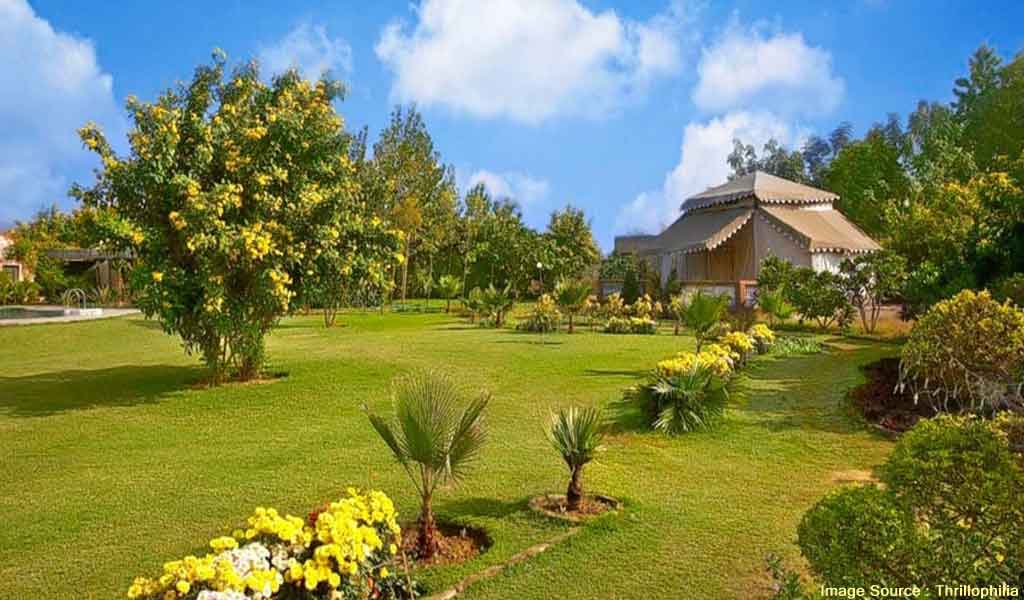 If you are looking for nature resorts near Delhi for a long weekend that are a serene green paradise then drive down to Botanix Nature Resort. This gorgeous resort feels like an extension of nature itself with a great scenic background and amazing amenities. It is also among those few nature resorts near Delhi that are an excellent adventure camp.
Location:Damdama Village, Near Damdama Lake, DamdamaSohna Road, Gurgaon, Haryana
Special Attraction:Meditation, cliff jump, nature walk, rappelling and swimming
Travel Distance From Delhi:61.7kilometers
Tariff Per Night: Rs. 8,813
Ananda In The Himalayas
Ananda in the Himalayas has gained such a reputation amongnature resorts near Delhi that it has been awarded for its luxury and hospitality. What better way to come close to nature than sit right in the lap of Himalayas. This sophisticated resort goes the extra mile to be in harmony with nature and assures that their guests enjoy the most holistic treatment during their stay.
Location: The Palace Estate, Narendra Nagar Tehri – Garhwal, Narendra Nagar, Uttarakhand
Special Attraction:Ayurvedic retreats, yoga, green organic cuisines, nature walks, river rafting, Ganga aarati and safari
Travel Distance From Delhi:262kilometers
Tariff Per Night: Rs. 28,770
Kikar Lodge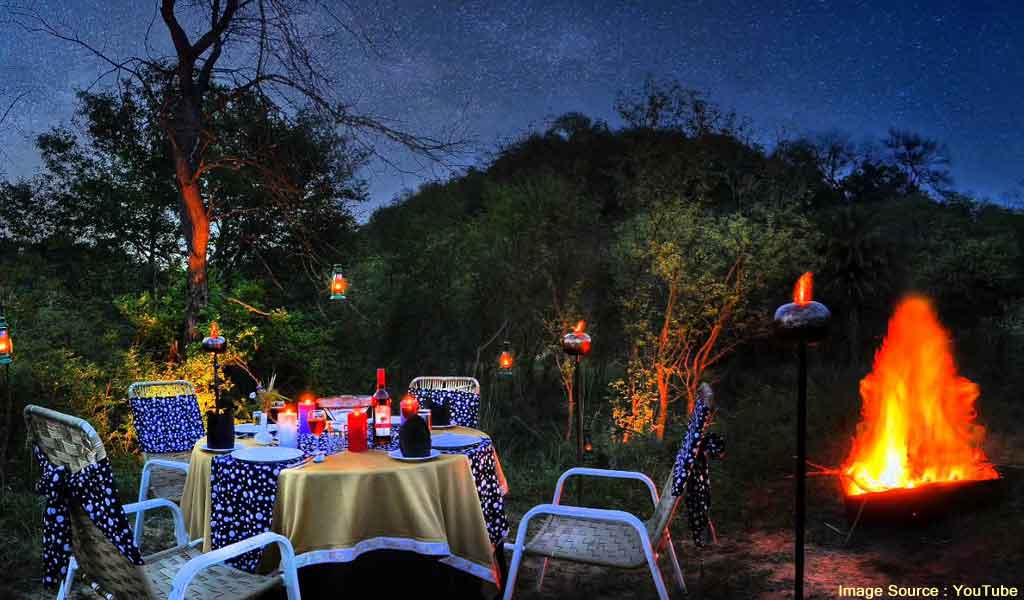 The rustic ambiance of Kikar Lodge makes it a wonderful getaway from the regular chaos to a dream like natural haven. A perfect choice among nature resorts near Delhi, this place lets you indulge your senses in natural splendor and thrilling activities. Each of the luxurious cottages at Kikar Lodge adds to the charm of staying in this charming place and the wellness treatment therapies like the Forest Spa relaxes your senses completely.
Location:Kangar Village, Ropar, NurpurBedi, Punjab.
Special Attraction:rejuvenatingspas,horse riding, rappelling, paint ball, quad biking, zip lining and night safaris
Travel Distance From Delhi:330 kilometers
Tariff Per Night: Rs 9,000
The Serai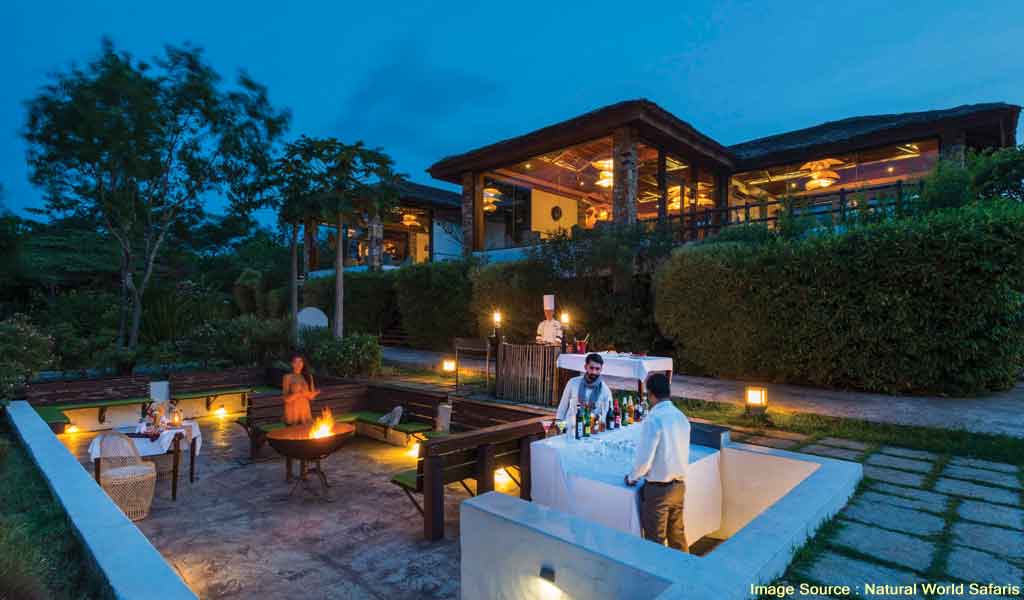 The Serai may not exactly be the closest among nature resorts near Delhi but the long drive is surely worth the effort. This luxurious place allows you to indulge in amenities unlike any other. Not only does the Serai give you a chance to stay close to nature but it also provides facilities that make you feel like royalty. The most special feature is the luxurious tents that are a combination of charm and serenity.
Location:Bherwa, Jaisalmer, Rajasthan
Special Attraction:Luxury tented suites, swimming pools with Jacuzzi, numerous spa treatmentsand excursions
Travel Distance From Delhi: 750 kilometers
Tariff Per Night: Rs. 14,992
Glass Houses On The Ganges
Nobody understands luxury and hospitality like the Neemrana Group of hotels and this is why Glass Houses On The Ganges is class apart among nature resorts near Delhi. The resort has the most tranquil ambiance and each of its room overlooks the imposing mountains and the Holy Ganges. The resort is surrounded by lush greenery and fruit trees. The resort follows the mantra of healthy ad wholesome eating and the kitchen products are gathered from the vegetation around.
Location:Near 23rd Milestone, TehriGarhwal District, GularDogi, Uttarakhand
Special Attraction:Nature therapies,spas,rock climbing, cliff jumping, white water rafting and trekking
Travel Distance From Delhi:268 kilometers
Tariff Per Night: Rs. 11,118
You can also book Delhi to Haridwar Rishikesh tour package by calling on 8527255991.
Also note that Haridwar is the Gateway to the journey to Badrinath. One can reach Badrinath by helicopter, or road. If 
Water House Resort
Water House Resort is an ideal option to lose your senses in the calm and beautiful ambiance of nature. The well furnished interiors give a special appeal to this retreat along with various thrilling activities that keep you fit and add a dose of excitement to your vacation. The natural splendors that surround Water House Resort make it an appealing place among nature resorts near Delhi.
Location:Nature Farms, Opp Amity University, 35th Kilometre stone, NH-8, Jaipur
Special Attraction:Golf, nature walks, cycling, tennis, multi-cuisine restaurant, bird watching and excursion of Jaipur
Travel Distance From Delhi:281kilometers
Tariff Per Night: Rs. 17,600
Pick a favourite among these nature resorts near Delhi and take an excursion into nature away from the hustle and bustle of city life. If you are looking to travel around Delhi or explore the terrains of India then log on to www.waytoindia.com.  for more information.