Restaurant and bar owners in Mumbai continue to fascinate their guests with unusual dinning ideas. Many of them wish their visitors to climb up, view the metropolitan persona of the city from a different perspective and enjoy quality food in an open sit-out area with exclusive arrangements.
Top 5 Rooftop Restaurants in Mumbai
The trend of rooftop restaurants in the city has attained the highest level literally. The next time you look for an eating place in Mumbai, prefer one of the very best roof-assigned venues recommended below.
Koyla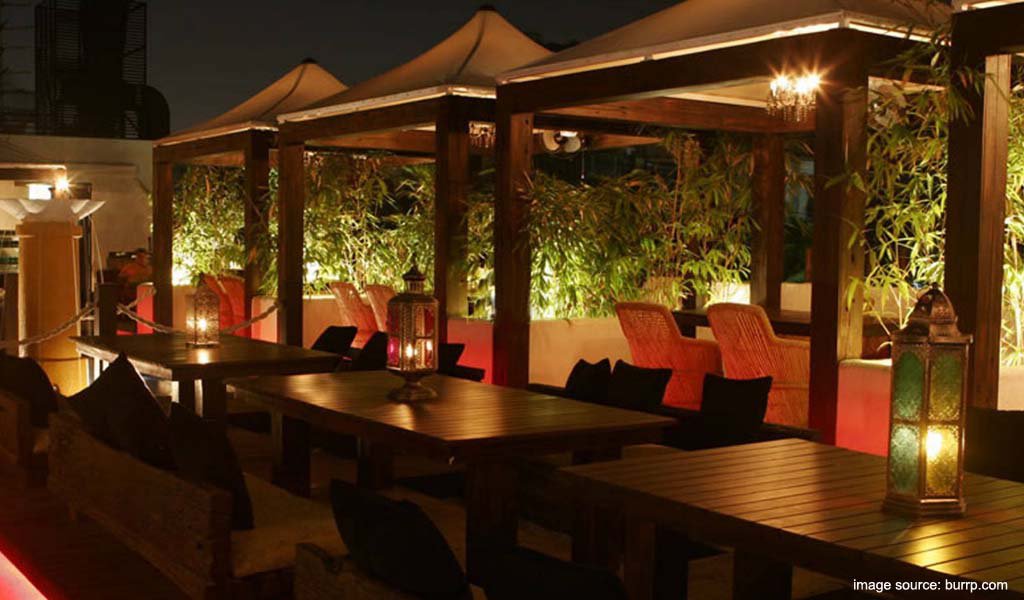 A sheesha joint where you can enjoy a fruit-flavoured hookah the royal style, Koyla serves the best of Mughlai and North Indian cuisines. Cooked in the Dum Pukht style, a technique borrowed from the royal nawabi kitchens, the preparations exude the finest flavours and aromas of the Indian spices.
Candles, lanterns and bamboo decors fill the entire space with exoticness and the soft romantic music adds to the delight. The highlight most definitely is the spectacular view of the ocean which lends cool breeze to the rustic ambience.This has made us list Koyla amongst the Top 5 Rooftop Restaurants in Mumbai.
Options: Vegetarian and non-vegetarian food. No liquor
Address:  Level 34, Gulf Hotel, NA Azmi Marg, Colaba, Mumbai
Opening Hours: 07:30 p.m. to 01:30 a.m.
Cost for Two (approx): INR 1,500
For Reservation: +91-022-66369999/+91-022-66364727
Highlights: Achari paneer, ghosht lababdar, chicken nawabi kebabs, masala kulcha and assorted mocktails
Aer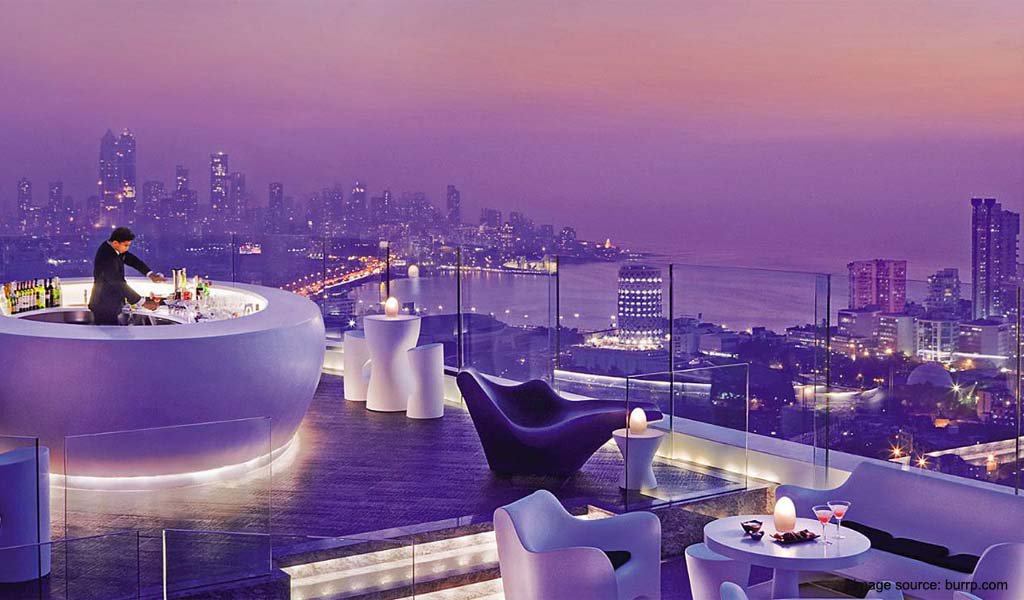 If you are in Mumbai to enjoy magnificently setting sun views the city is famous for, better escalate to the 34th floor of Hotel Four Seasons for it. Located here is Aer, the upscale bar renowned for its cocktail collections and fascinating ambience. While one part of the lounge let visitors feast their eyes on sun delving into the sea, the other provides spellbinding views of the city. Watch the sky changing multiple shades as the day changes into night and literally feel at the top of the world.
Options: International mezzes, cocktails and champagne
Address: 114 Dr. E. Moses Road, Worli, Mumbai
Opening Hours: 05:30 p.m. to 01:30 a.m.
Cost for Two (approx): INR 3,000
Contact: +91 22 2202-8700
Highlights: Pay half the price for cocktails and champagne during happy hours (till 08:30 p.m.). Jazz, club, house, funk and classic hits from the DJ.
Breeze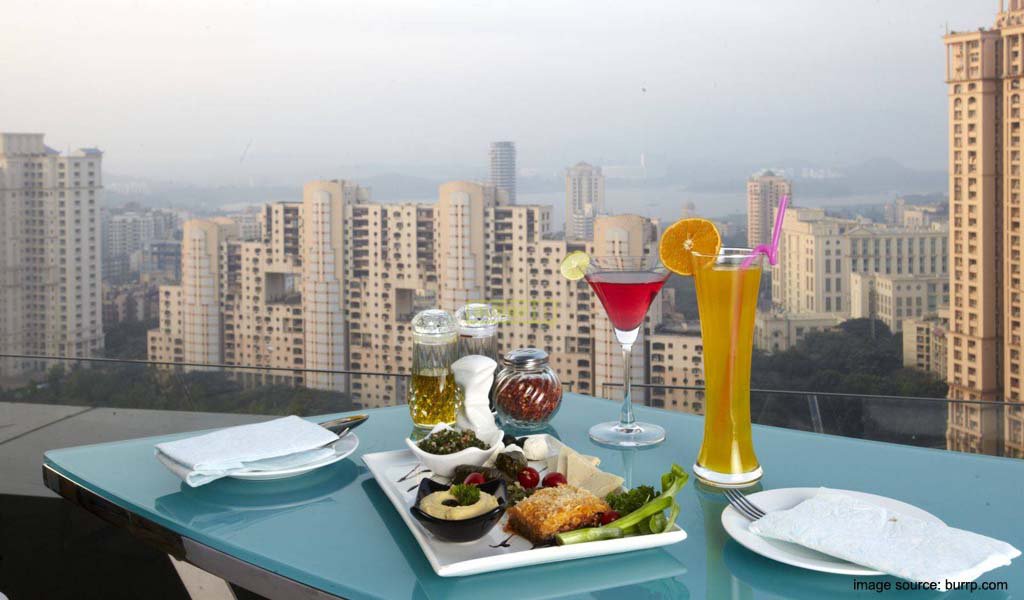 The lounge on the 8th floor couldn't have been named better. Overlooking the heart-warming beauty of Powai Lake, Breeze refreshes as soon as you enter the dinning space. A perfect venue for those who are strict vegetarians and looking for a great wine-n-dine experience. The ambience with soft lighting and pleasing music is definitely a bonus, irrespective of whether you are on a date, with friends or enjoying a family dine-out experience.
Options: Vegetarian (Italian, Mediterranean), also serves alcohol.
Address: 8th Floor, A Wing, Supreme Business Park, Hiranandani Gardens, Powai, Mumbai.
Opening Hours: 12 noon to 01:00 a.m.
Cost for Two (approx.): INR 2,000
Contact: +91 22 6608 3939
Highlights: Extremely refreshing breeze, stunning views during the rainy season, good combination of food, music and wine, prices cater to different budgets.
Dome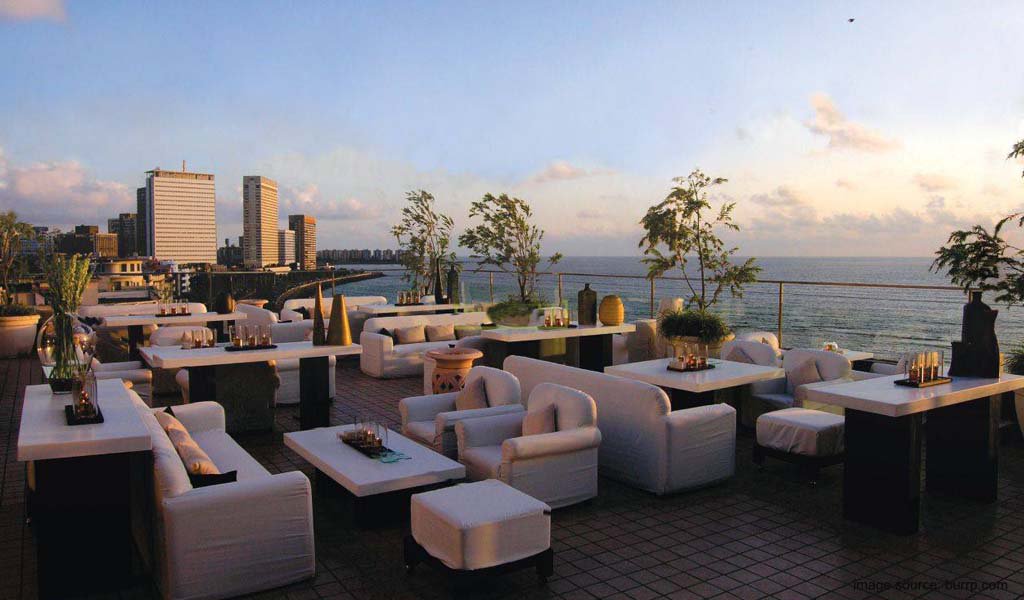 If you were thrilled while talking leisurely stroll along Marine Drive, watch this C-shaped promenade in a different perspective from Dome. Recommended by the likes of Forbes and Times, this upscale lounge has acquired huge limelight for its ambience alone. That doesn't take away from the food quality which is definitely awesome. Try to reach the place early evening to be a lucky spectator to the unforgettable views of the sun being engulfed by the Arabian Sea.
Options: Vegetarian, non-vegetarian (North Indian, sushi, finger foods), wines, cocktails and cigars.
Address: Level 11, InterContinental Hotel, 135 Marine Drive, Mumbai
Opening Hours: 06:00 p.m. to 01:00 a.m.
Cost for Two (approx.): INR 3,500
Contact: +91 22 3987-9999
Highlights: Great ambience filled with candles, extremely comfortable seating, great service, entertaining musical performances (on selected days), premium wines and cigars
The Big Bang Bar & Café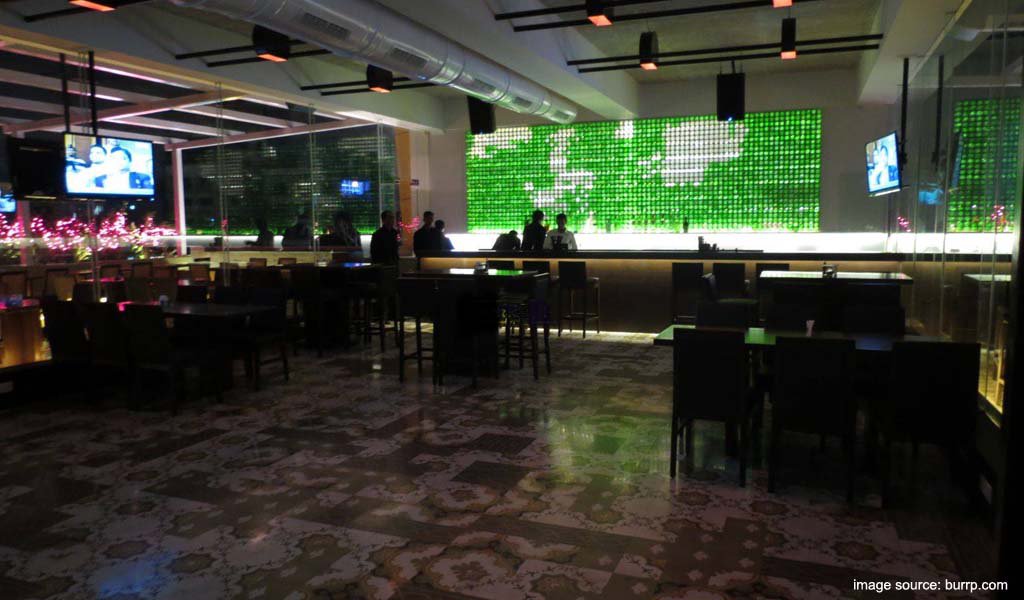 On a nice weather day, plan to have dinner at this venue and you will definitely love to visit it again. Though, there are no specific views that it boasts of, The Big Bang is reputed for its spacious dinning arrangements that span over the area of two terraces. What enhances the experience of being here is the typical loud music which complements the feeling of sitting under star-lit open sky. And, you will be delighted to find such great food variety on the menu cards.
Options: Indian, Mexican, Italian and Continental
Address: 3rd Floor, Kenilworth Building, Off Linking Road, Bandra West, Mumbai.
Opening Hours: 06:00 p.m. to 01:30 a.m.
Cost for Two (approx): INR 2,000
Contact: +91 22 2600 8833
Highlights: Great value for money, seating choices (bar chairs and couches), good music and nice environment.
Take a break from the usual restaurants and collect some special memories at one of these 'top' dinning places.