Good food and quality service are no more the only parameters for the restaurants to beat the competition these days. In a bid to connect with their customers and to leave the long-lasting impressions, few dare to experiment
with bizarre themes and crazy ambiances.Many interesting restaurants in India constantly pull the food buffs from the regular dinning scenes and guide them towards the unexpected avenues. For your next trip to India, plan your dine-out date at one of these out-of-the-box places for which we have compiled a list of unusual restaurants in India.
Interesting & Unusual Restaurants In India
Dark Dine Invisible, Bangalore
Get ready for a blind date, literally. Dark Dine Invisible takes inspiration from the visually impaired and serves dinner in absolute darkness. No electricity, no candles and no mobile phones. A blind server is your guide and host and you are served with vegetarian and non-vegetarian preparations, which you must recognize and relish through aroma and taste.
What's the Menu? – Chinese, Vietnamese, North Indian and Thai
Opening Hours – 11:00 a.m. to 11:00 p.m.
Cost for Two (approx) – INR 1,000
Address – No. 1303, Benaka Plaza, Main Road, HAL 3rd Stage, Jeevanbheema Nagar, Bangalore
Tip – Not for those suffering from claustrophobia
New Lucky Restaurant, Ahmedabad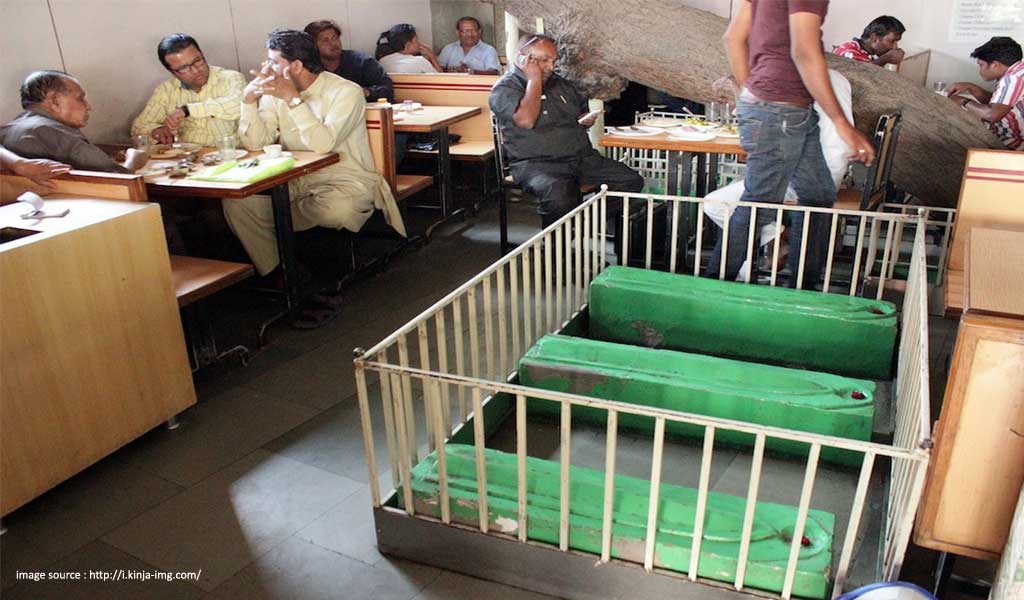 Enjoy your food in the company of the dead! This unrealistic idea is a living reality at the New Lucky Restaurant of Ahmedabad. About a dozen graves enclosed inside the iron bars might appear creepy but the owner, running the restaurant for nearly 50 years, find them lucky. Be surprised to find people relishing their food, especially the soft buttery buns, unaffected by their surroundings.
What's the Menu? – North Indian, South Indian, Chinese, fast food and beverages
Opening Hours – 11:00 a.m. to 11:00 p.m.
Cost for Two (approx.): INR 300
Address – Opposite City College, Near Dinbai Tower, Lal Darwaja, Ahmedabad
Tip – Be respectful towards the graves. Don't miss the flavoursome tea.
21 Fahrenheit, Mumbai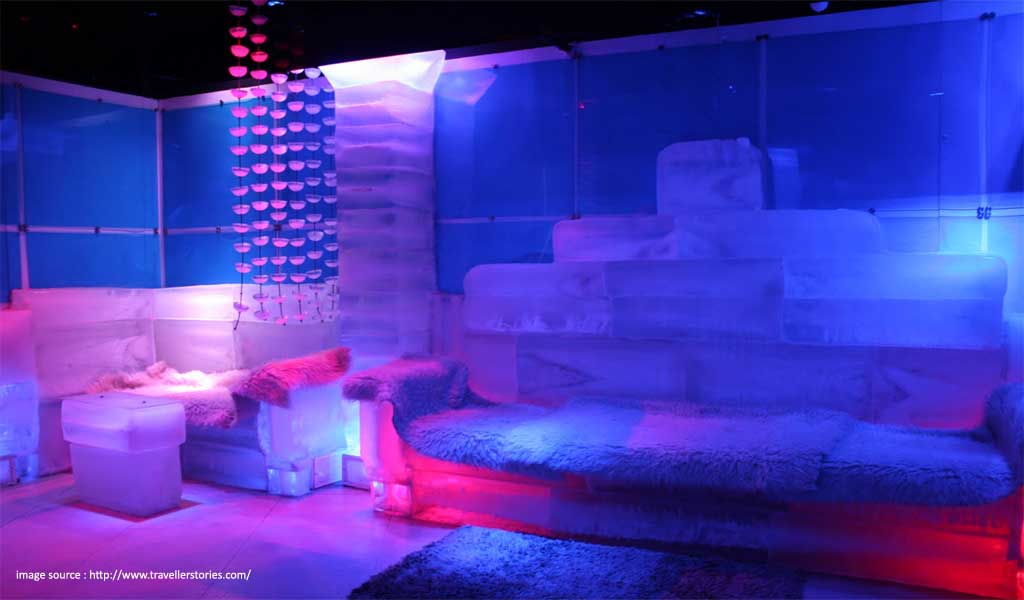 When the temperature outside kills, this is the venue to chill! A fine dining and ice lounge combo, 21 Fahrenheit has everything, from tables and chairs, chandeliers and lamp shades to plates and glasses, made of ice. Visitors are provided with warm coats, gloves and boots to bear the zeros degree temperature at one of the most creative restaurants in India. A great place to take the kids along, the restaurant also hosts live music.
What's the Menu? – North Indian, Thai, Chinese and Japanese
Opening Hours – 02:00 p.m.-12 midnight (Mon-Thurs) 02:00 p.m.-01:00 a.m. (Fri-Sun)
Cost for Two (approx.) – INR 1,500-INR 2,500
Address – 28, Meera Apartments, Oshiwara Link Road, Oshiwara, Jogeshwari West, Mumbai
Tip – There's an entry fee (about INR 750); prefer visiting on weekdays when it is cheaper.
Gufaa, Hyderabad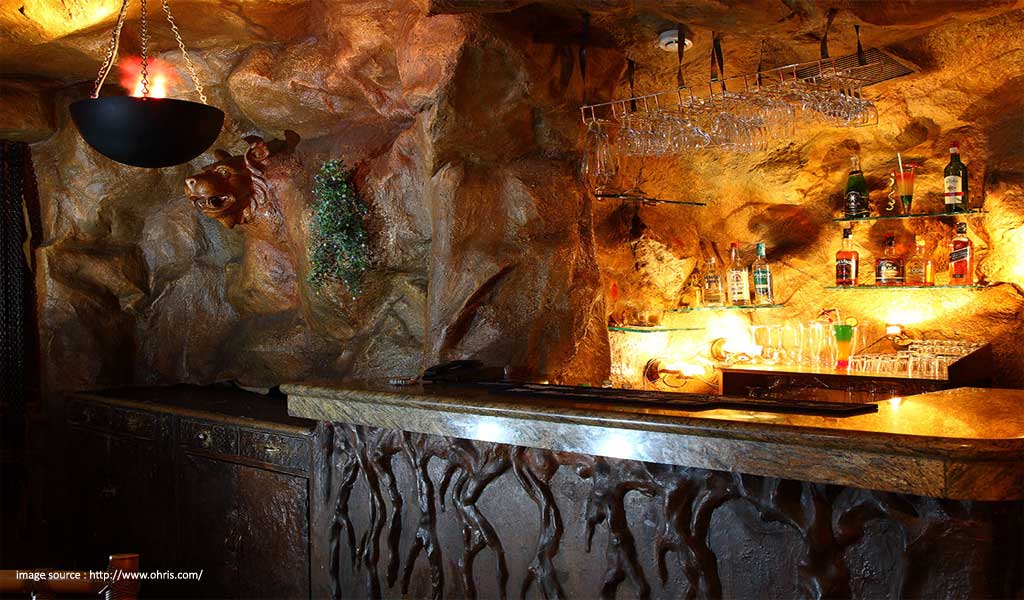 Travel back to time and eat food nomadic style! Coming from Ohri's, the name behind some of the best theme based restaurants in India; the place imitates a cave or dungeon with lights and sounds creating the perfect thrill. Waiters dressed up as hunters make the settings even more believable. An unusual idea for a cosy romantic date!
What's the Menu? – North Indian and North West Frontier cuisines
Opening Hours – 12 noon to 11:30 p.m.
Cost for Two (approx.) – INR 1,000
Address – 5-9-30/16-20, Ohri's Cuisine Court, Opposite Old Gandhi Medical College, Basheer Bagh, Hyderabad
Tip – Don't miss the scrumptious biryani and smoky ice-cream.
Kaidi Kitchen, Chennai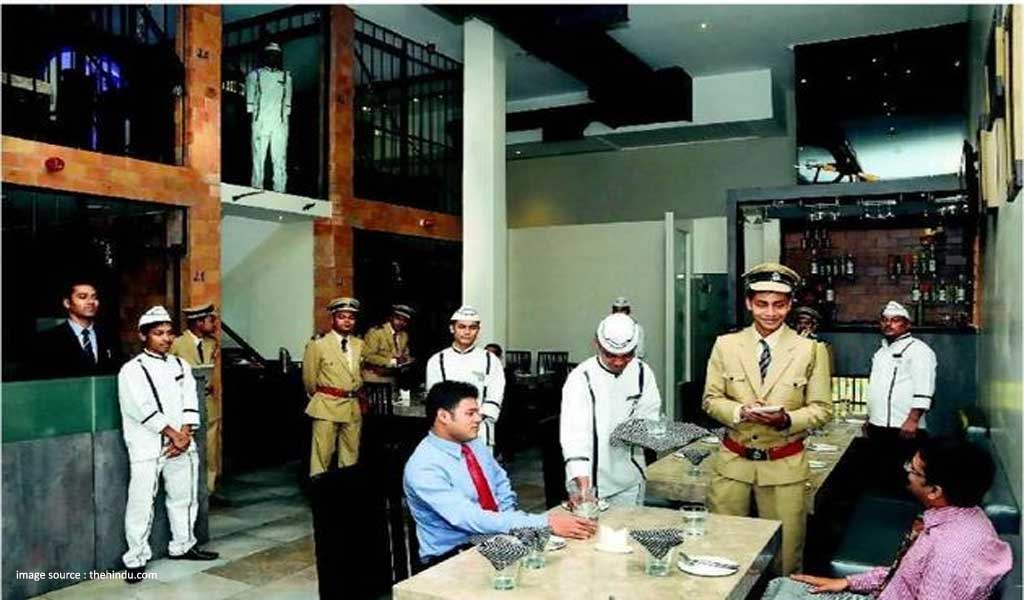 Top quality food served inside the prison cells! That's what you get to experience at Kaidi Kitchen, a jail-themed restaurant promising first-class ambience. While kaidis (prisoners) in their white and black attires serve as the props, the jailors in the authentic uniform take the orders. Staff members are extremely helpful and offer great suggestions from the menu.
What's the Menu? – North Indian, Thai, Italian and Mexican
Opening Hours – 12 noon to 11:00 p.m.
Cost for Two (approx.) – INR 1,200
Address – 20/3, Bishop Wallers Avenue, Mylapore, Chennai
Tip – Strictly vegetarian menu. Don't miss the delectable soups. Expect to meet huge crowd.
Tihar Food Court, Delhi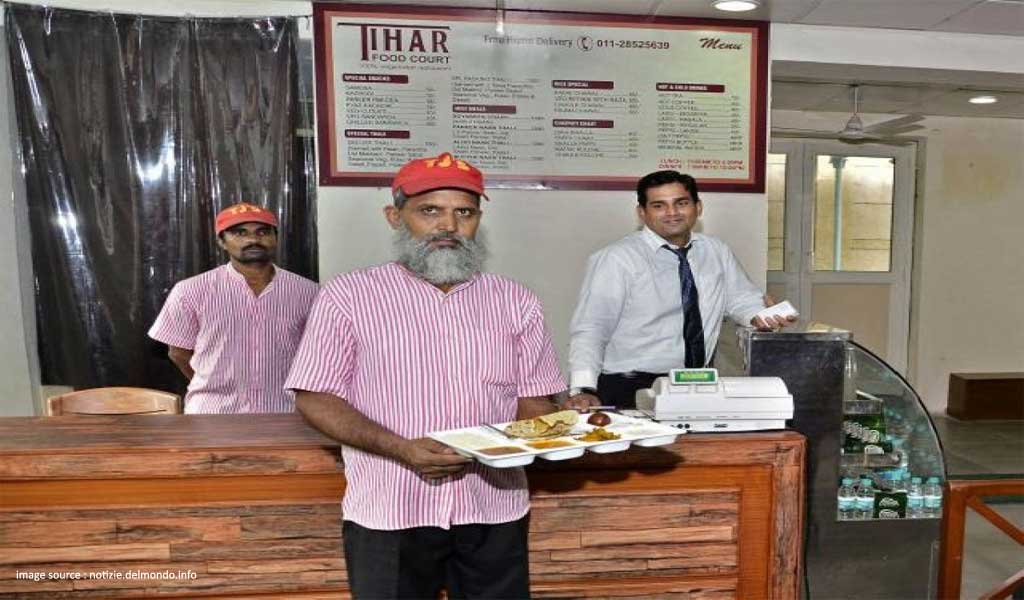 From an artificial prison to the real one! South Asia's largest prison complex Tihar hosts a restaurant where the real prisoners serve as cooks and waiters. A simple place with great initiative, the restaurant is just few meters from the dormitories and feature paintings (really impressive) painted by the prisoners. Undoubtedly, one of the unique restaurants in India, where even the harsh convicts greet with smiles!
What's the Menu? – North Indian, fast food
Opening Hours – 11:00 a.m.-09:00 p.m.
Cost for Two (approx.) – INR 300
Address – Tihar Jail Complex, Opposite Indraprastha Gas Station, Jail Road, New Delhi
Tip – Pay a visit to the Tihar Haat, where beautiful paintings, handicrafts and other items made by the jail inmates are available for sale.  
Firangi Dhaba, Mumbai

Inspired by India's authentic ambiences! From the rustic dhabas, found along the highways in North India, to the unique colourful auto-rickshaw style seating arrangements and the over-dramatic Bollywood posters all around – the restaurant is indeed a lively place to be at. Totally interesting are the menu-card designs in the form of truck number plates.
What's the Menu? – Mughlai, North Indian and Italian
Opening Hours – 12 noon to 12 midnight
Cost for Two (approx.) – INR 700
Address – 9, Remi Biz Court, Behind Fun Republic, Off Veera Desai Road, Andheri West, Mumbai
Tip – Request the dholis (drum players) to play energetic Punjabi beats and perform the energetic Bhangra. You will love the atmosphere.
Nature's Toilet Café, Ahmedabad
Connecting the two human body processes the quirky way! Imagine having food while sitting on a lavatory. The peculiar idea is being practiced at the Nature's Toilet Café where the toilet seats replace the chairs. The owner describes as the great way to deliver the message of hygiene and importance of toilets.
What's the Menu? – Northwest Indian
Opening Hours – 10:00 a.m.-09:00 p.m.
Cost for Two (approx.) – INR 500
Address – Near Sabarmati Ashram, Ahmedabad
Tip – Explore more than 20 different types of lavatories (some of them dating back to mid-20th century) at the toilet garden within the premises.
No wonder that these cool restaurants in India enjoy the same fame as some of the popular tourist attractions around them. Try not to miss the unusual experience.