If winter comes, can festivity be far behind? This blog shares with you festivals in India in December. You can experience the originality of the Indian continent the most during this winter season, especially in the month of December.
This is a time when the otherwise tropical climate of most of the parts of India gets soothed and so the tourists enjoy a traveling spree. Nature and the ambiance everywhere get embellished with vibrancy and color and the cities, towns, and villages in different parts of India welcome diverse fairs and festivals.
This is the time when the world celebrates Christmas. People celebrate Christmas in some parts of India too with great grandeur and Christmas is one of the best festivals to enjoy in December in India. But along with that, there are a handful of festivities during this period which showcases true features of various traditions of India.
WaytoIndia.com brings to you a guide for December festivals in India.
Festivals In India In December
Festivals In India In December : Hornbill Festival
When: 1-10th December 2016
Where: Kohima, Nagaland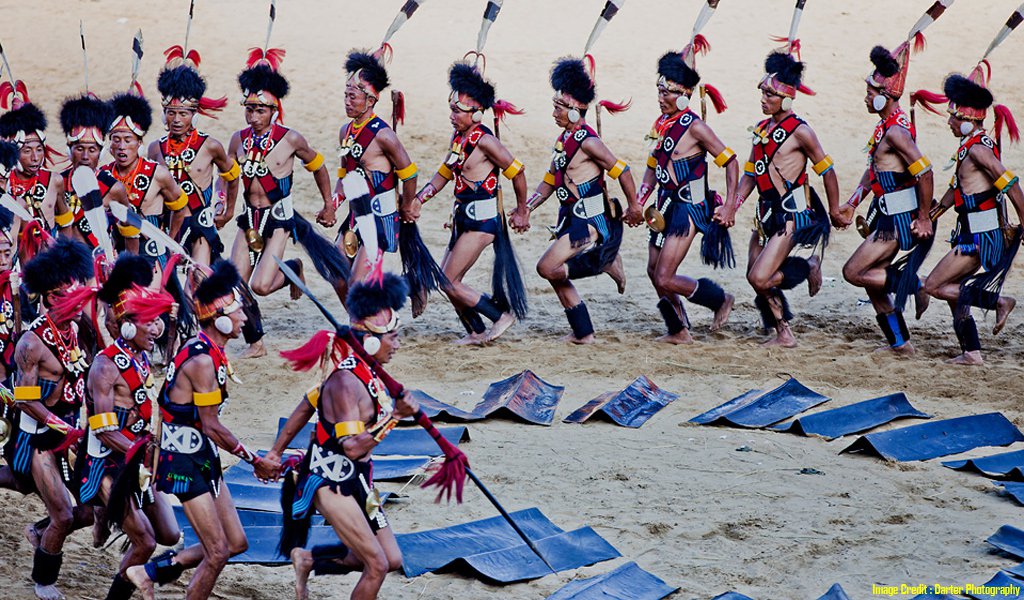 Hornbill is a famous bird species in Nagaland. This festival is named after that bird. This state is popularly termed as the 'Land of Festivals' and Hornbill Festival is the most significant one among those. So this vibrant and culturally rich festival for the warrior tribe is called 'Festival of Festivals'.
During this festival, you can witness the tradition and heritage of original Nagaland with its diverse music, dance, and food. This North-eastern festival is an unavoidable part of the list of famous fairs and festivals in India.
Festivals In India In December : Galdan Namchot
When: 23rd December 2016
Where: Leh, Ladakh

This is a socio-religious festival to celebrate New Year and the birthday of Tibetan saint Tsongkhapa. Losar Festival and Leh Dosmoche follow this festival. The local people prepare famous Ladakhi and Tibetan dish Thukpa (mutton and vegetable soup with noodles) and share it with friends and family as a traditional custom during this festival.
The festival celebrations include meeting near and dear ones and exchanging the ceremonial scarf 'Khatak'. During this festival, the entire area of Leh takes a carnival look. At the end of the festival, people join in processions with flaming torches in hands. This is called 'Metho', a ceremony to wipe away evil spirits.
Festivals In India In December : Perumthitta Tharavad Kottamkuzhy
When: 7th to 16thDecember 2016
Where: Kerala
This is an annual festival of Kottamkuzhy, Kerala. This is one of the most popular festivals of the state. During the celebration, you experience the oldest folk ritual dance form of Kerala named Theyyam. This colorful folk art form has a great religious and cultural significance.
Theyyam is a combination of 400 forms, such as Panchoorla Theyyam, Chamundi Theyyam,Muthor Theyyam,Elayor Theyyam etc. This Theyyam festival is held on the New Year's Eve according to Malayalam calendar and the artists perform with colorful dress and body paintings. This festival surely finds its place amongst the best festivals to enjoy in December.
Festivals In India In December : Konark Festival
When: 1st to 5th December 2016
Where: Konark, Orissa

Not just for the beaches or temples,Konark is remembered for its rich festivals too. This renowned festival in the month of December is a showcase of the powerhouse performances of stalwarts of Indian Classical Dance. It is mainly organized by Odyssey maestro Guru Gangadhar Pradhan's Academy. With Sun Temple adorning the backdrop, an ecstatic and extravagant feast of Odyssey, Bharatnatyam, Kathak, Manipuri, Chau amazes the audience. A handicrafts fair is also there along with the celebration of classical dance.
Festivals In India In December : Feast of Francis Xavier
When: 3rd December 2016
Where: Basilica of Bom Jesus, Goa

Saint Francis Xavier, popularly known as 'Goencho Saib' in Goa was the patron Saint of the place. The Feast of Saint Francis Xavier is commemorated every 3rd of December to honor his death. It was the day he was buried. Religious Christians come from Kerala, Tamil Nadu, Karnataka, and Maharashtra to attend the ceremony. Saint Francis Xavier was famous for his curative powers and so this ceremony is a significant festival of India.
 Festivals In India In December : Karthigai Deepam
When: 12th December 2016/ 2nd December 2017
Where: Different parts of Tamil Nadu

This is the oldest festival of Tamil Nadu and is treated as an extension of Diwali across Southern India. Karthigai Deepam is also known as Annamalai Deepam. People of Tamil Nadu celebrate this festival in order to worship Lord Shiva. Thiruvannamalai Arunachaleshwara Swamy Temple is the place where Karthigai Deepam is celebrated with the greatest grandeur.
Festivals In India In December : Cochin Carnival
When: Last Week of December, 2016/2017
Where: Cochin, Kerala

This festival is celebrated in Fort Kochi. In ancient colonial days, it was celebrated to mark Portuguese New Year, but in recent times the festival is more like a colorful carnival for the masses.
Not only Fort Kochi, the entire city gets ready with colors, grandeur, and festivity during this period. The vibrant procession led by a jewellery-clad elephant, Kalam Vara (Floor drawing competition) is one of the unique aspects of this Cochin Carnival. This festival is held till the New Year's Eve and is extended to midnight of 31st December. Cochin Carnival is largely popular as one of the most significant fairs and festivals of India in December month.
Festivals In India In December : International Sand Art Festival
When: 1st to 5th December 2016
Where: Konark, Orissa

For the last one year, this cultural festival at Chandrabhaga Beach, Orissa has become an inseparable part of the list of fairs and festivals in December in India. Famous talented artists and sculptors make marvelous artworks with sand.
Not only sand, the artists excel in their creations with stone, bronze and wood too. Chandrabhaga Beach is at a 3 km. distance from Konark. Famous Sand artist Sudarshan Pattnaik is the brand ambassador of this event. These artworks are praised across the globe.
Festivals In India In December : Vishnupur Festival
When: 27th to 31st December 2016
Where: Bankura, West Bengal
This festival is held near Madanmohana Temple to celebrate its rich cultural heritage. Vishnupur is famous for terracotta temples and silk sarees. It was the capital of the Malla Kings. During this festival, there is an exquisite exhibition of local handicrafts like terracotta works. You can witness entire process of silk making with mulberry in pots and silkworms in the adjacent fair. Vishnupur Gharana is a rich Indian Classical Music genre. This festival gives an opportunity to experience the rich classical music of this Gharana.
Come! Let WaytoIndia.com take you through the best places to experience these festivals.