Diwali – an amazing fiesta of lights & sounds – is one festival that is celebrated with immense zeal and fervour every year, irrespective of caste, religion and community. The occasion commemorates the victory of good over evil and is a festivity of fun, togetherness and prosperity. If you are wondering how to make your Diwali most memorable and enchanting, check out these places where celebrating the Festival of Lights is worth million dollars. Here are the top 6 best places to celebrate Diwali in India.
Best Places To Celebrate Diwali In India
Amritsar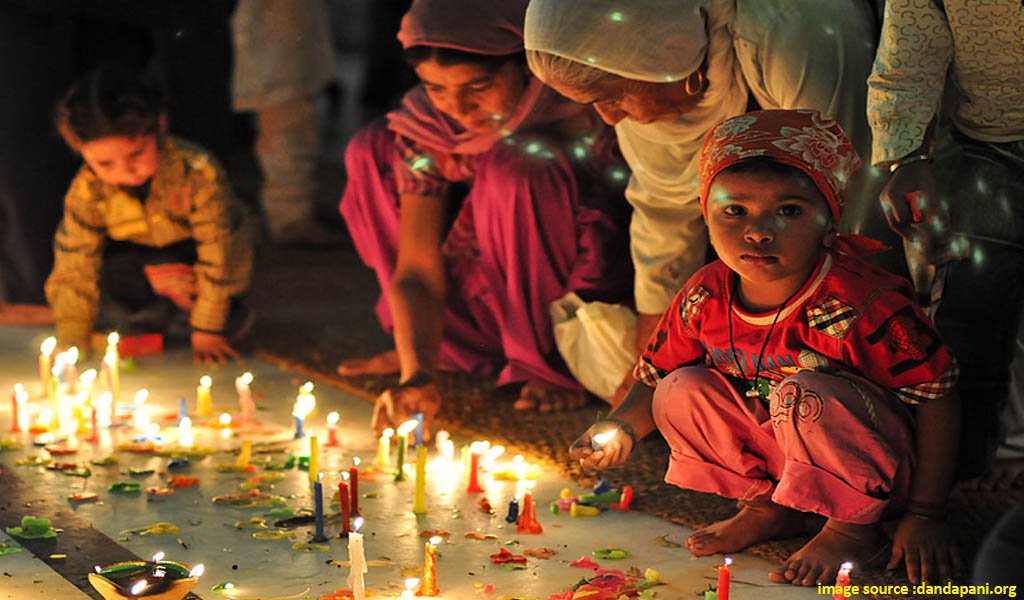 Diwali in Amritsar is a beauty to behold. Experiencing the invigorating festival of lights & sounds in the land of Golden Temple is one of the most enthralling experiences ever. The stupendous Golden Temple dazzles beautifully amidst brightly lit diyas and lights on the Diwali evening – an exemplary spectacle that will simply mesmerise your senses. Sheer reflection of the light on the holy waters that encase the temple bestows a magical aura on the onlookers. An eclectic blend of mesmerising beauty and charm of the Golden Temple ensures the most fascinating experience ever.
How to Reach
By Air: Sri Guru Ram Das Jee International Airport in Amritsar is well connected to and from Delhi, Jammu, Chandigarh, London, Srinagar, Toronto and Dubai among other cities.
By Rail: Amritsar Railway Station is connected via trains from almost all major cities in India.
By Road: Delhi (451.4 km, via NH1), Chandigarh (233.2 km. via NH1), Jammu (219.2 km. via NH15 and NH1A)        
Varanasi

The sacred land of Varanasi adorns itself more exquisitely and charmingly during the glorious festival of Diwali as you experience an exotic stream of fireworks kissing the sky all through the night. It is undoubtedly one of the top places to visit during Diwali. The ghats of Varanasi are all decked with brightly lit diyas and enjoying the fabulous sight of the fireworks over the River Ganges is a spectacle worth cherishing forever. fireworks kissing the sky all through the night. it is undoubtedly one the top place to experience an exotic stream of fireworks of the jammu beautiful destinations.
How to Reach
By Air: Varanasi Airport is connected to some of the major cities in India like Mumbai and Delhi.
By Rail: Varanasi railway Station is also linked to major cities of the country, making transportation convenient.
By Road: Delhi (815.8 km. via NH2), Agra (604.7 km. via AH1 and NH2)
Jaipur

The aesthetic appeal and warmth of Diwali's lighting aura blends blissfully with the royal exuberance of Jaipur to create memories of a lifetime. On this special occasion, the streets of the Pink City come alive with the warm glow of lights and diyas that adorn the homes, palaces and forts. Needless to mention, the exquisite sight of fireworks that lightens up the dark sky! The illuminated markets of Jaipur are the greatest attractions, where every year, a competition is held for the most brilliantly decorated market. The astounding display of lights and sound attracts visitors from across the country, making it one of the most popular places to visit in Diwali. Experience the best of Jaipur during Diwali; book WaytoIndia's special Rajasthan tours.
How to Reach
By Air: The Jaipur Airport, located at a distance of 12 km. from the city centre, has both domestic and international terminal and is connected to most cities across the world.
By Rail: Jaipur Railway Station is linked to many important cities like Delhi, Ahmedabad, Mumbai, Jammu, Udaipur, Jodhpur, Kolkata, Ludhiana, Chennai, Bangalore, etc.
By Road: Delhi (272.9 km. via Nh8), Agra (240.3 km. via NH11), and Udaipur (415.6 km. via NH79).
Goa

If you plan to be in Goa during the festival of Diwali, there are two things that you simply cannot miss – the world-famous Naraksura ritual and gambling. The occasion centres round destruction of the demon Naraksura by Lord Krishna according to Hindu mythology. The largest and scariest effigies of the demon are burned at dawn on Naraksura Chaturdashi, a day prior to Diwali. Another thing that you cannot miss is trying your luck in gambling at one of the city's top casinos. Make sure to do bookings for floating casinos in advance and they are immensely popular during this time of the year.
How to Reach
By Air: The Dabolim Airport in Goa has regular flights from Mumbai, Chennai, Bangalore, Cochin, New Delhi and Hyderabad.
By Rail: There are two important railheads in Thivim and Madgoan which are linked by trains from across the country.
By Road: Mumbai (605.6 km. via NH4), Hyderabad (666 km. via Raichur-Koppal Road), Bangalore (561.6 km. via NH4).
Mumbai

The City of Dreams may not be a traditional place to celebrate Diwali, but it is unarguably one of the most marvellous. Mumbai truly demonstrates that it commemorates the festival of lights & sounds like no other city in India. Experience the best of Diwali at Marine Drive, having a view of spectacular fireworks along the arc of Queens. The reflection of sparkling firecrackers in the waters of the bay is a beauty to behold forever. The entire city adorns itself beautifully during the occasion, while you can have a taste of lip-smacking delicacies prepared only for Diwali.
How to Reach
By Air: The Chhatrapati Shivaji International Airport is connected to most major cities around the globe.
By Rail: Mumbai is well connected to other parts of India by trains, having two important railheads named Chhatrapati Shivaji Terminus and Mumbai Central.
By Road: Pune (148.4 km. via Mumbai-Pune Expressway), Ahmedabad (530.7 km. via NH8), Goa (607.7 km. via NH4).
Kolkata

The Cultural Capital of India is unarguably one of the best places to visit in Diwali to experience a distinct flair and charm of Diwali – the Bengali style. Kali Puja (worshipping Goddess Kali) is an integral part of Diwali according to Bengali traditions, while Goddess Laxmi and Lord Ganesha are also worshipped during the festival. An eclectic mix of lights, colours, fiestas and food is what makes Kolkata most unique and enchanting.
How to Reach
By Air: Netaji Subhash Chandra International Airport at Dumdum has good connectivity with major cities in India and abroad.
By Rail: The two major railway stations at Kolkata are Howrah and Sealdah, connecting the city to other parts of the country.
By Road: Asansol (211.9 km. via NH2), Durgapur (170.4 km. via NH2), Delhi (1,485.6 km. via NH2), Mumbai (1, 9361.1 km. via NH6).
WaytoIndia promises the most exhilarating, fun and memorable travelling experience to let you discover the true beauty of India. Book customised travel packages or special guided tours to 6 most visited places in India during Diwali.