Our latest blog on tourist places in Madhya Pradesh shares with you all information related to best historical monuments, high mountain ranges, forts and palaces to dense green forests, temples, mosques in this central India state, also called as heart of India. Some parts of this state still remain untouched as many travellers are unaware of the treasures they can find here.
Tourist Places In Madhya Pradesh
Perfect Time for Madhya Pradesh Tour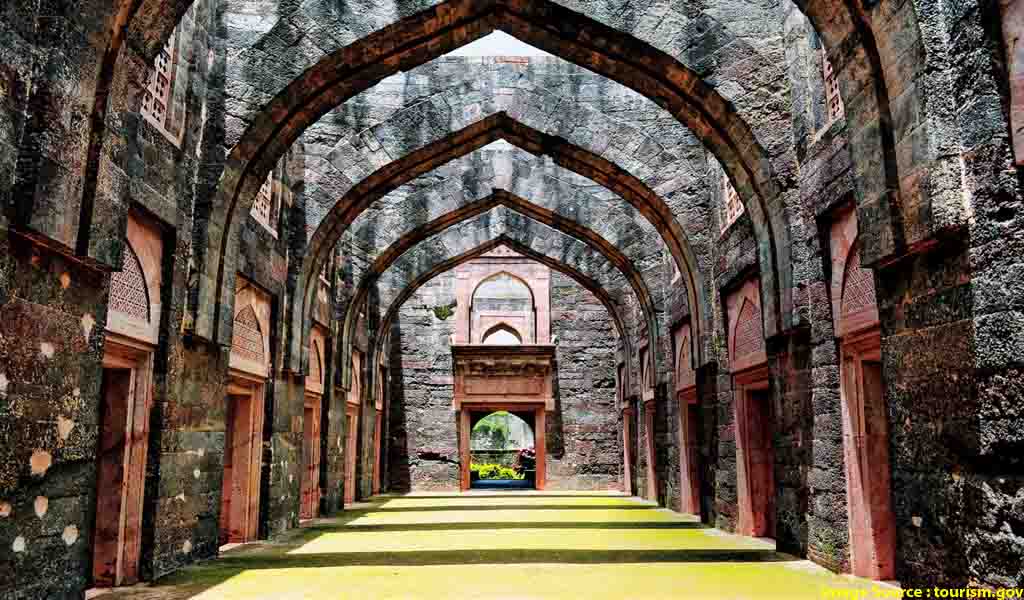 Madhya Pradesh is accessible to tourists almost throughout the year. However, it is still advisable to check the weather conditions before you plan your Madhya Pradesh tour and then decide the places you need to visit.
April-June: Hot during the daytime. Choose Panchmarhi and head to the hills as it's relatively cooler. Head to Bandhavgarh, Kanha or Pench National Park and seek respite at the watering holes while catching the royal beast in action.
July-September: Monsoon at its best. The green gets greener as the Earth gets replenished by the monsoon. Pick Mandu for its exceptional monuments and Chitrakoot, also called "The Niagara Falls of India", to enjoy the monsoons to the fullest.
October-March: Brief autumn followed by winter. This is the peak season to visit most of the attractions in Madhya Pradesh. We recommend visitingKhajuraho Temples and Sanchi during this period. Pick cities like Bhopal, Indore, and Gwalior.
Best Tourist Places In Madhya Pradesh
Here is a list of some of the top places that must be a part of your Madhya Pradesh tourism places to visit.
#1 Mandu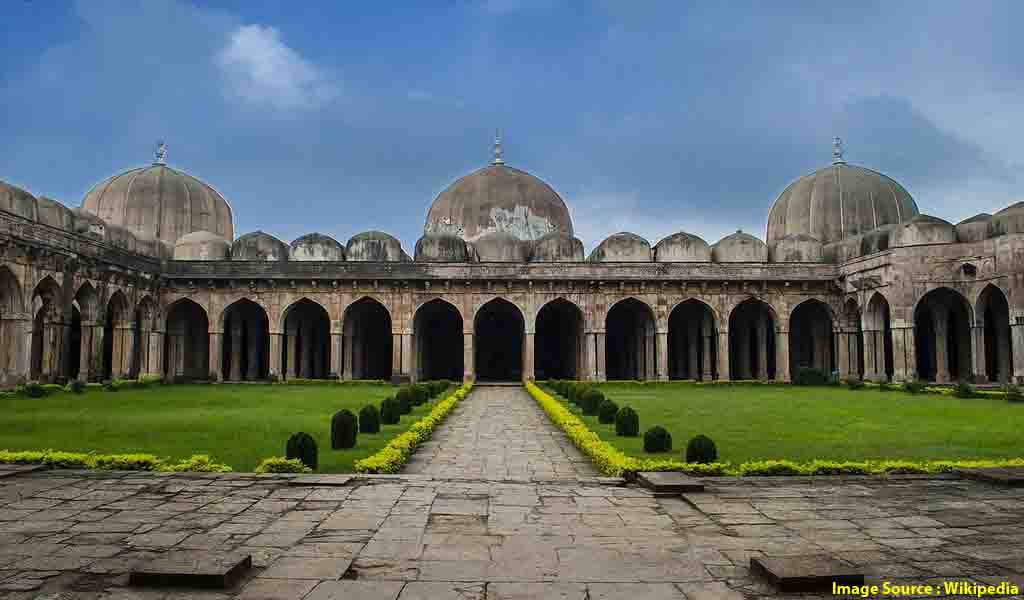 The city is adorned with spell-binding Afghan architecture, forts, and palaces.
Jahaz Mahal– Admire the beauty of this monument standing in the middle of the two lakes Munj Talao and Kapur Talao.
Jain Temple- This temple is dedicated to Jain Tirthankaras and houses idols made of gold, silver, and marble.
Neel Kanth Palace- Built for the Hindu wife of Akbar, this palace is known for its inscriptions of the era of Akbar that preach the precedence of liberation over earthliness.
#2 Chanderi

This city is surrounded by picturesque hills, lakes, mosques, and forts. It is famous for the exquisite Chanderi Saris and is also a major centre of Jain Culture.
Babur's Mosque-Enriched with Arabic script carving, this mosque gives outstanding views of the town below.
Badal Mahal Gate- Built during the supremacy of Mehmood Shah Khilji, this gate has a historic importance even today.
Chanderi Fort- This is the most conspicuous monument in this ancient town that dates back to the Mughal Period.
So whether it is buying Chanderi Silk Sarees or visiting the beautiful Chanderi fort, Chanderi is one among the foremost tourist places in Madhya Pradesh.
#3 Jabalpur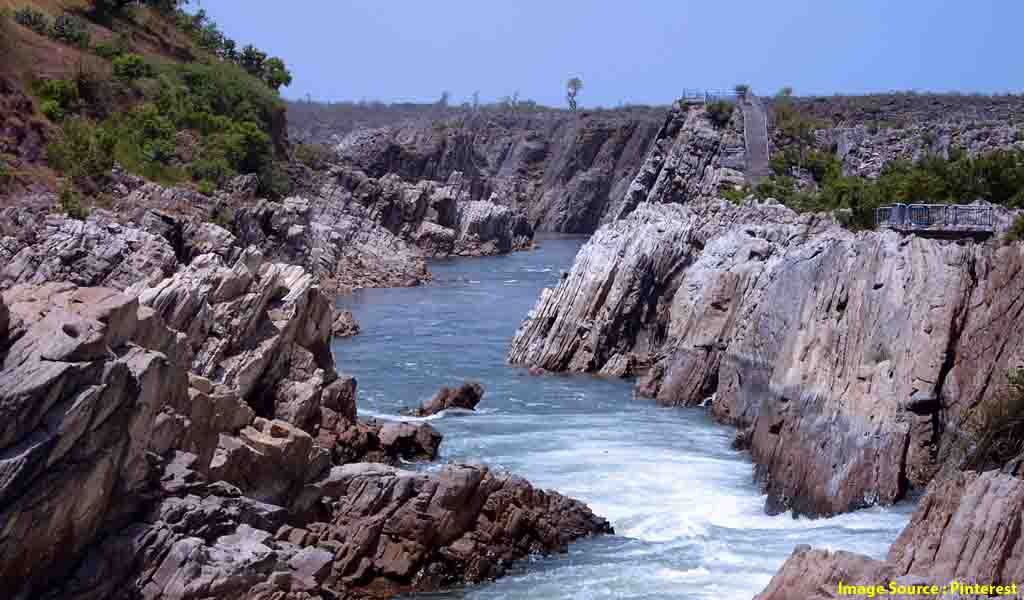 This city has waterfalls, ghats, and nature parks. So if you are a nature lover, you must definitely include Jabalpur in your Madhya Pradesh tour.
Dhuandhar Falls- Edged by green trees and shrubs, the magnificent Narmada River falling down from a staggering height is like a beautiful painting coming alive.
Marble Rocks- This is the most popular picnic spot which displays a unique formation of a river that flows between tinted marble rocks followed by a steep waterfall.
Dumna Nature Reserve- This eco-tourism site is spread over 1,058 hectares and suitable for nature walks during which many wild animals like deer, porcupines, and other species of birds are visible along the way.
#4 Orchha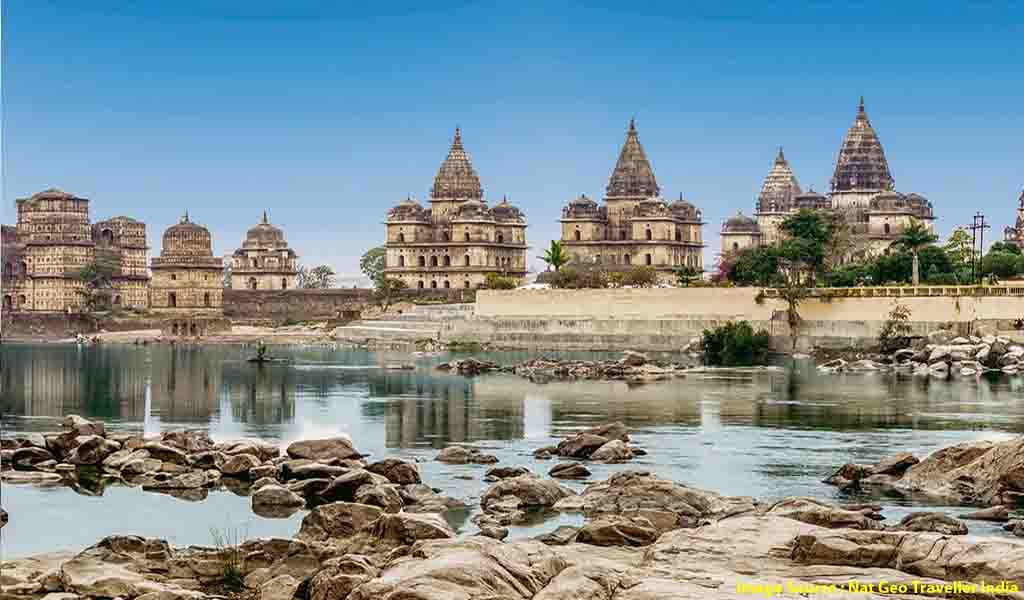 This famous city of Madhya Pradesh lets you travel back in time with its various temples and Mughal treasures and is surely one of the most important tourist places in Madhya Pradesh.
Jehangir Mahal- This is a classic example of Mughal architecture which was completed in 1598 and is one of the popular landmarks of Orchha.
Chaturbhuj Temple- This temple is dedicated to Lord Vishnu and consists of a sanctum with Pancharatha Sikhara, a vestibule, and a porch.
Chhatris- Located on the banks of Betwa River, Chhatris is a set of majestic royal tombs of the Maharajas placed on a platform and supported by pillars.
#5 Gwalior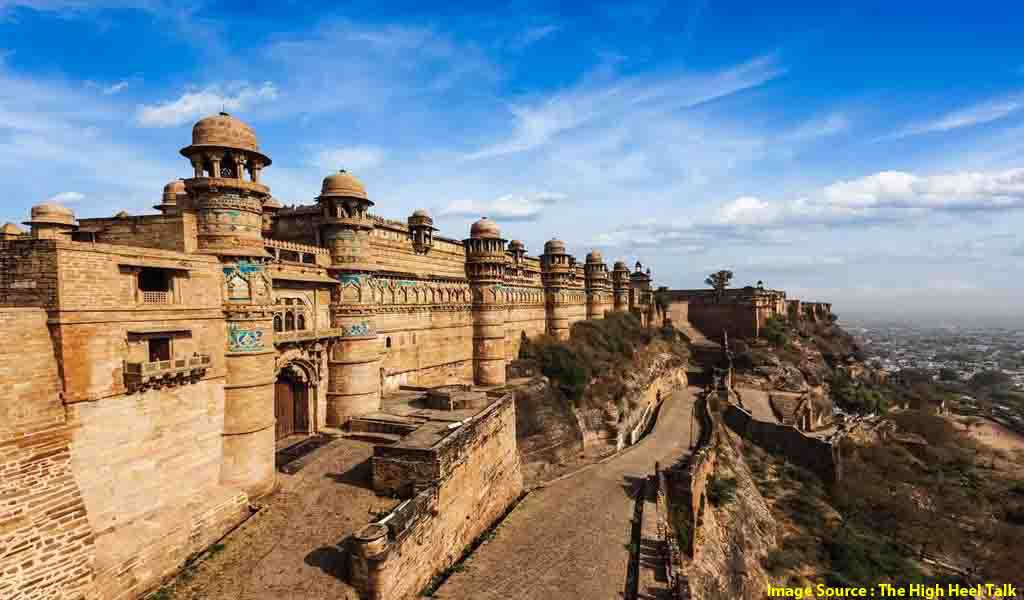 This city is filled with grand palaces, forts, tombs, and temples.
Gwalior Fort- Regarded as one of the most impregnable fortresses of the north and central India, this is a must-see tourist spot in Madhya Pradesh tour.
Tomb of Tansen- Visit the tomb of one of the greatest musicians of India, Tansen.
Jai Vilas Palace- Admire the European architecture of this grand palace which was built in 1874 by Jayajirao Scindia.
#6 Khajuraho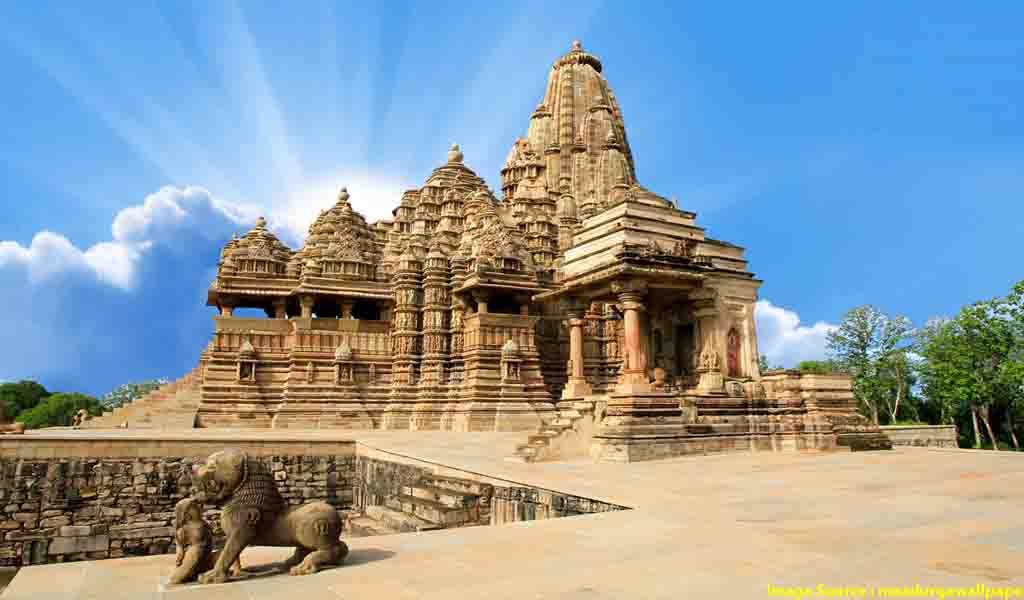 This world-renowned city is famed for its temples, stunning sculptures and erotic carvings and is a must-visit place among the tourist places in Madhya Pradesh.
Kandariya Mahadev Temple- This temple has an artistically engraved shrine with many sculptures depicting artistic eroticism that gives an insight into India's cultural heritage.
Lakshman Temple- This is one of the oldest and most aesthetically pleasing temples that features the trinity of Brahma, Vishnu and Shiva.
Devi Jagdamba Temple- Tourists from all over visit this temple for its beautifully carved erotic figures and the stunning sculpture of the Goddess of the Universe.
Boo your Golden Triangle with Khajuraho tour by sending us an enquiry on info@waytoindia.com
#7 Kanha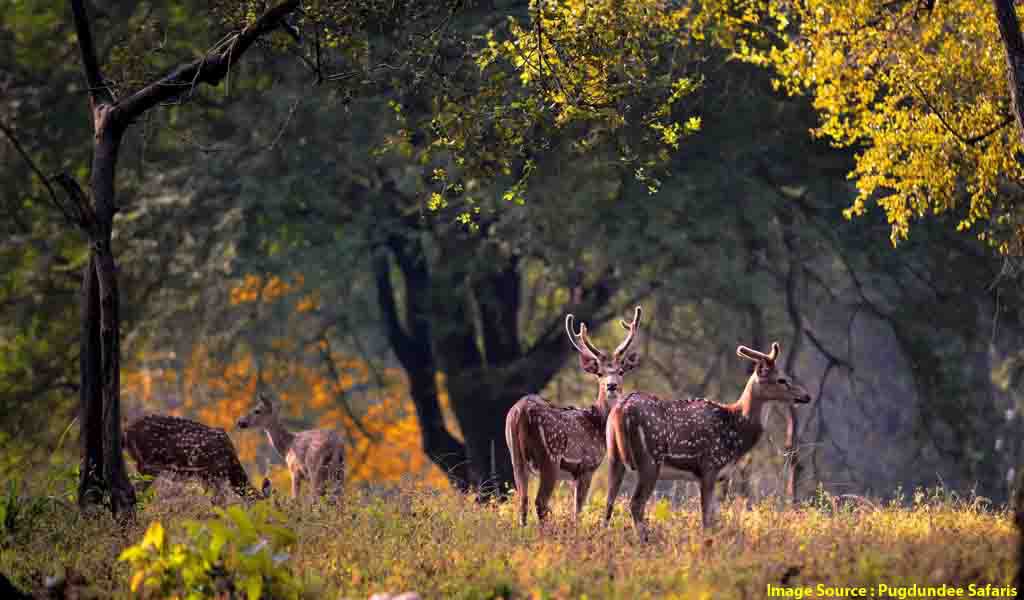 This city is an enchanted land of wilderness with its national parks, natural beauty, wildlife and flora, and fauna.For those who are wildlife lovers, Kanha stands tall among the tourist places of Madhya Pradesh.
Kanha National Park- Stretched over an area of 2,000 square kilometers, this national park is home to a wide variety of wildlife animals which includes tigers, bisons, black bucks and a lot more. Your Madhya Pradesh tour is incomplete without visiting this biggest national park of the state.
Kanha Museum- This museum is located inside Kanha National Park and you can obtain the detailed information about the topography of the park from here.
Bamni Dadar- This tourist spot is popularly called as the Sunset Point and you can even spot antelopes, barking deer and sambar around this point.
#8 Panchmarhi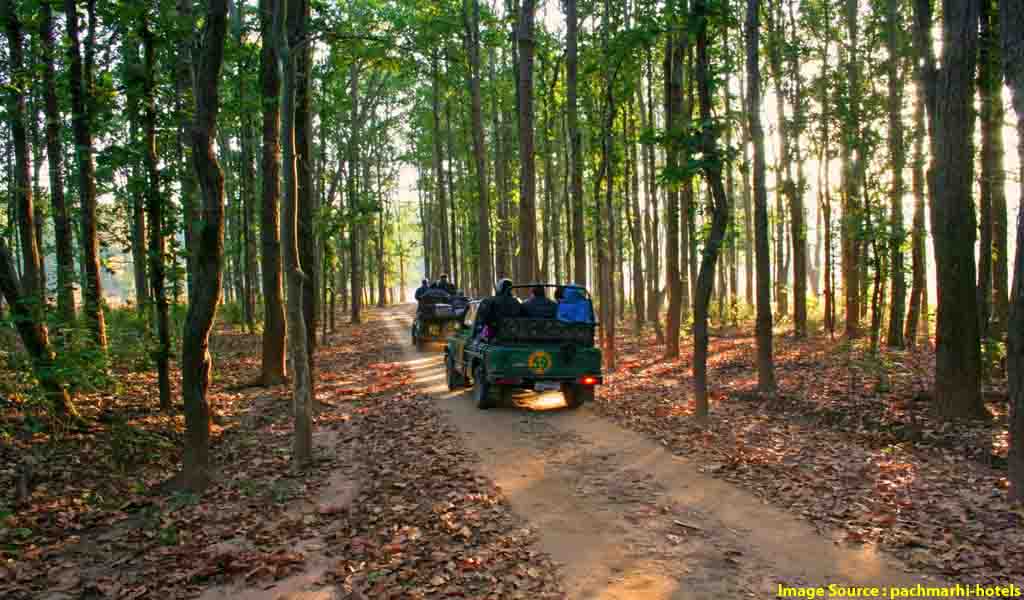 Include this hill station in your Madhya Pradesh tour itinerary to experience its pleasant climate, waterfalls and its amazing flora and fauna.
Bee Falls-Enjoy the picturesque view and the cool climate around this gorgeous waterfall.
Pandava Caves- These caves are believed to provide shelter to the Pandavas during their exile period.
Forsyth Point-This point gives the bird's eye view of the entire hill station and its scenic landscape.
Timings and Fees for most Popular Tourist Places in Madhya Pradesh:
Kandariya Mahadev Temple, Khajuraho: 5:00a.m.-12:00 p.m. and4:00 p.m.-9:00 p.m., INR 10(Indians), INR 250 (Foreigners).
Sanchi Stupa, Sanchi: 6:30 a.m.-6:00 p.m., INR 10(Indians), INR 250 (Foreigners).
Man Singh Palace, Gwalior: 8:00 a.m.-6:00 p.m., INR 5(Indians), INR100 (Foreigners), Camera Fees INR 25.
Gwalior Fort, Gwalior: 8:00 a.m.-6:00 p.m., INR 75(Indians), INR250 (Foreigners).
Jai Vilas Palace Museum, Gwalior: 10:00 a.m.-5:30 p.m., INR 70(Indians), INR450 (Foreigners). Camera Fees INR 70/120 videos.
Bandhavgarh National Park, Umaria District: 6:00 a.m., INR 500(Indians), INR2,000 (Foreigners).
Bhimbetka Rock Shelters, Bhimbetka: 6:30 a.m.-5:30 p.m., INR 10(Indians), INR100 (Foreigners).
Kanha National Park, Mukki: 5:00 a.m., INR 500 (Indians), INR2000 (Foreigners).
Jahaz Mahal, Mandu: 6:00 a.m.-7:00 p.m., INR 5(Indians), INR100 (Foreigners), Camera Fees INR 25.
WaytoIndia.com, a company recognized by the Ministry of Tourism, Government of India organizes some of the best Madhya Pradesh tours in India. To book your Madhya Pradesh tour package, you can get in touch with us by sending an email on info@waytoindia.com or calling us on 8527255991. For the best quotes, please inquire about your MP tour expectations.