This blog on tourist places in North India provides the travellers with a fascinating trail of wonders. The lofty Himalayas with snow-clad pinnacles, lush green valleys and gorgeous hill stations often engulfed in unusual silence!
Tourist Places In North India
The Himalayan Rivers as they descend to the Northern Plains and feed the holiest among Hindu cities! The indomitable forts, the resplendent palaces and inimitable architectural spectacles!
The treasure troves of wildlife and avifauna where life exists in many interesting forms! And last but not the least, the bustling cities like Delhi, Jaipur and Agra where the perfect concoctions of history, heritage and religion brew!
Add to this the colourful festivals, food, adventure and pilgrimage, and you have a land that surpasses anything else you might have seen or known about.
Through this article, we now share with you the places to visit in North India without any further delay.
Best Time To Travel In North India
The winter months, usually from October to March! That's the best time North India enjoys after getting washed by the monsoon rains and before subjected to the torturous summer heat. Read further to plan a long holiday among the best tourist places in North India.
Agra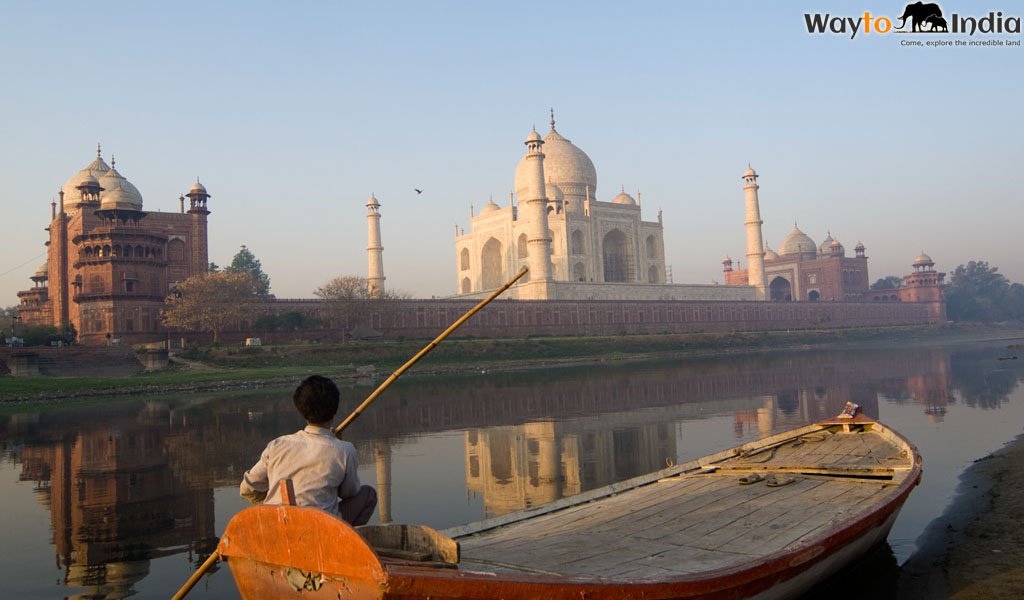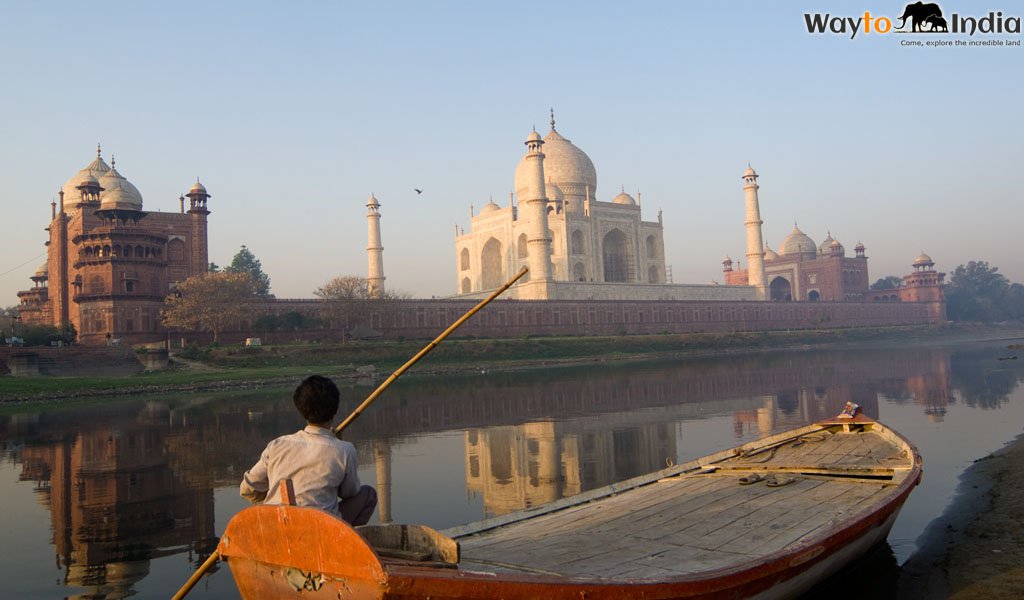 Foremost among the list of tourist places in North India is the city of Agra in the Uttar Pradesh state of  India.
The destiny of this historical city in Uttar Pradesh changed forever when the Mughal Emperors, the admirers of supreme art and architecture, chose to rule India from here.
Taj Mahal is the best identity a city can have and Agra is privileged to have the white marble love icon.
Agra Fort, along with tombs of royal families, elegantly-laid Mughal Gardens and beautiful temples are the hotspots you would love to explore under the winter sun.
Taj Mahotsav in February is the showcase of India's extraordinary arts and handicrafts. Don't forget to shop for marble work, leatherwork and the delicious Petha as souvenirs from the city.
How to Reach Agra? Agra has a domestic airport and has numerous railway stations which have good connectivity across India.
The best way to reach Agra is by driving through a fantastic expressway that takes just about 3.5 hrs from Delhi to Agra.
Amritsar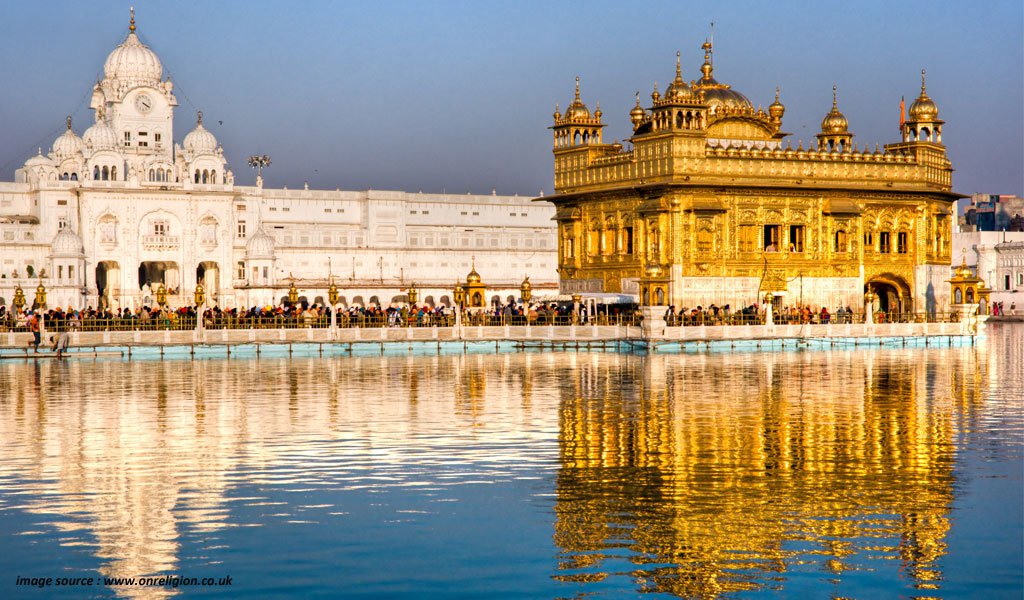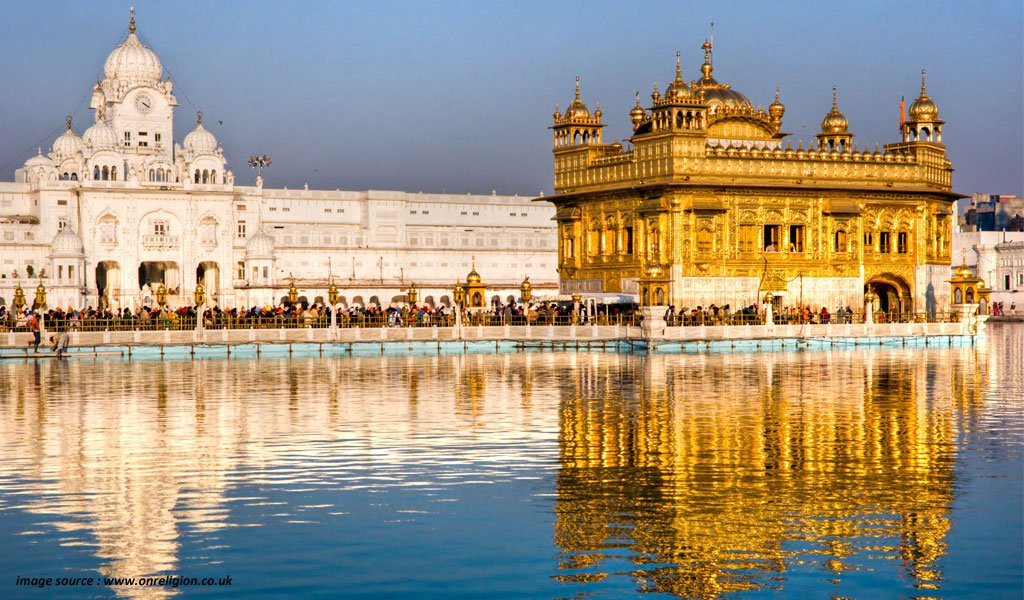 To understand the real meaning of hospitality and peace, there is no better place than Amritsar.
Sikhs call it their holiest city due to the presence of the inimitable Harmandir Sahib (Golden Temple) which stands like an epitome of supreme beauty amidst the sacred pool of nectar (Amrit Sarovar).
Enjoy the sanctifying dip in the pool and eat at one of the world's biggest community kitchen and you will feel blessed. Many Sikh shrines, Hindu temples and historical sites also attract the visitors.
How to Reach? Amritsar is well-connected by air and rail with major Indian cities.One may also drive from Delhi to Amritsar via National Highway 44.
Auli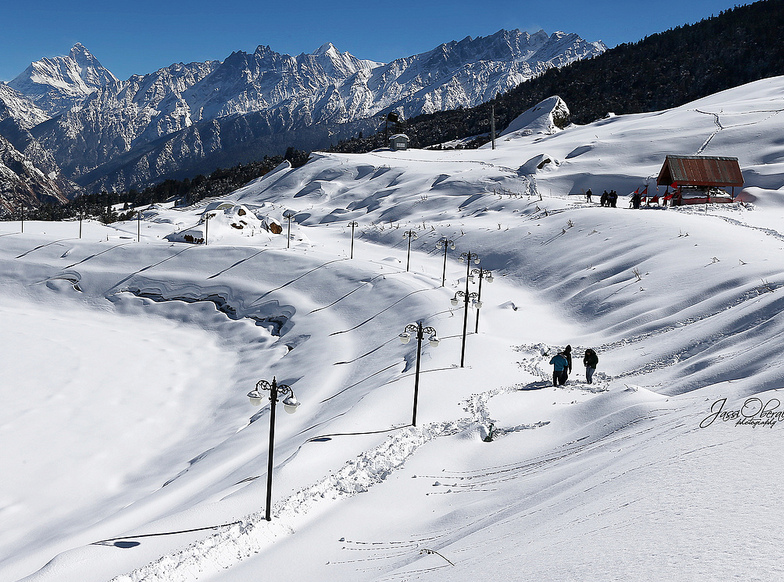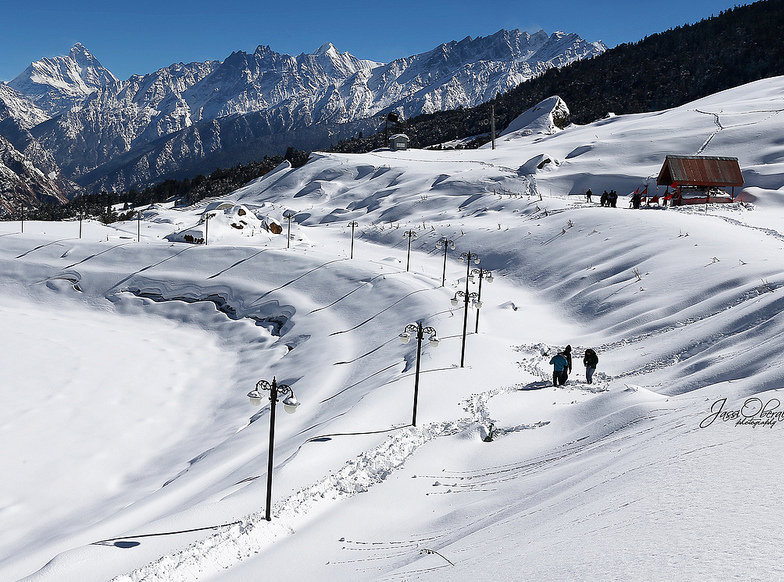 Wish to pick some unforgettable moments in solitude on this trip?
Auli, the host to nature's unspoilt grandeur, is the perfect choice you may include in the itinerary.
The place takes refuge under the white carpet of snow during winters and the world-class ski slopes come into play. And then there is one of the world's most fascinating Gondola rides that can be the highlight of your tour in North India.
Many Hindu temples and pilgrimage sites (though some of them inaccessible during winters) may be added to the list too.
How to Reach? Dehradun Airport (about 213 km.) and Rishikesh Railway Station (about 227 km.) are the nearest Airports and Railway Stations respectively.The distance between Haridwar to Auli is approximately 290 Km and it would take about 9 Hrs to drive from Haridwar to Auli.
Bharatpur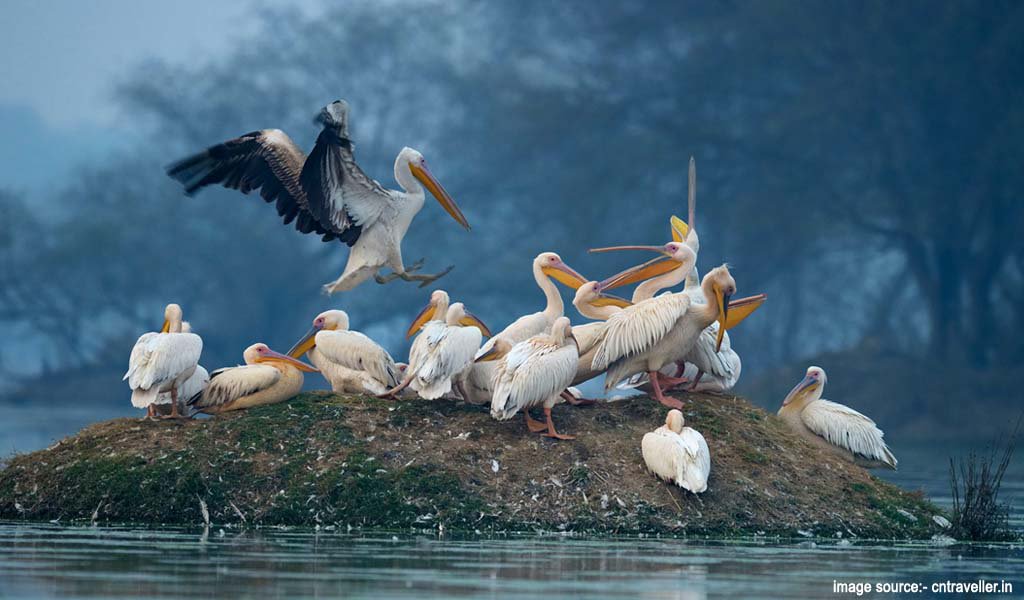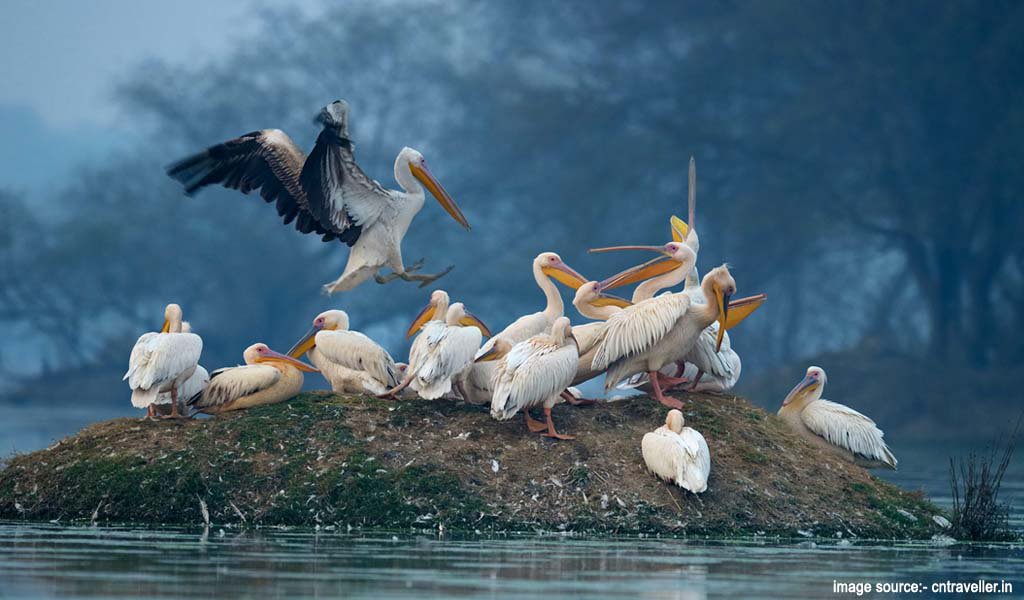 Keoladeo National Park at Bharatpur in Rajasthan is acclaimed as the best birding area in the world.
Why not? The sanctuary turns into a paradise of colourful wingers, both indigenous and migratory, during winter months.
You will be left awestruck by the presence of teals, herons, cormorants, storks, cranes, quails and scores of other avian species.Don't miss carrying the binoculars and cameras to capture the best shots of your life.
All this makes it one among the best North India tourist places.
How to Reach? Bharatpur has a well-connected railway station while Agra Airport is just about 57 km. away.
Bikaner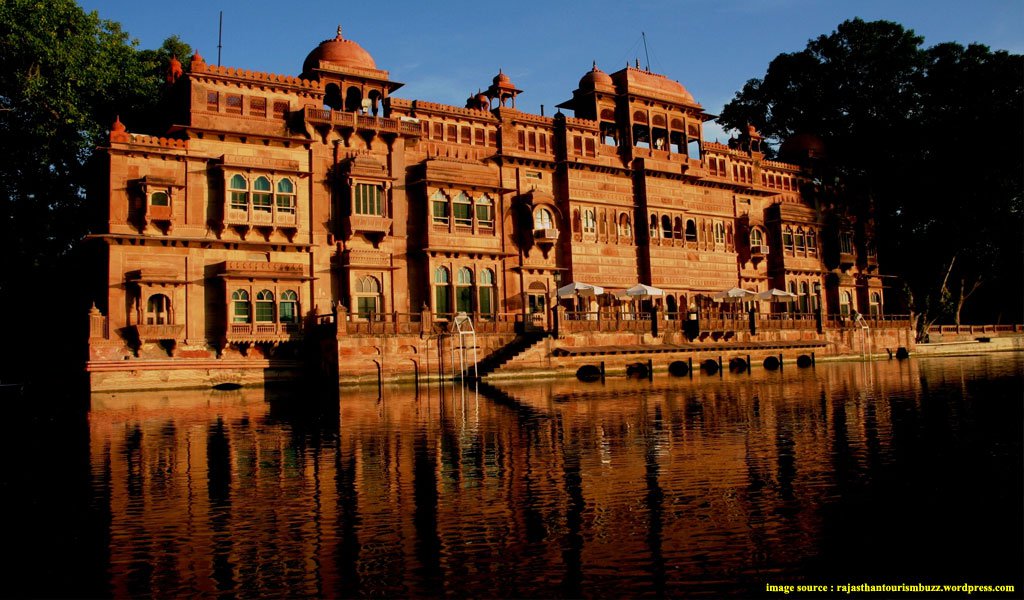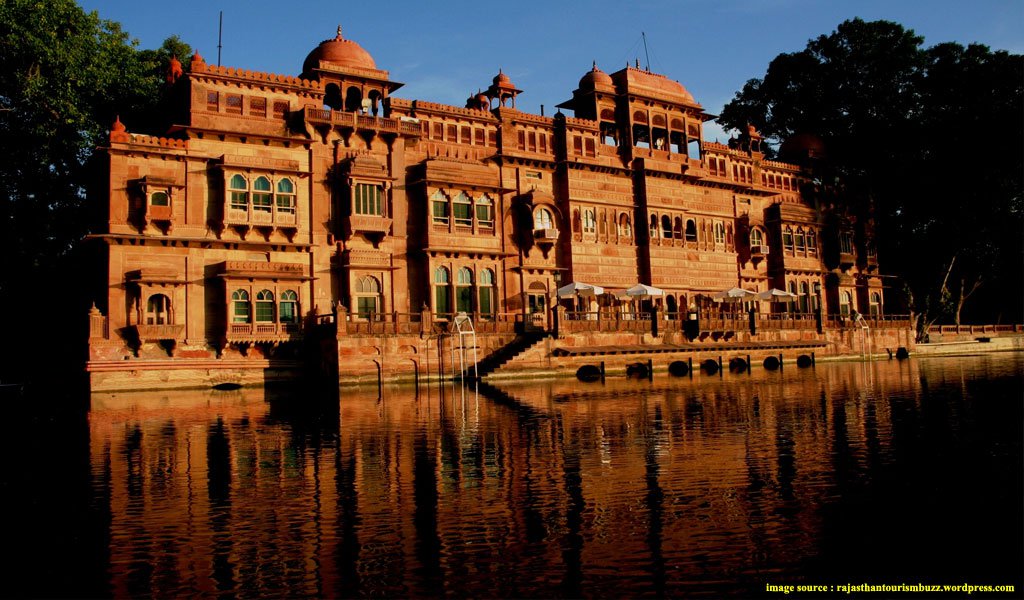 Showcasing the enduring spirit of people who have inhabited the desert state of Rajasthan for centuries, Bikaner is the land of bhujias (tasty tangy snacks) and sweets.
Lalgarh Fort, Laxmi Niwas Palace, Junagarh Fort and many beautifully-adorned Havelis dot the place which is also famous for some of the best camel breeds in the world.
Plan camel or jeep desert safaris or visit the nearby Karni Mata Temple, known for its miraculous rats. January would be the ideal time to be a spectator at the International Camel Festival.
Bikaner is certainly one of the must visit North India tourist places.
How to Reach? Bikaner Junction and Jodhpur Airport (about 249 km.) are the nearest railway station and airport respectively.
Dalhousie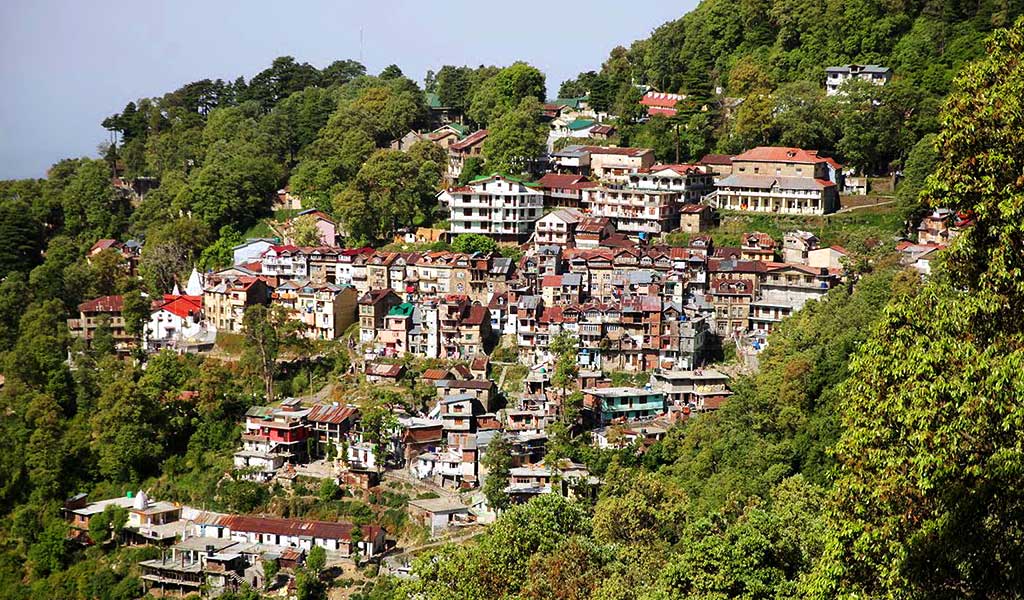 The backdrop of snow-capped Pir Panjal Range behind the luxuriantly wooded slopes of pine and deodar lend serene, mesmerising and healthy environment to this charismatic hill town of Himalayas.
Dalhousie is where you can have constant dialogues with nature while taking up numerous nature walks. Every inch discloses
English bungalows and colonial structures that deny bearing the signs of ageing. Located close is the 'Mini Switzerland of India', the extremely splendid Khajjiar Valley which is just not worth missing.
Trekking, shopping at Tibetan Market and star-gazing are few great activities at the snow-filled Dalhousie.
All these things make Dalhousie a worthy contender of being placed on the list of north India tourist places.
How to Reach? Jammu has the nearest civil airport(180 Kms) and Chakki Bank is the nearest railway station (about 86 km.)
Delhi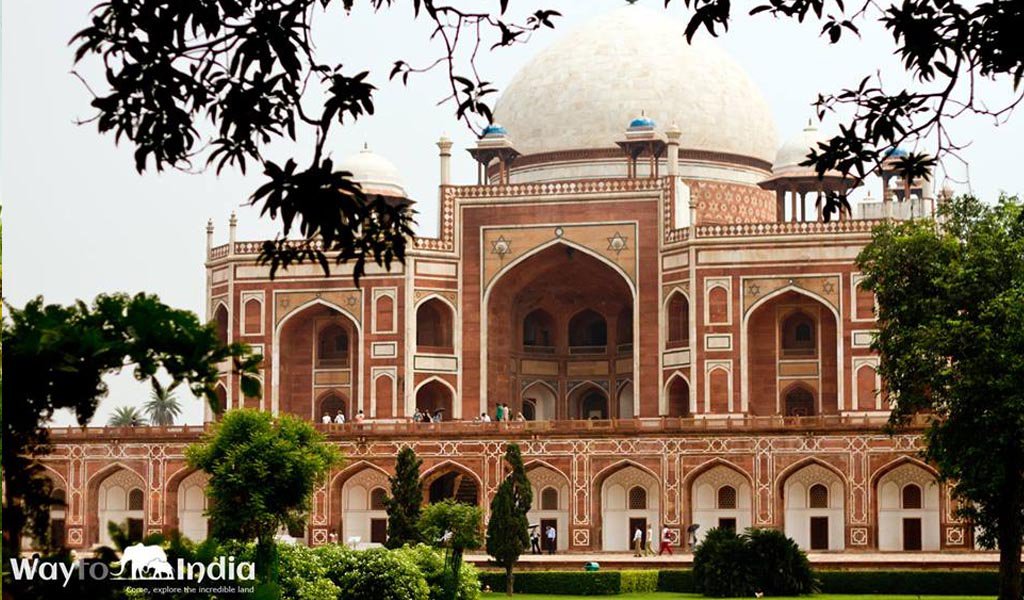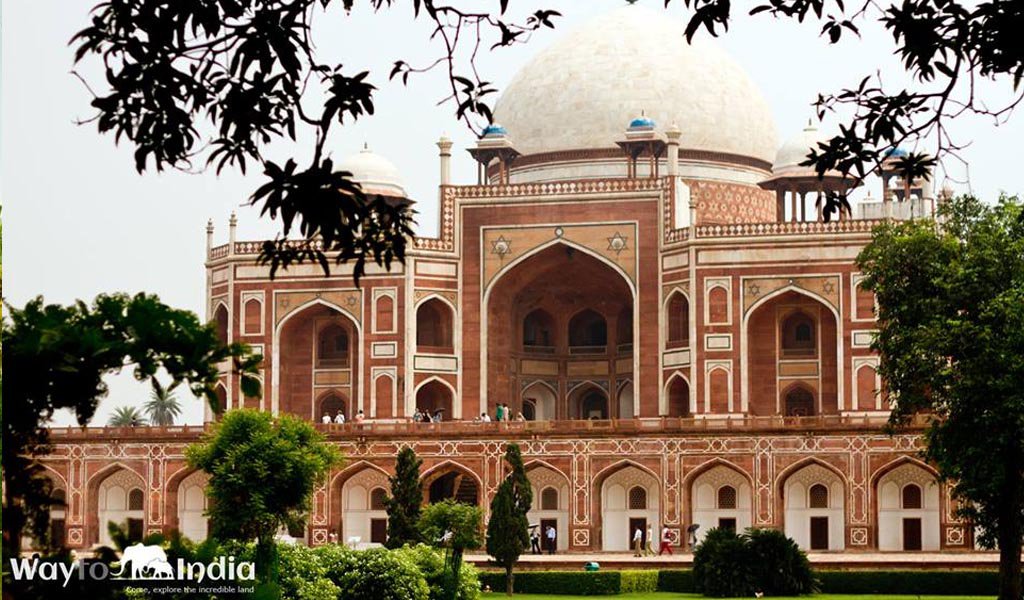 The country's national capital unarguably registers its presence among the top North India Tourist Places.
While Old Delhi enthrals with Red Fort, Jama Masjid, St. James Church and an array of charming Havelis (mansions), New Delhi complements with the British era structures and avenues along with sites like India Gate, Rashtrapati Bhavan and Sansad Bhavan.
Not to forget the World Heritage Sites like Humayun's Tomb and Qutub Complex and some of India's top museums, art galleries and gardens.
Christmas and New Year celebrations along with events like Delhi Book Fair, Garden Tourism Festival and Republic Day Parade are the winter attractions in the city. Add to the list the irresistible street snacks and some great shopping opportunities.
How to Reach? Delhi International Airport and various well-connected railway stations make reaching Delhi super easy.
Dharamsala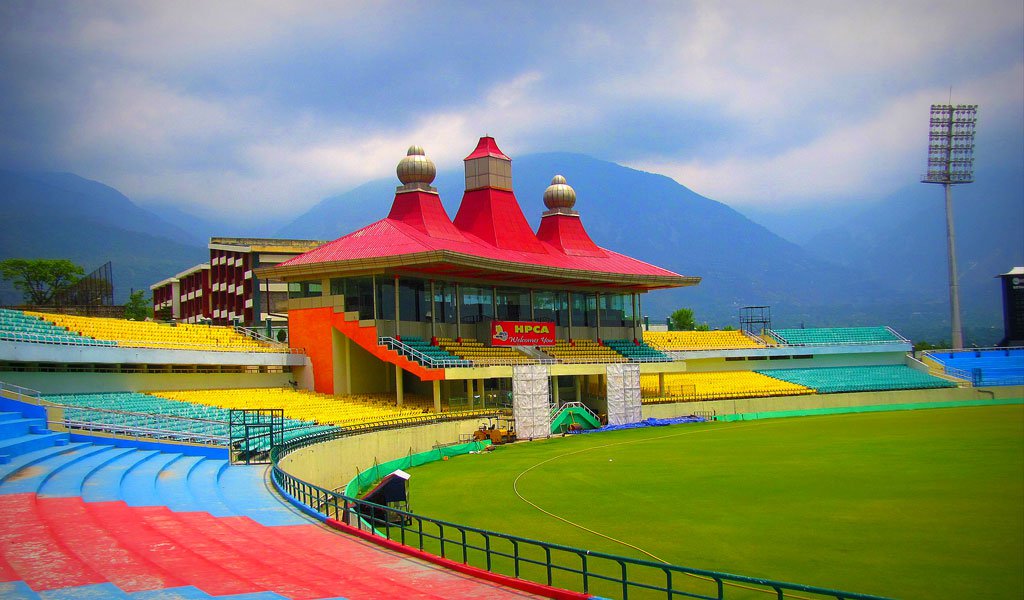 No matter if you never got the chance to explore the astounding Tibetan culture.
Explore it at 'Mini Tibet' called Dharamsala, an entrancing hill station in Himachal Pradesh. Find yourself in trance admiring the striking beauty of the silvery Dhauladhar Range peaks.
When done with it, explore Tsuglagkhang Complex, Tibet Museum, Tibet Library and Naam Art Gallery and you will fall for the place's unusual mysticism. Seek the opportunity to meet His Holiness the Dalai Lama and enjoy nature's wonders like waterfalls, lakes and trekking routes.
How to Reach? Gaggal Airport (just 16 km.) and Pathankot Railway Station (about 85 km.)
Gulmarg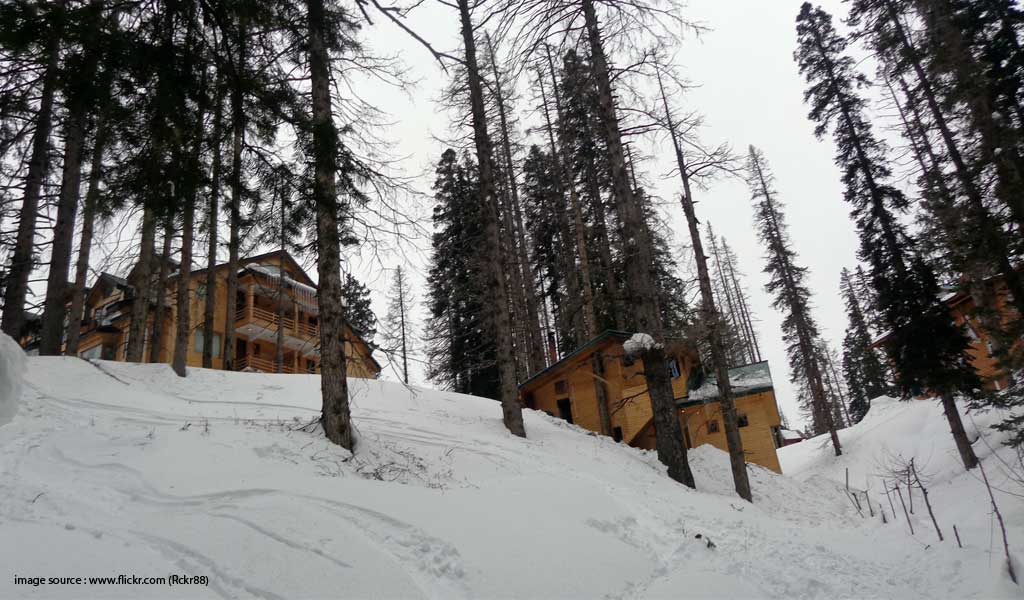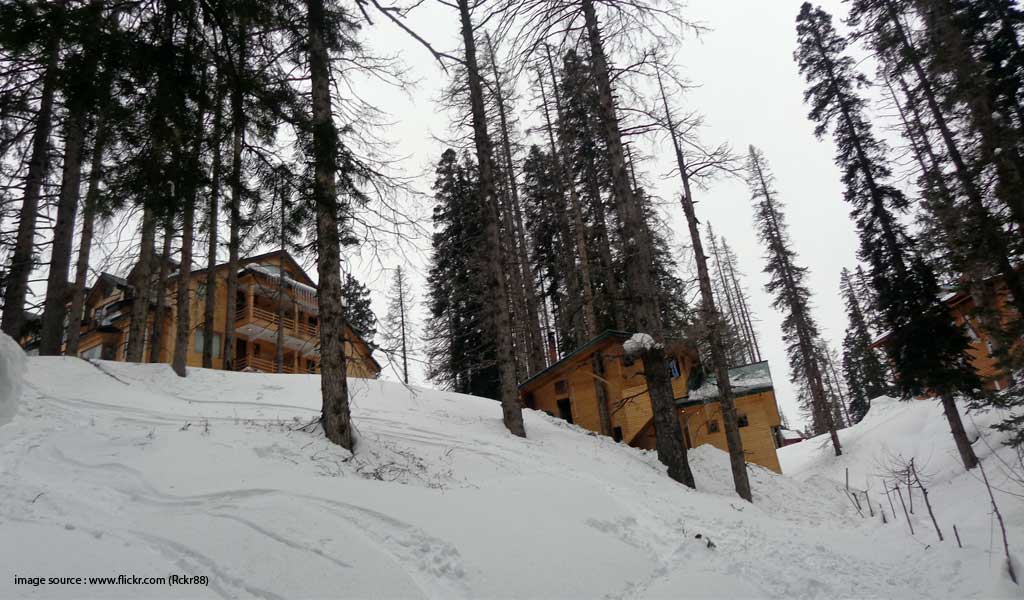 Don't miss visiting Gulmarg in Kashmir Valley where the world-class skiing slopes are what nature arranges especially for the daredevils.
Once you are in Gulmarg, there's no way you would say no to the exciting Gondola ride, admiring the snow-covered topography from above.
Definitely, among the best tourist places in North India, Gulmarg also allows short snow treks to feast your eyes on the enchanting views of hoary Himalayan peaks.
How to Reach? Plan an air travel to Srinagar Airport, about 58 km. from Gulmarg.
Haridwar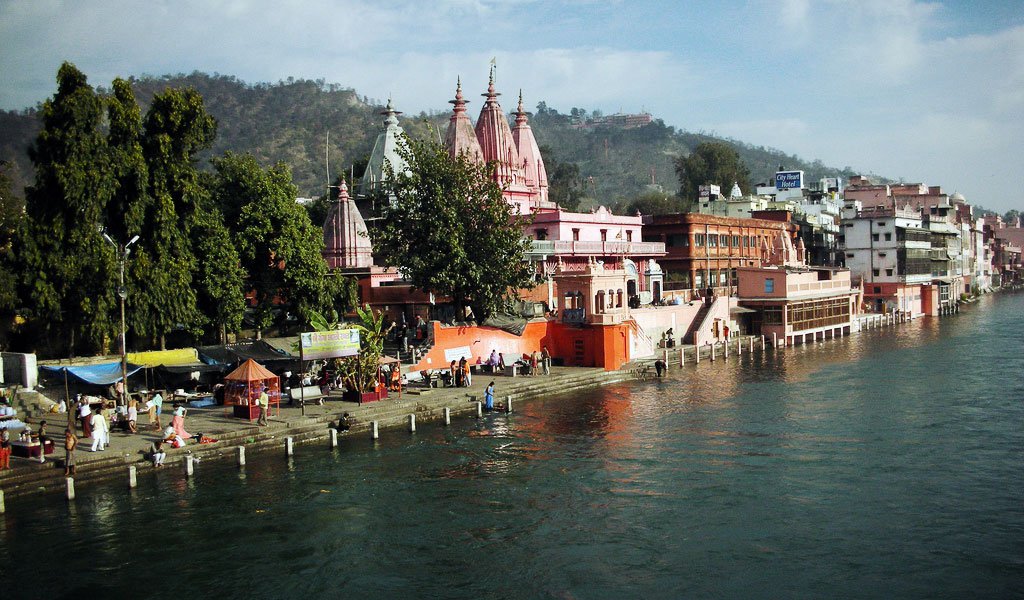 Where few drops of Amrit (nectar) fell according to the Hindu Mythology, Haridwar is indeed a place to connect with the Almighty.
Blessed by River Ganga, the town is famous for its ancient temples, hilltop temples (accessible by ropeways) and bathing ghats as well as the sweetmeats and snacks that are truly irresistible.
Apart from taking a holy dip in Ganga at Har-ki-Pauri, make sure you watch the scintillating aarti of the holy river at sunset.
It is surely one among the tourist places in North India which should be on your travel list.
How to Reach? Dehradun Airport is just about 38 km. away and Haridwar Railway Station has rail connectivity with major cities.
Jaipur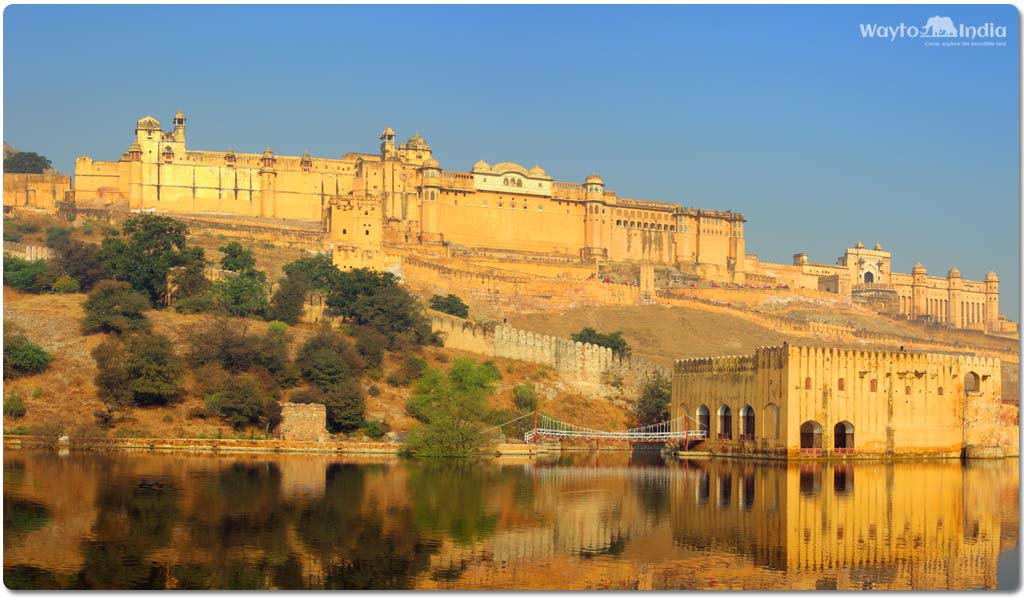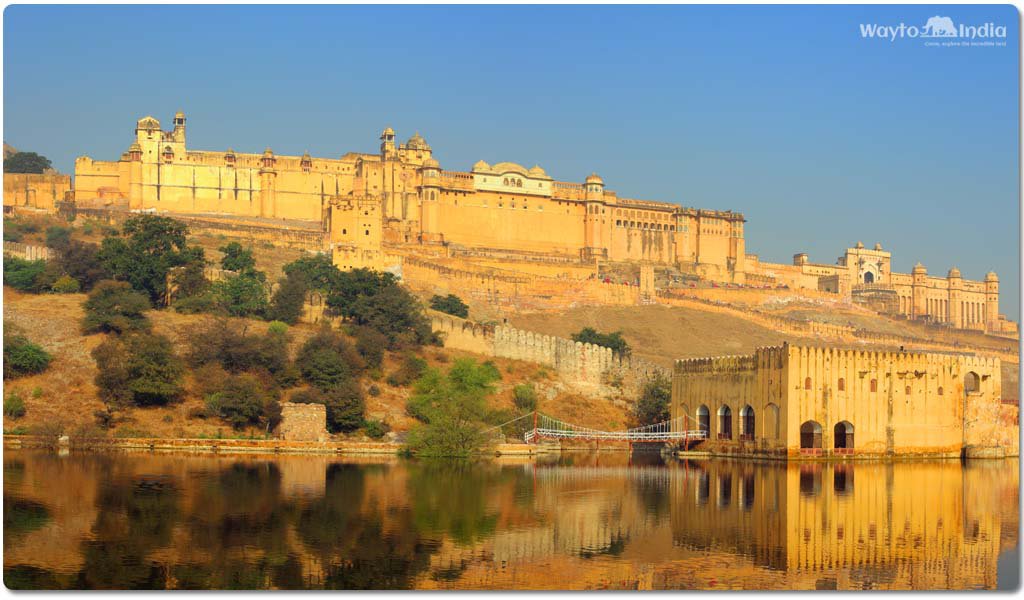 With its face and soul painted in Pink, the Pink City Jaipur turns even warmer when the sun confers its winter vibes on the city. Explore the hill forts of Amber, Nahargarh and Jaigarh and the lovely palaces like Jal Mahal, Hawa Mahal and City Palace Complex. The astronomical observatory Jantar Mantar, puppet shows, colourful bazaars hosting attractive textiles and spicy Rajasthani platters are some great things to enjoy. Top festivals and events include Jaipur Literature Festival (February) and Elephant Festival (March).All this qualifies Jaipur to be a part of the list of North India Tourist Places.
How to Reach? Jaipur Airport and Jaipur Railway Station are connected to all major cities in India.
Jaisalmer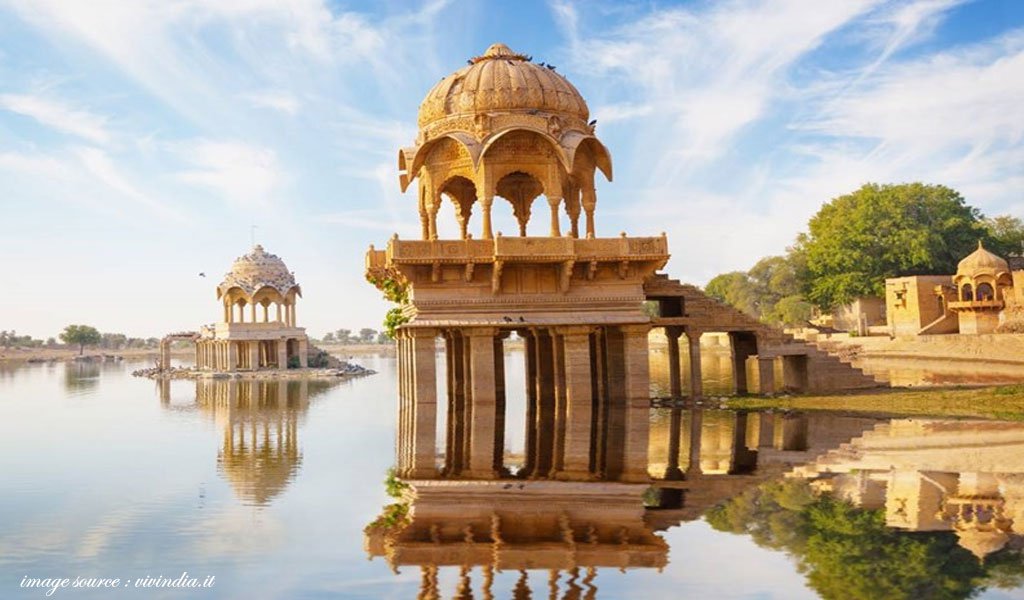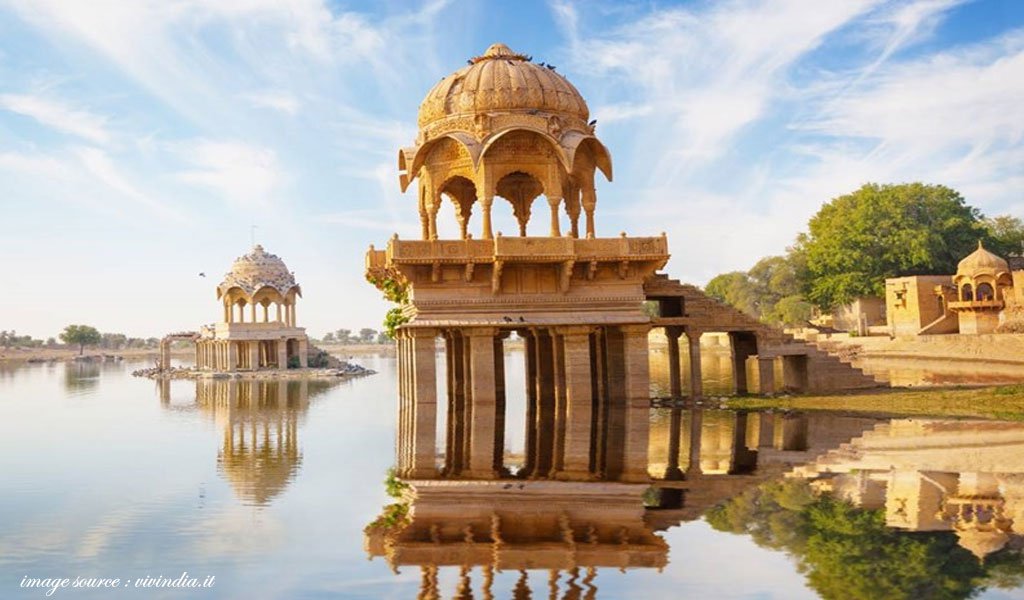 There can be no experience better than enjoying a desert bonfire, exploring sand dunes from Camel's back and visiting a living fort in winters. Jaisalmer, the city occupying the heart of Thar Desert, allows these activities along with the exhilarating adventures of offroading, dune bashing and desert wildlife tours. It is here that you watch the grand Jaisalmer Fort changing shades like a chameleon and hosting bustling bazaars. Jain Temples and Havelis are the marvellous specimens of brilliant art and architecture here. Desert Festival in February should be another inspiration to explore the place.Jaisalmer is certainly one of the North India tourist places that should be on travellers list.
How to Reach? The closest airport is at Jodhpur (283 km.). Rail connectivity is good.
Jim Corbett National Park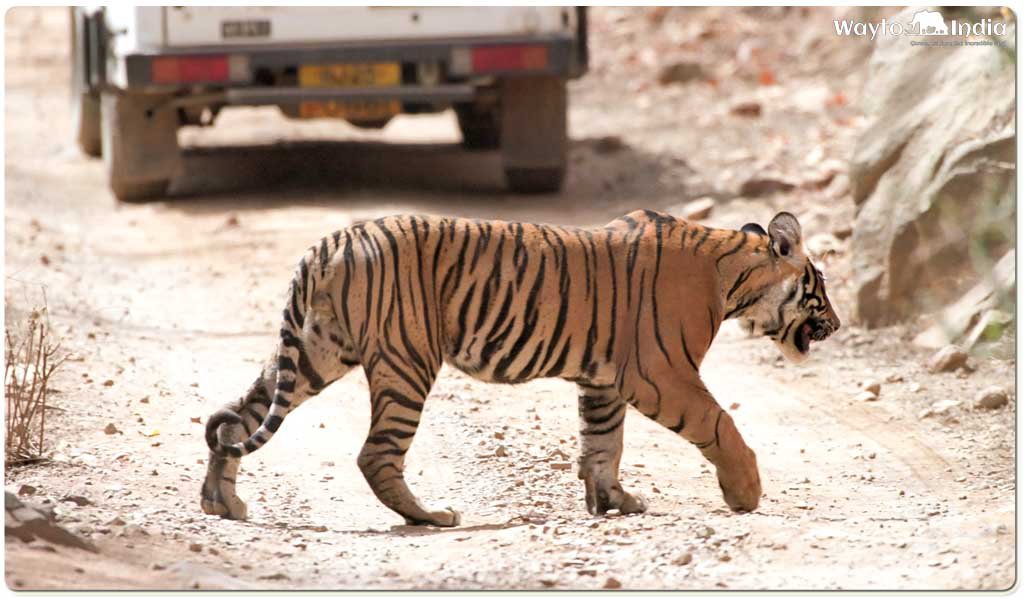 The Kumaon Himalayas of Uttarakhand is home to the fearless lords of the jungle – the elegantly striped Bengal tigers. Enjoying a jeep or elephant safari to chase the big cats at Jim Corbett National Park is one experience that will keep you charged for long. Winters ensure that you have the comfortable jungle expeditions to explore other attractions like the jungle cat, barking deer, leopards, chital, sambar deer, yellow-throated martens and huge bird population.
How to Reach? Dehradun (about 155 km.) is the closest airport while the nearest railhead is at Ramnagar (just a few km. away).
Jodhpur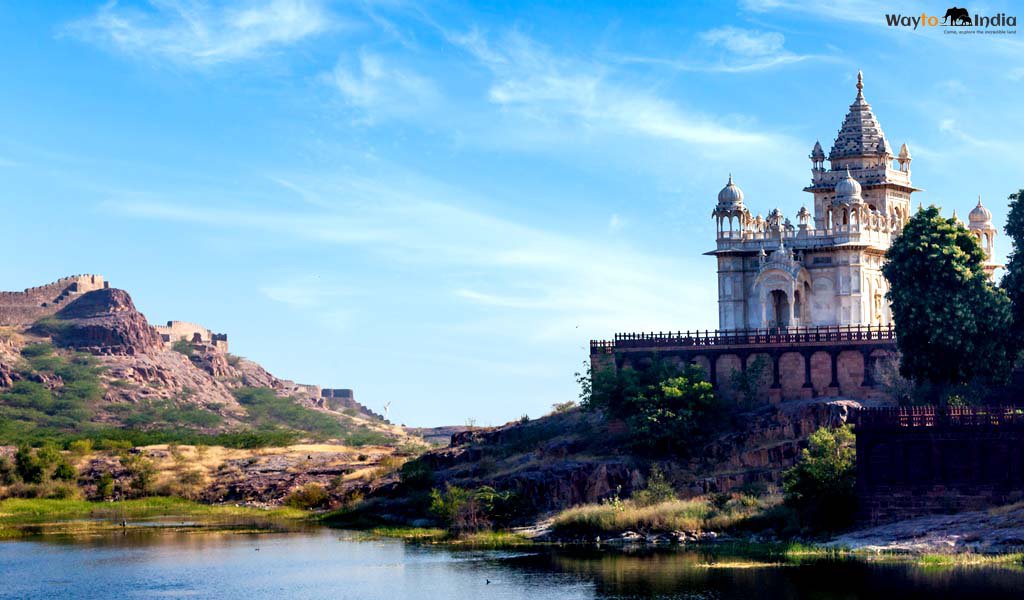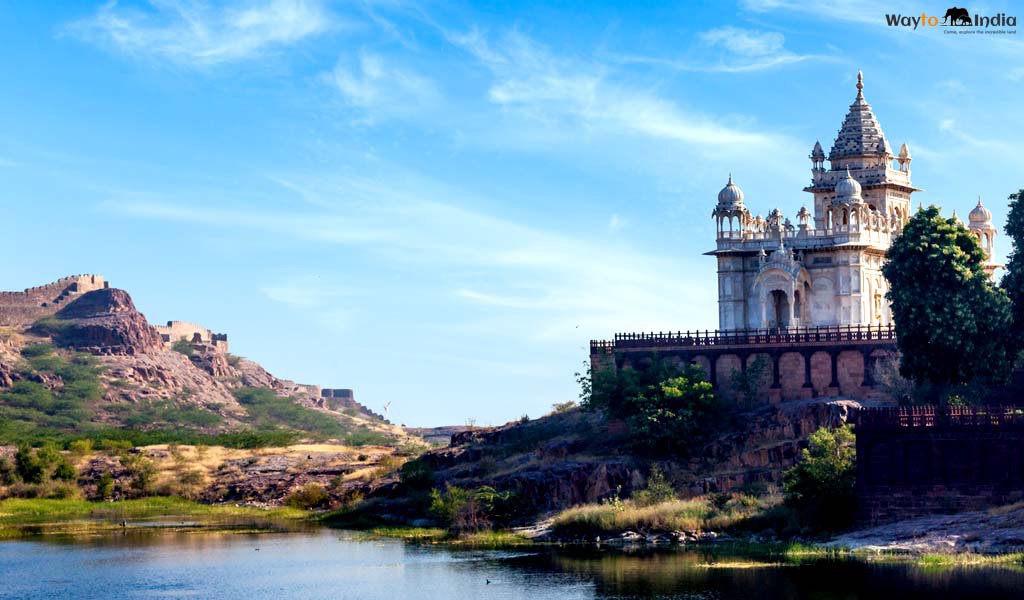 The Pink City Jaipur has another wonderful destination in its proximity – The Blue City Jodhpur. Dominated by the historical Mehrangarh Fort which hosts the stimulating Flying Fox zip-line adventure and offers breathtaking views of desert landscapes, the city is home to other architectural wonders like Jaswant Thada and Umaid Bhawan Palace. Don't miss the scrumptious Mirchi vada and Pyaz ki kachori and the refreshing glass of makhani lassi. You may also plan desert jeep safaris, village tours and excursions to the attractions like Mandore and Osian (famous for luxury desert camps).
How to Reach? Jodhpur Airport and Railway Station are well connected to rest of the country.
Lucknow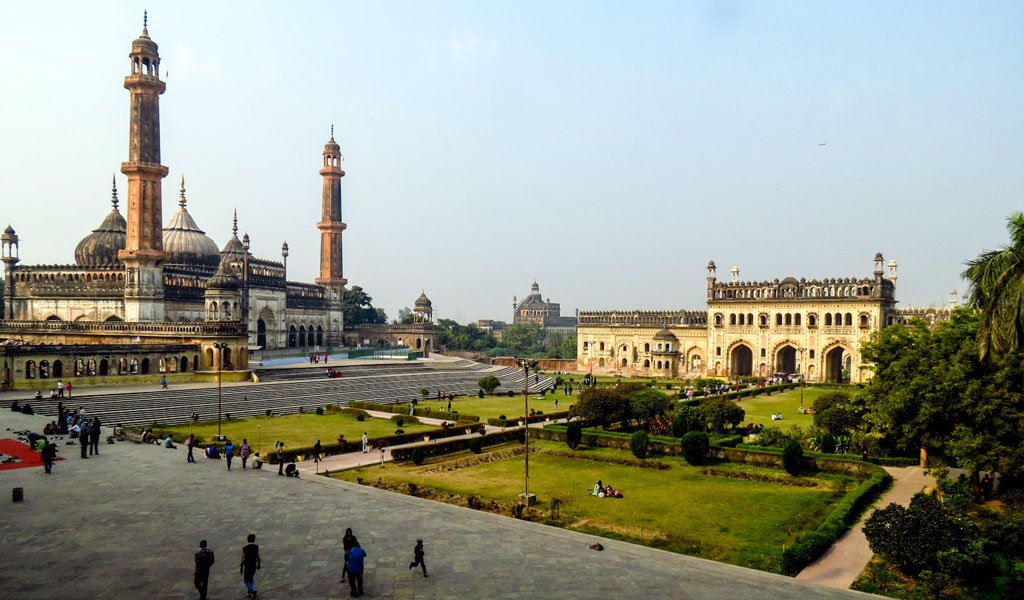 Image Source: http://flashpackatforty.com/
The city of Nawabs, Lucknow might not match the other popular tourist destinations in the region, but it definitely deserves a mention for its outstanding heritage and most importantly for its royal Mughlai and Awadhi platters.
You will be delighted to explore the architecture at Bara Imambara and many historical sites.
However, pay special attention to kebabs, tikkas, biryanis as well as the wonderful street snacks that have nothing in parallel.
How to Reach? Excellent connectivity by air and rail.
Now enjoy Lucknow Sightseeing by booking our Lucknow Tour Package on the link https://www.waytoindia.com/lucknow-tour-package .
Manali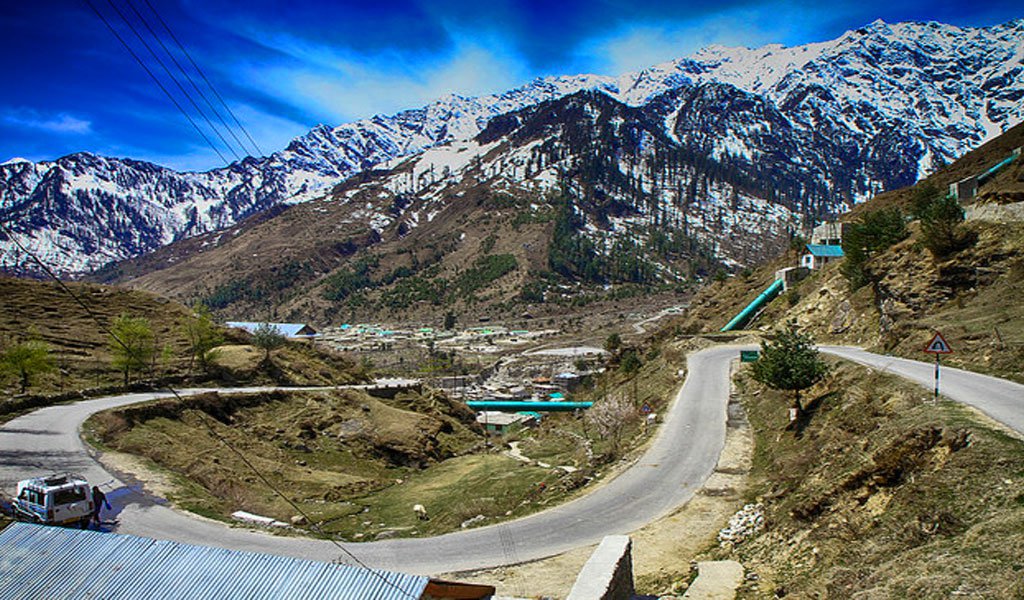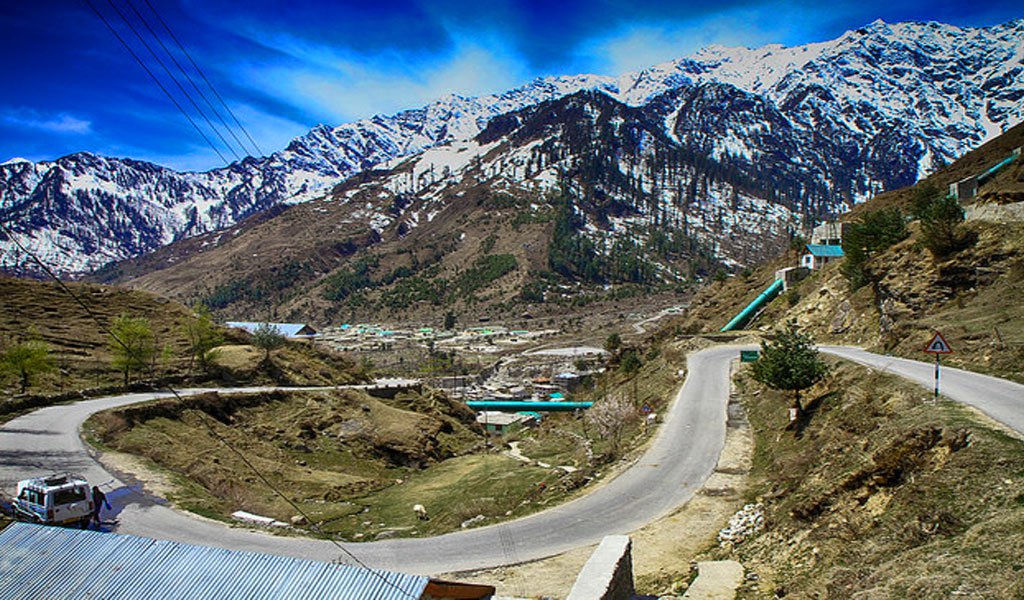 A list of tourist places in North India can never be complete without Manali, the world-famous honeymoon resort resting on the bank of River Beas.
Hidden in its beautiful natural folds are the spectacular waterfalls and hot water springs, ancient temples and Buddhist monasteries and hosts of adventure activities ranging from zorbing and trekking to skiing and river rafting.
Buying local produce which includes honey, apricot oil and fruit products is what you must not forget.
How to Reach? The closest airport is at Bhuntar (about 50 km.) and the nearest railway station is at Pathankot (about 292 km.)
Mathura-Vrindavan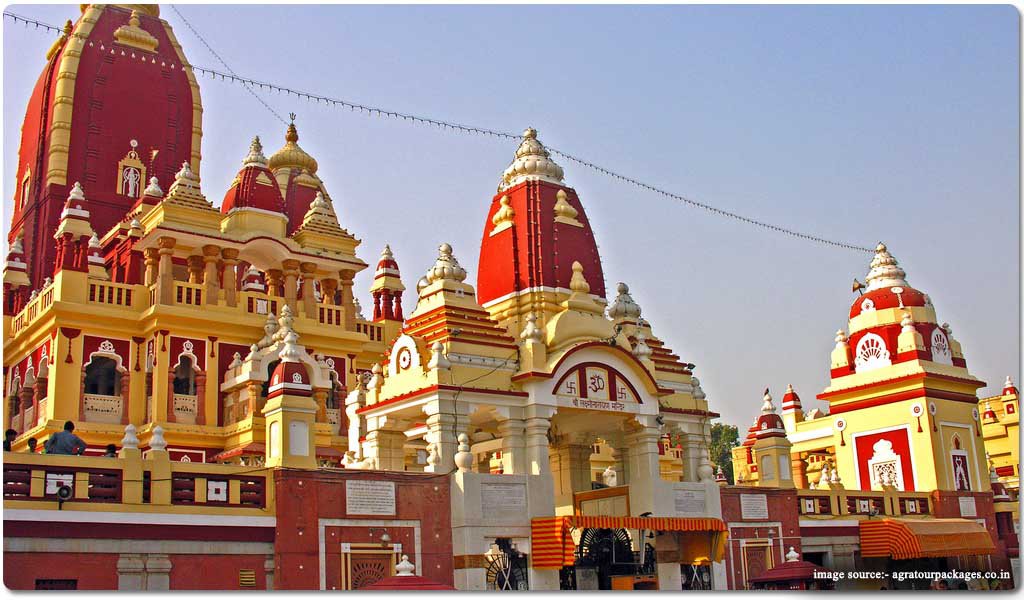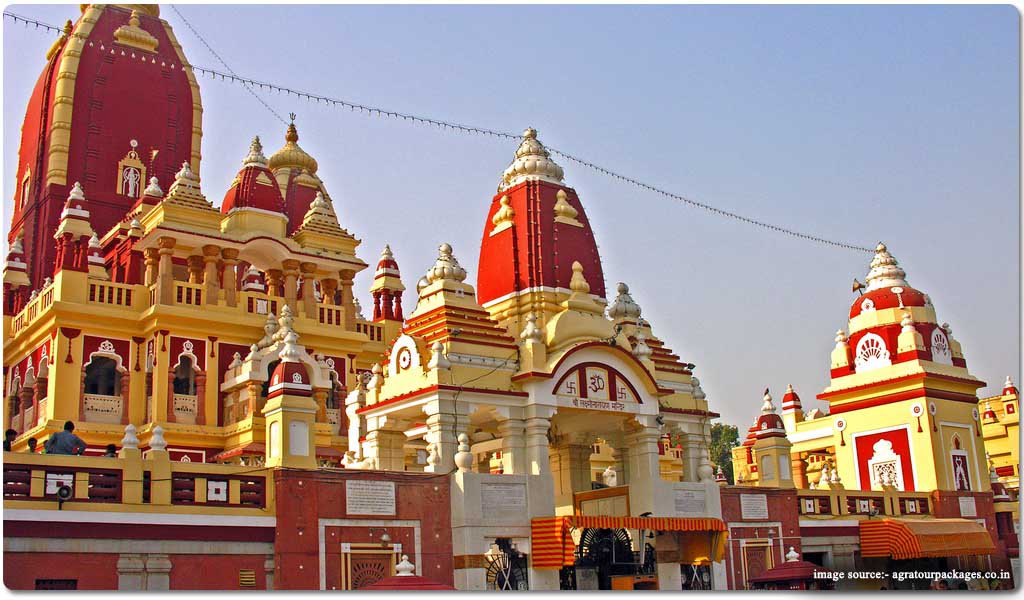 Lord Krishna was born at Mathura and spent his childhood at Vrindavan and the time seems to have halted at these divine places.
Visiting these holy towns on the bank of River Yamuna may leave you speechless as you come across the invincible faith of millions of Krishna. Beautiful temples, sacred hills, Yamuna Ghats and tasty sweets like pedals are the highlights here.
It is surely one of the best tourist places in North India.
How to Reach? Agra Airport (62 km.) and Mathura Junction
Book your Agra Mathura Vrindavan Tour from Delhi by sending us a query on info@waytoindia.com.
Mussoorie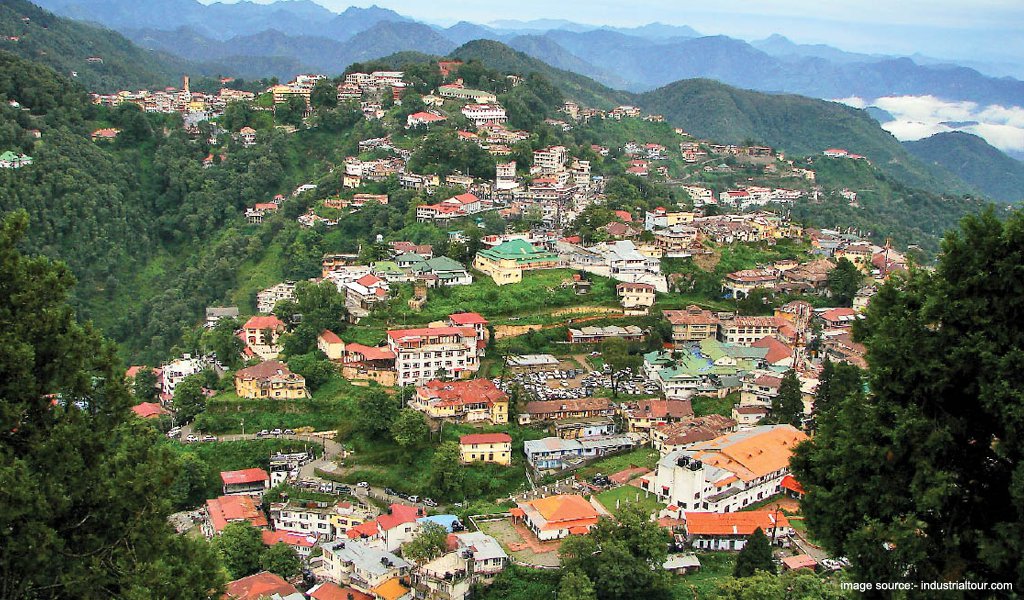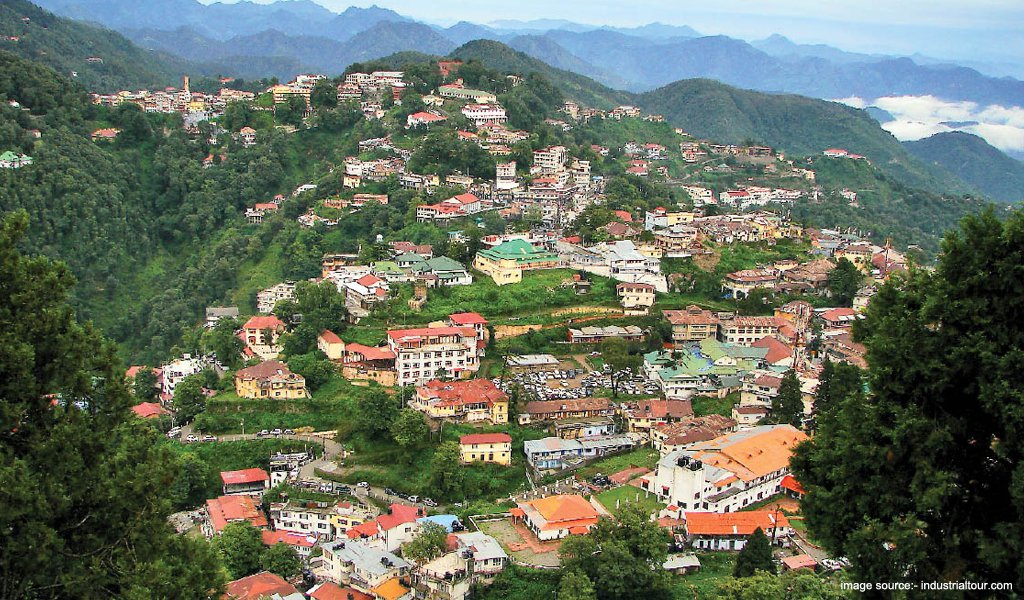 Deserving the title the 'Queen of the Hills', this fascinating hill station in Garhwal Himalayas is an extremely romantic and arresting place for those seeking revival.
Expect snowfall in December-January while other winter months promise salubrious weather amidst lush green surroundings.
Breathtaking views of Himalayan peaks and river valleys and numerous lakes and falls, along with rich flora and fauna welcome the visitors.
Uphill walks, ropeway rides and treasures of British era are the added bonus.This Queen of Hills is surely one among the must visit tourist places in North India.
How to Reach? Dehradun (about 58 km.) has the nearest airport and railway station.
Pushkar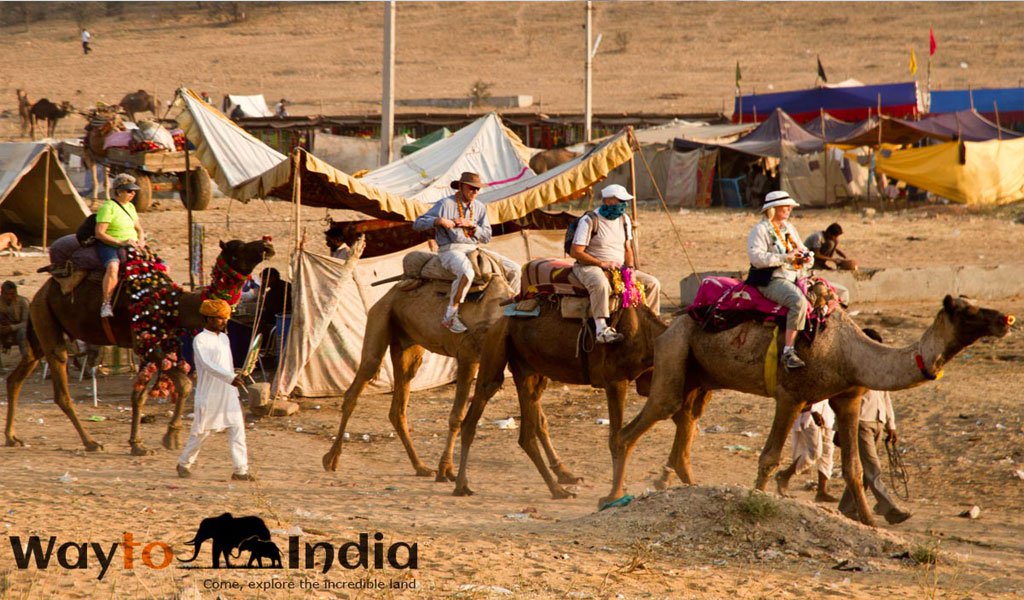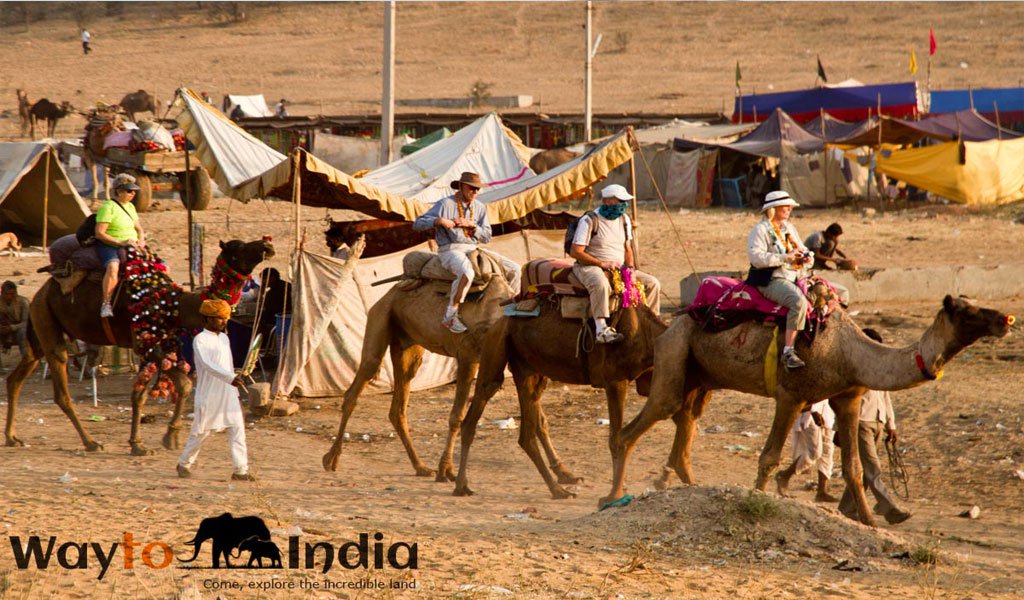 Aptly designated as Tirthraj (the king of pilgrimages), Pushkar hosts the world's only temple dedicated to Lord Brahma, the Creator of the Universe. However, this holy Hindu town settled around the calm Lake Pushkar is world-famous for hosting Pushkar Camel Fair (November) where flocks of domestic and international tourists show huge enthusiasm. Ajmer Sharif, one of the most revered pilgrimage sites in the world, is located nearby.
How to Reach? About 150 km. away is the closest airport at Jaipur while Pushkar has good rail connectivity as well.
Ranthambore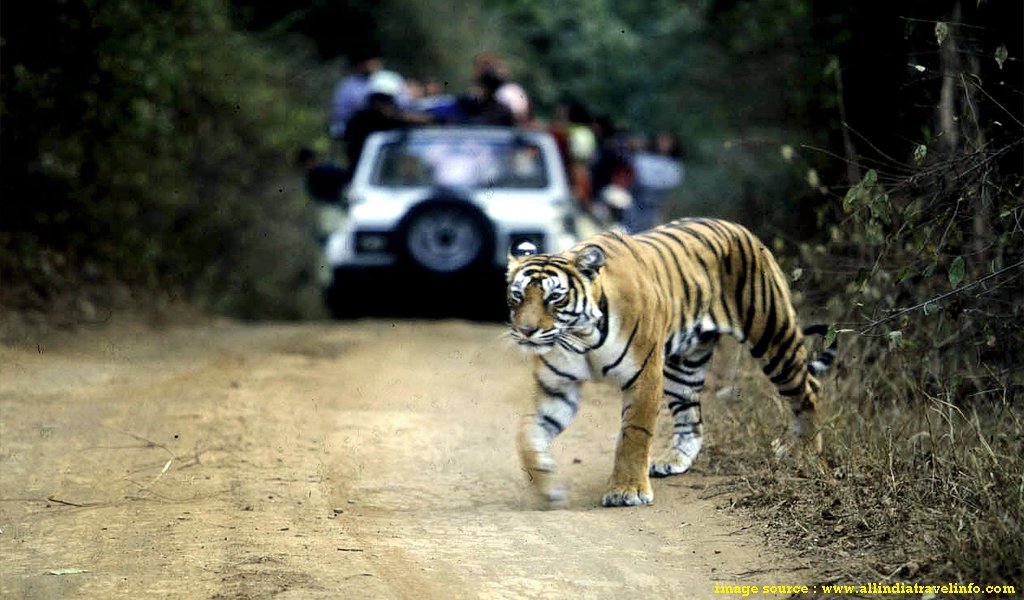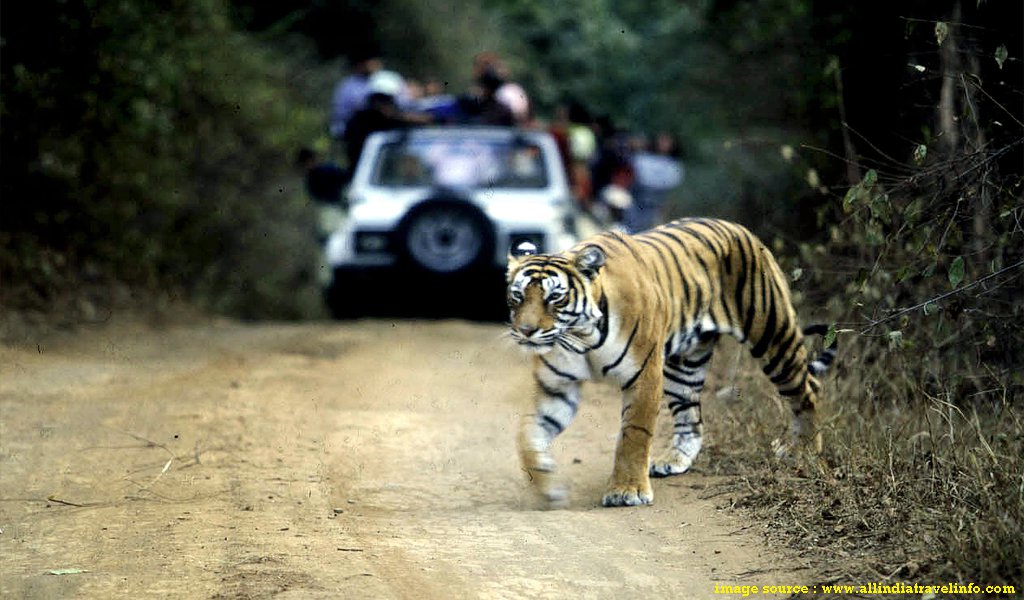 Taking a break from desert safaris and unmatched cultural bonanza, the state of Rajasthan welcomes you to Ranthambore National Park – the stronghold of the Bengal tigers. An open jeep safari in the park can be the most daring act of your life and you must attempt it. Frequent visitors to India count it among the best North India places to visit not just for its wildlife wealth, but also for the historical Ranthambore Fort right in the middle of the wilderness. Palaces, temples and lakes add to the overall magnificence of the place.
How to Reach? Sawai Madhopur Railway Station is just a few miles away and the closest airport is at Jaipur (about 152 km.)
Rishikesh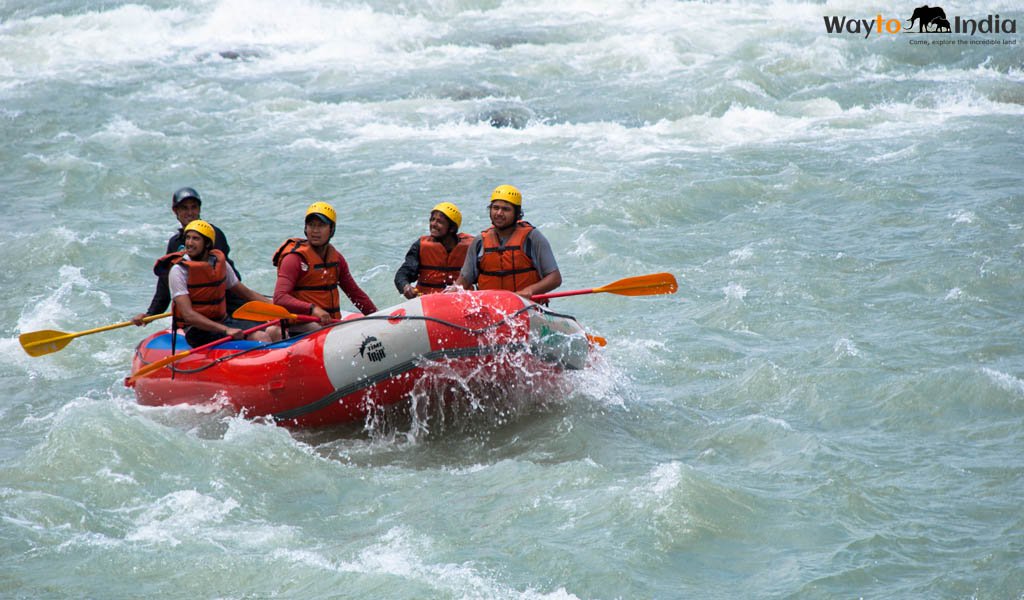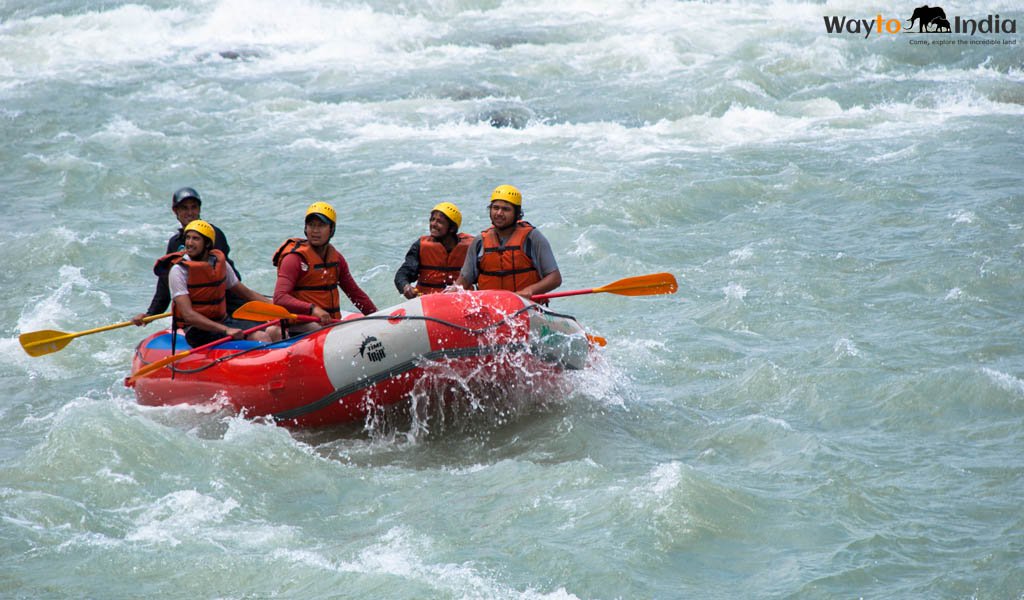 As River Ganga decided to enter the Northern Plains from the Himalayas, Rishikesh serves as the generous host. The suspension bridges called Laxman Jhula and Ram Jhula are the icons of this holy town which hogs the limelight at the Yoga Capital of the World. Stay at one of the ashrams to practice yoga and meditation, while enjoying Ganga aarti, simple but healthy food practices and the continuous chants at various temples. Rishikesh is also a celebrated water-rafting hub and also hosts adventures like camping, rock climbing, kayaking, trekking and more. If possible, join the life-changing International Yoga Festival in March.
How to Reach? Rishikesh Railway Station and Dehradun Airport (about 20 km.)
Shimla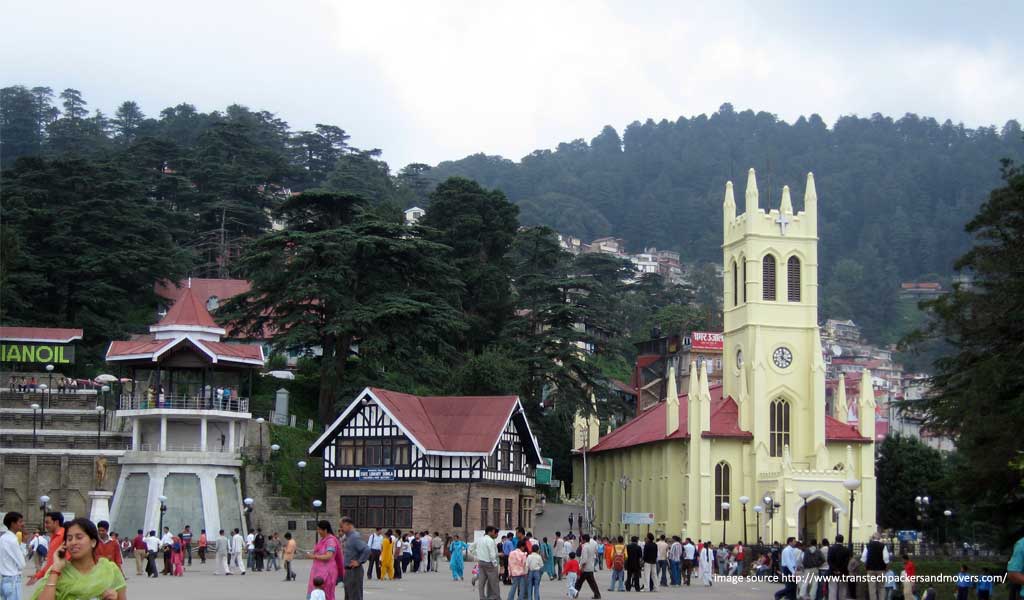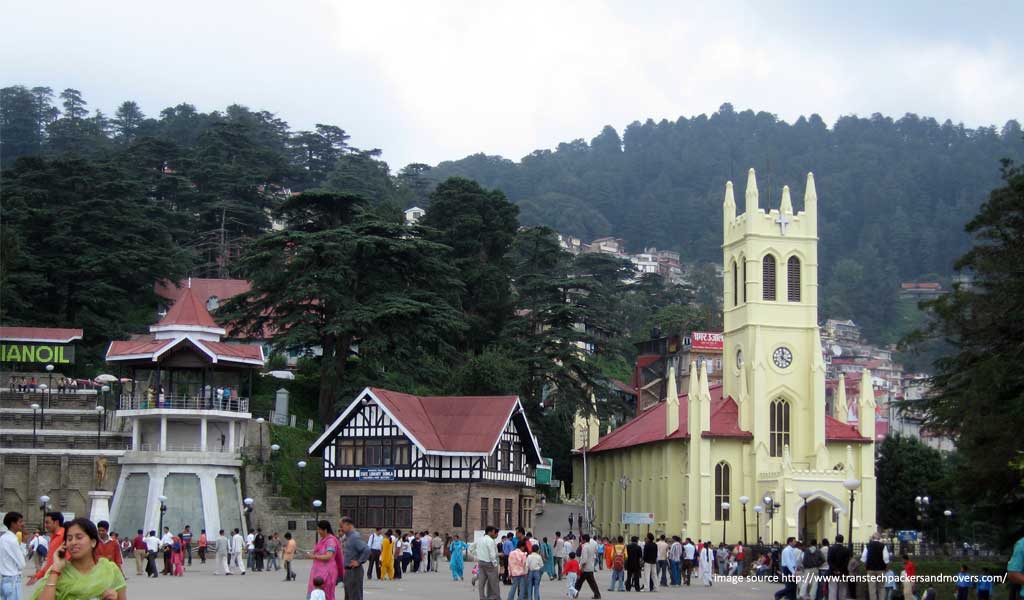 While walking on the traffic-free and pollution-free Mall and Ridge at Shimla, you will be bowled over by the limitless views of dense forests. Established as their summer capital by the British, this strikingly beautiful hill station is dotted with colonial heritage and Hindu temples. Top attractions include Christ Church, Jakhu Temple, The Gaiety Theatre and old English bungalows and buildings. Christmas celebrations are a riot here as the place dons the white sheet of snow, also encouraging the adventures like skiing and ice-skating.
How to Reach? Shimla Airport and the World Heritage listed toy train (a must-try)
Srinagar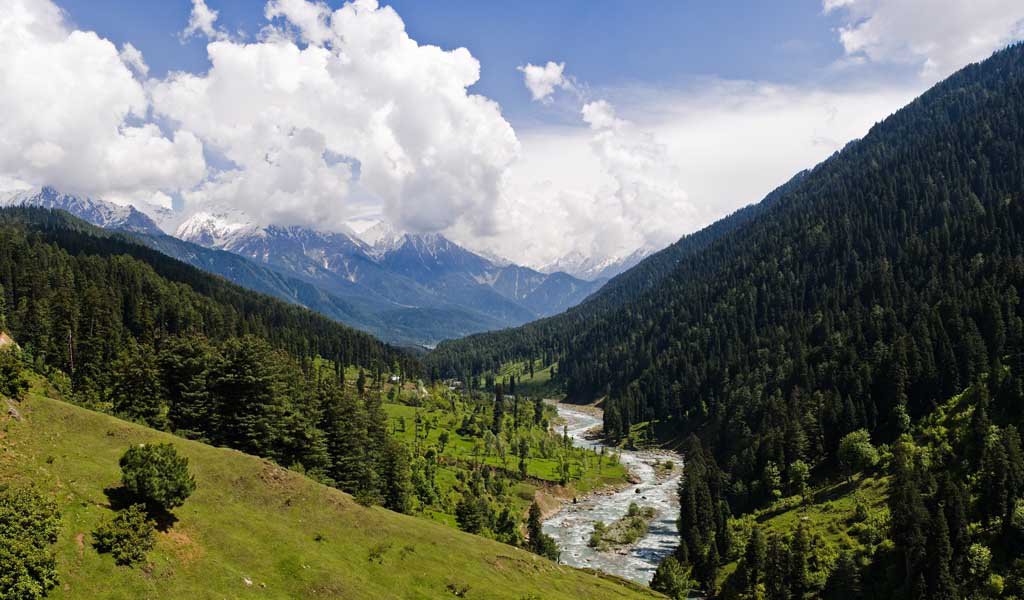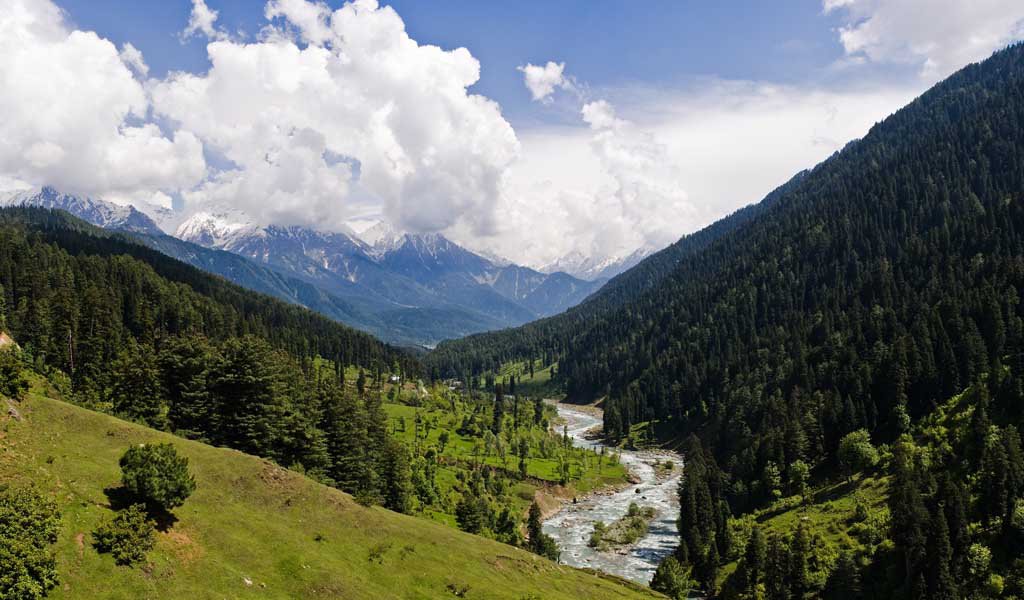 How about watching the skies pouring magic over the paradise on the earth? Kashmir Valley, the planet's very own paradise, dresses in white as snow overwhelms the place creating mind-blowing landscapes. The popular Dal Lake freezes allowing some thrilling walks and you would love to stay in a houseboat over its frozen surface. Captivating Mughal Gardens and peaceful mosques make the experience truly heart-warming. And. It's the best time to buy the authentic pashmina shawls and hand-woven carpets from the local emporiums.
How to Reach? Prefer taking a flight to Srinagar Airport.
Udaipur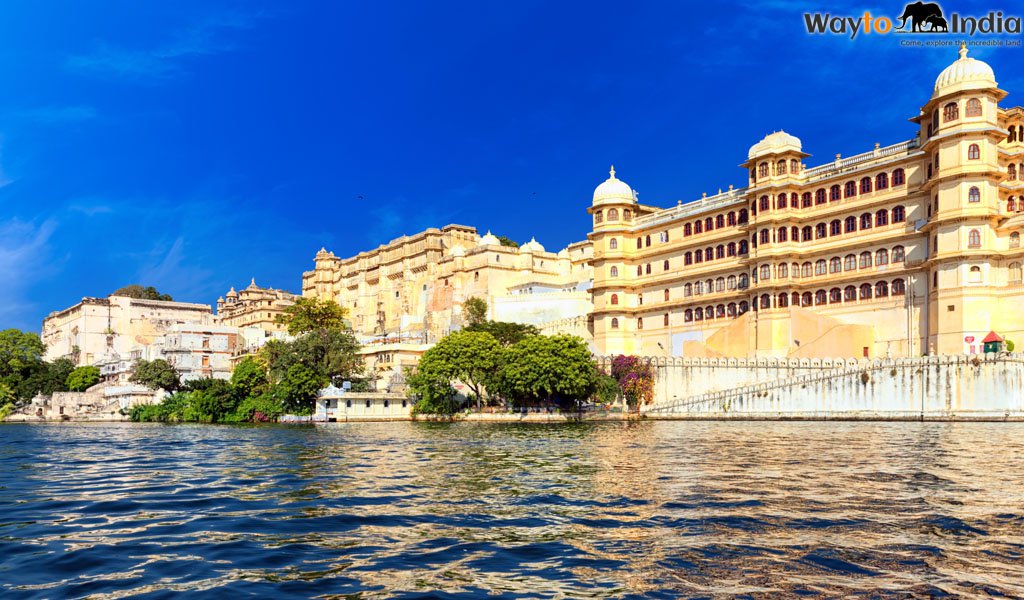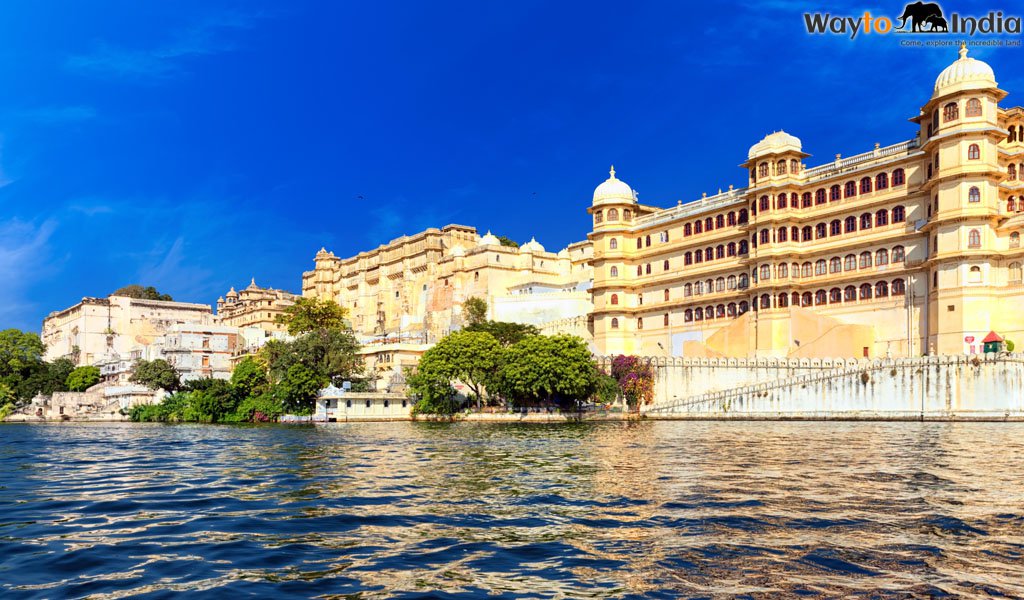 Foreigners have a special admiration for Udaipur, the city of pristine lakes and fondly known as the 'Venice of the East'. The rugged Aravalli Hills stand guard to this royal city where the dazzling lakes host the fairy-tale palaces, still echoing with the royal legends. Incredibly carved mansions and temples, sunset boat cruises, exciting ropeway rides and sites like Ahar Museum, Udaipur Solar Observatory and Bharatiya Lok Kala Mandal exhibiting Rajasthan's cultural riches are what the city packs in the form of surprises. That's not all as you can take advantage of warm winters to indulge in bicycle trips, horse riding and jeep safaris. Cooking classes and shopping for extravagant textiles and wooden toys are few not-to-miss things.
How to Reach? Udaipur is well-connected by air and rail.
Varanasi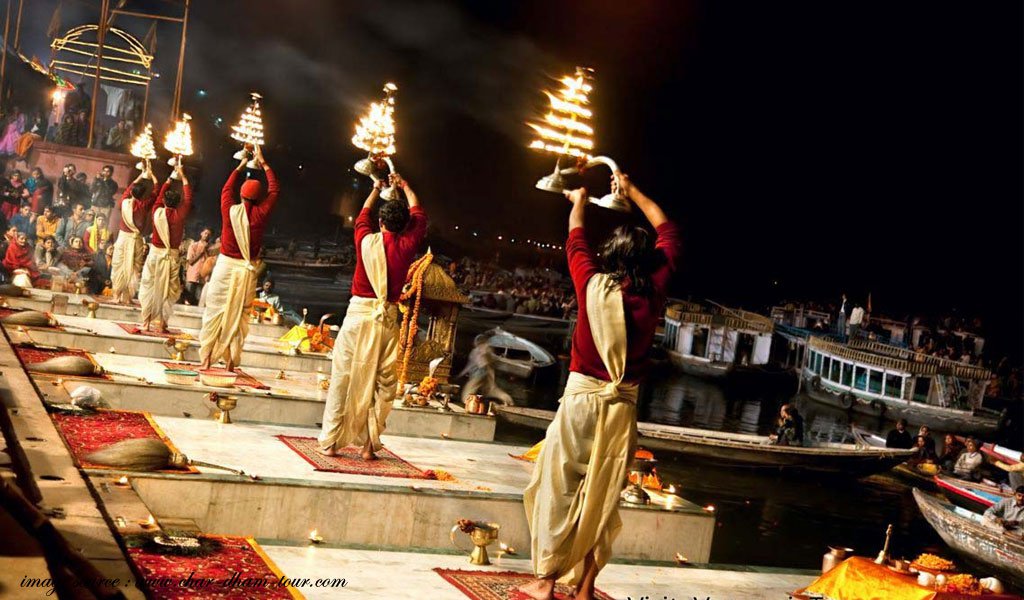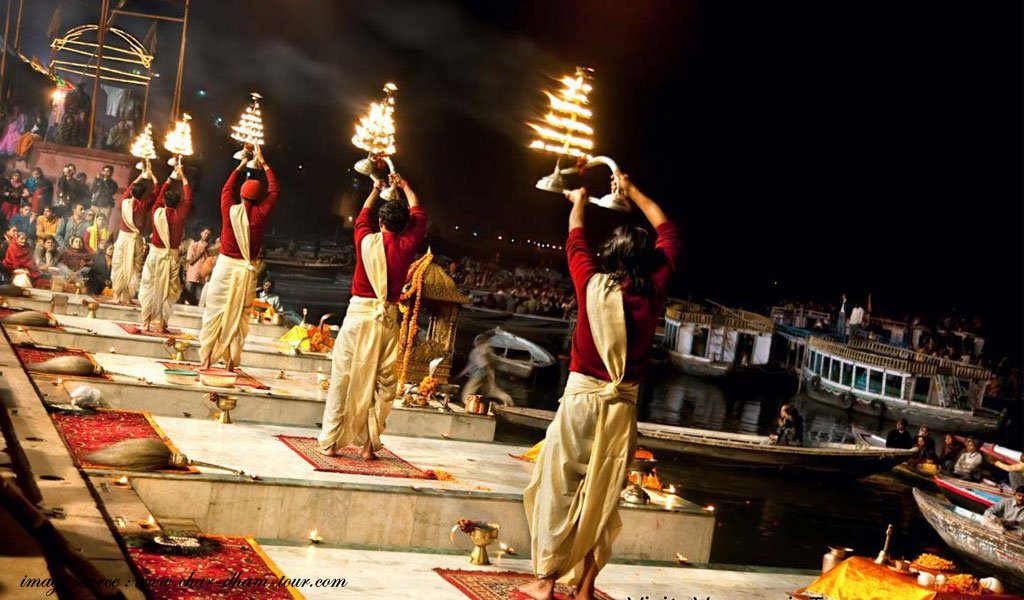 The holiest city according to Hindu Mythology, Varanasi hosts the visually stunning kaleidoscope of India's rich cultural colours. Stroll through the old lanes, admire the centuries old structures and watch the celebration of Hindu beliefs at the ghats of River Ganga. Several ancient temples, uninterrupted chants and a visit to Benaras University are the great things to do. However, the best experiences are an early morning boat ride, the spectacular evening Ganga aarti and a holy dip in the sacred waters. If time permits, visit the nearby town of Sarnath where Lord Buddha delivered first sermon to set the wheel of Buddhism rolling.
How to Reach? Varanasi has its own domestic airport and a busy railway station.
Be spoilt for choice after discovering this list of North India tourist places. Plan carefully and you can easily include many of them in a single itinerary. You would simply cherish the idea for long.