Karnataka is one of the most beautiful Southern destinations of India. A land with vast picturesque landscape, dotted with historical treasures and hilly topography surrounded by pristine beaches, it fascinates tourists from all corners of the world. Karnataka is blessed with natural beauty, wildlife species, historic cultural diversions and rich heritage; no wonder Karnataka is in the top of itinerary list for worldwide tourists due to its magical charm.In this blog we share with you 7 Offbeat Places To Visit In Karnataka.
7 Offbeat Places To Visit In Karnataka
WaytoIndia.com brings and exclusive list of 7 Offbeat Places To Visit In Karnataka for visitors wanting to avoid the dampening rush of regular and commercialised tourist spots.
Yana Rocks
Karnataka abounds in natural wilderness, Yana being one of them. The beautiful canopy of cloud cover over the place, especially in the rainy season and the chilly winters is enchanting to watch. Yana is a tiny hill station dotted with rocky formations, scenic green grassy carpets and the imposing Sahyadri Mountains in the backdrop. It is not as popular as many other tourist spots, but surely one of the best offbeat places to visit in Karnataka.
Location– Yana hill station is situated near Kumta town (20 km.) in the Uttar-Kannada district of Karnataka. The nearest airports can be accessed from Hubli, Goa and Mangalore cities. Kumta can be reached via State buses as well as trains.
Chief Attractions– Attractions include the Limstone peaks known as Mohini and Bhairaveshwara peak, Shiva Temple, trekking in the deep forested area near Yana, natural flora and variety of bird species.
Karighatta Black Hill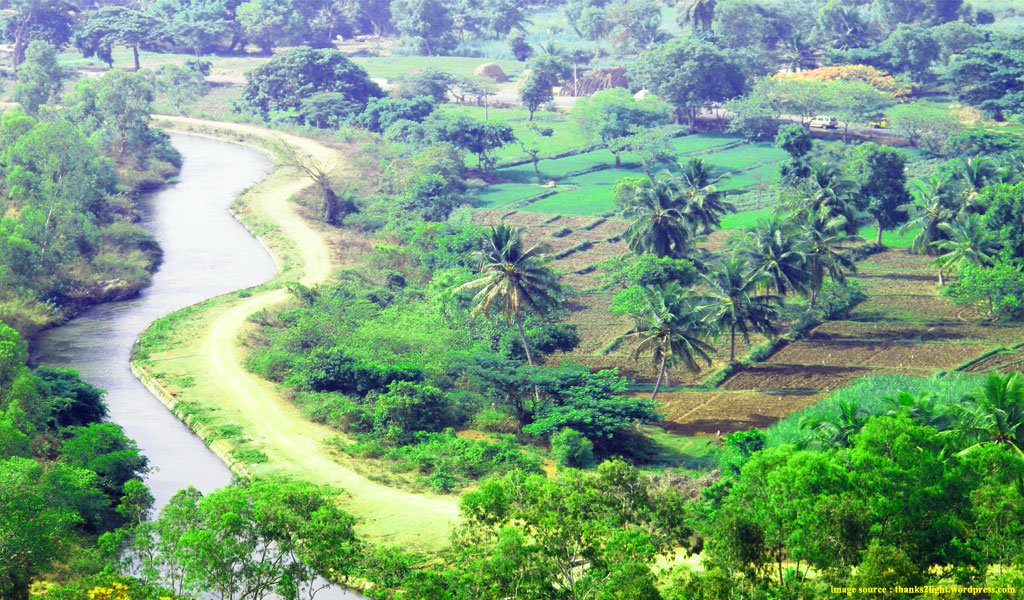 The mystic adventure land known as Karighatta is one of the unexplored places in Karnataka. Nestled within the hilly topography (packed with gooseberry and tamarind trees) and serene lakes, this place resting at a height of 2697 ft. above sea level, can be accessed after a steep climb of 300 manmade steps. It offers a great vacation retreat for nature lovers, trekkers and avid bird watchers.
Location– Karighatta Hills is located at a distance of 128 km. from the Mysore road. It is just a little away from the popular town of Srirangapatna in Karnataka. Road travellers can the Bangalore-Mysore Highway to reach Karighatta, while aerial visitors can alight at Bangalore Airport.
Chief Attractions- Top attractions include Lokapavani River, Hill Trekking, Karigirivasa Temple, natural flora and fauna.
Honne Mardu

A quaint village in Karnataka, Honne Mardu is a natural rural beauty alluring visitors for adventurous water-sport activities. It is closeby to the popular Talaguppa or Jog Falls. Best scenic spot for picnickers from nearby cities of Karnataka. It is undoubtedly a cool exploratory place, especially in monsoon season.
Location– A little village situated in the Shivamogga region of Karnataka. Air travellers can alight at Bangalore airport to reach Honne Mardu (379 km. distance). Nearest railway station is at Shimoga Township from Honne Mardu (80 km. distance).
Chief Attractions– There are great many water sports activities like windsurfing, kayaking, river rafting going on in the backwaters of Sharavathi River. Other attractions include natural flora and fauna, forest trekking trails, scenic view from Linganamakki Reservoir and camping adventures.
Ramanagara

Ramanagara is a small district of Karnataka. It is an ideal picnic spot surrounded by picturesque hillocks near Bangalore highway. There are numerous places of interest in and around this new formed Karnataka district, which attracts thousands of visitors every year to explore such hidden destinations in Karnataka.
Location– Offbeat rural district of Karnataka near Bangalore city (50 km. distance). The closest airport to reach Ramanagara is in Bangalore. The place can be reached via roadways in State or private buses from Bangalore (48 km. distance).
Chief Attractions– The famous hills that adorn the district such as Shivaramagiri, Somagiri, Sidilakallu Betta to name a few. Ramadevara Betta hill, where the legendary Hindi movie 'Sholay' was filmed. Kanva reservoir and Magadi Fort are some of the tourist places.
Dandeli Wildlife Sanctuary

Spread over an impressive area of 834 sq. Km. this is one of the largest wildlife parks in Karnataka. The peaceful and forested environment in Dandeli is the reason for the increase in tourist traffic in this otherwise rural offbeat place in Karnataka.
Location-The Sanctuary is nestled on the Kali Riverbank in Uttara-Kannada district of Karnataka. The place is situated in the border of Karnataka and Goa. Tourists from Bangalore can hire private vehicles or travel in State buses to reach Dandeli (480 km. distance).
Chief Attractions– The rich forested areas with canopy of bamboo and deciduous trees. Teeming with wild animals such as leopards, elephants, antelopes, tigers, bears, reptiles (snakes and crocodiles). Visitors enjoy water sport activities like river rafting and kayaking. The place is haven for trekkers and mountain bikers.
Hebbe Falls
One of the best unexplored places in Karnataka, Hebbe Falls is a natural beauty near the Kemmangundi hill station. The Hebbe Falls cascades (height of 168 mt.) from two major fall-points, one called Dodda Hebbe and other is Chikka Hebbe. The waters are known to be infused with medicinal herbs. Best spot to visit during monsoon and hot summers.
Location– Situated in the Chikmagalur district in Karnataka, Hebbe Falls is at a distance of 240 km. from Bangalore city. Nearest airport is at Mangalore. It is well accessible by roadways.
Chief Attractions– The place is dotted with numerous coffee plantations, lush forest areas, scenic landscape, flora and fauna. Near to Kalhatti Falls and Kemmangundi hill station.
Karwar

Karwar is a beach paradise, at the Northern-most tip of Karnataka. It is wondrous retreat for beach lovers and water sports enthusiasts. The cool climate and proximity to beaches allures tourists to this hidden tourist spot in Karnataka.
Location– Karwar is a port town situated in the Uttara-Kannada district of Karnataka. Rail travellers can connect to Karwar via Madgaon in Goa or get down at Shirwad town (6 km. from Karwar). Nearest airport is at Goa (Dabolim Airport), at a distance of 121 km. from karwar.
Chief Attractions– Devbaugh Lighthouse, Devbaugh beach, Karwar beach, Sadashivgad Fort, Durga temple, Venkatrama Temple, boat rides and water sports are some of the main attractions for Karwar visit.
For these and more of such exclusive Karnataka Tour Packages , visit us on https://www.waytoindia.com/karnataka-tours and send your query.