Sketching the magnum opus of royal history on golden canvas, Rajasthan forts are the most authentic testimony of the desert state's invigorating journey over centuries. Behind the colossal fortifications , a lot happened – fairytale romances, tragic sacrifices, art and architectural evolutions and truly extravagant living. And from outside, these indomitable structures witnessed unbelievable showcase of valor, extreme power struggles, huge battles and peace treaties that followed. Choose Rajasthan historical tours to visit the fortified strongholds and get enthralled by the most captivating sights of your travel life.
6 Most Famous Forts Of Rajasthan
1.Jaisalmer Fort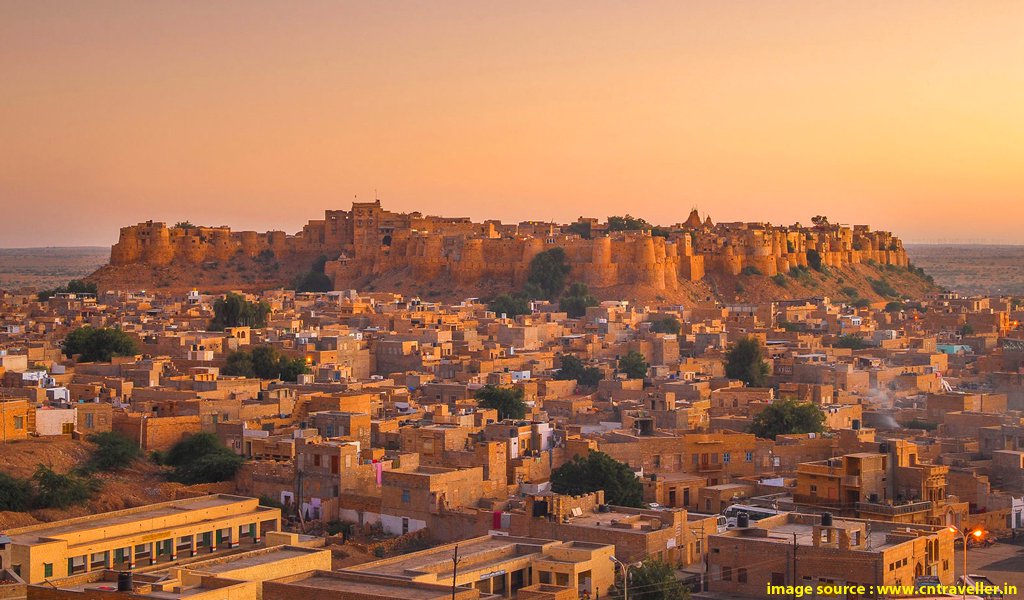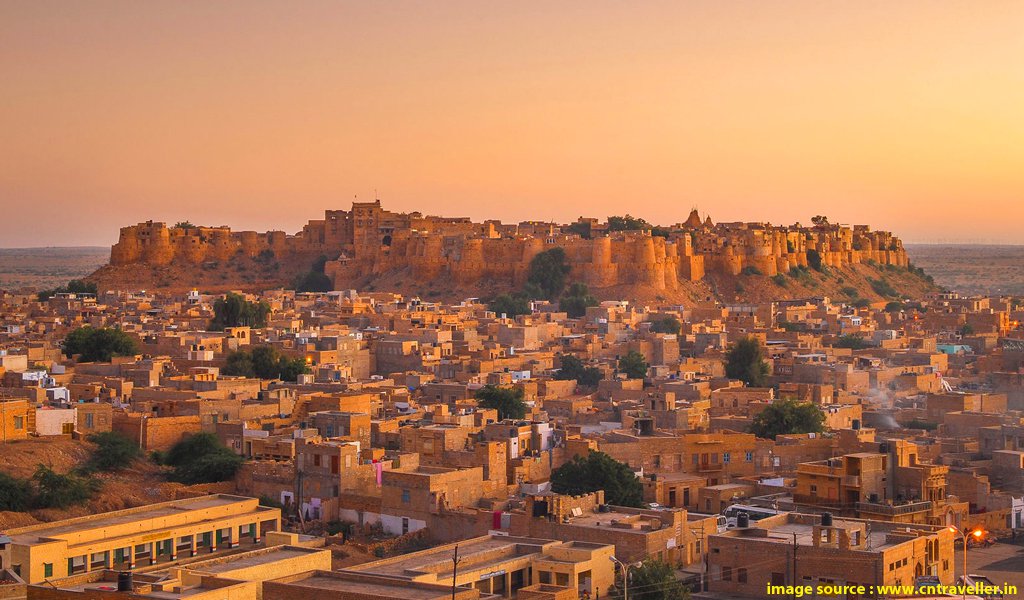 The Sonar Quila (Golden Fort) rests like a glittering crown on Trikuta Hill, witnessing the limitless expanses of Thar Desert in all directions. Changing colors with sun's movement, this yellow sandstone vista is actually a maze of narrow lanes, bustling bazaars, famous eateries, beautiful Hindu and Jain temples and lavish mansions accessible from 4 massive gateways. Built in the mid of 12th century, it is one of the must visit forts in Rajasthan that has been a generous cradle of life and an inimitable feast for eyes.
Location: Jaisalmer
How to Reach: Jodhpur has the closest airport (282 km.). Jaisalmer has excellent road and rail connectivity.
Visitors' Info: Opens from 06:00 a.m. to 05:00 p.m. Entry fee is INR 30/250 for Indians/foreigners. Camera fee is INR 50. Jain Temples open till 12 noon only.
Send us an enquiry on info@waytoindia.com if you wish to book our Jodhpur Jaisalmer Tour.
2.Amber Fort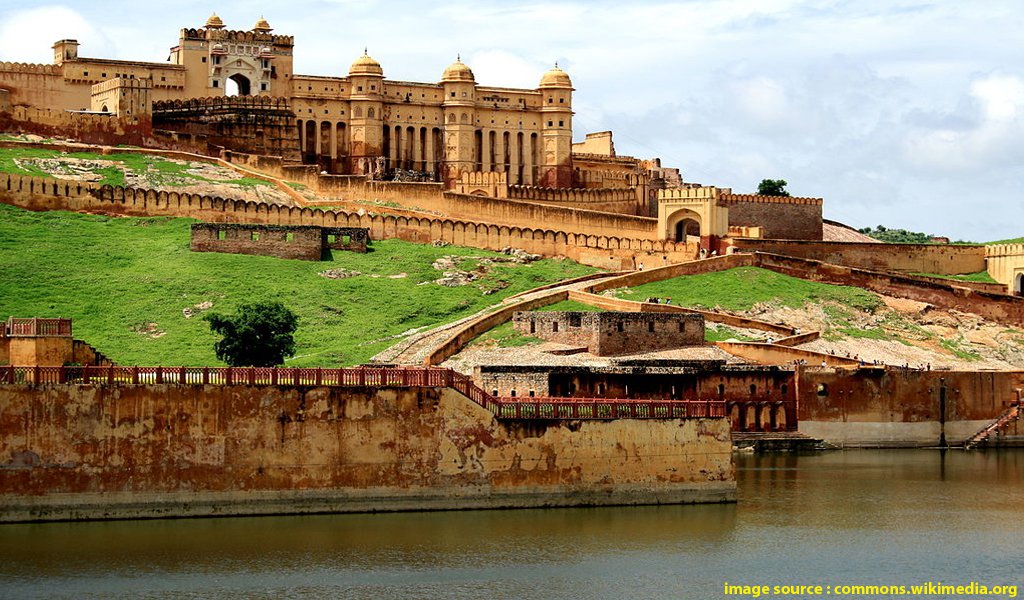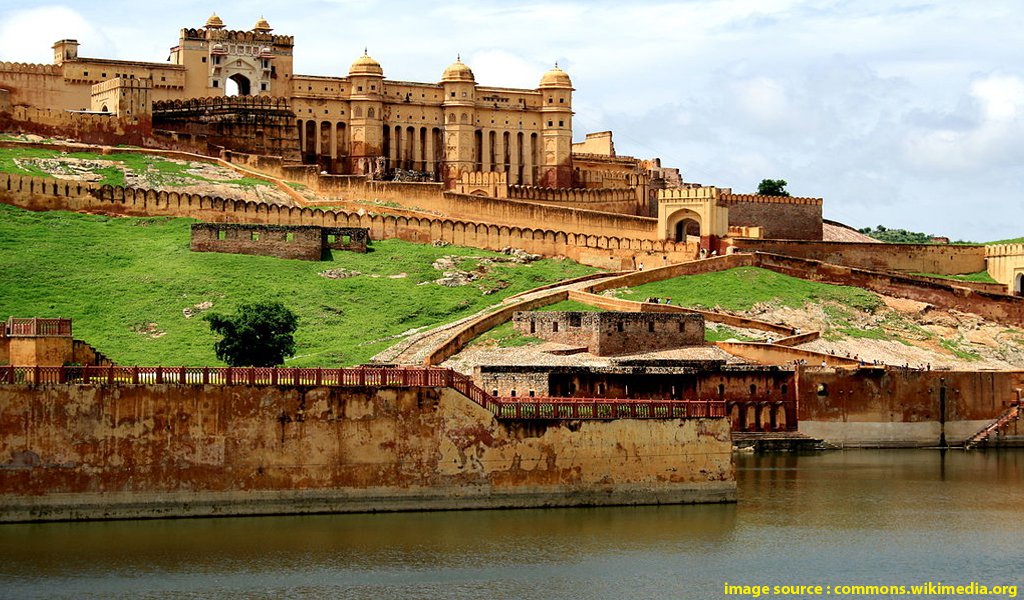 Amber of Amer Fort is among the incredible hill forts of Rajasthan that find place among World Heritage Sites. The 10th century fort exemplifies the military architectural defense of Rajputs and overlooks beautiful lakes, water tanks, gardens and forested hills of Aravalli Range. Built in marble and red sandstone, it hosts grand palaces, halls and temples and uninterruptedly breathes in the cool hilly wind. An elephant ride to the fort is simply breathtaking.
Location: Amer Town near Jaipur
How to Reach: Jaipur Airport is just 25 km. away. The city also has a busy railway station and stupendous road connections with top destinations.
Visitors' Info: Opens from 09:30 a.m. to 04:30 p.m. Fees include entry (INR 25/200 for Indians/foreigners) and camera fee (INR 50/70 for still and INR 100/150 for video for Indians/foreigners). Elephant rides cost about INR 900 for two and are available only till 12:30 p.m. Don't miss Sound & Light Show (costs extra) in Hindi/English at 07:30/08:00 p.m.
3.Chittorgarh Fort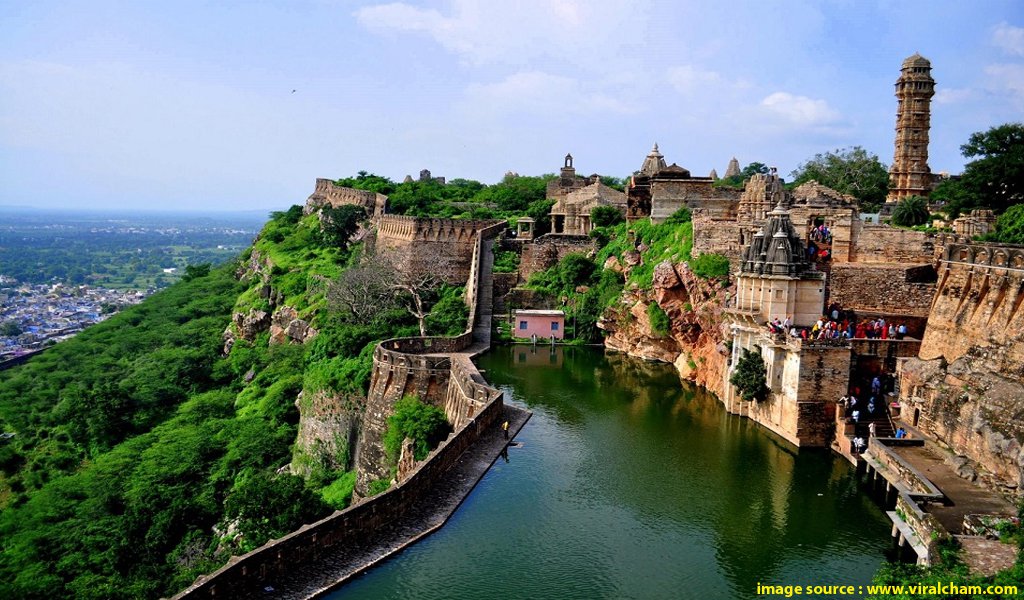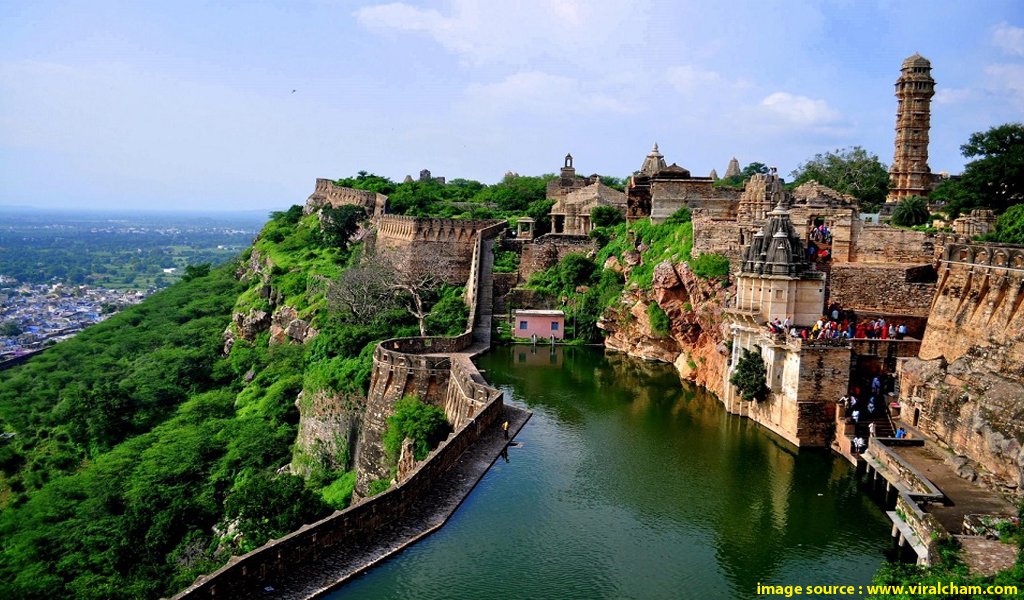 Enjoying the status of being India's largest fort built way back in the 7th century, Chittorgarh has some of the most heart-rending legends. It witnessed the act of Jauhar (sacrifice by Rajput women and children following the fort's seize in a bid to save their honors) thrice and the tragic tale of the gorgeous Rani Padimini who chose death over forceful custody by the Muslim intruder Allaudin Khilji. The fascinating sights of seven massive gateways, two commemoration towers, imperial palaces and reservoirs are bound to leave you speechless on this amazing Rajasthan fort and palace tour.
Location: Chittorgarh
How to Reach: It is located on East West Corridor and Golden Quadrilateral Highway systems and also has a railway junction. The closest airport is at Udaipur (about 97 km.).
Visitors' Info: Exploring the entire periphery of the fort requires walking about 13 km. It's better to rent a two-wheeler or choose a shared auto. It opens from sunrise to sunset. Entry fee is INR 5/100 for Indians/foreigners (required only for specific attractions inside the complex). Carry sun protection along.
4.Mehrangarh Fort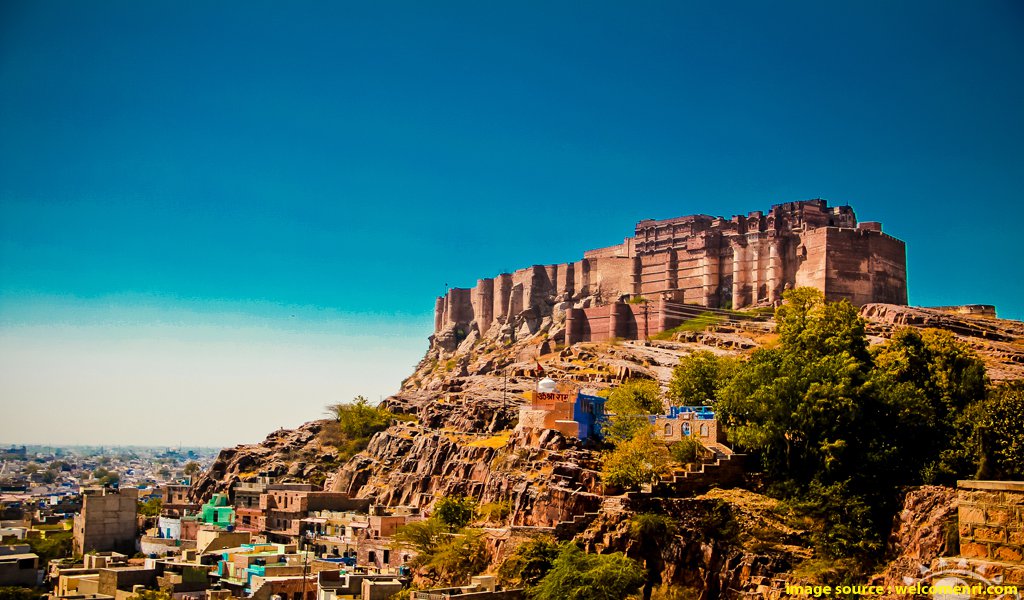 Starring in 'The Dark Knight Rises', Mehrangarh Fort garnered international limelight as one of the best forts to visit in Rajasthan. The gloriously decorated palaces and the must-visit museum featuring royal palanquins, howdahs, turbans, armory and paintings are the highlights of the fort which boasts of seven massive gateways. Standing on a hillock, this 15th century fort seems to enjoy the mesmerizing sights of blue-painted houses below.
Location: Jodhpur
How to Reach: Well-connected by road, rail and air (via Jodhpur Airport).
Visitors' Info: The fort is accessible either via a walk uphill of about 300 m. or in an auto-rickshaw on a winding hill road. It opens from 09:00 a.m. to 05:00 p.m. and has an entry fee of INR 60/400 for Indians/foreigners.
5.Ranthambore Fort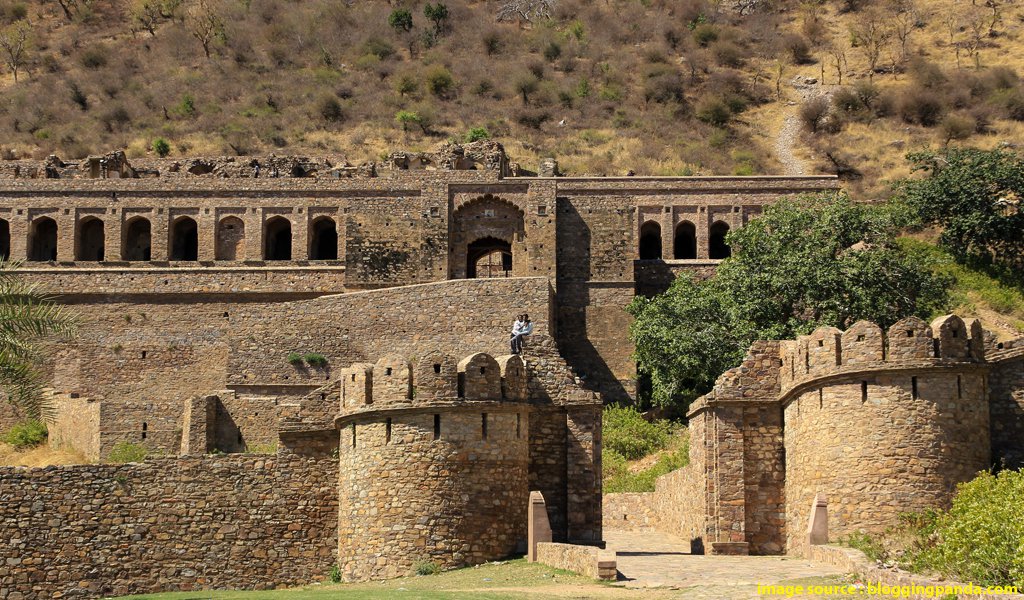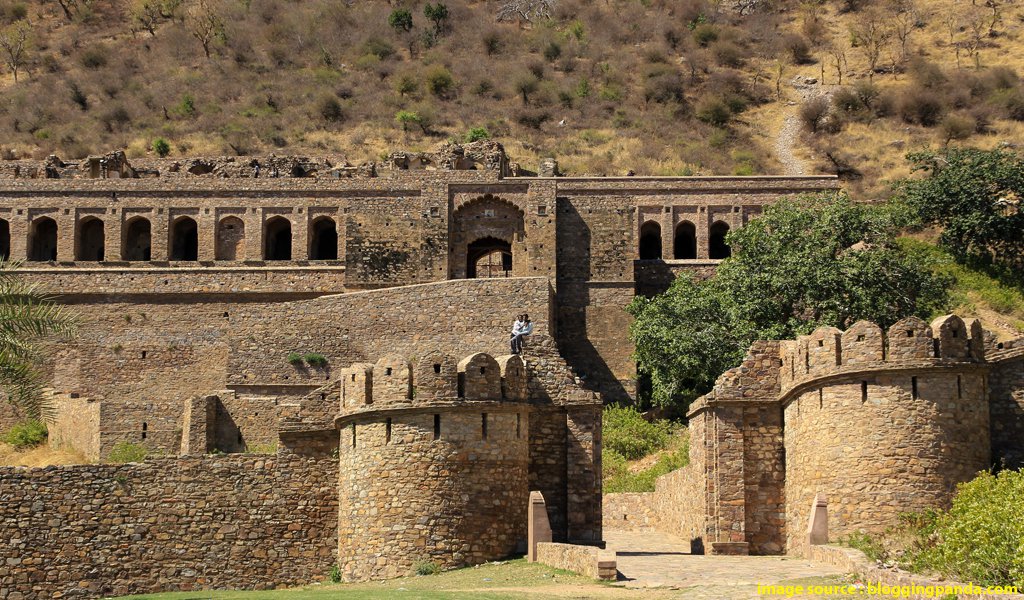 Surrounded by lavish greenery, picturesque lakes and the thrilling wild trails of Ranthambore National Park, this fort is indeed a majestic spot to be at. The fort was built in the early 11th century and remained invincible for a long time. Though in the state of ruins, the fort has not lost its rugged charm and is counted among Rajasthan unique forts. Palaces and temples (especially Ganesha Temple) are the top highlights, while the excitement of being in the tiger country is beyond any description.
Location: Near Sawai Madhopur Town
How to Reach: While Sawai Madhopur is accessible by road and rail, the closest airport is at Jaipur (139 km.).
Visitors' Info: Choose to stay in the western part as fort's eastern part attracts wild animals like leopards. Carrying flashlights should help a lot. No additional entry fee is required as the fort can be visited by paying the national park fee of INR 25/200 for Indians/foreigners. It opens from 06:00 a.m. to 06:00 p.m.
6.Kumbhalgarh Fort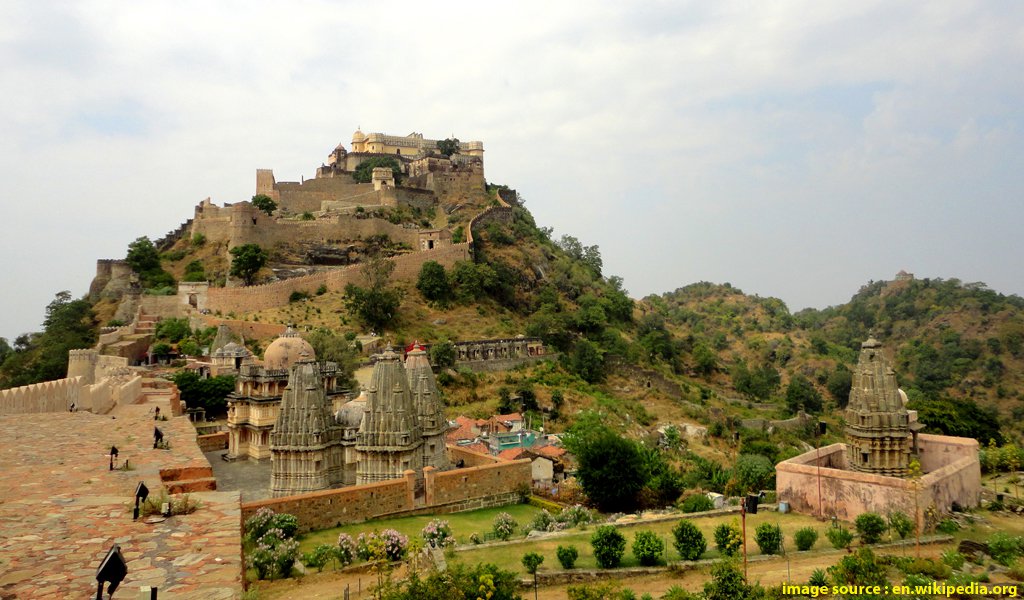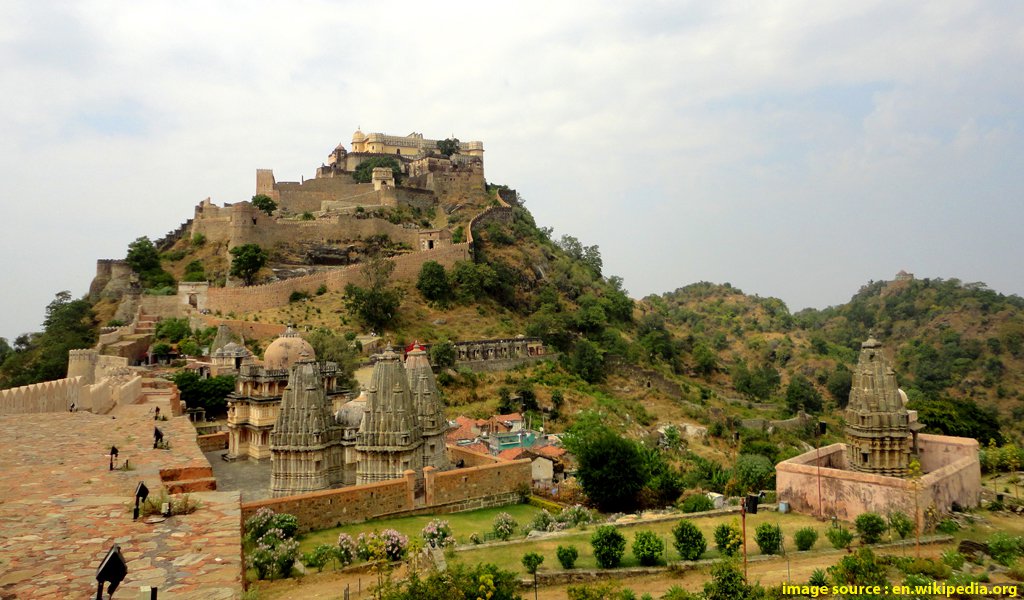 The list of forts in Rajasthan is incomplete without mentioning Kumbhalgarh Fort. The 2nd largest in the state and having the world's 2nd largest wall (after the Great Wall of China), the fort is a true specimen of powerful defense architecture as it was seized after repeated attempts and great difficulty. Home to massive ramparts and gates, beautiful palaces and temples and well laid gardens, the fort offers incredible views of deep ravines and lavish forests.
Location: About 102 km. from Udaipur
How to Reach: Udaipur has the closest airport while Falna Railway Station is about 68 km. away. Buses and taxis are available from Udaipur.
Visitors' Info: Timings: 09:00 a.m. to 06:00 p.m. Entry fee: INR 10/100 for Indians/foreigners. Don't miss viewing the fort in the evening when it is majestically lit for few minutes.
WaytoIndia.com offers customizable Rajasthan heritage forts tour packages and guided group tours at exciting prices at https://www.waytoindia.com/heritage-of-rajasthan-tour-package. What could be more exciting than exploring the eternal royal legacy through these supreme masterpieces? Don't delay this astounding expedition any further.