A very common scene witnessed in Delhi is friends hanging out having gala time together. Why? There are so many exciting places to visit in Delhi with friends and equally exhilarating activities to participate in with the best of pals that you consider friendship in the city a reason for celebrations.
In fact, Delhi's character as a restless metro is just a casual and undue reference. If you start digging deeper, it's many unexpected traits begin to surface, forcing to change your perception about the city.
Irrespective of the kind of bond and interests you share with your friends, Delhi appoints spots and spaces where you can carve memories of the lifetime. With this, we end this preface and introduce places your must know once you fall in friendship.
When the Adrenaline Spikes Hit
Thrill is probably an emotion best experienced with friends. On the days your brain summons the adrenaline rush, plan an adventure trip with your closest buddies to:
Flyboy Air Safari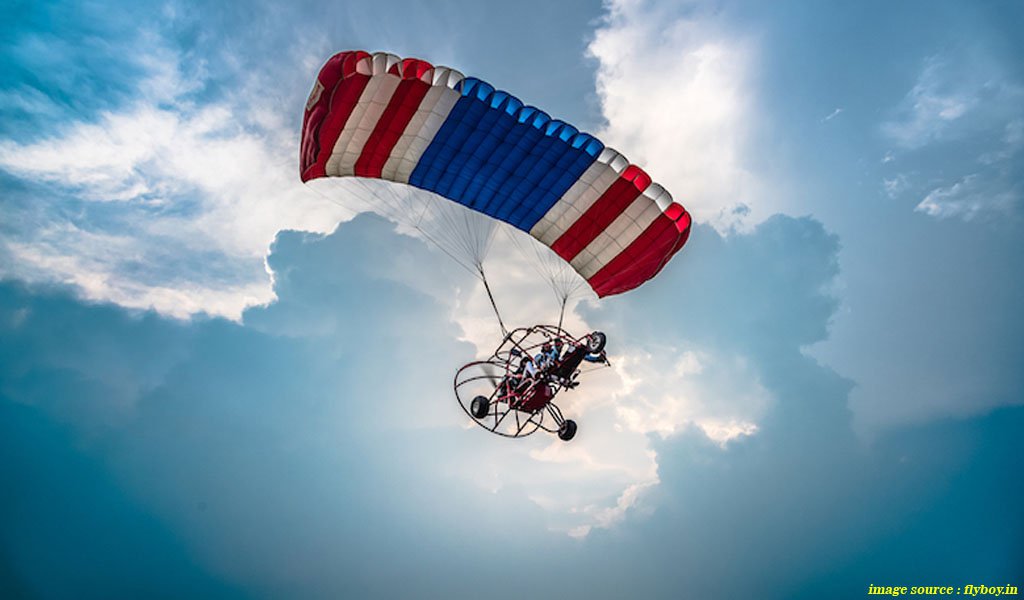 Paramotor flight is a relatively unexplored adventure in India. Visit this amazing venue in Gurgaon and stretch out your wings to fly like birds. With the blue skies above and the verdant grasslands below, you have all the great reasons to yell out in excitement.
Camp Wild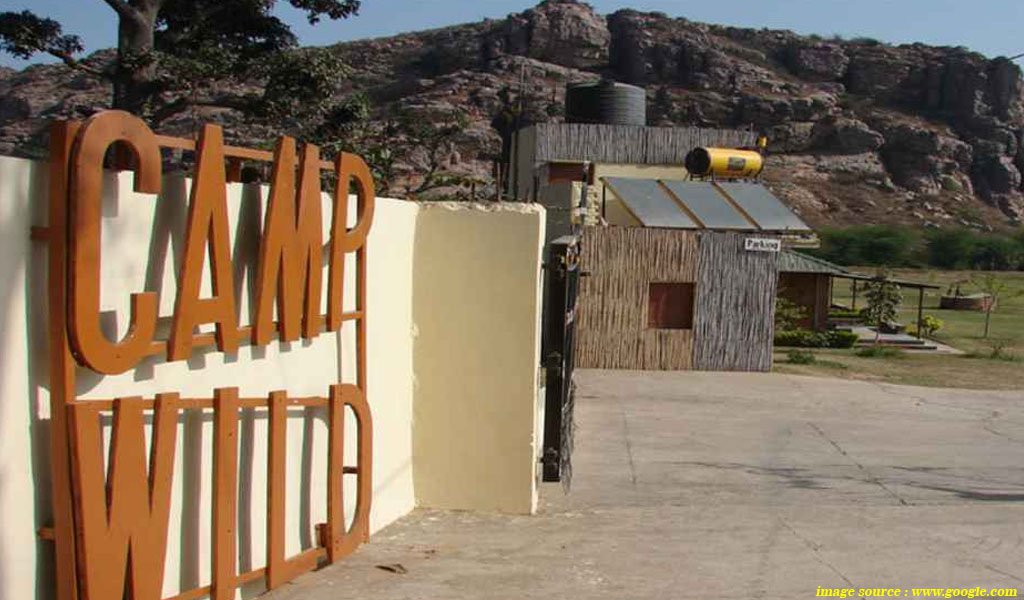 Set amidst the rugged Aravalli Valley, this adventure hub is perfect for the friends to turn partners in thrill. With activities like rappelling, bouldering, hiking, rock climbing, hot air ballooning and tyrollean traverse, you won't realise how the time would just fly away.
Indian Mountaineering Foundation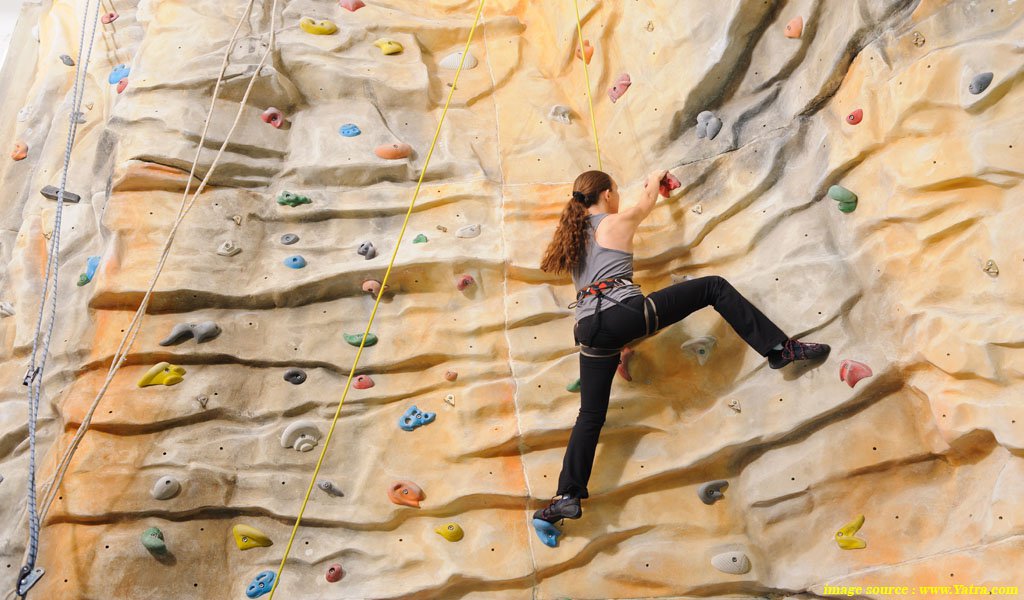 The artificial wall set up by the Indian Mountaineering Foundation has turned out to be one of the top places to visit in Delhi with friends. Test your physical strength, endurance and willpower with this fascinating wall climbing experience and find out who's the best performer in the group.
F9 Go-Karting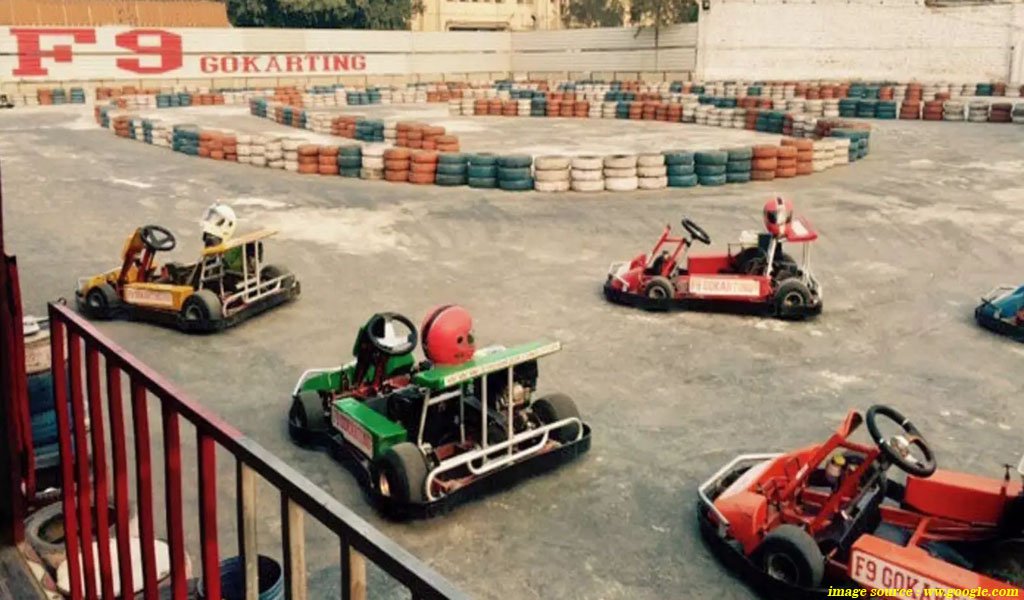 Set your hearts racing when you together experience a new definition of speed at this go-karting arena in Gurgaon. Choose among the racing vehicles like go-kart and formula-k and gear up for something absolutely stimulating. Overpower the fears and secure some cherishing moments in the best company.
Nearest Metro Station: G. Road
When the Laidback Attitude Overpowers
At time, you feel lazy and yet again long for your mates for the company. Well! Delhi promises some superb places where you can pamper this emotion as well. Check these out:
Kunzum Travel Cafe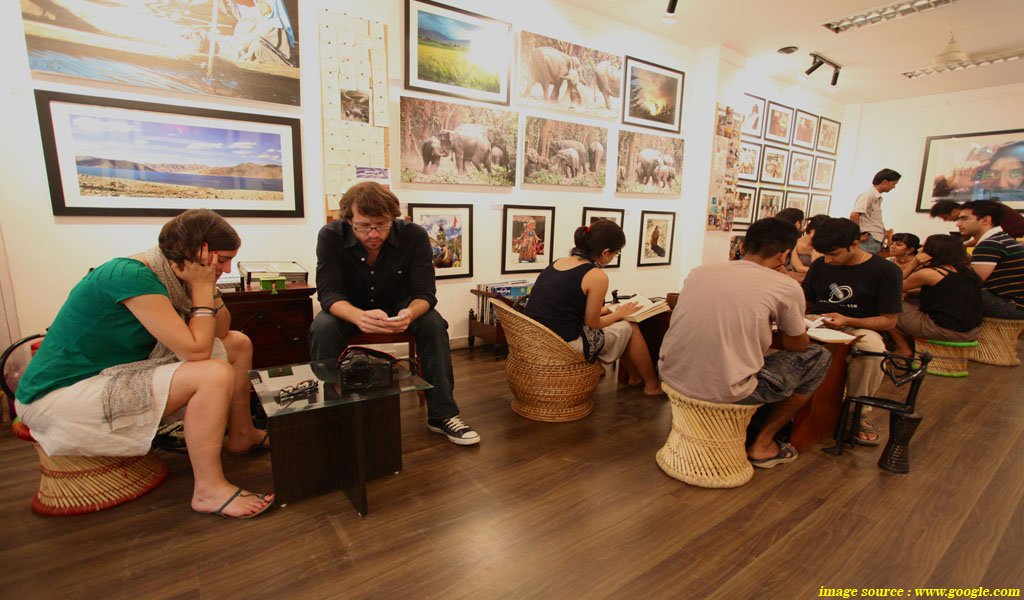 Spend a lazy afternoon at this stylish cafe with travel books and pictures adorning its ambience. Meet painters, travellers and people with artistic bent of mind and indulge in some fabulous conversations. What's the highlight? Pay whatever you like for the order you place.
Nearest Metro Station: IIT Delhi
Garden of Five Senses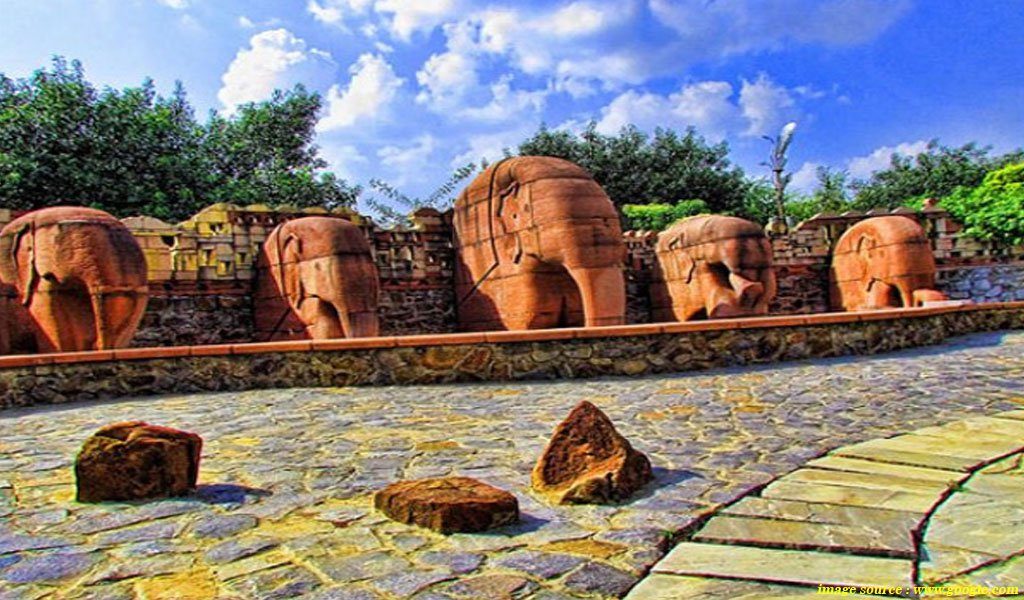 With fragrant flowers and shrubs to rejuvenate your senses and quirky modern art sculptures and murals to explore, the garden is indeed a wonderful spot simply to relax. Scores of ceramic chimes bring in the melodies while the lazily flowing cascades gel with the mood. If you get revived by the beauty of the place don't miss the food and shopping area within the garden.
Nearest Metro Station: Saket
Tughlaqabad Fort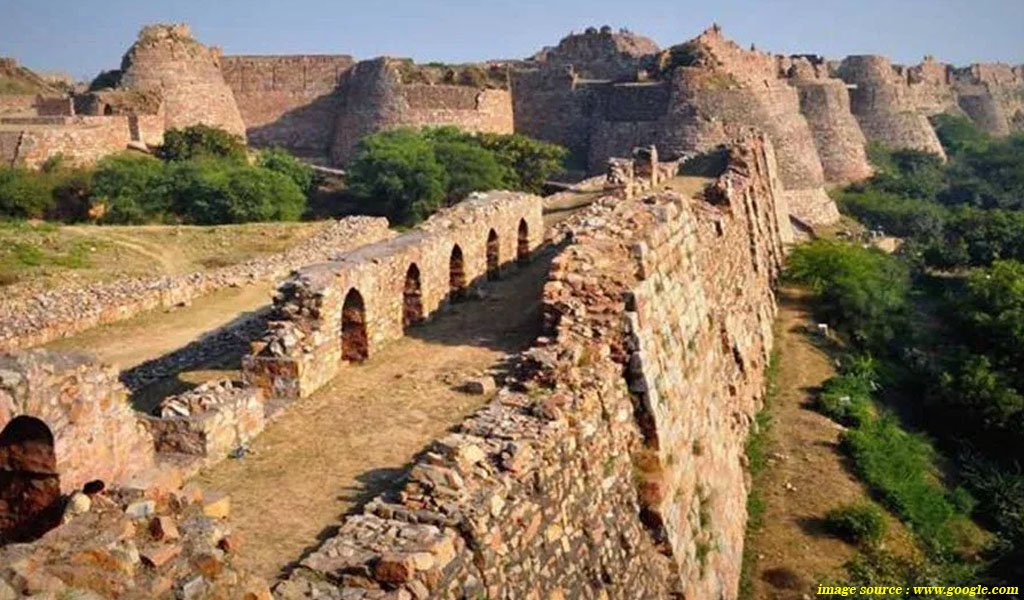 Though in the state of ruins, the massive bastions and enormous gateways of Tughlaqabad Fort still reminds of the dawn of Tughlaq Dynasty in Delhi. The architecture and grandeur of the fort unfolds sluggishly as you wander through the structure, soaked in peace and mystique. Definitely among the places to visit in Delhi with friends if you crave a break away from Delhi's hustle and bustle.
Nearest Metro Station: Tughlaqabad
Lodhi Garden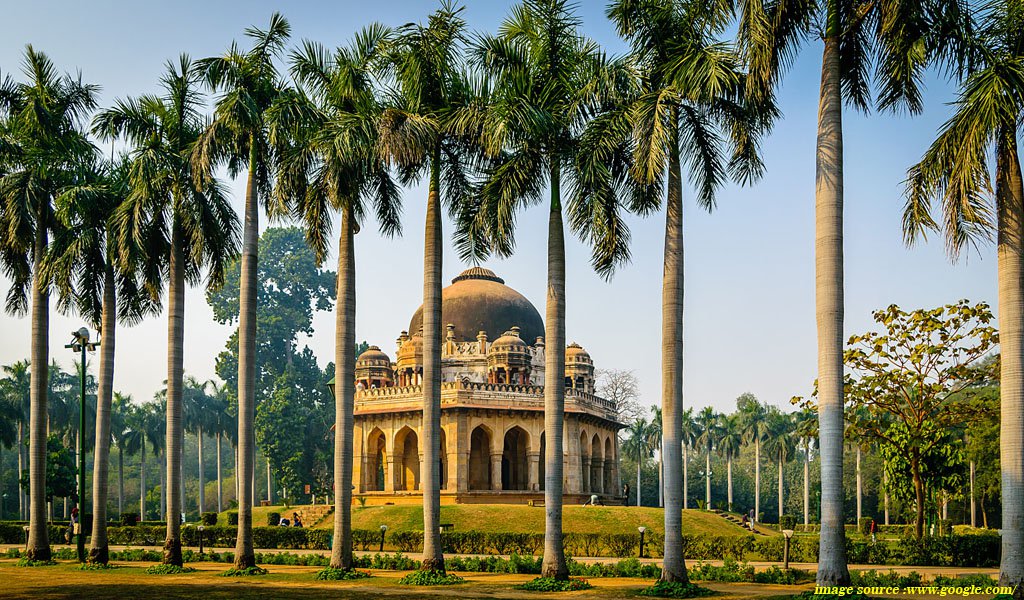 The place where the likes of Sikander Lodi and Mohammed Shah are laid to peace obviously endorses serenity at a different level. Discover exquisite designs of the tombs, domes and mosques or relax near the lake inside the garden. Take along some interesting books you would love to read amidst the gripping environment of the place.
Nearest Metro Station: Jor Bagh
May Day Bookstore and Cafe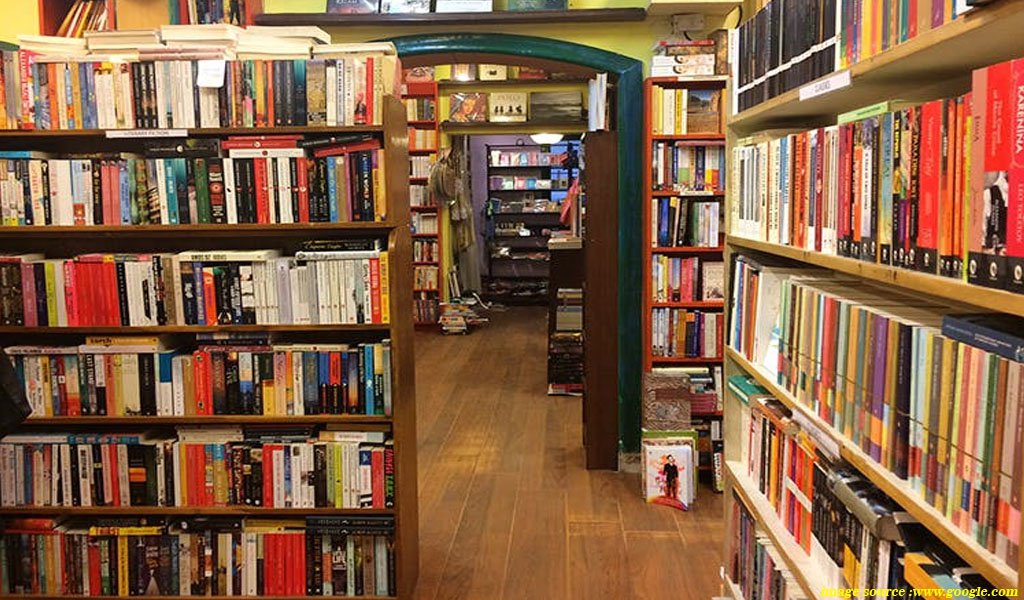 A treasure trove of hundreds of books, this is like a small and cosy community space and a reason for the ardent bookworms to rejoice their hobby.  The cafe also has a theatre area where a variety of artists and performers entertain the guests. Visit once and it would become one of the favourite hotspots of your buddy group.
Nearest Metro Station: Shadipur
On Days When You Yearn for Street Foods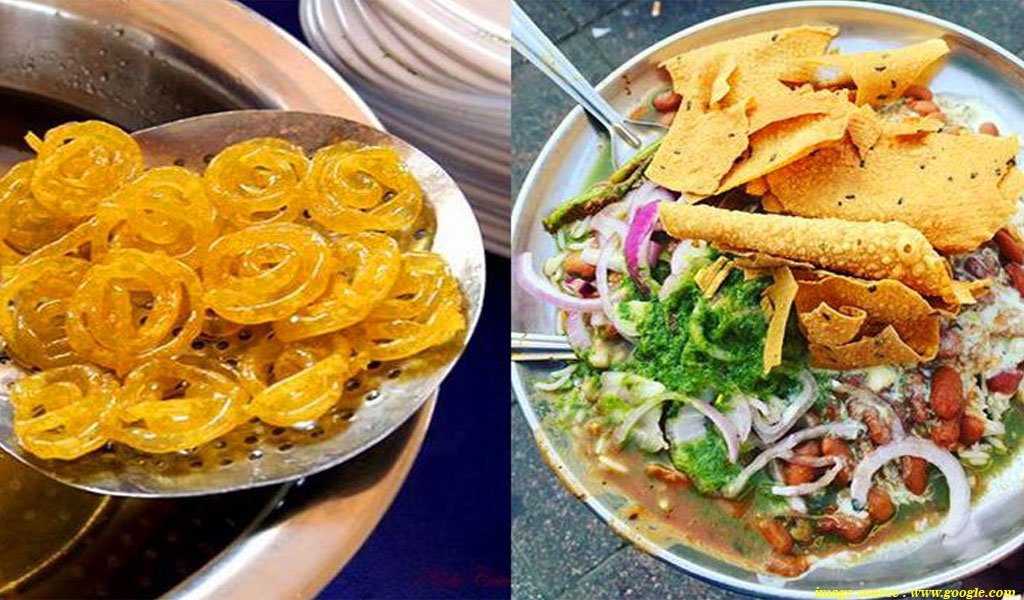 You are not the best of friends if you have not frequently tried the mouth-watering street foods of Delhi. After all, what could be more exciting than those golgappas bursting in mouth or the tangy chaats setting tongues on fire? But, where:
Kamla Nagar Market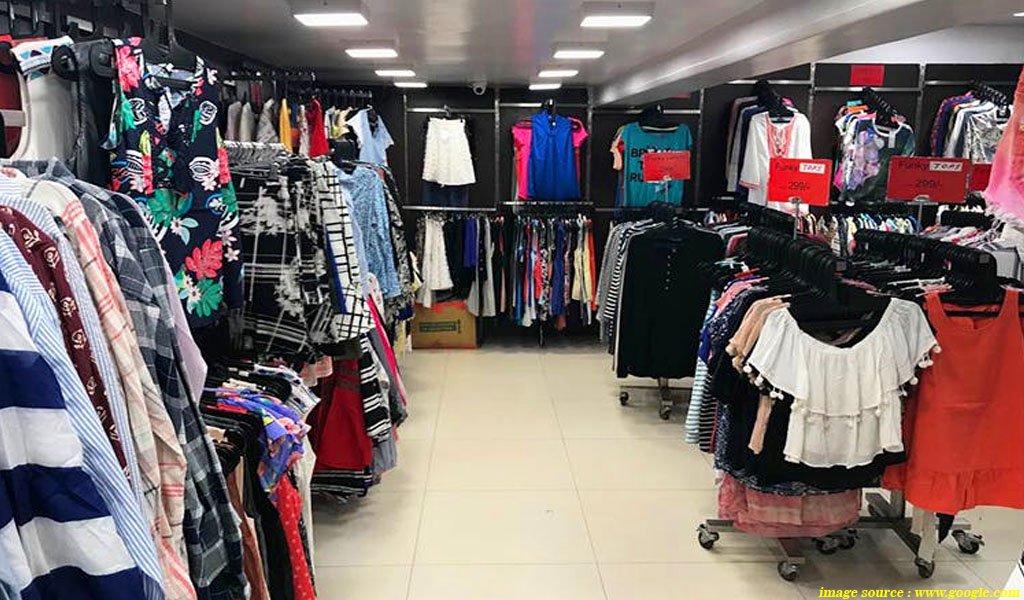 From the irresistible pakoras to the flavourful sabzi kachoris and of course, the scrumptious chole bhature, the street joints in Kamla Nagar promise a wholesome treat for the foodies. Paneer bread pakoras are another highlight of the place. Don't miss the equally delicious kulfi faluda which acts as a perfect dessert once you are done with the spicy snacks.
Nearest Metro Station: Pulbangash and Vishwavidyalaya
Rajouri Garden Market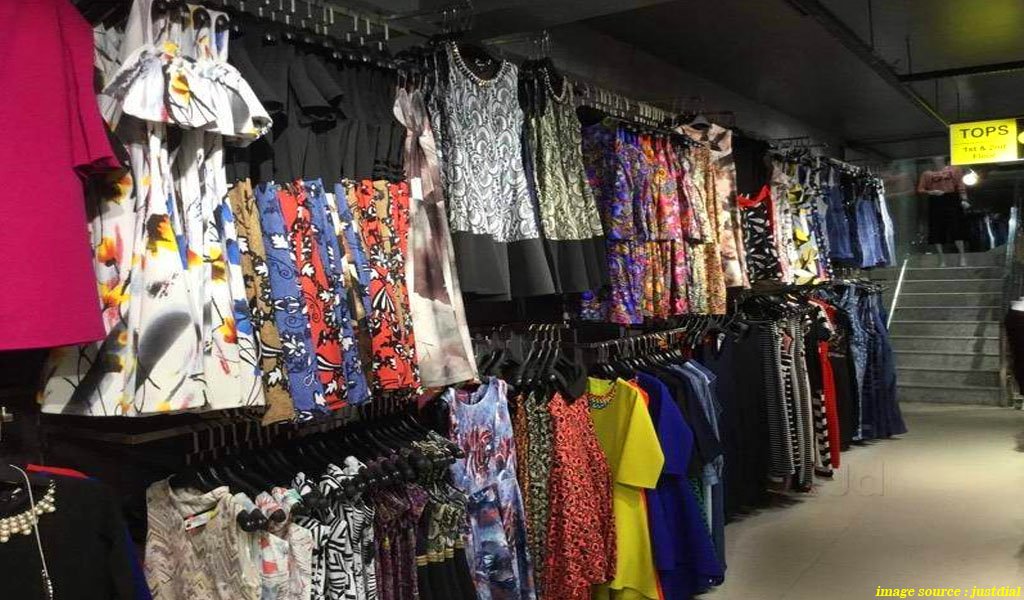 If you are deeply in love with dahi bhalle and aloo tikki, the undisputed icons of Delhi street food, try their most savoury preparations at Rajouri Garden. One popular venue in the area is Atul Chaat, which is also famous for the golgappas (in unusual sizes). Don't worry about the crowd watching you and turn crazy with your pals to relish the heavenly flavours here.
Nearest Metro Station: Rajouri Garden
Chandni Chowk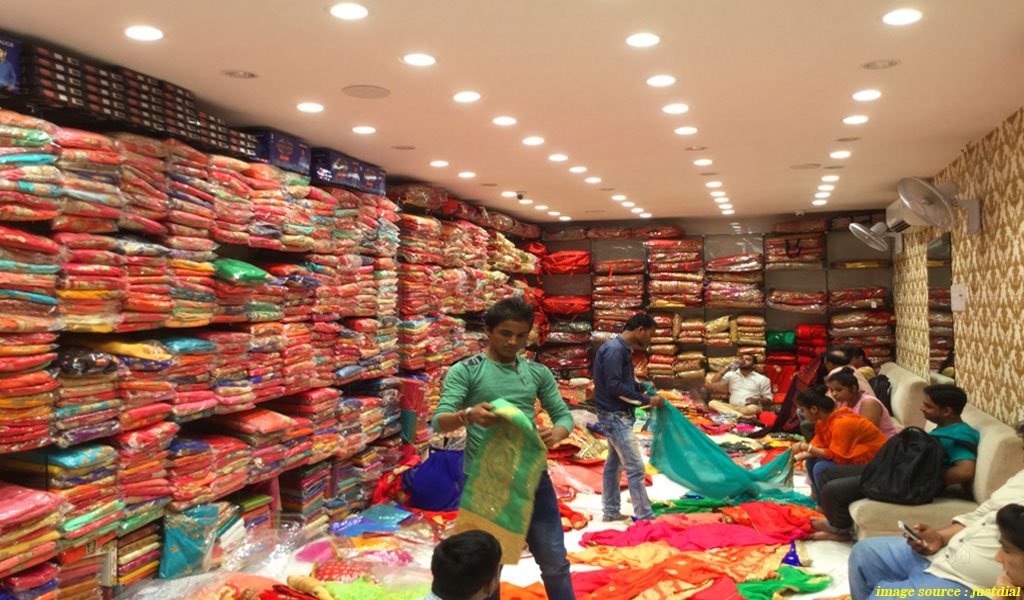 The vibrant and spirited Old Delhi area of Chandni Chowk is among the coolest hangout places to visit in Delhi with friends. It is here that you get to enjoy the delectable paranthas at Paranthewali Gali and a variety of snacks like poori aloo, chole samose, moth kachori, butter chicken, kebabs, ram ladoo and more. Not to forget the toothsome sweets and desserts like kulfi, jalebi, rabri and Karachi halwa.
Nearest Metro Station: Chandni Chowk
Or, When You Prefer Chic Ambiences for Food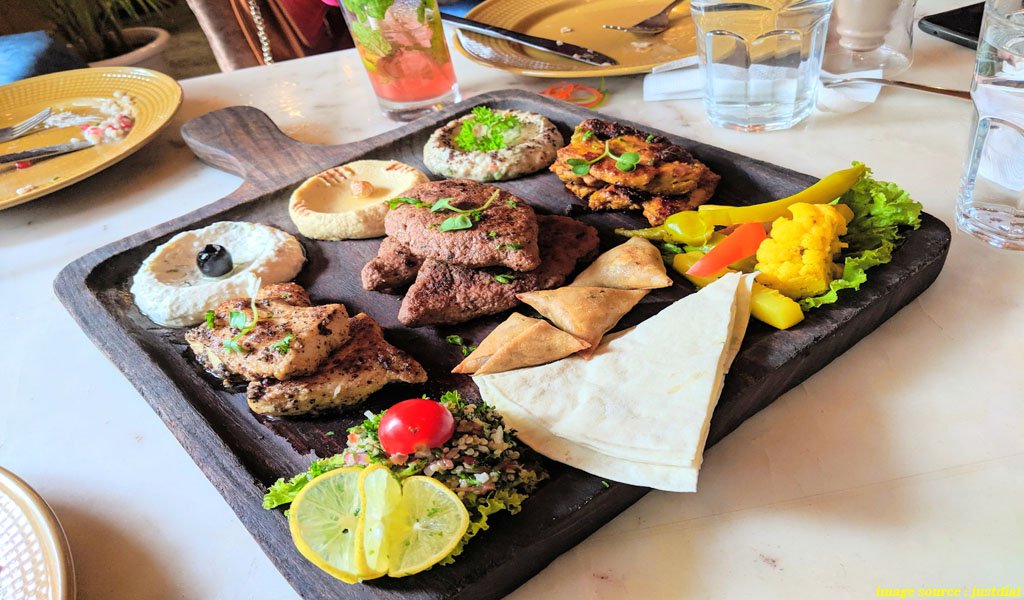 If the price doesn't really matter, but the ambience and quality really does, check out some of the most talked-about and trending restaurants and cafes you would like to take your friends to:
Delhi Pavilion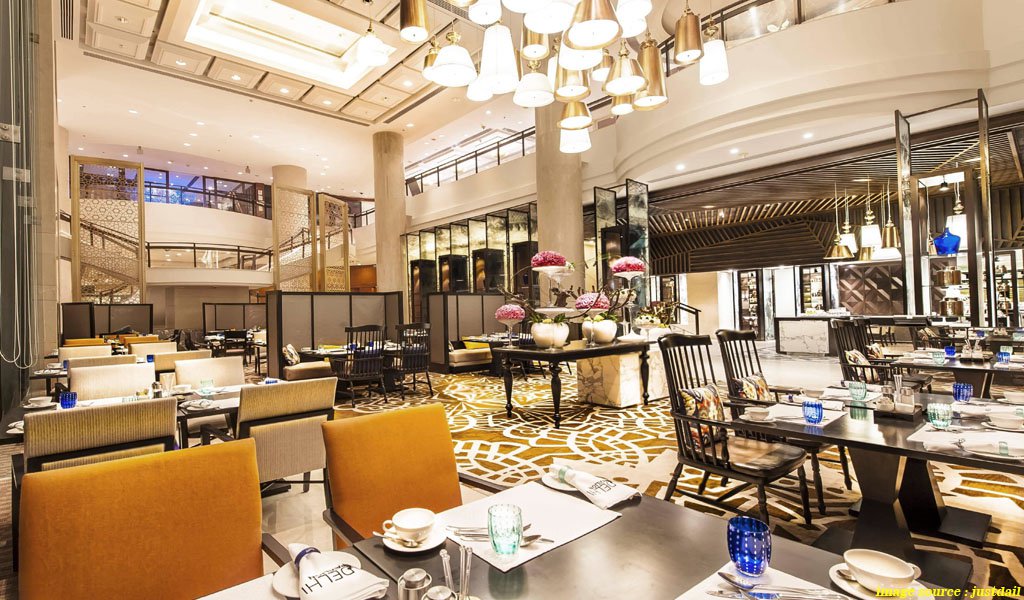 The classy ambience, the courteous staff and great food – that's what this popular coffee shop of Sheraton Hotel promises to the visitors. If chicken is a hot favourite in your friends' group, all of you can splurge on butter chicken and other similar preparations of the place. Even salads and vegetable biryani are the options worth trying.
Nearest Metro Station: Saket
How You Brewing?
Inspired by the classic sitcom F.R.I.E.N.D.S., this is among the ultimate places to visit in Delhi with friends. From the orange couch that gained attention in the show to the hilarious quotes from its characters etched on the walls, it gives all the reasons to be proud of the bond you share. But, that's not all! The dishes served here, like Red Ross Sandwich and Joey's Pizza, are inspired by the show as well.
Nearest Metro Station: Kailash Colony
Hauz Khas Social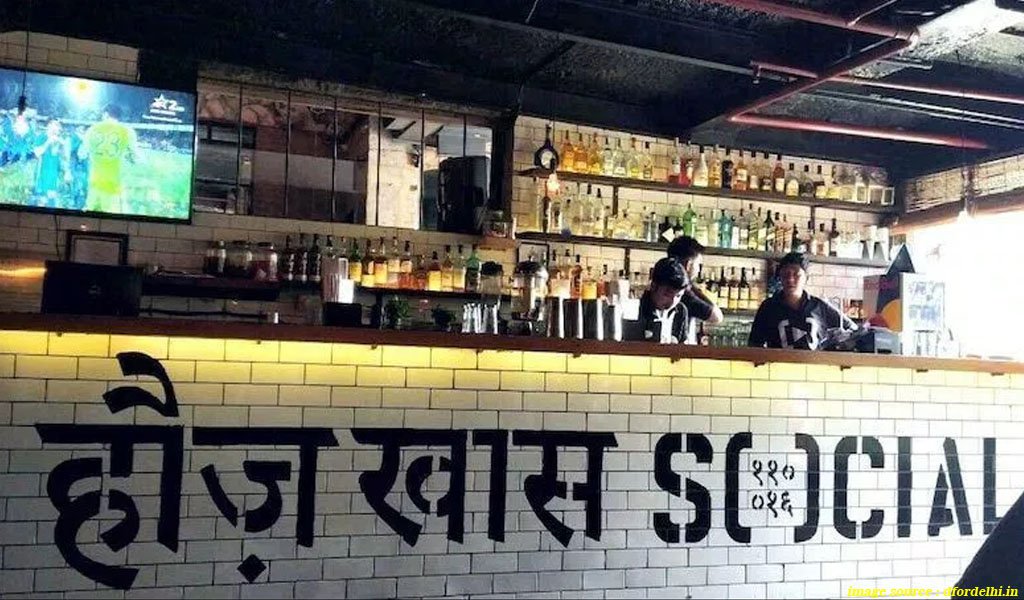 If you prefer socializing with friends in real rather than online, this is indeed an ideal place for you. The rooftop settings, the lakeside seating and an environment with youthful energy make it a happening place to be at. Don't miss some of their interesting offerings like long island iced tea, awesamosas and chocolate blood bath.
Nearest Metro Station: IIT
F.R.I.E.N.D.S. Cafe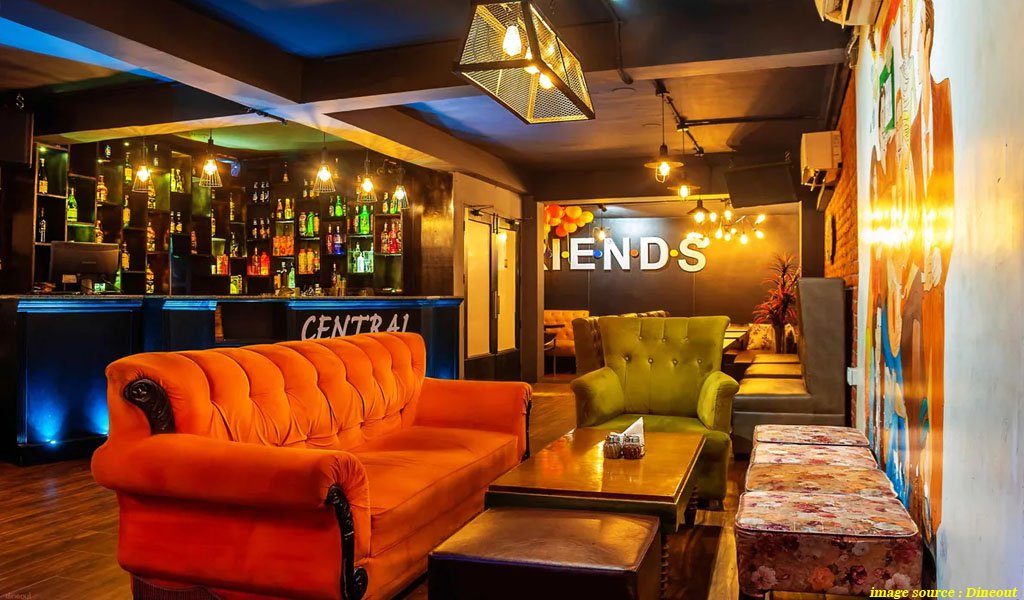 Located in the Delhi University campus, this is another F.R.I.E.N.D.S.-theme cafe with extraordinary young energy always ready to engulf the guests. The interiors inspired by the show include the replicas, the posters and also a bar named Gunther Station. Just be with your friends and savour the hot favourites like Joey's Pizza, Phoebe Soup, Monica Wrap, Janice OMG Burger and more.
Nearest Metro Station: GTB Nagar
When You Are in Fun Mood
There are some days, especially after tiring college and office schedules, when you long for a break and want to do something crazy, unplanned and full of fun. Well! Call your friends and tell them to accompany you to:
Delhi Eye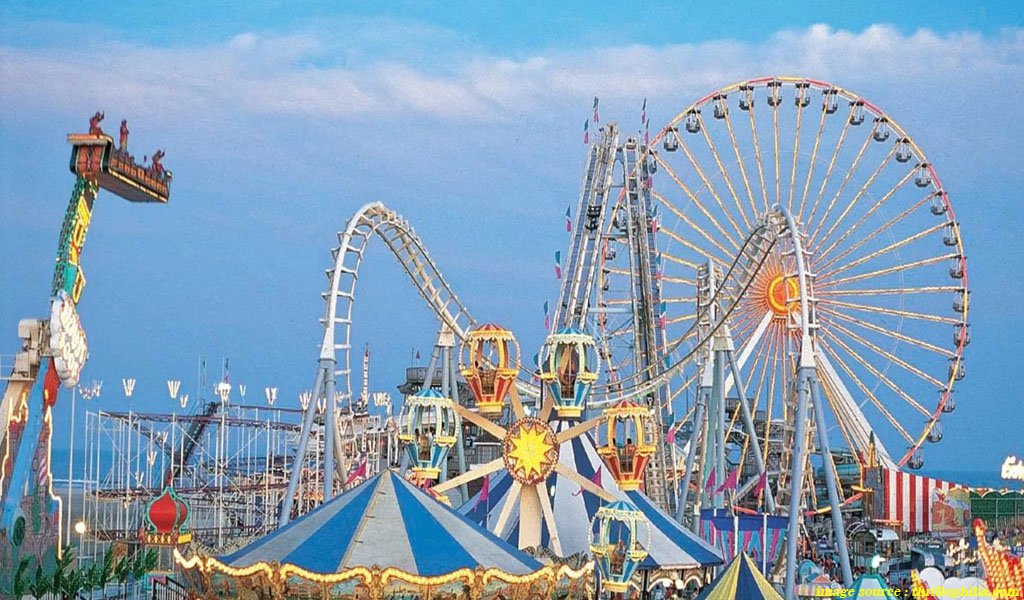 Counted among the world's 5 largest Ferris wheels, Delhi Eye (now located inside Atlantic Water World) boasts of 36 air-conditioned cabins with furnishings you simply can't imagine. There are LCD screens and intercoms so that you just have a fun-filled ride with the best of your pals. Not just that, you can enjoy surreal views of Red Fort, Qutub Minar, Humayun's Tomb, Akshardham Temple and other icons of the city from the cabin.
Nearest Metro Station: Kalindi Kunj
Connaught Place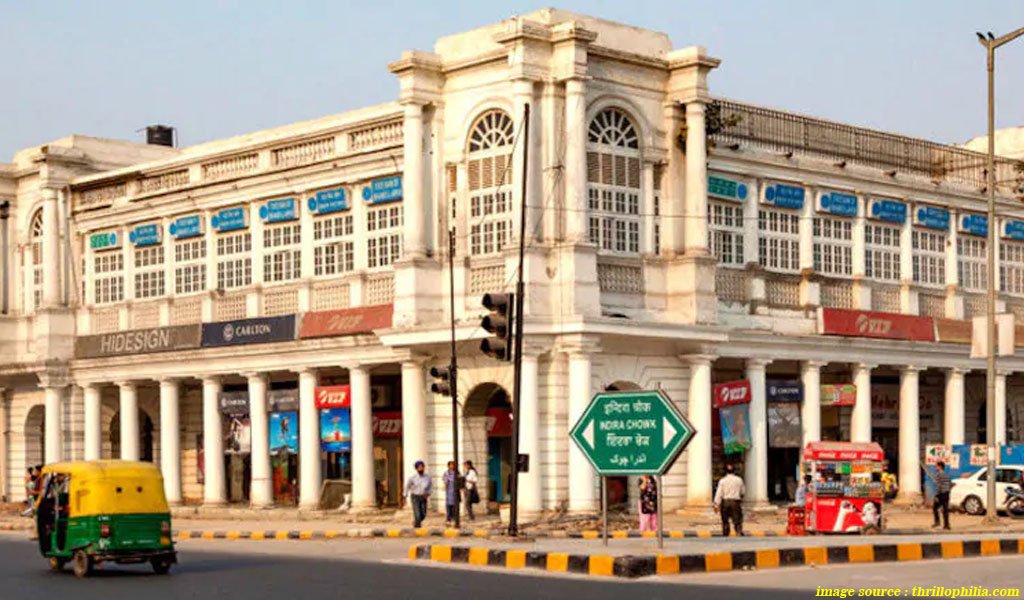 The list of places to visit in Delhi with friends can never be complete without the most happening hangout area of the city. From watching movies in the vintage cinemas (like Rivoli and Odeon) to feasting on delicious foods (try rajma chawal and dahi chicken to cakes, waffles and chocolate tarts at budget-friendly dhabas and vintage eateries, there's a lot to do here. No wonder if you get to witness a youth festival, a concert, a cultural event or any such interesting program. Spend some lazy moments at the Central Park and visit interesting attractions like Agarsen Stepwell and Jantar Mantar.
Nearest Metro Station: Rajiv Chowk
Delhi Drum Circle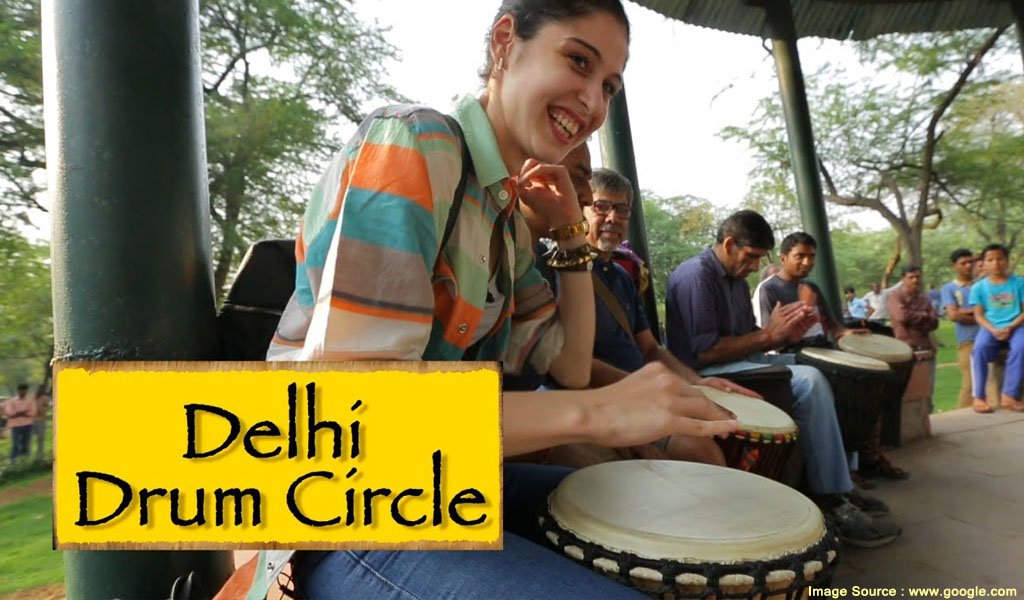 Every alternate Saturday, the Deer Park in Hauz Khas Village turns into an open amphitheatre where people from all age brackets and different walks of life meet to celebrate life. The beats and tunes of drums, guitars, djembes, flutes, saxophones and other musical instruments create electric atmosphere and you can't resist tapping your feet to the music. Just join the Facebook page to know their schedules and be there with your mates.
Nearest Metro Station: IIT
Rockshot Paintball Sports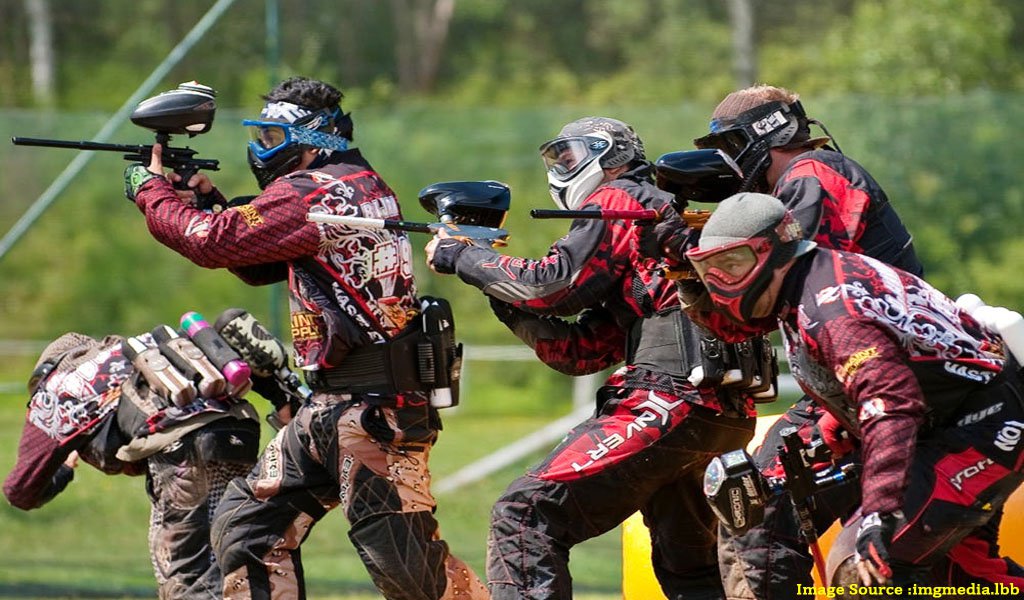 One of the finest paintball arenas in the capital, Rockshot promises unlimited fun and thrill especially if you are a group of friends and colleagues. From natural to artificial terrains and also the themed paintball environments, the venue lets you spend your energy in the most pleasurable manner. You can select among the popular game types like speedball and scenarioball.
Nearest Metro Station: Akshardham
Sanjay Van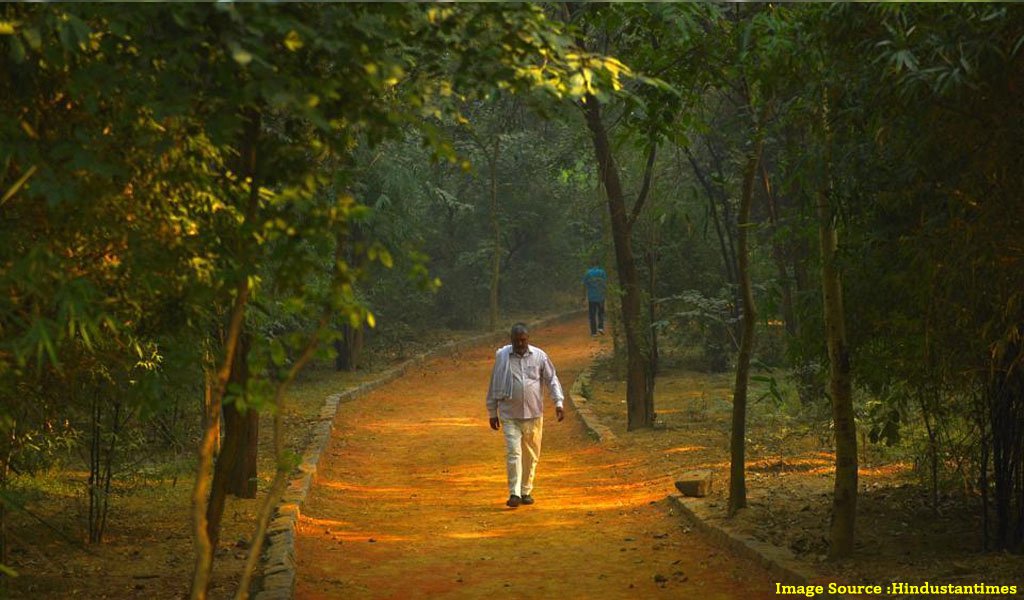 How about experiencing the presence of something supernatural? If you love to play the daring games with your friends, Sanjay Van is the right place for you. The green lung area of Delhi turns into a hub of paranormal activities at night. Appearance of fog, a lady dressed in white, shrilling children and frightening echoes are among the things people often report while passing through the area. Definitely worth trying with who else than the best partners in crime!
Nearest Metro Station: Qutub Minar and Saket
When the Shopping Bug Bites
Shopping is no less than an interesting quest in Delhi, but certainly not without friends. Apart from window shopping at upscale malls, you can actually explore some terrific street markets of the city together, just to extract pure fun:
Dilli Haat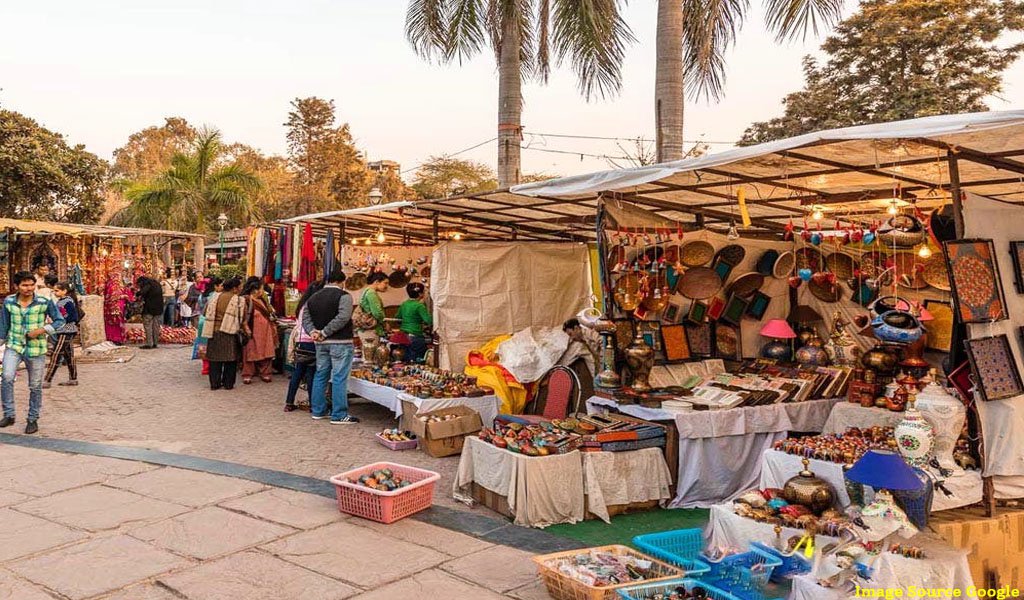 This village market look-alike hosts stunning handicrafts and artefacts from different parts of India. Kashmiri shawls, decorated jewellery boxes, paper mache items, stylish silk fabrics, traditional footwear, leather items, home decors and a vast variety of jewellery items make it a heaven for shopaholics. And when you have a companion with the similar mindset, the shopping pleasures increase double-fold. Also, it is one of the places to visit in Delhi with friends without worrying about the budget.
Nearest Metro Station: INA
Palika Bazaar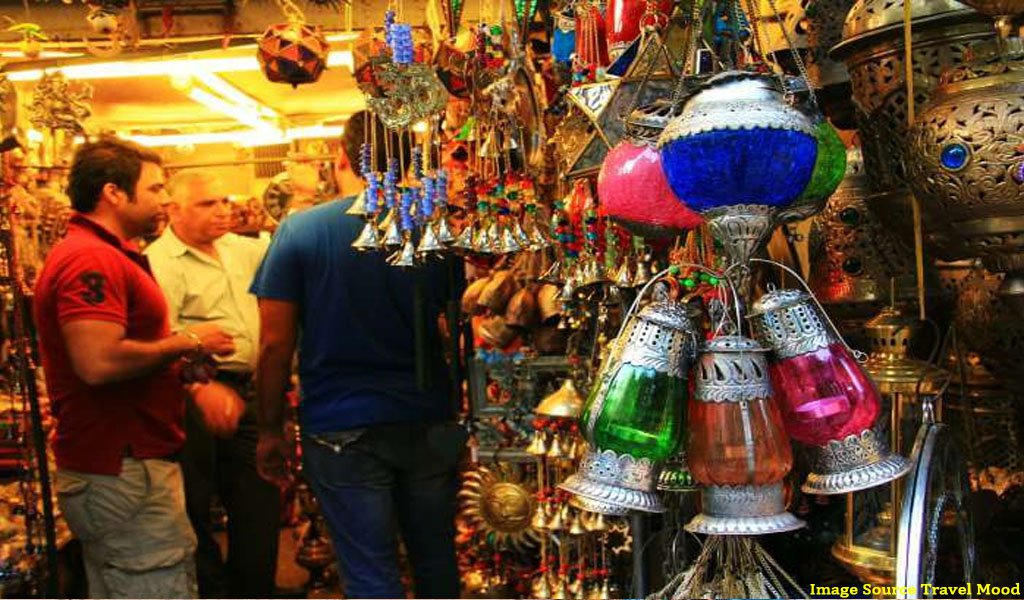 This underground market is famous for the items like garments, electronics and footwear. If you are a group of video gamers, you would have gala time here exploring the variety available. The best part is that every item is available at cheap rates and in budget. If someone in your group excels in bargaining skills, you can get unbelievable discounts. Don't be surprised if you are able to lay your hand on brands and replicas at prices you just can't believe.
Nearest Metro Station: Rajiv Chowk
Janpath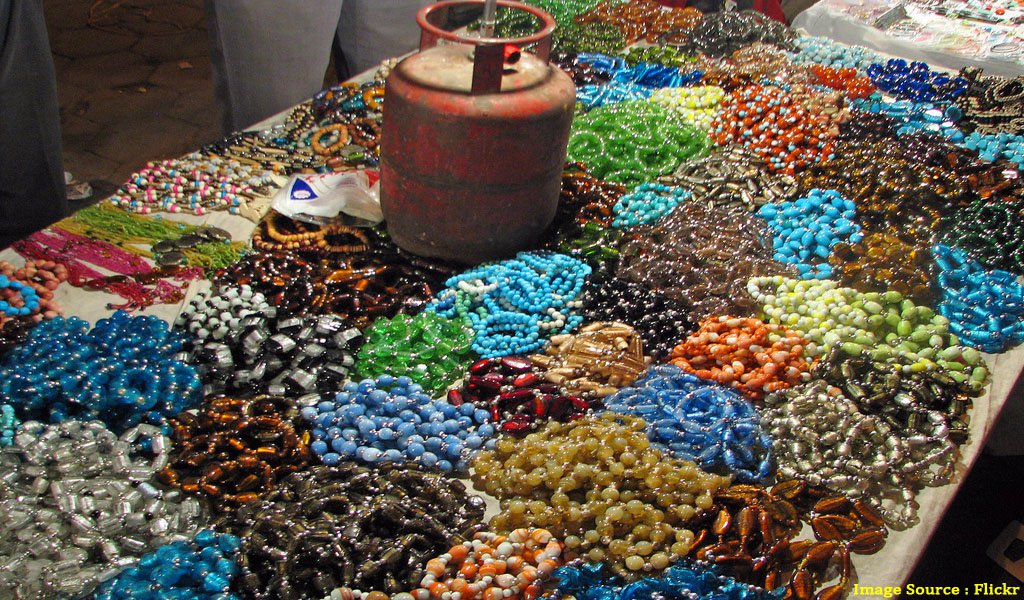 Now, Janpath Market is amalgamation of several segments. On one hand, you can find traditional Tibetan items and on the other, there are shops selling attractive Gujarati stuff. Then, there's a flea market selling denim shirts, t-shirts with quotes and other similar items at reasonable low prices. Don't miss brad artefacts, lanterns, lamps and a spectacular range of traditional jewellery. Vintage wall clocks, puppets and leather items too are worth buying here.
Nearest Metro Station: Rajiv Chowk and Janpath
When You Decide to Party Hard
Delhi boasts of an electric nightlife scene with uncountable pubs, clubs and bars hosting engaging parties almost every night. Understanding your urge to party with friends, here are some suggestions to set the floor on fire:
Kitty Su
The only Indian club that featured in the list of world's top 100 clubs, Kitty Su is the amazing asylum for the party animals. With extraordinary decor and high-tech light and sound system, the place instantly escalates one's party spirit to the top level. The icy on the cake is the collection of cocktails and wines and offerings like nachos and chicken tikka that add to the mood. Simply, groove to the electrifying music as you move from one room to another and drench in excitement.
Nearest Metro Station: Barakhamba
Lithiyum
With a spacious dance area and super-attractive colour-changing dancing lights, this hot and happening night club is among the top places to visit in Delhi with friends. Surrender yourself to the chic atmosphere with great combinations of cocktails and food and music that plays till the dawn. The whole environment is so youthful, chirpy and lively that you won't feel like leaving it too early. Don't miss the highly recommended pizzas over here.
Nearest Metro Station: Race Course
Mocha Arthouse
The ardent cricket fans make a beeline to this open-air café especially during the IPL seasons. Be there to watch the men in blue in thrilling action on huge screens and enjoy the trademark coffee and Continental cuisines served here. The outdoor seating is a plus point while one of the best highlights is the hookahs you would get to enjoy here. The walls decorated with the paintings and art pieces from around the world definitely enhance the overall effect of the ambience.
Nearest Metro Station: Vasant Vihar
Remember, spending quality time with friends is something you would take along throughout your life. Hopefully, the list above would keep the wonderful friends-group of yours busy for many days and weekends.
Where can I enjoy Paramotoring in Gurgaon?
Paramotoring can be enjoyed near Delhi in Gurgaon at Flyboy Aero Park, Near The Ireo Grand Arch, Golf Course Extension Road,
Sector 58, Gurgaon-122102, Haryana.
What is the price of Paramotoring?
The cost of Paramotoring varies with the duration and time. The minimum charges are INR 1599 for 3 minutes duration and the maximum charges go up to INR 8999/- for a 24 minutes flying in the evening time.
What is special about Camp Wild and where is it located?
Camp Wild provides adventure activities such as rock climbing, rappelling, valley crossing, hiking, flying fox and more. There are also adventure obstacle courses, cycling, paintball and zorbing to enjoy.

Camp Wild is located at Dhauj Bandh, Village Selakhari, District Faridabad and is about 50 km from Delhi.

Where is the Indian Mountaineering Foundation office located?
The office of Indian Mountaineering Foundation is located at 6, Benito Juarez Marg, South Delhi Campus, South Moti Bagh, New Delhi.
What is the cost of enjoying wall climbing at Indian Mountaineering Foundation at Delhi?
The per session cost of sports wall climbing at Indian Mountaineering Foundation is INR 200/-.
What are the timings for wall climbing at Indian Mountaineering Foundation?
One can enjoy sports wall climbing at Indian Mountaineering Foundation from Tuesday to Sunday each day. The timings for wall climbing are from 08:00 am to 12:00 pm and again between 04:00 pm and 08:00 pm.