Are you looking out for weekend resorts near Delhi ?  Numerous trails from India's national capital lead to the exclusive countryside and landscapes dotted with luxury and chaos-free retreats in the form of resorts, nature villages and wellness spas. Escape the overpowering persona of Delhi and choose among the following weekend resorts near Delhi to attain the much required rejuvenation.
Best Weekend Resorts Near Delhi
Botanix Nature Resort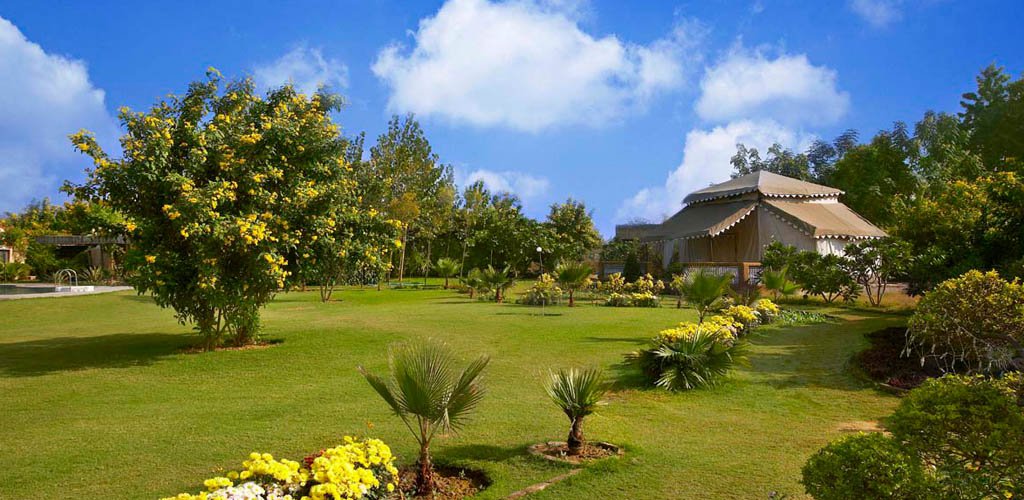 A nature camp that has attained great appreciation from youth, corporate houses and family holidaymakers, Botanix Nature Resort interweaves myriads of nature's theme together. Leisure, adventure and relaxation find new dimensions as you plan a wonderful weekend at this uniquely landscaped property resting in the nature's lap.
Location and Access: Being just about 45 km. from New Delhi, the resort is convenient accessible by road (NH 8) and is few minutes' drive from the IGI Airport.
Accommodation: Built amidst an array of theme gardens are the mud cottages (14) and Swiss tents (10) imitating traditional architecture and accommodating all expected amenities.
Highlights: Captivating location at the foot of Aravalli Hills and on the bank of Damdama Lake, day conference and team building, obstacle courses, ethnic village tours, farm tourism and plenty of adventures are some of the highlights of this resort.
Baghaan Orchard Retreat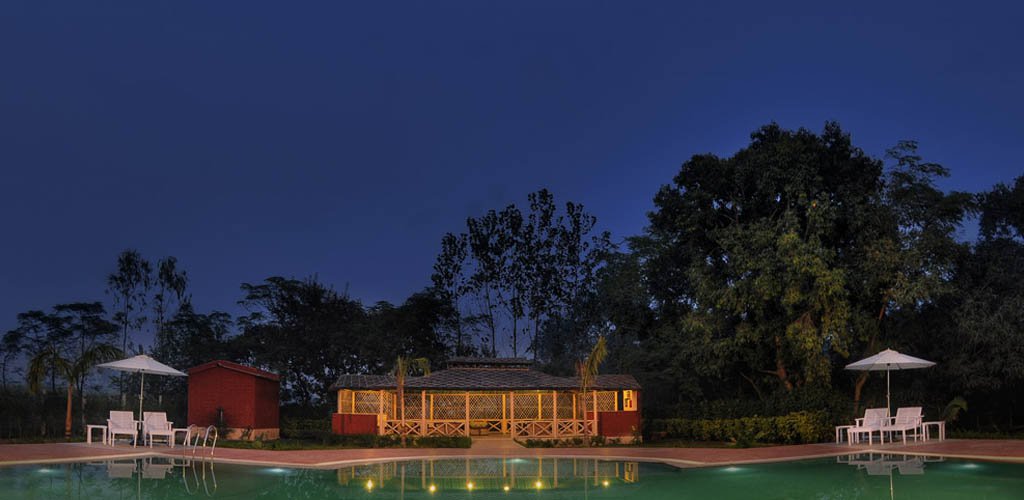 Near the closest bank of River Ganga from Delhi, Baghaan enjoys the nature's quietness amidst multi-hued orchards and manicured lawns. Whether you are an individual traveller, with family or heading a corporate outing, the property caters to the perfect weekend holiday ideas.
Location and Access: Located about 120 km. from Delhi near the holy town of Garh Mukteshwar in Uttar Pradesh, the resort is accessible by NH 24.
Accommodation: 25 cottages, each accommodating a bedroom, a private sit-out area and all sorts of amenities.
Highlights: Swimming pool, kids play zone and activities like Burma Bridge, table tennis, pool and archery. Outdoor activities like bird-watching, dolphin sightseeing at Ganga, bullock cart rides, guided nature walks and customized yoga sessions can be selected.
Ganga Beach Resort


What could be more fascinating than combining the luxury stay with amazing spa therapies at the renowned holistic healing destination of Rishikesh? Ganga Beach Resort arranges this elaborate holiday experience with its pristine surroundings and matchless hospitality. Quality food and many thrilling voyages are the added highlights of the property.
Location and Access: At the distance of about 236 km., the resort can be accessed from Delhi by road and rail. The closest airport of Jolly Grant is only few miles away.
Accommodation: Deluxe rooms, cottages, executive rooms, luxury executive rooms and suites, each opening its doors to the enthralling grandeur of nature.
Highlights: Spa and Jacuzzi, Ayurvedic body and skin treatments, massage therapies and special treatment therapies, access to the adventures like white-water rafting and bungee jumping, restaurant serving mouth-watering Indian, South Indian and Italian cuisines, big conference hall and activities like customized yoga and meditation centres and Ganga aarti are some important highlights.
Paradise Green Resort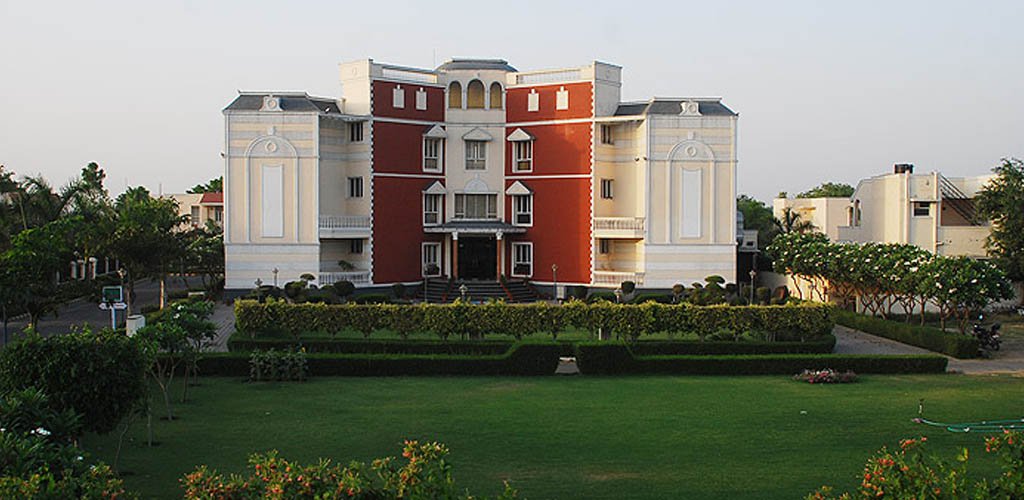 True to its name, the property borrows a slice from the paradise and witnesses the exotic shades of green. Having proximity with Aravalli Hills, the resort is facilitated by pollution-free environment which complements its outstanding luxury and much-desired comfort. Guests are overwhelmed by host of activities they can participate in.
Location and Access: Only about 40 km. from Delhi, the resort can be accessed by NH 8 and has good connectivity with the city's railway stations and international airport.
Accommodation: Well-appointed villas (52) and guest houses (17), with modern amenities, adequate space and hygienic surroundings.
Highlights: Multi-cuisine restaurant, soothing experience with sauna, steam rooms and Jacuzzis, cyber cafes and conferencing facilities and recreation in the form of billiards, table tennis as well as the regularly hosted musical nights, theme parties, adventure activities and much more.
Tree of Life Resort and Spa


Extend your Delhi trip with a weekend excursions to Jaipur and enjoy the unforgettable stay at the Tree of Life Resort and Spa. Owing to its existence in Rajasthan, it has everything grand, from the constructions in lime and sandstone to the organic gardens producing ingredients for assorted cuisines and the heart-warming rejuvenation at the pool and spa.
Location and Access: About 245 km. from New Delhi and only about 25 km. from Jaipur. Easily accessible by road and from two busy North India airports (Delhi and Jaipur).
Accommodation: Luxury villas with domed bedroom and bathroom, private dining, spa and gardens.
Highlights: Private outdoor couple spa, open-air sit out areas with splendid valley views, spectacular backdrops of Aravalli Hills and stunning landscapes, large pool and a number of outdoor activities.
The Kikar Lodge


Promoted as India's first private forest retreat, The Kikar Lodge is sure to enthral you with its luxuriant green splendour and some exhilarating adventure rides. Indoor and outdoor entertainment finds no limits here, whether you visit in a group of energetic friends or with a corporate team. Enjoy the urban luxuries amidst rich rural settings of Punjab.
Location and Access: The Kikar Lodge is located about 320 km. from Delhi and can be accessed by road. A good idea is to board a train from Delhi to Chandigarh from where you can hire a taxi to cover the remaining distance of about 70 km.
Accommodation: Accommodations appointed with all necessary amenities consist of 22 luxury cottages (family suites, pool view cottages and forest view cottages) and 8 rooms with garden view.
Highlights: Multi-cuisine restaurant, retro bar, conference hall, private dining, Forest Spa, amphitheatre, swimming pools and shacks offering pleasant sit out areas. Participate in quad biking, Flying Fox, zorbing, rappelling, horse riding, night safari and many other stimulating activities. Enjoy the verdant beauty of Shivalik Hills and forests.
Pine Drive Resort


Nestled amidst the lush green expanses of pines in the Himalayas, Pine Drive Resort witnesses the serene and exotic traits of nature. Catering to all budgets through a wide range of accommodations, the property boasts of great comfort and preferred luxury. Wake up to the chirping of birds, marvelous views of the rising sun and sprawling valleys from balconies and go out on short refreshing nature walks.
Location and Access: The resort is about 307 km. from Delhi and can be best accessed in a taxi. The closest railway station and airport are at Chandigarh.
Accommodation: The resort boasts of rooms in the categories of Standard, Premium, Super Deluxe and Family Suites with all amenities you can think of.
Highlights: Multi-cuisine restaurant, conference room, group trekking, orchards and zoo and the opportunity to ride the world-famous toy train of the Kalka-Shimla Railways (a UNESCO World Heritage Site).
Tempted to be at one of these places? Entertain this temptation, send an enquiry on http://www.waytoindia.com/plan-my-tour.aspx  this weekend and you will never regret the decision.