The "royal" Rajasthan is truly a land of miracles – a beautiful mix of diverse cultures, royal extravagance and unique travel experiences. From sandy terrains to sparkling blue lakes, from cultural villages to magnificent forts and palaces, Rajasthan promises a truly enchanting experience.We list here for you top things to do in Rajasthan. If you are travelling to the land of "royals," keep this guide handy with you.
Top Things To Do In Rajasthan
A Rustic Camel Safari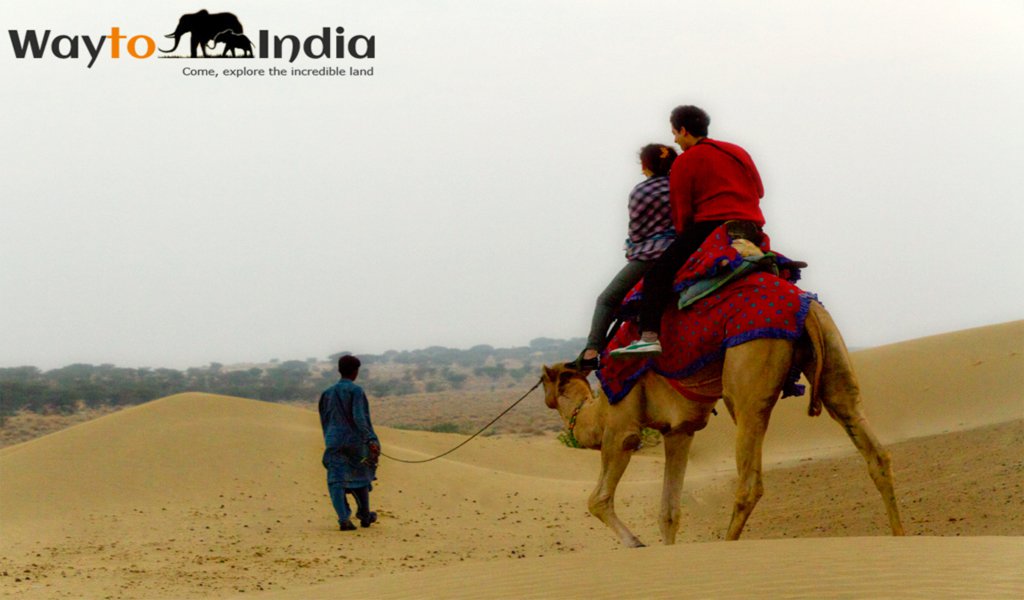 Rajasthan's quintessential desert beauty and appeal can be best experienced on a camel safari. Take a rustic tour of Rajasthan's desert terrains in Jaisalmer, Bikaner, and Osian.
A camel safari is the best way to explore the rugged sandy terrains and discover the intriguing ruins of palaces and forts, and rural villages.
Indulge in the tales of the ancient era that will captivate your senses.If you wish to visit the sand dunes of Rajasthan, you may visit and read about Jaisalmer tour packages on http://www.waytoindia.com/rajasthan-desert-tour
Experience an Elephant Ride at Amer Fort in Jaipur

One of the best things to do in Jaipur Rajasthan is an elephant ride up to Amer Fort for a truly "royal" charisma.
Explore the famous Amer Fort, built by Raja Man Singh I, which stands as an edifice of architectural grandeur of royal times. It features a blend of Hindu and Rajput architectural styles, with an ornate aura that would amaze you.
An elephant ride to the fort would definitely make you feel like a king!
Dune Bashing

Being in a desert land, you simply cannot miss dune bashing. It is a thrilling way to explore the barren lands and majestic sand dunes of Rajasthan. In fact, dune bashing is one of the top things to do in Jaisalmer Rajasthan.
Sam sand dune is popular for dune bashing, wherein you have an enthralling experience of exploring the desert in the most adventurous way.
Boat Ride on Lake Pichola in Udaipur

Clear blue skies, glittering lake, perfect backdrop of magnificent palaces, and a stunning view of the sunset! What more can you expect from a boat ride!
This is one of the most popular things to do in Rajasthan. A boat ride typically starts from City Palace and takes through the stunning Lake Palace and Jag Mandir, both nestled on the Lake Pichola.
You may also take a boat ride from Doodh Talai.
Picturesque view of the sun setting along the horizon, with Aravalli Mountains in the background, is a spectacle to behold.
Explore Royal Legacy at Umaid Bhawan in Udaipur

Udaipur is renowned for its magnificent palaces and forts that date back to the era of Rajputs and Mewars. Among these, Umaid Bhawan Palace is worth visiting, owing to its exemplary architectural style and exuberance, which is a reflection of royal legacy.
It is one of the largest private residences in the world, a part of which has been transformed into a heritage hotel. A sheer tour of the palace would surely leave you spellbound.
Hot Air Ballooning

Hot air ballooning is certainly one of the most unique things to do in Rajasthan if you are in pursuit of adventure, thrill and fun.
There are only a few places in India where hot air ballooning can be arranged for, and delightfully, Rajasthan is one among them.
One of the best things to do in Rajasthan, experience flying like a bird in the sky the unique way! Hot air ballooning flights can also be arranged from Ranthambore and Jaipur.
Get Up, Close and Personal with Ranthambore's Wildlife

A jungle safari in Ranthambore National Park is certainly one of the 10 best things to do in Rajasthan.
The home to tigers and a wide variety of diverse species of flora and fauna, the jeep safari into the wildlife sanctuary promises the most exhilarating experience.
Watching the wild animals closely in their natural habitat would definitely make chills run down your spine.
Have a Breath-Taking Experience at Kumbhalgarh Fort in Udaipur

The mammoth Kumbhalgarh Fort in Udaipur is unarguably the finest of all forts in Rajasthan.
The magnificent fort is built on a 1080 meter high ridge and nestled amid the Aravali ranges, overlooking the beautiful Lake Pichola. The 15 km. long wall that encapsulates the fort is the second largest walls in the world.
Visiting the stunning Kumbhalgarh Fort is undoubtedly one of the best things to do in Rajasthan.
Savour on Authentic Rajasthani Cuisine

When you have had too much of sightseeing and adventure, relax and relish on mouth-watering Rajasthani cuisine in a plush restaurant or a rustic village.
Some of the lip-smacking delicacies that you simply cannot miss are Laal Maans, Bajre ki Roti, Lashun ki Chutney, Mawa Kachori, Pyaaj Kachori, Mirchi Bada, and Papad ki Sabji.
Any type of curries is a speciality in Rajasthan. Don't miss the famous sweet dishes, which include Ghevar, Malpua, Churma, Balushahi, Alwar ka Mawa, Gujiya, and Besan Chakki.
Visit the Pushkar Fair

The world-renowned Pushkar Fair attracts travellers from around the world.
The fair is held for 5 days between the months of October and November. Besides being a fair of camel and livestock, it is famous for traditional Rajasthani dance forms and unique competitions like the fight for the longest moustache.
Go Jewellery Shopping in Johri Bazaar, Jaipur

Shopping in Jaipur offers a class-apart experience.
Being in Jaipur, you simply cannot miss shopping in Johri Bazaar, one of the most famous jewellery markets in India. There are innumerable shops selling authentic gold and silver jewellery, as well as precious and semi-precious stones here.
Walk down the streets of the market and explore varied colours, culture and of course, exquisite pieces of precious stones and jewellery.
Experience True Rajasthan with Gangaur Mela

If you are looking for somewhat unusual things to do in Rajasthan, do take part in Jaipur's Gangaur Mela.
The festival is a riot of colours, held every year just after Holi, and lasts for two weeks. Participating in the fair is the best way to discover rich culture, heritage and traditions of Rajasthan.
Indulge in colourful traditional Rajasthani dances, delicious local cuisine, and much more at Gangaur Mela.
Enjoy a Kingly Experience on Palace on Wheels

Explore the forts and palaces of Rajasthan in the most unique way; take a ride aboard the Palace on Wheels, one of the best luxury trains in the world, which takes you through Jaipur, Udaipur, Jodhpur and other cities of Rajasthan.
Being abroad, you would experience royal extravagance at its best. However, it may be beyond the bounds of many.
Make sure that you make reservations well before since the train is generally completely full a year in advance.       
Visit the link  https://travel-blog.waytoindia.com/rajasthan-cities-to-visit/ to read about the best cities to visit in Rajasthan.
In case you are planning to visit Rajasthan or are looking for a luxury tour packages to Rajasthan, you may book your Rajasthan Tour Package by sending us an enquiry on info@waytoindia.com.