India, a beautiful land of diversity, has always been a favored destination for travelers in pursuit of spirituality, solace and Nirvana. Delightfully, there are many ashrams in India that promise an enchanting experience to unwind, relax and rejuvenate, and engross into the mysticism of spirituality. WaytoIndia brings to you the 5 Most Popular Ashrams in India.
 5 Most Popular Ashrams in India
OSHO International Meditation Resort, Pune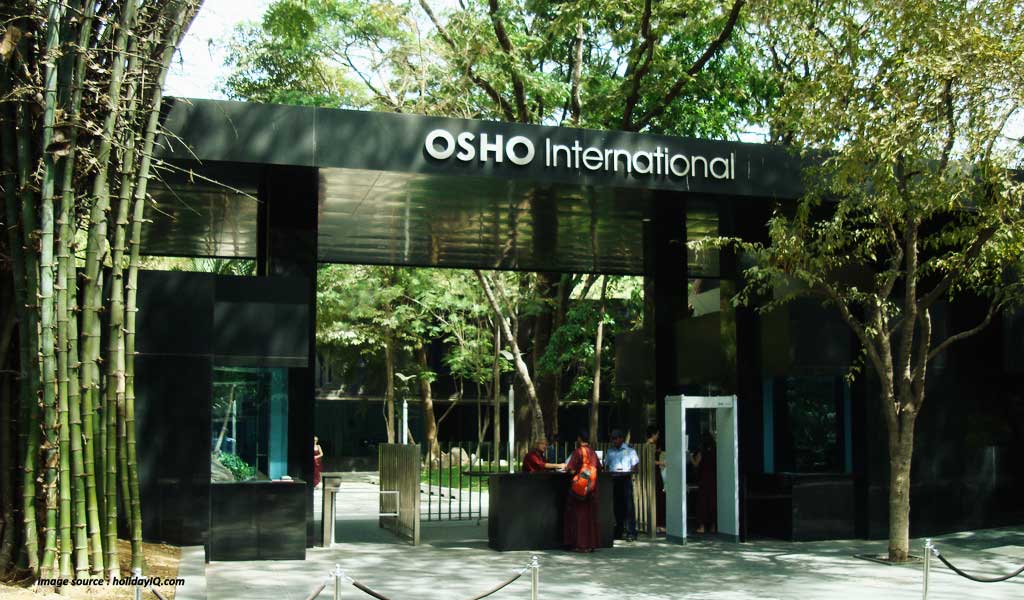 "If you are absolutely without mind, just pure consciousness, time stops completely, disappears, leaving no trace behind."
Let your mind, body and spirit attain Nirvana harmoniously at OSHO International Meditation Resort, one of the top 5 ashrams in India. The ashram is dedicated to meditation and spirituality, and is often hailed as the "Spiritual Disneyland." Unwind, relax and rejuvenate amid courses for personal growth, daily meditation programs, Basho spa-gym, multiversity programs, Taoism, Yoga, Tantra, and Sufism. Seek solace and harmony amid sheer tranquility of the ashram and spiritual teachings by the Gurus.
Contact Information: 17 Koregaon Park, Pune MS 411 001, India
Phone: +91 20 6601 9999
Attractions: Basho Spa, OSHO Teerth Park, Meditation centers, shopping
How to reach: The Pune International Airport is 8 km. from OSHO Ashram, connecting to major cities across the world. Taxi fare from the airport to ashram is around Rs. 200 to Rs. 300. Pune Junction railway station is only at a distance of 2 km. from the ashram. Private cars are also available on hire from Mumbai to OSHO International Meditation Resort.
Art of Living International Center, Bangalore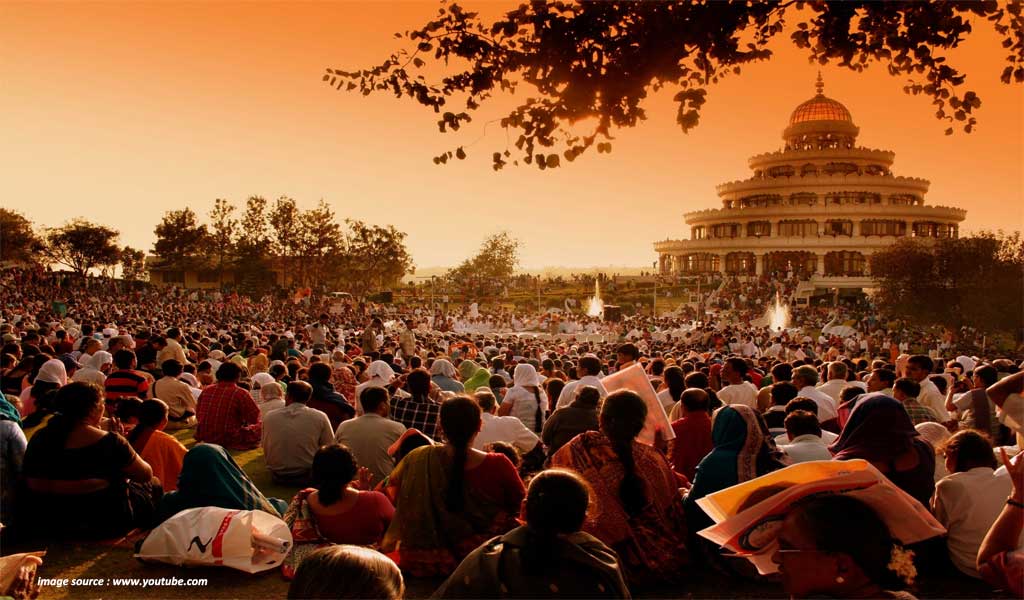 The Art of Living International Center was founded in 1986 by Sri Sri Ravi Shankar, and is one of the best ashrams in India. An ideal retreat for self-reflection, personal development, and stress-relief, the ashram is located atop the beautiful Panchagiri Hills near Udipalya Village. The serene ambiance, spiritual teachings by Sri Sri Ravi Shankar, and a blissful blend of old and contemporary attract travelers in pursuit of peace and Nirvana. The programs offered by the Ashram encompass meditation (Sudarshan Kriya), Yoga and Happiness Programs. Don't miss to be a part of "Seva" and "Satsang" held every day.
Contact information: Ved Vignan Maha Vidya Peeth
21st km., Kanakapura Road, Udayapura
Bangalore, Karnataka 560 082, India
Phone: +91 80 67262626/27/28; E-mail: info@vvmvp.org
Attractions: Vishalakshi Mantap, Radha Kunj, Panchakarma, Goshala, Sumeru Mantap, Madhurya, and Gurukul Heritage School
How to reach: The Kempegowda International Airport in Bangalore is the nearest airport, well connected to important cities around the world. From there, one can take a taxi or bus to reach Ashram. Bus and taxi service is also available from Bangalore Junction and Yeshwantpur Junction.
Sri Sathya Sai Baba Ashram (Prasanthi Nilayam), Puttaparthi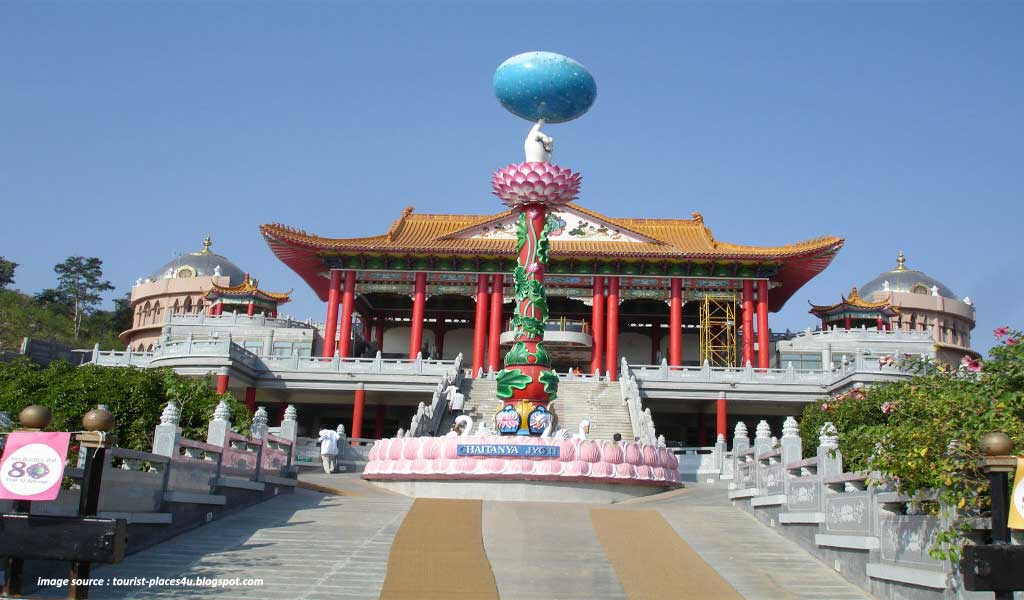 Sri Sathya Sai Baba Ashram or Prasanthi Nilayam is the spiritual resort (ashram) of Sri Sathya Sai Baba, situated near Puttaparthi village in Anantapur District of Andhra Pradesh. Puttaparthi is the birthplace of Sri Sathya Sai Baba, where he spread the message of love, peace and brotherhood in the later stages of his life. Prasanthi Nilayam or the "Abode of Supreme Peace" is where Sathya Sai Baba seeks solace and enlightenment. The most famous ashram in India, Prasanthi Nilayam is a popular destination where thousands of spiritual seekers from diverse culture, race, faith, and socio-economic strata visit to experience His pure love and blessings.
Contact information: Prasanthi Nilayam, Anantapur Dt., Andhra Pradesh – 515 134, India.
Attractions: Chaitanya Jyoti Museum, Sanathana Samskruti Museum, Sri Sathya Sai Hill View Stadium, Kalpatharu, birth place of Bhagwan Sri Sathya Sai Baba, Hanuman Temple, and Gopalaswami Temple.
How to reach: Bangalore airport is located at a distance of 120 km. from the ashram. The Sri Sathya Sai Prasanthi Nilayam railway station is 8 km. from the ashram, with trains to and from Bangalore, Mumbai, Visakhapatnam, Hyderabad, and New Delhi. There is a bus terminal opposite to the ashram, with regular APSRTC and KSRTC buses plying between major cities of Andhra Pradesh, Bangalore and Mangalore.
Sri Aurobindo Ashram, Pondicherry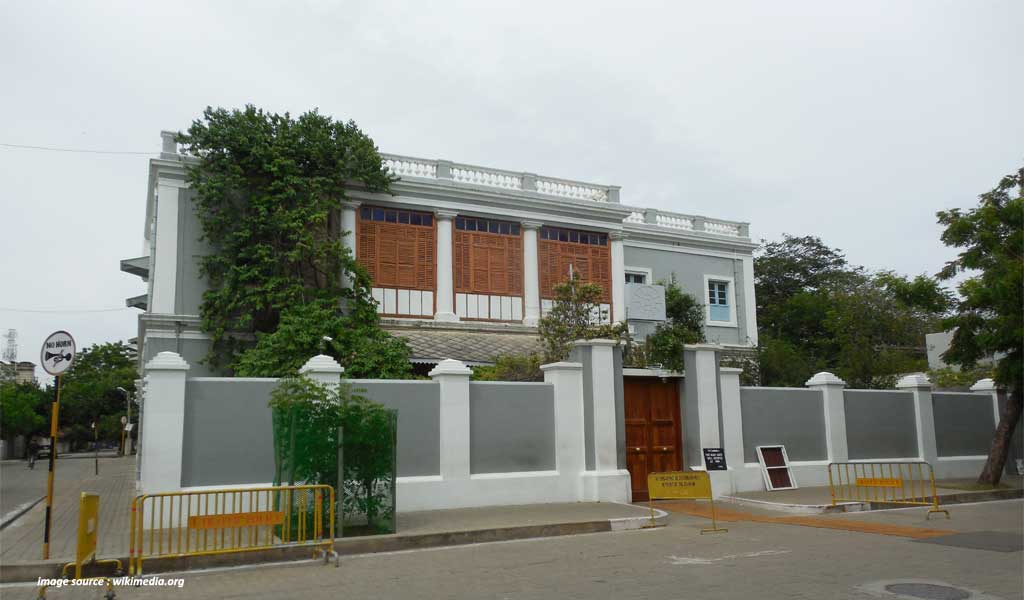 "Our sight and senses are a fallible gaze and touch. And only the spirit's vision is wholly true."
The vibrant center of spirituality and self-attainment was founded in 1926 by Rishi Aurobindo and continued to flourish since then under the guidance of the Mother. The ashram exhibits a dynamic character that reflects Sri Aurobindo's aim of Yoga. It is one of the top yoga ashrams in India, but does not follow strict obligatory practices or rituals with regard to meditation or Yoga. The only principle of sadhana here is to "surrender to the Divine," which can transform one's life and existence. The ashramites are free to seek solace and spirituality in their own pace in accordance to nature.
Contact information: No-12, Marine Street, White Town,, Near Junction of Manakulavinayaka Kovil Street and Marine Street, Puducherry, 605002
Phone: 0413 223 3649
Attractions: Art Gallery, Ashram Library, Photo Section, and Bureau Central.
How to reach: Chennai is the nearest airport and rail head, located at a distance of 160 km. from Pondicherry. One has to first reach Chennai via air, rail or road, and then take a taxi or bus to reach Pondicherry, which generally takes around 3 hours. Pondicherry is also connected to Bangalore directly via air.
Swami Dayananda Ashram, Rishikesh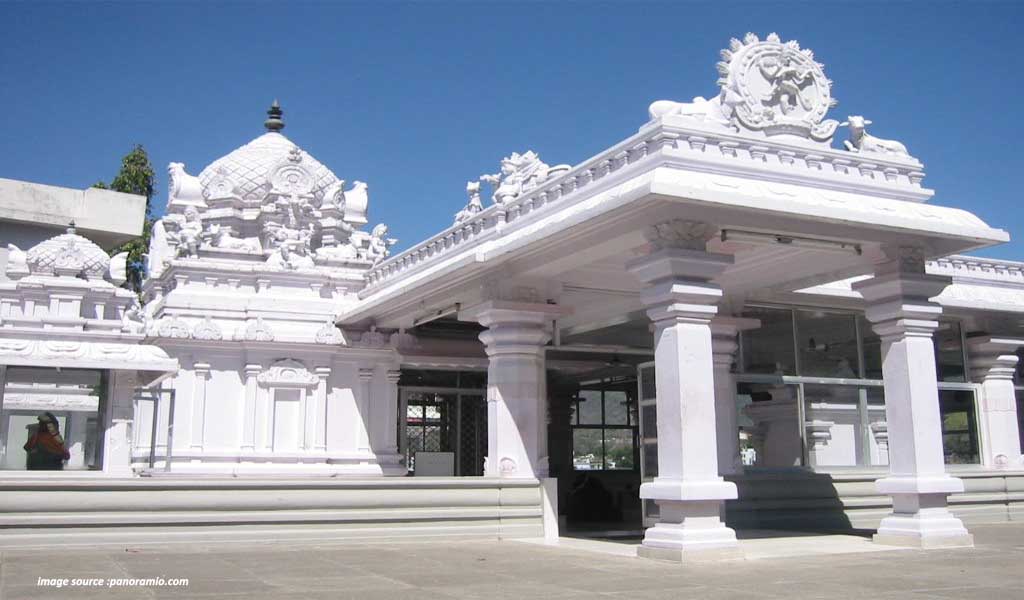 "The problem is "YOU." The solution is "YOU.""
A traditional center of Vedanta and Sanskrit, Swami Dayananda Ashram is Rishikesh is one of the best ashrams in North India. A center of Vedanta learning and Yoga, the ashram is the ultimate place is seek peace and harmony at the lap of Nature. The Yoga Studio is fully equipped and ideally situated behind the Ashram Temple, overlooking the stunning Himalaya and River Ganga. Prominent Yoga teachers from the around the country conduct regular courses amid the holy and serene ambiance of the ashram to help people achieve personal development and self-attainment. Regular Vedanta camps are also held every year, providing spiritual teachings to visitors.
Contact information: Arsha Vidya Pitham
(Swami Dayananda Ashram)
P.B.No:30, Purani Jhadi
Muni Ki Reti (Rishikesh) – 249 137
Uttarakhand, INDIA
Phone: 0135-2430769 / 2431769
Attractions: Lord Gangadhareswar Temple, Yoga Studio, and Ashram Library
How to reach: One can reach Rishikesh via Haridwar, which is 20 km. away and well-connected to Delhi. Jolly Grant Airport in Dehradun is the nearest airport (16 km.), with frequent flights from Delhi. One can reach Haridwar from Delhi via train, and then hire a taxi to reach Rishikesh. Alternatively, flights till Dehradun can also be taken to reach the ashram.