Rock cut caves india take you to the land of mysticism and enigma. India is bestowed with mysterious and charismatic rock cut caves that are standing proudly for centuries, narrating the tales of what mankind of that era believed best to demonstrate and preserve.
 Amazing Rock Cut Caves India
These caves highlight India's rich history and art that was beautifully depicted in the way the caves were carved out from natural rocks, amid unexplored valleys & terrains and dense forests. WaytoIndia brings to you 9 most amazing rock cut caves in India that will simply amaze you.
Ajanta Caves, Maharashtra
Ajanta Caves are among the best rock cut caves in India, built during 200 B.C. and 600 A.D. The breathtaking caves are a fantastic illustration of rock-cut architecture in India, emphasising impressive historic artwork. Some of the ancient sculptures and paintings in the caves are considered to be epic masterpieces of Buddhist religious art and also depict the Jataka tales. It is famed as UNESCO World Heritage Site.
How to reach: It is located 104 km. from Aurangabad and 59 km. from Jalgaon Railway Station.
Ellora Caves, Maharashtra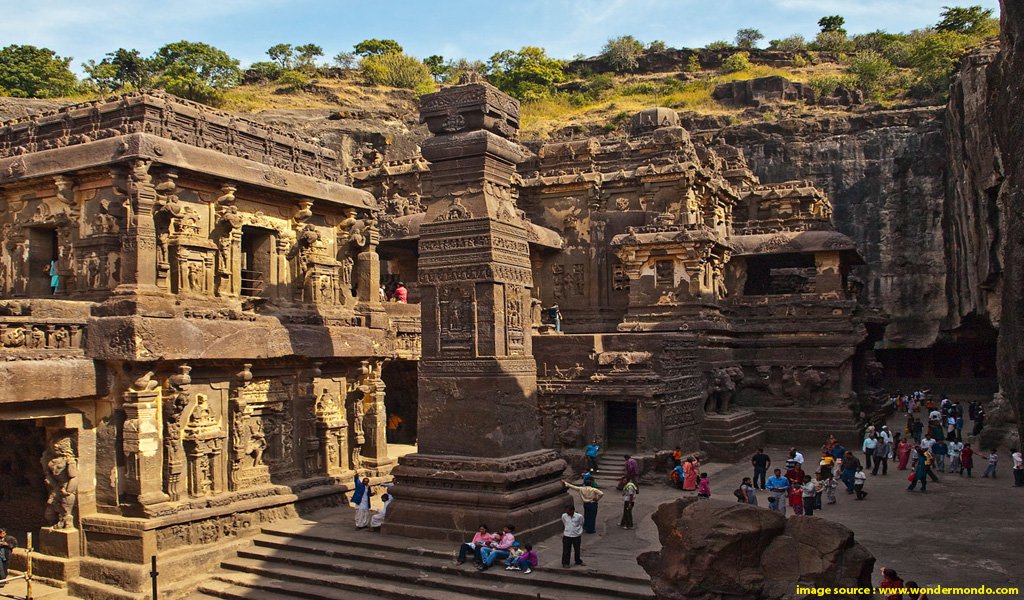 When it comes to the most popular rock cut caves in India, Ajanta and Ellora are two names that instantly come to the mind. Ellora Caves were built by the Rashtrakuta dynasty and Yadava, and is an UNESCO World Heritage Site. The 34 caves stand as an epitome of spectacular rock-cut architecture, attracting travellers from around the world. It comprises of 17 Hindu caves, 12 Buddhist caves and 5 Jain caves, which highlight the religious harmony prevailing during that period.
How to reach: Aurangabad is the nearest airport and railway station, located around 30 km. from Ellora. One can also hire an auto rickshaw or board a bus from the city to reach Ellora.
Discover the mysticism and charm of Ajanta-Ellora with special Ajanta Ellora Tour.
Udayagiri Caves, Orissa

Udayagiri rock-cut caves in Orissa are also known as Sunrise Hill and were built during the era of Kharavela of the Maha-Meghavahana Dynasty. The exquisitely carved ornate caves were once the dwelling retreats of Jain monks, where you will come across religious texts of the Jains inscribed into the rocks. The spectacular appeal and enigmatic artwork of the caves attract tourists from across the world.
How to reach: Udayagiri Caves are located just 8 km. from Bhubaneshwar, which has well-accessibility via air, rail and road.
Badami Caves, Karnataka

Badami Caves are one of the finest instances of rock-cut architecture, built from red sandstone on the abyss of a hill. The caves date back to 570 A.D., where the first three are dedicated to the Vedic faith and the fourth one is devoted to Jain religion from the 8th century. This is one of the top rock cut caves in India.
How to reach: Badami is located 22 km. from Pattadakal and 110 km. from Hubli.
Explore the majestic beauty of Karnataka with Magnificent Karnataka Tour.
Bagh Caves, Maharashtra

The Bagh Caves are also called "The Palace of Colours," and were carved into a vertical sandstone rock. The caves, meant to be Buddhist monasteries, were built somewhere during the 4th and 5th century A.D. The ancient mural paintings exhibit beautiful, lively and vivid imagination of the craftsmen during that time. You can also discover a painting of the Bodhisattva "Padmapani" here. The decline of Buddhism and remoteness of Madhya Pradesh during that time resulted into increased number of tigers living there, and hence, the caves get their name.
How to reach: It is about 150 km. from Indore and 100 km. from Dhar. Both the places are well connected to other major cities via road, rail and air.
Barabar Caves, Bihar

Barabar Caves in Bihar are the oldest example of majestic Indian rock-cut architecture and are one of the most visited rock cut caves in India. The caves are believed to date back to the 3rd century B.C. and were once the retreat of ancient Jain sects. Despite that Emperor Ashoka and his son were Buddhists, they supported and built the Jain caves for Ajivika monks living at this place. You must visit the Barabar Caves to discover India's rich history & religious art at its best.
How to reach: The caves are located 24 km. from Gaya, which is easily accessible via rail and road.
Elephanta Caves, Maharashtra

The rock-cut Elephanta Caves are situated on Elephanta Island and were built around mid-5th to 6th centuries A.D. Cave 1 is among the most important ones, measuring 39 metres from the entrance to the back. An UNESCO World Heritage Site, the rock art in the caves are associated with the cult of Shiva. Sadashiva, a 7-metre-high masterpiece, is a majestic sculpture that epitomises three aspects of Lord Shiva – the Creator, the Preserver and the Destroyer.
How to reach: The Elephanta Island is located 10 km. to east of the Mumbai, which is the nearest airport and railway junction.
Karla Caves, Maharashtra

Situated in Pune, Karla Caves are one of the most famous rock cut caves in India that feature unique architectural style and magnificent artwork. Though the rock excavations are not as elaborate and spectacular as Ajanta or Ellora, but its grand Chaitya Griha is the largest of all in India. It comprises of 16 rock cut excavations of which 8 were built during Satavahana period.
How to reach: Karla is located about 120 km. from Mumbai and 55 km. from Pune, both of which have major airports and railway stations connecting to other parts of India.
Discover India's rich history and cultural heritage with WaytoIndia. We promise you the most enchanting, joyful and memorable holiday experience to let you explore the true beauty of India. Book our custom travel packages or special guided tours to the 9 most amazing rock cut caves India.