"Christmas is coming…" and certainly you deserve a holiday. So, what are your Christmas plans? India has its own style of celebrating the spirit of Christmas, bestowing love, forgiveness, and the act of brotherhood & sharing.
Best Places To Celebrate Christmas In India
Though we do not celebrate the festival like people in the West do, but there are several places in India where the occasion is commemorated with immense pomp & grandeur. Their unique traditions, customs and ethnicity add an interesting touch to the celebration. So, if you are planning a Christmas vacation, WaytoIndia brings to you a list of the best places to celebrate Christmas in India.
Pondicherry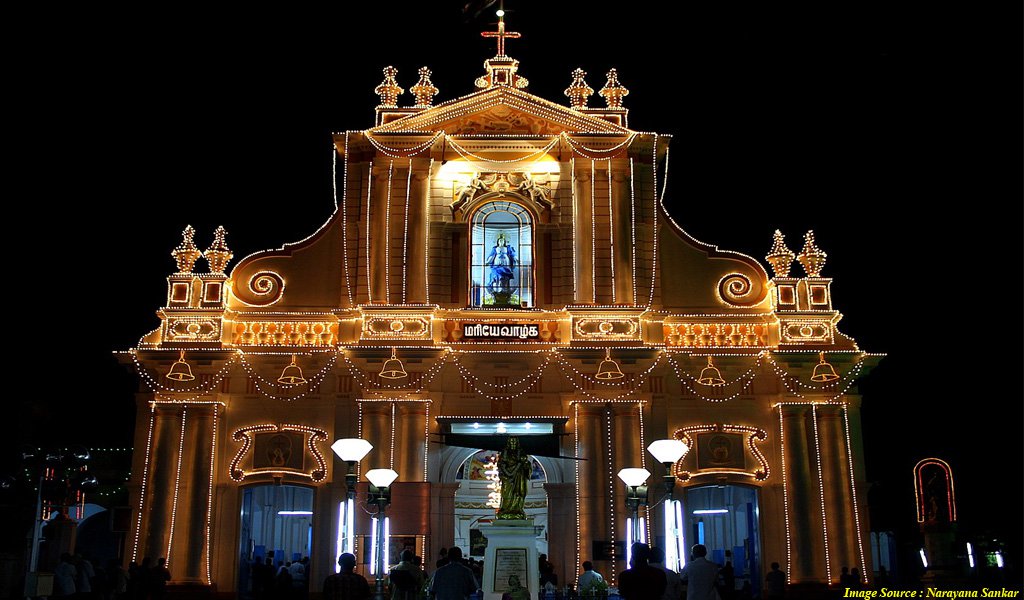 Christmas celebration in Pondicherry is a perfect concoction of zeal, enthusiasm and peacefulness that you will definitely love. The city adorns itself beautifully in vibrant colours and lights, and you can feel the exuberance in the air that you will love to be a part of. Don't miss to visit the famous churches during this time where the celebration is a sight to behold.
How to visit: Pondicherry Airport has flights coming only from Hyderabad and Bangalore. Chennai (135 km.) is the nearest international airport that connects it to major cities in India. Villupuram (35 km.) is the closest railhead, having accessibility with New Delhi, Chennai, Mumbai, Kolkata and Trivandrum. Regular bus services and private taxis are also available from nearby cities to reach Pondicherry.
Daman and Diu

Certainly an offbeat holiday destination, but Daman and Diu is one of the best places in India to celebrate Christmas. Colonial Portuguese influence on this quaint Union Territory adds a unique charm to Christmas celebration. You will simply love the cultural shows organised here, enigmatic Corrindinho Portuguese dance form, vibrant lamps brightening the night sky, and implausible church service, all of which exude the true spirits of Christmas.
How to reach: Mumbai (193 km.) is the closest international airport, connecting Daman and Diu with other major cities in India. Vapi is the nearest railway station to Daman, while Delwada railway station is closest to Diu. The Union Territory is also well accessible via excellent road network.
Goa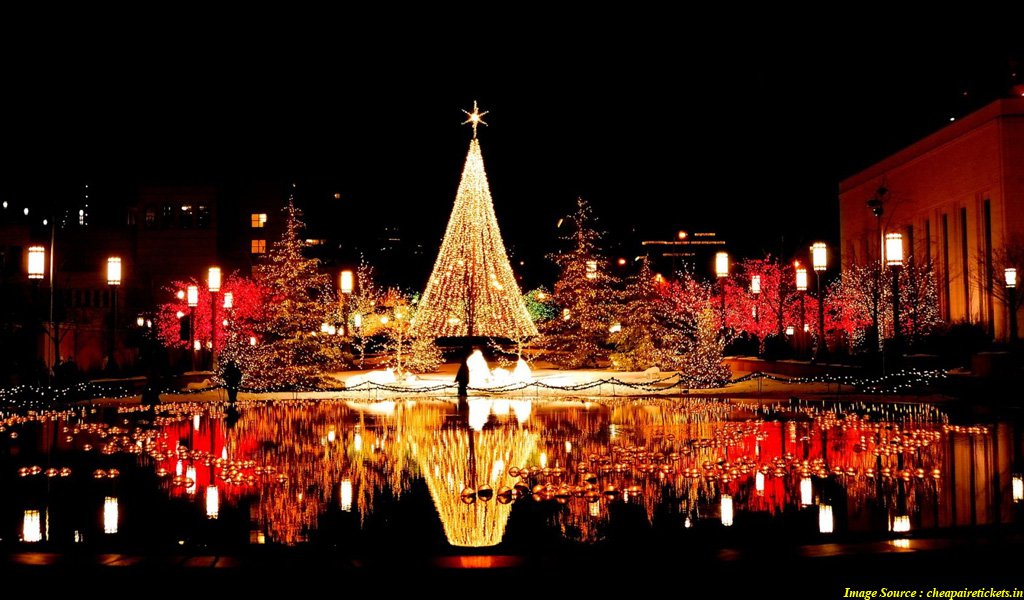 When it's Christmas, you simply cannot miss to visit Goa – a land synonymous to celebration, fervour and enthusiasm. During the festival, the city is adorned with vibrant lights and poinsettia flowers, while the masses sing Christmas carols until early morning. Night long Christmas parties are organised on several beaches like Candolim, Anjuna and Mapusa. The hotels and restaurants serve Christmas special lunch and dinner, with live bands.
How to reach: Goa has its own airport, Dabolim Airport, just 29 km. from Panjim. Thivim and Madgaon are the two major railheads in Goa, connected by trains from across the country. Intra-city and inter-city bus services are also available in addition to taxis on hire.
Mumbai

The City of Dreams is one of the most famous Christmas holiday destinations in India; thanks to the warm-hearted people here who have embraced diverse cultures and traditions blissfully. Most churches here organise midnight mass on Christmas Eve which is an enchanting event to be a part of. Hill Road, Bandra and Church Gate are popular places where Christmas is celebrated with immense enthusiasm and fervour.
How to reach: Chatrapati Shivaji International Airport in Mumbai connects the city to all major cities across the world. Chatrapati Shivaji Terminus abs Bombay Central Station are two major railheads that are the headquarters of both Central and Western railways. The city is also well-accessible via roadways.
Kolkata

Kolkata is the City of Joy and it becomes even livelier and vibrant during the festival of Christmas. The blissful aroma of pastries and fruit cakes fill the air as numerous stalls selling Christmas trees & goodies line up along the street. Do not miss to visit Park Street where the festive spirit goes extravagant. People from all religion and traditions come together on this day and sing carols in midnight mass. Night long parties, rock music, glimmering lights and lip-smacking delicacies make the city even merrier.
How to reach: Netaji Subhash Chandra Bose International Airport in Kolkata is well accessible to many important cities globally. It also has efficient rail connectivity, with Howrah and Sealdah being the two major railheads. It is also well connected via roadways.
Dadra and Nagar Haveli

December is the best time to visit Dadra and Nagar Haveli when the place adorns beautifully in the colours and spirits of Christmas. What is most interesting is the celebration of Christmas with a tribal touch. The churches are decorated magnificently, where people attend midnight mass and celebrate the festival with pomp and grandeur. The entire Union Territory fizzes with warmth, zeal and enthusiasm. For some quality time in privacy, you can visit the exotic beaches here and spend time with your loved ones.
How to reach: Mumbai (164 km.) is the nearest airport, while Vapi (17 km.) is the closest railway station with some major trains plying regularly. It is also connected via Mumbai-Baroda-Delhi National Highway 8.
Kerala

Kerala has always been the melting pot of diverse erstwhile cultures like Dutch, Portuguese and European. The colonial influence on this beautiful state has made it one of the top Christmas destinations in India. There are many churches in Kerala that are beautifully decorated with lights and stars. The hotels & restaurants offer heavy discounts on food and drinks. You will love the local touch that enhances the spirit of the festival here.
How to reach: There are three international airports in Kerala – Thiruvananthapuram, Kochi and Calicut. It is also well connected to major Indian cities via 200 railways stations. The state is easily accessible by roadways through NH 17, 47 and 49.
Manali

Christmas and snow are beautifully intertwined, enhancing the spirit of the festival. So, how about spending a glorious Christmas amid snow and sheer fun? Manali is one of the finest hill stations to visit in December, adding a distinct appeal to the Christmas celebration. Most of the time, it snows during this festival, making it the perfect ambience to celebrate the occasion. The exotic pine trees, resembling a Christmas tree, are beautifully adorned in snow, lights and accessories, which is a sight to behold during the night. You may also book a log hut to live Christmas mood under the beautiful star-lit sky.
How to reach: Bhuntar (50 km.) is the nearest domestic airport, while Delhi is the closest international airport. The hill station is also connected to important places via regular bus services.
WaytoIndia takes you on a memorable journey to some of the most awesome places to celebrate Christmas in India. Whether you are travelling with your family or in a group, we offer tailor-made travel packages as well as guided tours for groups. Make your Christmas celebration most enthralling and unforgettable with us.