For those who are planning a trip to Delhi, we share in this blog the best shopping places in Delhi.Delhi is not merely the abode of stunning historic monuments and modern indulgences, but also promises superb shopping experience that will literally spoil you.
On one hand, shopping in Delhi can be extravagant; on the other hand, it can be astonishingly inexpensive.
On one hand, Delhi is the home to some of the most prominent and lavish shopping malls in India; on the other hand, the narrow lanes of Old Delhi are the ultimate places to indulge into amazing budget shopping.In this blog, we explore some of the best places for shopping in Delhi.
Best Shopping Places in Delhi
The capital city of India is one of the most exciting shopping destinations to buy jewellery, textiles, leather, bags, handicrafts, carpets, shoes, artefacts and curios.
Besides, prominent fashion designers and top-notch brands have boutiques and showrooms in the city. Every market or shopping mall has its unique ambience and individuality, which adds a distinct flavour to your experience.
To ensure the most enriching experience, we have summed up the best shopping experiences for you in the form of a list of 7 Best shopping places in Delhi.
This blog on best shopping places in Delhi is unique in so far as it shares with you :
Unique and special things that you may purchase in each of these markets in Delhi.
The exact address of these markets to help you reach these markets without any difficulties.
Famous places to eat in each of these markets to make your shopping even more enjoyable.
Special things to purchase at each of these markets.
Shopping tips for each of these markets that we have listed as best places for shopping in Delhi.
So, make the most out of our article on best places for shopping in Delhi and shop till you drop!
1. SELECT CITYWALK
Lavishness and luxury beckons!
Select CITYWALK is one of the best shopping centres in the city, where people come together to shop and enjoy. The shopping mall boasts more than 175 national and international brands, including some premier names such as Pantaloons, Tommy Hilfiger, Armani, French Connection, Guess, Mango, Zara, United Colors of Benetton, Reebok, Nike, Color Bar, Shahnaz Hussain, Geetanjali, Estee Lauder, Mothercare, The Body Shop, and many more.
The lavish, aesthetically designed shopping complex ensures an unforgettable experience. "Shop until you fall," and then indulge in delectable food in some of the best restaurants in Delhi, located in Select CITYWALK.
Every Wednesday the Mall organizes a flea market on the 1st-floor balcony of the Mall which offers an opportunity to find plenty of bargains in fashion and fashion accessories.However, the main shopping attraction is the arts and crafts items made by emerging designers. These are some of the reasons why we have listed Select CITYWALK as one among the best shopping places in Delhi.
Visit Timings: Monday to Sunday – 10:00 am to 11:00 pm
Address: Plot No. 843, Saket District Center, Saket, New Delhi – 110 017
Shop for: Branded apparel, bags, shoes, beauty and skincare, electronics, gadgets and gizmos, artefacts, etc.
Places to eat: Pizza Hut, KFC, The Coffee Bean and Tea Leaf, Food Talk food court, and Chicago Pizza.
How to reach: Saket is the nearest metro station, from where one can take an auto to reach the shopping mall. It takes 5 to 10minutes from Saket Metro Station, depending on traffic.
Tips: No-bargain branded shops except flea markets. Carry good money in your wallet to shop.
2.Janpath Market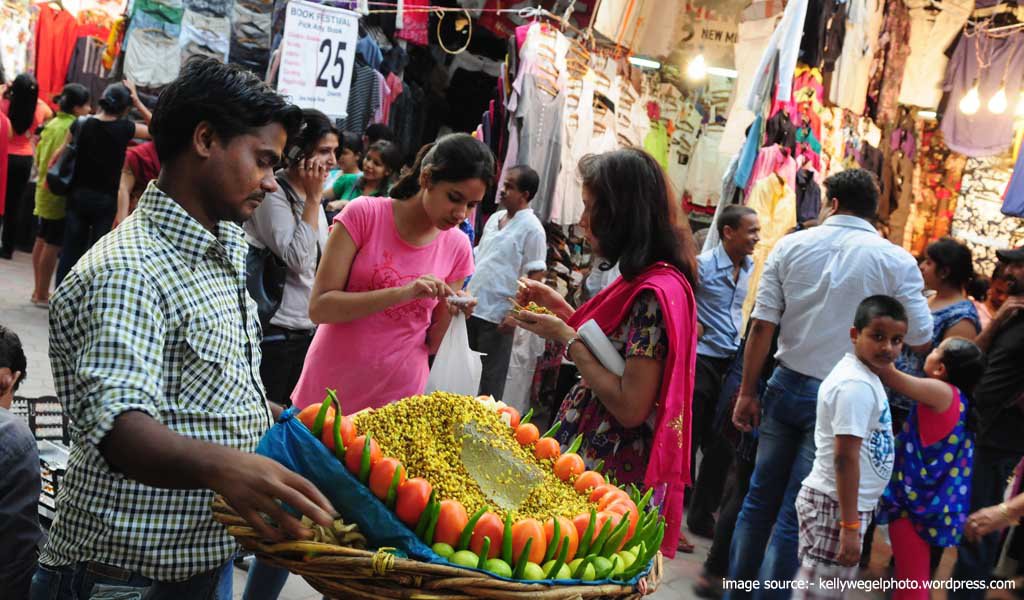 Janpath Market is one of the best shopping places in Delhi to buy girls' ethnic wear and sarees, bags and shoes. Its strategic location at the commercial hub of the city attracts shopaholics and tourists alike. It is the ideal place to buy artefacts, imitation jewellery, ethnic wear and Juttis at a fantastic discounted price.
Drop into the Tibetan Market nearby, where you can buy fashion clothing, shawls and sweaters, brassware, handicrafts, paintings, and curios at a good price. Location & superb range of merchandise at jaw-dropping prices has made us list one among the Best places for shopping in Delhi.
Visit timings: Tuesday to Sunday – 10:00 am to 8:00 pm; Monday closed
Address: Janpath Road, next to Connaught Palace, Central Delhi
Shop for: Fashion clothing, shoes, ethnic wear, junk jewellery, handicrafts, home décor, brassware, paintings, leather work, and Indian art effects.
Places to eat: Give a happy ending to your shopping tour with street-side steaming Thupka and momos at Tibetan Market.
How to reach: The best way to reach is to take a metro to Janpath Metro Station. The market is at a walking distance from the metro station. Auto-rickshaw is also available from Paharganj to Janpath.
Tips: It is one of the best bargain markets in Delhi. So, bargain hard. Carry cash since most shops do not accept credit/debit cards.
3.Chandni Chowk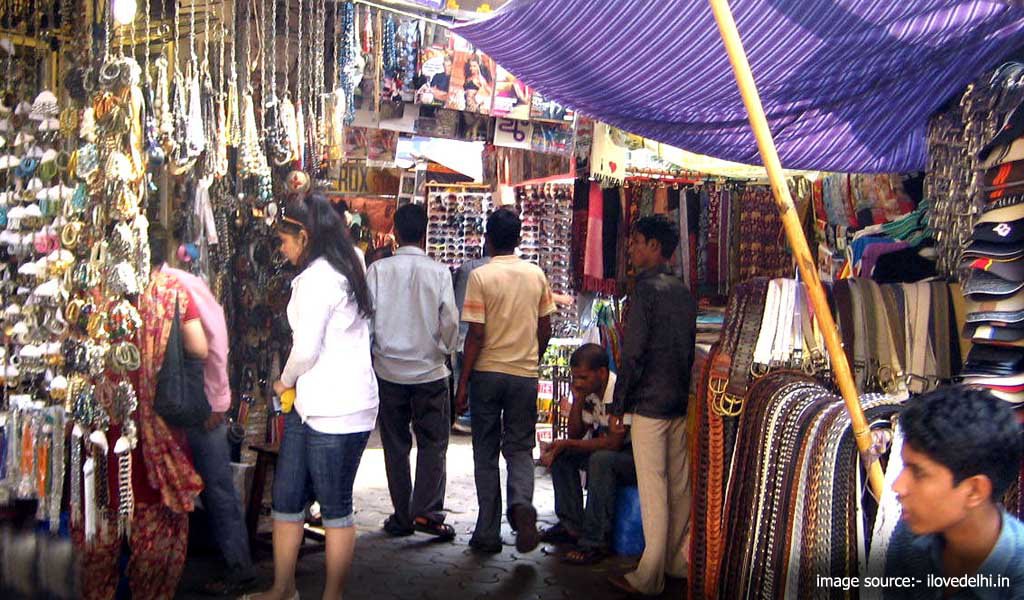 This amazing 17th-century market is the ideal retreat for a bride-to-be, thanks to exquisite lehengas, semi-precious jewellery and other wedding treats that one can discover here. The most famous market in Old Delhi, Chandni Chowk is one of the best places for budget shopping. The narrow, meandering lanes of Chandni Chowk are categorized based on different shopping specializations.
For marvellous silver jewellery, head off to Dariba Kalan, an ancient silver market in Old Delhi. Do not forget to eat famous Desi Ghee Jalebis at the corner shop at Dariba.  Katra Neel is the best place for fabrics while Katra Asharfi is famous for bridal wear.
Bhagirath Palace area is renowned for a wide range of electronic items. One stroll through the by-lanes of Chandni Chowk, and we are sure you would bless us for sharing this market as one of the best places for shopping in Delhi.
If Urdu poetry excites you, do take out time to visit Gali Qasim Jaan in Ballimaran to visit Ghalib ki Haveli(the house of famous Urdu Poet Mirza Ghalib)
Visit timings: All days of the week – 9:00 am to 10:00 pm
Address: Chandni Chowk, Delhi.
Shop for: Bridal clothing and lehengas, accessories, semi-precious and silver jewellery, sweets, fabrics, home décor items, and electronics.
Places to eat: Shopping ends with gastronomic adventure with lip-smacking street food and Indian cuisine at Karim's, Paranthe Wali Gali, Moti Mahal, Shree Balaji Chaat Bhandar, Natraj Bhalle Wala, Jugal Kishor Ramji Lal, and Jung Bahadur Kachori Wala.The list is actually endless.
How to reach: The best way is to take a metro to Chandni Chowk Metro Station and then an auto or walking.
Tips: Always bargain. Check the quality of the product before you buy. Carry cash and keep your belongings safe, as the lanes are narrow and flooded with people. Parking may be difficult near the market.
It is important to mention that if you are visiting India for the first time and are looking forward to covering Golden triangle tours of India (Delhi- Agra- Jaipur), you must not forget to visit Chandni Chowk in Delhi as it takes you through the heritage of Old Delhi.
4. DLF Promenade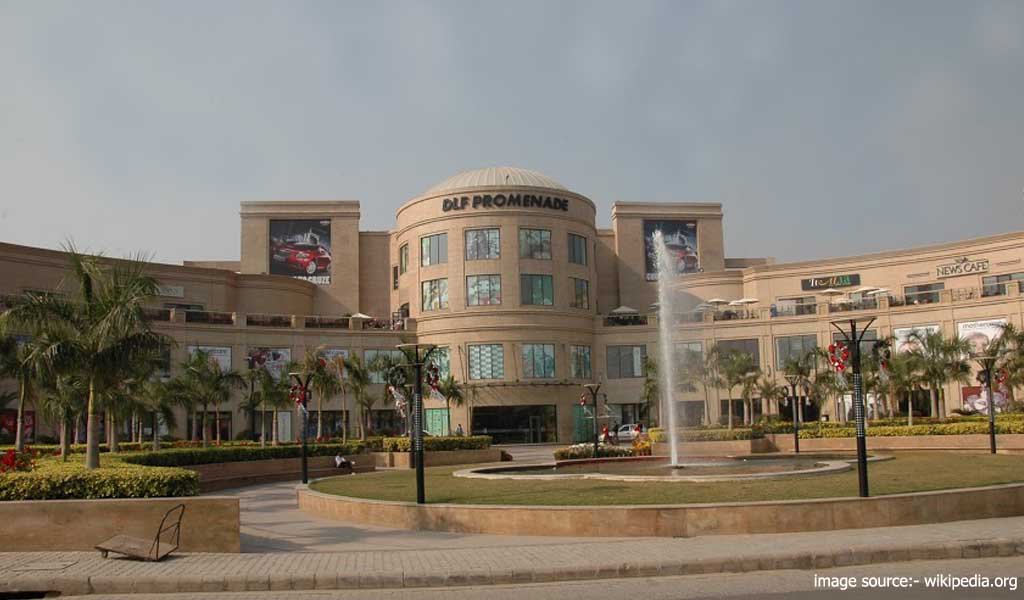 For the finest concoction of modern indulgences, food and entertainment, head off to DLF Promenade, the second largest shopping centres in Delhi. Catering to well-heeled shopaholics, it is the one-stop destination for high-end national and international brands like Satya Paul, BIBA, La Vastra, Jashn, Marks & Spencer, Lancome, MAC, UCB, Mango, Aldo, etc. A list of best places for shopping in Delhi would not be complete unless a fashionable market such as DLF Promenade is included in it.
Visit Timings: Monday to Sunday – 10:00 am to 11:00 pm
Address: #3, Nelson Mandela Road, Vasant Kunj, New Delhi
Shop for: Branded apparel, bags, shoes, beauty and skincare, electronics, gadgets and gizmos, artefacts, etc.
Places to eat: The Big Chill, Nando's, Café Delhi Heights, Smoke House Deli, Johnny Rockets, Veda Café, The Beer Café, and Kainoosh and Keya
How to reach: The nearest metro station to DLF Promenade is Chhatarpur. Once you get down at the metro station take an auto the shopping centre, which will cost around Rs 56.
Tips: No-bargain shops. Premium branded shopping.
5.Dilli Haat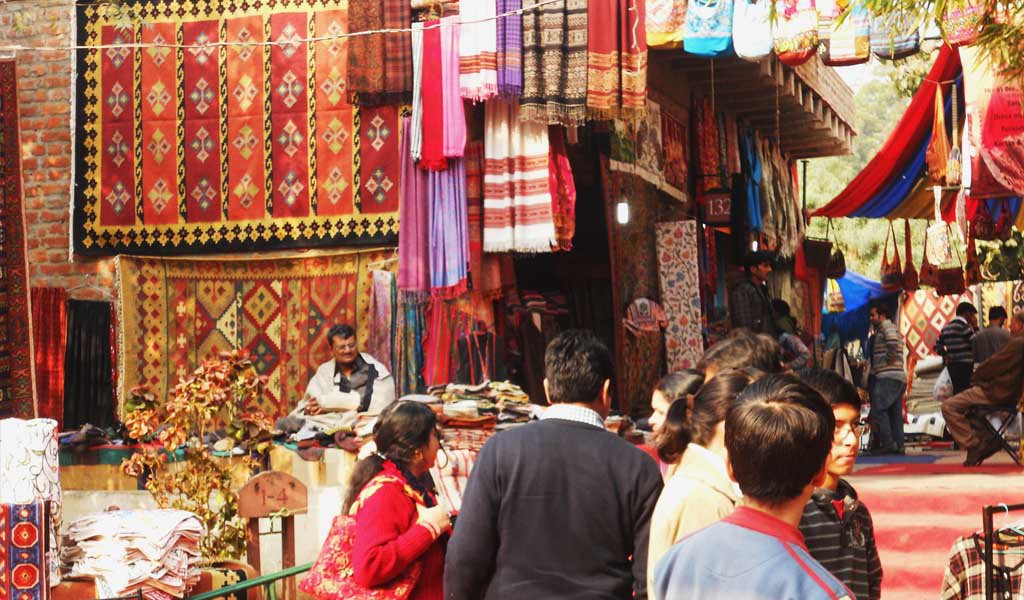 If you have a taste for Indian handicrafts, Dilli Haat is one of the finest places to be.
Located in the heart of Delhi, the 'haat' has numerous stalls that display India's art and craft in the best possible manner. Here, craftsmen from different parts of the country and cultural traditions come and sell their handicraft and handloom items.
Visit this market and you would agree that Dilli Haat deserves to be on the list of best places for shopping in Delhi.
Visit Timings: Monday to Sunday – 10:00 am to 10:00 pm
Address: Sri Aurobindo Marg, Opposite INA Market, South Delhi
Shop for: Sophisticated fabric, intricate woodcarvings, camel hide footwear, metal crafts, gems and beads, drapery, and exotic handicrafts
Places to eat: Throughout Dilli Haat, there are several eating stalls where you can have delicious street food and authentic Indian cuisine from different parts of the country.
How to reach: The best way to reach Dilli Haat is via metro railways. Get down at INA metro station and from there either catch an auto or walk down to the market. Buses also go INA from different parts of Delhi.
Tips: It is not a good place to bargain since items generally come with a fixed price tag. Take back marvellous home décor items and other handicrafts at a good price.
6. Lajpat Nagar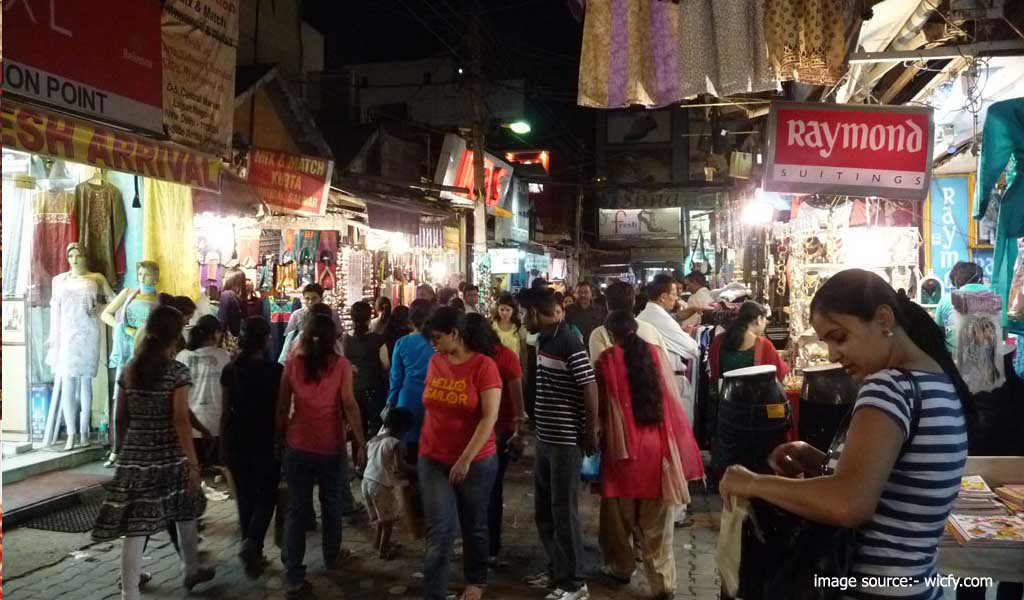 Visit Lajpat Nagar Central Market to buy Indian ethnic and contemporary clothes, like Kurtis, salwar-kameez and saree at mid-range prices. Lakhnavi embroidery work done on many of these clothes is extremely exquisite.
Stylish Indian footwear, linens and bed sheets, curtains and jewellery are also worth purchasing. Knick-knacks like decorated wine bottles, ceramics and other items with the street vendors shall definitely grab your attention.
Visit timings: Tuesday to Sunday – 10:00 a.m. to 09:00 p.m.
Address: Lajpat Nagar, Near Defence Colony, South Delhi, Delhi
Shop for: Garments, Indian clothing, home furnishings, home decors, footwear, costume jewellery and curios.
Places to eat: Pind Balluchi, Kabul Delhi, Bikanervala, Chopsticks Express, The Street Foods of India and Giani's Ice-cream. Don't miss the delicious Tibetan momos, golgappas, chuski, laddoo with spicy chatni and other street food items.
How to reach: Lajpat Nagar Central Market is at the walking distance from the Lajpat Nagar Metro Station. Cycle-rickshaws or auto-rickshaws can also be hired to cover the small distance.
Tips: Get into an aggressive bargaining mode to save a lot of money on various items. The Central Market tends to get crowded as the day passes. Get your hands adorned with beautiful henna designs from one of the many mehendiwalas here.
7. Sarojini Nagar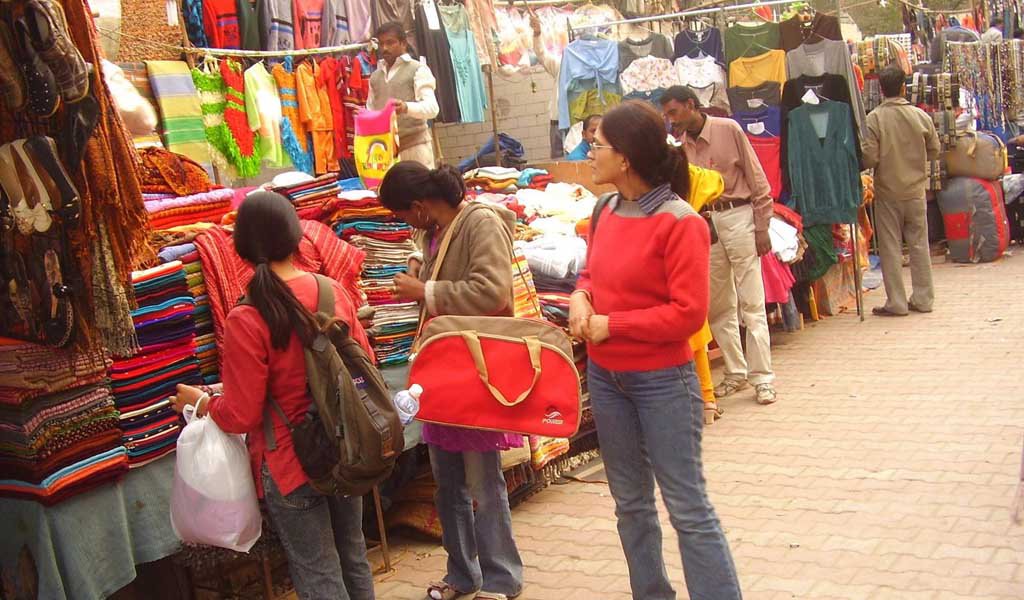 To grab highly-fashionable clothing at throwaway prices, Sarojini Nagar Market is your shopping destination in Delhi. Don't be surprised to find the products labelled with Armani and Calvin Klein at surprisingly low prices (these are fake/copied products). The market consists of street-side shops, where it is easy to find the latest fashion in day dresses, florals, shorts and skirts as well as accessories.
Visit timings: Tuesday to Sunday – 10:00 a.m. to 09:00 p.m.
Address: Sarojini Nagar (Near Safdarjung Enclave), South West Delhi, Delhi
Shop for: Fashionable clothing, home furnishing, fashion accessories, footwear, bags and cosmetics.
Places to eat: Rang de Basanti Dhaba, Rollmaal, Haldiram's, Khatta Meetha, Rasoi Plaza, Bakes & Bites, Hot Pot, Mahender Sweets House, Luxmi paneer Bhandar and Amar Jyoti.
How to reach: Like most of the other shopping areas, Sarojini Nagar Market can also be conveniently accessed in metro rail. The closest metro station is INA, about 2 km. away. Get down at the station and pay about INR 30 to an auto-rickshaw to reach the market.
Tips: Bargain and walk away if the vendors don't agree to the price you quote, as they will surely call you back. Great bargains can be acquired if you accompany an Indian along. Prefer visiting on weekdays as weekends are overcrowded.
If you are looking forward to visiting Delhi, you may book our Delhi Sightseeing Tours to enjoy a complete tour of the heritage city of Delhi.
---
FAQs : Frequently Asked Questions
Is Sarojini market in Delhi, a good place to shop?
Yes, Sarojini market in Delhi is a good place to shop for those who wish to buy stuff at comparatively cheap rates. There is a good variety of merchandise ranging from men's wear to women's wear, toys, artificial jewellery and much more.
What are some good malls in Delhi?
Delhi has many good malls. Some of the famous once in South Delhi are Select City Walk mall in Saket, DLF Promenade Mall in Vasant Kunj, and DLF Emporio Mall in Vasant. In West Delhi Pacific Mall in Subhash Nagar is also quite famous.
What is the best place in Delhi for street shopping?
For street shopping, there are several markets in Delhi that are famous. To buy handicraft items visit Delhi Haat and Janpath .For artificial and costume jewellery, you may visit Paharganj.For electronic items and crystalware, Gaffar Market in Karol Bagh is one of the best markets.
What is the best place in Delhi to buy a laptop?
Nehru Place market in South Delhi is famous for computers and their peripherals. There are several showrooms that sell laptops and computers of all the famous brands at quite compelling prices.
Where are the places in New Delhi to buy wholesale clothes?
To buy sarees, lehengas and other traditional outfits on wholesale rates, there is no better place than Chandni Chowk. To buy readymade garments at wholesale prices, Gandhi Nagar is suitable.
Where can I find second-hand books in Delhi?
Nai Sarak in Chandni Chowk has a book market where you may buy second-hand books. Another famous place to buy old books is Netaji Subhash Marg, Daryaganj. To buy old books on educational subjects Ber Sarai is ideal place.
Where can I buy stationery products at cheap rates in delhi?
To buy cheap stationery products in Delhi, visit Sadar Bazaar near Pahar Ganj or Chawri Bazaar in Chandni Chowk.