For devotees in pursuit of salvation and renaissance, a dip into the holy waters of River Ganges during the Gangasagar Mela is an experience worth reminiscing. The festival is globally acclaimed owing to its spiritual essence and significance in one's life. The Gangasagar Yatra is the second largest congregation of pilgrims after the world famous Kumbha Mela.
______________________________________________________________________________________
Festival Name: Gangasagar Mela
Venue: Sagar Island, Kakdwip Subdivision, District – South 24 Parganas, West Bengal
Celebrated in: Makar Sankranti, January – February
Duration: 3-4 Days
Puja Timings: 3 a.m. onwards
Accommodation: Hotels near Gangasagar Dham, Tents & Dharamshalas
Nearest Airport: Netaji Subhash Chandra Bose International Airport, Kolkata (122.8 km)
Nearest Rail Junction: Sealdah Junction (106 km)
_____________________________________________________________________________________
If you are seeking a reprise from your strenuous life in quest offorivine blessings, then our travel guide on Gangasagar Mela will help you significantly. You can book our Sunderbans National Park Tour Packages during Makar Sankranti and quickly escape on a detour to Gangasagar tour.
Gangasagar mela
About Gangasagar Mela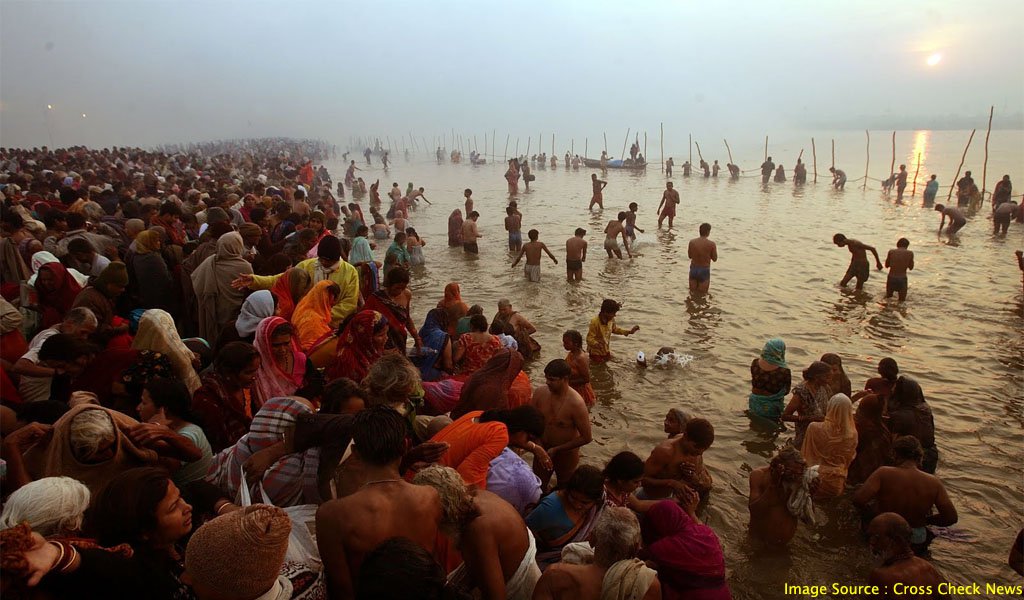 Ganga Sagar Mela is one of the most feted fairs in India, celebrated with immense pomp and grandeur in the state of West Bengal. It is held every year in the month of January-February on the pious occasion of Makar Sankranti. The Gangasagar Mela location is where the Ganga River merges with the Bay of Bengal, at the Sagar Island in West Bengal.
It is believed that taking a dip into the sacred waters at this beautiful confluence can help one alleviate his pain and sufferings. Makar Sankranti is considered to be most auspicious for the event, when millions of devotees take a holy bath to cleanse his sins. The mela's religious significance and amalgamation of diverse culture attracts tourists from around the world.
Devotees arrive at least a week ahead of the fair. Make sure you make bookings in advance to avoid last-minute hassles. For exclusive Gangasagar Mela packages, contact us on 0888-222-4422 or write to us at info@waytoindia.com.
Gangasagar Mela History  
The history of Gangasagar dates back to the ancient times of Hindu mythology. The Ramayana and the Mahabharata also have mentions about the place.
Legends say that the sacred place of Ganga Sagar is primarily significant because of the Temple of Kapil Muni. He was a great saint and according to myths, an incarnation of Lord Vishnu. It is believed that Kapil Muni played an integral role in bringing the holy Ganga River onto the earth. The story goes like this –
Thousands of years ago, 60,000 sons of King Sagar visited this place in pursuit of their father's sacrificial horse. Devraj Indra had stolen the horse and hidden it beside Kapil Muni's ashram. The king's sons were unknown of the fact and started cursing the saint for stealing their father's horse. This interrupted the rishi's meditation and he was in an immense fury. The blaze of his anger exuded out of his eyes, burning the king's sons and confining their souls to the hell.
After many years, King Sagar's grandson, Bhagirath, urged the saint to liberate the souls from his curse. Kapil Muni instructed him to bring Goddess Ganga to the place and the souls got freedom upon the touch of Her holy water. As per myth, it was the auspicious day of Makar Sankranti when the cursed souls were freed from their pain and sins.
Gangasagar Mela is an ode to the legend, when thousands of pilgrims take a holy dip into the Ganga River to get rid of their sins and attain salvation.
Puja Rituals
The Gangasagar Mela West Bengal signifies bliss, virtue and sanctification. Millions of devotees from across the world gather on the confluence of River Ganga and the Bay of Bengal on the occasion of Makar Sankranti. Since early sunrise, pilgrims take a dip into the sacred water to purify their souls. They worship Lord Surya and perform Tarpan rituals in the names of their ancestors. The striking puja rituals performed by Gangasagar Mela Naga Babas can give you goose bumps.
Devotees also perform Maha Puja and Yagna at Kapil Muni Temple on the day of Makar Sankranti. You will forever cherish the sights & sounds of chanting mantras, exquisite evening aarti and numerous lighted lamps floating across the river at the mela.
Where is Gangasagar Mela Celebrated?
 The pious event of Gangasagar Snan is held every year in Sagardwip, a beautiful island in the Kakdwip subdivision of South 24 Parganas, West Bengal.

Ganga Sagar Mela 2019
Gangasagar Mela 2019 celebration will be held from 13th – 15th January, 2019.
Gangasagar How to Reach?
Sagardwip, or the Sagar Island, is well-connected to Kolkata via train, ferry and roadways. One can board a flight or train from any city to reach Kolkata and then travel by train, bus or hired car service to reach Ganga Sagar.
Kolkata to Gangasagar By Train
Sealdah Junction in Kolkata, West Bengal, is the nearest railway hub with an approximate distance of 106 km. There are direct local trains from Sealdah to Namkhana (104 km) and Kakdwip (92 km). The trains are Sealdah Namkhana Local (34792), Sealdah Kakdwip Local (34782) and Sealdah Namkhana Galloping Local (34794).
Devotees from anywhere in India can also board a train till Howrah Junction (109 km) and then take a bus or hired taxi to reach Namkhana or Harwood Point for ferry service till Sagardwip.
Kolkata To Gangasagar Distance
By Road
Regular buses ply between Kolkata and Kakdwip, making Ganga Sagar Mela easily accessible via roadways. The buses are available from Esplanade Bus Depot in Kolkata. From Kakdwip, one has to reach Hardwood Point (5 km.) to avail jetty service. One can also hire a private taxi till Kakdwip or Namkhana.
By Ferry
To reach the famous Gangasagar Mela, one has to avail ferry service to cross the Muriganga River to reach Kachuberia Jetty on Sagardwip.
Jetty service is available from Namkhana or Kakdwip (Harwood Point). The frequency of crossing is more in Harwood Point, every half an hour.
Ferry Timings from Harwood Point to Kachuberia – 9.30 a.m., 10.15 a.m., 1.00 p.m., 2.00 p.m., 4.00 p.m., and 8.00 p.m.
Ferry Timings from Namkhana to Kachuberia – 8.45 a.m., 10.45 a.m., 12.30 p.m., 3.15 p.m. and 4.00 pm.
From Kachuberia Jetty, take a local bus or shared taxi to cross the entire strength of Sagardwip (32 km.) to reach Gangasagar Snan.
By Air
Board a domestic or international flight till Netaji Subhash Chandra Bose International Airport in Dumdum, Kolkata.
One can then avail train, roadways and ferry service to reach Sagardwip as mentioned above
You can also reach Gangasagar Mela by a helicopter operated by the government of West Bengal every Sunday
At WaytoIndia, we bring to you the best travel plans to help you reach Ganga Sagar in the most hassle-free & convenient manner. Contact us on 0888-222-4422 or write to us at info@waytoindia.com for our exclusive tour packages.
Gangasagar Hotels
Gangasagar Mela accommodation includes government-provided tents, cottages, Gangasagar hotels and ashrams.
Ganga Sagar Cottage – A.C and Non A.C standard & deluxe rooms at pocket-friendly price. Phone – +91-9650747276/ 8515953176.
Bharat Sevashram Sangha Guest House , Ganga Sagar Kapil Muni Temple & Ganga Sagar Beach Rd, Gangasagar, West Bengal 743606 – Nice accommodation and delicious food for free or donation. Phone – 03210-240 205.
Larica Sagar Tourist Lodge – Budget hotel near Gangasagar Mela with single and double room occupancy. Phone – +91-7478484747.
State Youth Hostel – Double bedroom with attached bath at INR 100/- per day. Phone – +91-033-22653231.
During the Ganga Sagar Mela, the government of West Bengal and other tourism companies set up special Ganga Sagar Camp, wherein tents are built to accommodate millions of pilgrims visiting at this time.
Book your Gangasagar hotel well in advance because during Makar Sankranti, it might be difficult to find a suitable accommodation.
Places to Visit Near Gangasagar Mela
If you plan to extend your tour, here are some places to visit near Gangasagar Mela:
Kapil Muni Temple located at South Sagardwip
Sagar Port and Lighthouse at Beguakhali
Exotic sea beach
Sagar Marine Park at South Sagar Island
Chimaguri Mudflat, the entry point to West Bengal's famous mangrove forest
Sushama Devichowdhurani Marine Biological Research Institute at Bamankhali
Travel Tips
Keep your belongings and money safe amid tremendous rush during the time of Sagar Mela. Your hotel room should be securely locked every time.
Do not forget to carry a mosquito net and snake repellents. Snake mortality rate is high in Sagardwip and having a repellent can protect you. Using a mosquito net is ideal to keep away both mosquitoes and snake.
Carry few warm clothes as the month of January may be chilly at Sagar Island.
Carry emergency lights or electric torches as power supply is not stable in the island.
Do not litter the Ganga Sagar and the island to avoid stringent government penalties.
At WaytoIndia, we strive to make every journey most comfortable & memorable for you. To book Gangasagar tour, contact us on 0888-222-4422 or write to us at info@waytoindia.com. We will get back to you soon with a complete itinerary based on your travel needs and budget.