Holi, the Festival of Colours, is one of the most popular occasions in India and is celebrated every year on the full moon day in the month of Phalguna (February to March).
However, the festival of Holi gets a distinct charm when celebrated in Vrindavan, the land of Lord Krishna. Vrindavan, the City of Temples, is a beautiful city located on the banks of River Yamuna and is a major place of pilgrimage in Uttar Pradesh, India. The place where Lord Krishna grew up in his childhood, Vrindavan is renowned for the festival of Holi and attracts about 500,000 pilgrims every year. The occasion is celebrated with immense zeal and fervour, reliving the glorious legends associated with Radha and Krishna.
For a memorable Holi experience, embark on a journey to Vrindavan, breathe in the sacred air of festivity and get drenched in the feeling of romance and love. The colours of Holi add a blissful facade on it.
Holi in Vrindavan, Nandgaon and Barsana
The Legend
The tradition of Holi in Vrindavan is steeped in the legends of Radha and Krishna. It is believed that Lord Krishna, when young, was jealous of Radha because of her fair complexion and narrated his woe to mother Yashoda. His mother teasingly asked Krishna to colour Radha's face in whichever colour he wished. On one day, in the mood of mischief, Krishna coloured Radha and her friends gopis with gulal. Since then, the tradition is being religiously followed in the city and is celebrated with fun, frolic and passion.
Celebrating Holi in Vrindavan

One of the most popular things to do in Holi in Vrindavan is to visit the Banke-Bihari Temple where the Festival of Colours is celebrated for one week, attracting tourists from around the world. During the festivity, the idol of Bihariji (another name of Lord Krishan to which the temple is dedicated) is adorned in white coloured clothes and is brought closer to the devotees to let them play Holi. Vrindavan Holi is played with water & gulal, a form of natural colour made using organic substances like flowers and Kesar. Playing Holi with flowers is also popular here.
The priests of the temple or the Goswamis sprinkle colours on the visitors. The atmosphere is made even more fun and lively with bhajans (devotional songs dedicated to Lord Krishna) in the background as people dance to the tune and get drenched in the colours of love, brotherhood and happiness. The blissful concoction of myriad colours, sounds and effervescence make Vrindavan's Banke-Bihari Temple one of the best places to visit in India during Holi.
Another charming place to celebrate Holi in Vrindavan is Gulal Kund in Braj. It is a picturesque little lake near Govardhan Mountain where the legendary festival is celebrated on a regular basis. Local boys from Krishna Leela drama troupe enact the scenes of Holi to the pilgrims throughout the year. During the festival, people gather here to apply colours on one another and have fun, irrespective of caste, creed and religion.     
Visit Barsana and Nandagaon during Holi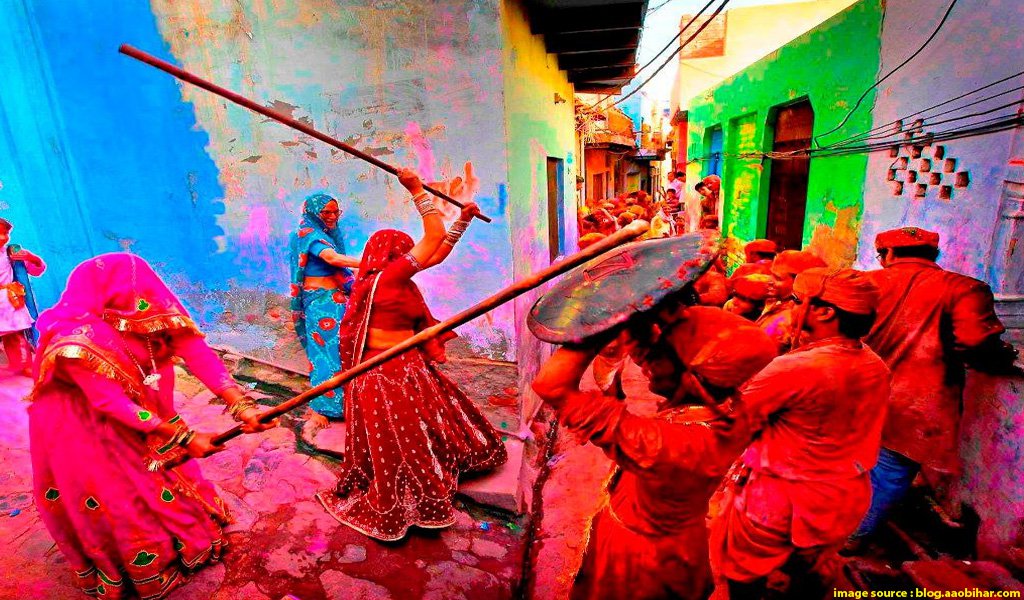 Being in Vrindavan during Holi, you simply cannot miss visiting Barsana and Nandagaon – two most popular places near Vrindavan, famous for their Lathmar Holi celebration. It is believed that young Krishna once cribbed to his mother, Yashoda, about Radha's fair complexion and he being dark. Yashoda teasingly suggested Krishna to colour Radha in a playful manner. So one day, little Krishna went to Barsana (Radha's village) from Nandagaon (where Krishan grew up) and coloured Radha and her friends.  Radha and her gopis took offense and chased Krishna and his friends with lathis or sticks. From thee evolved the festival of Lathmar Holi. During the festivity, men from Nandagaon come to Barsana to apply colours and women beat them playfully with sticks. Men come equipped with shields of protection.
Lathmar Holi is celebrated in the sprawling expanse of the Radha-Rani or Ladli Temple in Barsana. In this high-spirited battle of colours & sticks, men try their best not to succumb to the hands of Barsana's women. Those who get captured are given a good thrashing by the women and are also forced to wear female clothing and dance in public – all in the spirit of Festival of Colours! The next day, men from Barsana visit Nandagaon to colour the women with Kesudo (an orange coloured flower that leaves its colour in water), water and Palaash.
Thandai – A Special Drink to Savour in Holi

Holi in Vrindavan remains incomplete without Thandai, a special Holi drink which is made intoxicating by adding Bhaang or cannabis. Bhaang has different effects on people and watching them in feat of ecstasy or misery is a delight. You must try Thandai, with or without Bhaang, as it adds to the glory of Holi celebration. The coloured air, sounds of bhajans lauding Lord Krishna & Radha and unprecedented fun makes Holi an unforgettable experience in Vrindavan.
Places to Visit in Vrindavan

As you indulge into the colours and charisma of Holi, make sure that you visit some of the top places to visit in Vrindavan to take back home memories of a lifetime.   
Madan Mohan Temple – The oldest temple in Vrindavan, it is located on the banks of River Yamuna and dedicated to Lord Madan Mohan, another name of Lord Krishna.
Banke-Bihari Temple – One of the most popular & famous temples in India dedicated to Lord Krishna.
Govinda Dev Temple – A majestic seven storied temple with an altar of gold, silver and marble. The key attraction is a beautifully sculpted lotus flower adorning the main hall ceiling.
Radharamana Temple – Another popular temple of Gopala Bhatta Goswami.
Radha Damodara Temple – It is one of the most important temples in Vrindavan where the original deity was hand-carved by Rupa Goswami.
Nearby Places to Visit

Some of the best Vrindavan nearby places to visit are Mathura, Govardhan, Radhakund, Barsana, Gokul, Nandagaon, Bharatpur, Fatehpur Sikri and Agra.
How to Reach
By Air: The nearest airport is Agra (55 km.) that has regular flights to and from other cities like Delhi, Varanasi, Mumbai and Khajuraho. Delhi is the nearest international airport, connected to almost all major cities across the world.
By Rail: Vrindavan has a railway station but Mathura is a major rail head that connects it to Delhi-Chennai and Delhi-Mumbai main line.
By Road: Vrindavan can be reached via the direct road that links Delhi to Agra. Buses and car rentals are available to reach the city from Delhi and Agra.
Where to Stay in Vrindavan
Being a popular pilgrim centre, there are many hotels in Vrindavan, offering budget to luxury accommodation. Deyor Gold Star Atalla Chungi, FabHotel ISKCON Temple, Hare Krishna Orchid and Bhaktidhama are some good hotels in Vrindavan. Make sure that you book your hotel well in advance because all accommodation remains fully booked during Holi.
Experience the enigmatic charm of Vrindavan with WaytoIndia, offering you delightful travel packages to discover the Festival of Colours at its best. We offer customised travel solutions to deliver the best experience as per your needs, taste and budget. Travelling in a group? We also provide special guided tours for groups, ensuring the most comfortable journey.
You may book your Agra Mathura Vrindavan Tour From Delhi by sending us an enquiry on info@waytoindia.com.