Our blog on Places To Visit in Leh Ladakh takes you through the land of lama sand shares with you the best places to visit in Ladakh which you must keep in mind while planning your Ladakh Tour Package.
Ladakh in Jammu & Kashmir holds the calibre to beat even the world's best tourist destinations, let alone the ordinary ones.
Unusual landscapes that change at every footstep, extravagant Buddhist monasteries, gripping cultural delights and activities ranging from trekking and rafting adventures to colorful Tibetan festivals and driving through high-altitude mountain passes are the spectacles you don't experience everywhere.
Plan a life-changing tour to the region and do include the following Leh Ladakh best places to visit in your itinerary.
Places To Visit In Leh Ladakh
Read below the 8 Best Places To Visit in Ladakh and we assure you that your trip to the land of Lamas shall be one of the most memorable journeys that you ever had.
#1 Leh Palace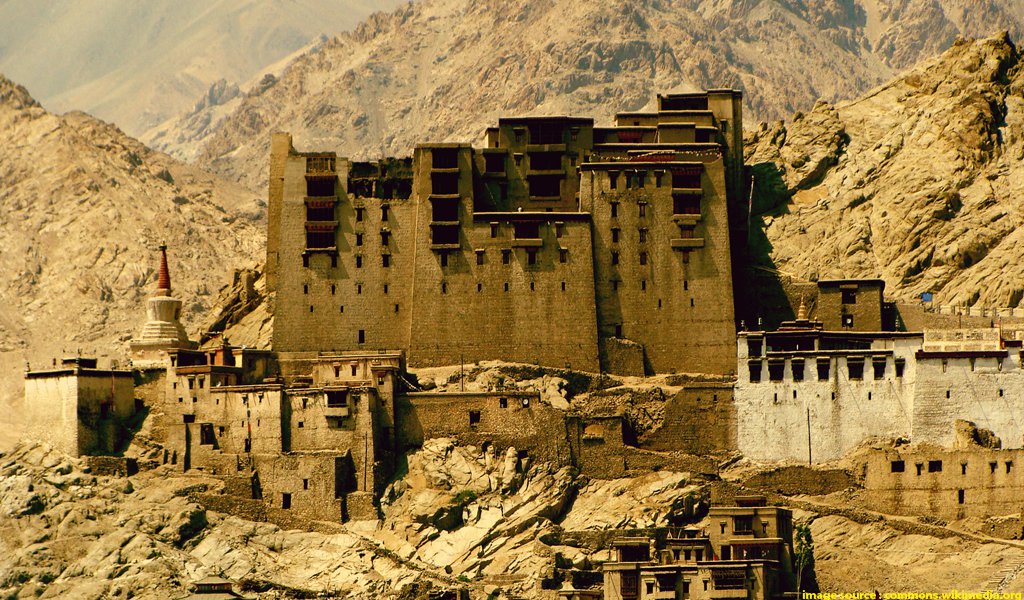 The iconic architectural wonder seems to guard the beautiful town of Leh from a hilltop.
Climb to the rooftops to witness the commanding views of towering snow-laden mountains and river valleys.
With hanging wooden balconies, magnificent mural paintings and royal collections of crowns, jewelry and costumes, the 17th-century Tibetan-style palace is indeed a good start to Ladakh holidays and definately one of the best places to visit in Leh Ladakh.
Important facts to know about Leh Palace:
The palace opens from 07:00 a.m. to 04:00 p.m.
Entry fee is INR 15/100 for Indians/foreigners.
It is accessible via vehicles through the steep climb of about 15-20 min. is a much better option.
#2 Khardungla

At the thrilling altitude of 5,359 m., Khardungla enjoys the reputation as one of the world's highest mountain passes (sometimes designated as the highest in the world).
Winding roads unveil spectacular mountain landscapes while the fluttering prayer flags lend multiple hues to the scene. Mountain biking through the pass is something you would remember till the last breath.
Important things to know about Khardungla:
There are specific timings for traffic to (09:00 a.m. to 01:00 p.m.) and from (01:00 p.m. to 05:00 p.m.) the pass.
High-altitude sickness and unpredictable weather conditions are common.
Inner Line Permit must be obtained.
Carry enough food and water.
#3  Zanskar

Leave the chaotic world behind as you traverse through the gigantic and handsomely rugged Zanskar Range exploring a secluded world of magnificent terrains.
Trek on the frozen Zanskar River (known as Chadar Trek) or indulge in exhilarating rafting when the river melts.
Zanskar Valley is full of surprises like the honeycomb-imitating Phugtal Monastery, authentic traditions and villages with ever-smiling faces.All this is reason enough for us to mark Zanskar as one of the best places to visit in Leh Ladakh.
Must know facts about Zanskar:
Due to heavy snowfall, the place is accessible only from June-September (until you wish to attempt Chadar Trek).
Expect extremely time-consuming road trips, while certain areas are accessible only on foot.
Prefer to hire an SUV.
Homestays are the best accommodations.
#4 Pangong Tso

Undoubtedly among the top places to visit in Leh Ladakh, Pangong Tso is the 'enchanted lake' with dramatic mountain backdrops, clear blue skies and peaceful ambience filling the entire canvas.
Be there to enjoy the feasts of breathtaking sunrise and sunset views and moonlit nights if you decide to night-camp at its shores.
Bird-watchers get to explore the likes of Brahmini ducks, black-necked Siberian cranes and bar-headed goose.
Important Thing to Know About Pangong Tso:
Foreigners must obtain group permits and accompany an authorized guide to visit the lake.
Tents are the only accommodations and eating options are limited.
Get the fuel tanks filled at Leh itself and carry additional fuel along.
Pagal Nala (Mad Stream) on the way must be crossed before 12 noon.
One has to cross Changla on the way to Pangong.Stopover at Changla for a photo opportunity.However, do not overstay as owing to high altitude, there may be problems.
#5 Buddhist Monasteries near Leh

The town of Leh is the gateway to some outstanding Buddhist monasteries that standing on rugged hillocks overlook the majesty of Ladakh's enthralling landscapes.
The largest of them is Hemis Monastery, known for its Tsechu festive celebrations while Shey Monastery hosts the colossal gold-plated Buddha statue.
A similar statue of Future Buddha can be found at Thiksey Gompa and the mesmerizing colorful wood cravings of Likir Monastery are simply unmatchable. Inimitable murals and Buddhist artifacts are other highlights of most of them.
What to know: Dress up modestly at these religious places. Know about the festive celebration schedules at each of these monasteries in advance and make sure to attend at least one of them.       
#6 Nubra

Popular as the Valley of Flowers, Nubra has patches of greenery and picturesque orchards on one hand and white sand dunes on the other. And if you visit this astounding valley in winters, be ready to walk on a moon-like landscape.
One of the best places to visit in Leh Ladakh, it promises once-in-a-lifetime opportunity to ride Bactrian (double-hump) camels.
Another captivating feature of the place is the hot springs at Panamik with curative qualities.
Facts to know about Nubra:
Permits are required to visit the valley.
Fuel stations are rare and it is better to carry petrol/diesel along.
Prefer BSNL mobile connections.
There are no ATMs.
Diskit Village offers the best accommodations.
You must enjoy a ride of the double-humped camel at Nubra.
#7 Hemis National Park

Snow leopard roams here fearlessly and are a visual treat to the eyes.
Hemis High Altitude National Park is home to other exotic Himalayan species like Tibetan wolf, red fox, Himalayan marmot, Asiatic ibex and Eurasian brown bear.
Bird-watching is another activity as the park is home to accentors, warblers, serins, snow finch, choughs, snowcocks and more.
What to know: The best time to visit the park is between May and September. Trekking is the best way to explore it. Entry fee is INR 20/100 for Indians/foreigners.
#8 Magnetic Hill

You would wish you knew about this place when your physics teacher talked about the laws of gravity.
Magnetic Hill in Ladakh dares to defy the laws as it showcases the power to attract vehicles (even when not in ignition) uphill.
No wonder that the aeroplanes flying in the region are enforced to escalate to higher altitudes. Definitely, a wonderful memory to take back home and among the top places to visit in Leh Ladakh!
What to know:
Locate a white box painted on the road towards the hill where you must park the vehicle, put the ignition off and get ready for the fun ride.
Excited to visit each of these places and other hotspots of Ladakh in a single tour? Choose among the best Leh Ladakh tour packages at http://www.waytoindia.com/leh-ladakh-tours.