As dawn breaks, the sun crawls over the horizon to spread its arms across the glimmering, ochre sand dunes of Pushkar, a tiny town in Rajasthan. Pushkar, situated 14 km northwest of Ajmer on the edge of the Thar desert, is a quaint, tranquil town, known for its unparalleled religious fervour, holding in its sacred territory over 400 temples and 52 Ghats. Pushkar also harbours 'the only Brahma temple in the world' and of course, is the sight of the famed Pushkar Camel Fair.
 Pushkar Camel Fair
Apropos Pushkar Fair: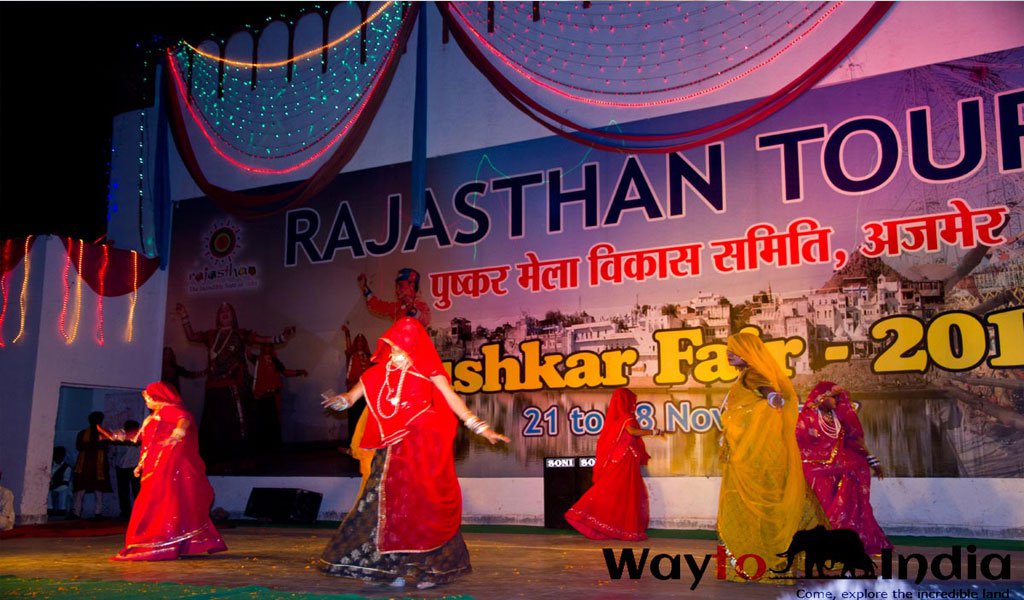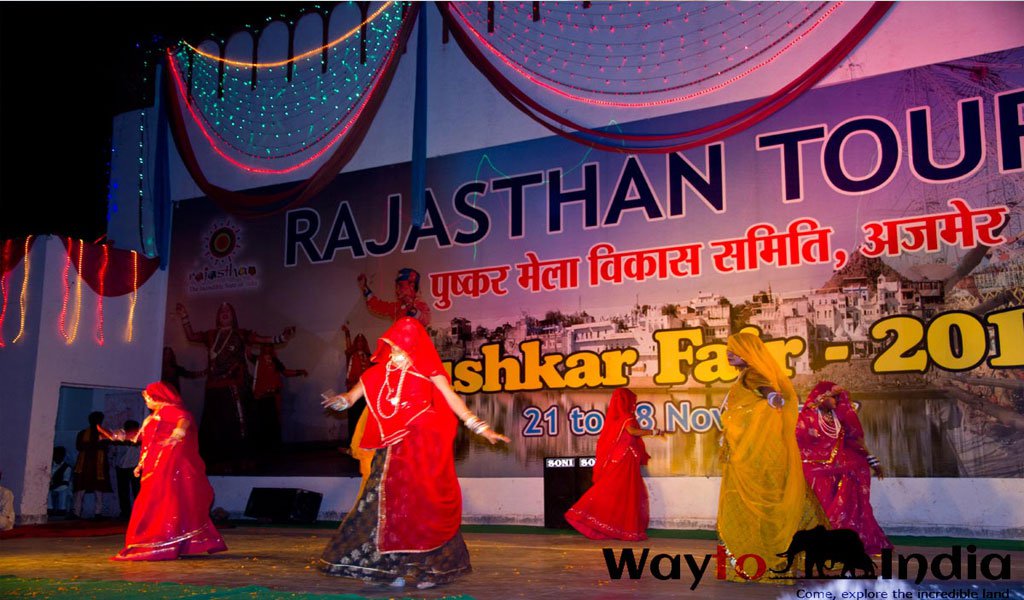 As the fair approaches, Pushkar 's general air transforms into a lively, loud, festive one.
The Pushkar Camel Fair is so magnificent because it coincides with the celebration of the Hindu festival of Kartik Purnima.
The famous fair is held usually in November, in the Holy month of Kartik (according to the Hindu lunar calendar) in the five days between Kartik Ekadashi and Kartik Purnima.
The dates for Pushkar Camel Fair 2018 are from 15th November 2018 to 23rd November 2018.The dates for Pushkar Camel Fair 2019 are from 4th November 2019 to 12th November 2019.The dates for Pushkar Camel Fair 2020 are from 22nd November 2019 to 30th November 2019.
Ideal Time to visit Pushkar: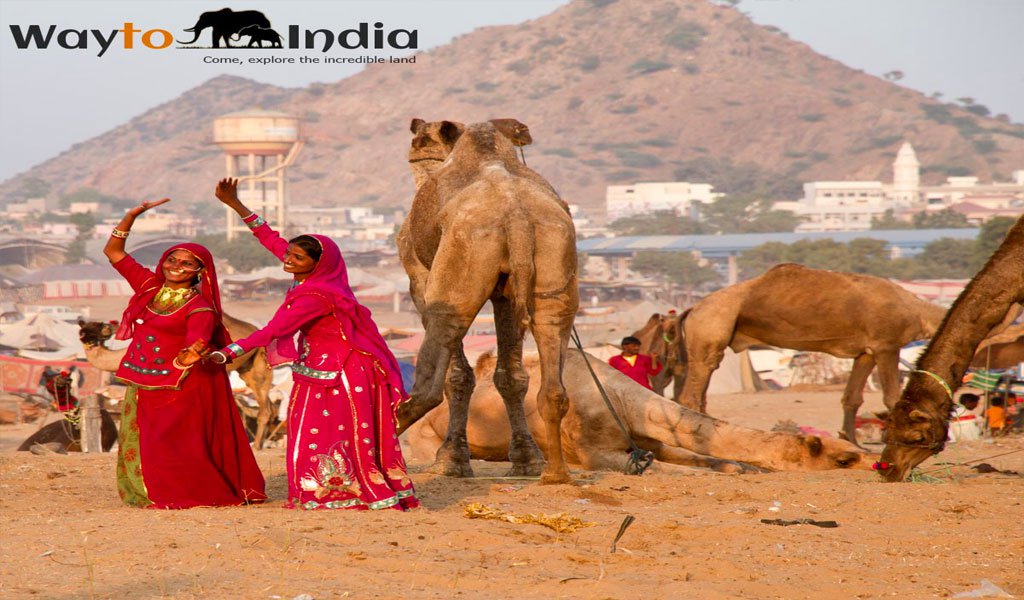 The perfect season for truly appreciating what Pushkar has to offer is November-March, the "on-season" for Pushkar.
This time of the year is seen as the winter season in Pushkar with temperatures dropping to a pleasant 15-18 degrees Celsius (i.e. 59-64 degrees Fahrenheit).
Pushkar is most busy at this time because of increased festivities and delightful weather. There is also an influx of pilgrims because of the Kartik Purnima.
Arriving at Pushkar: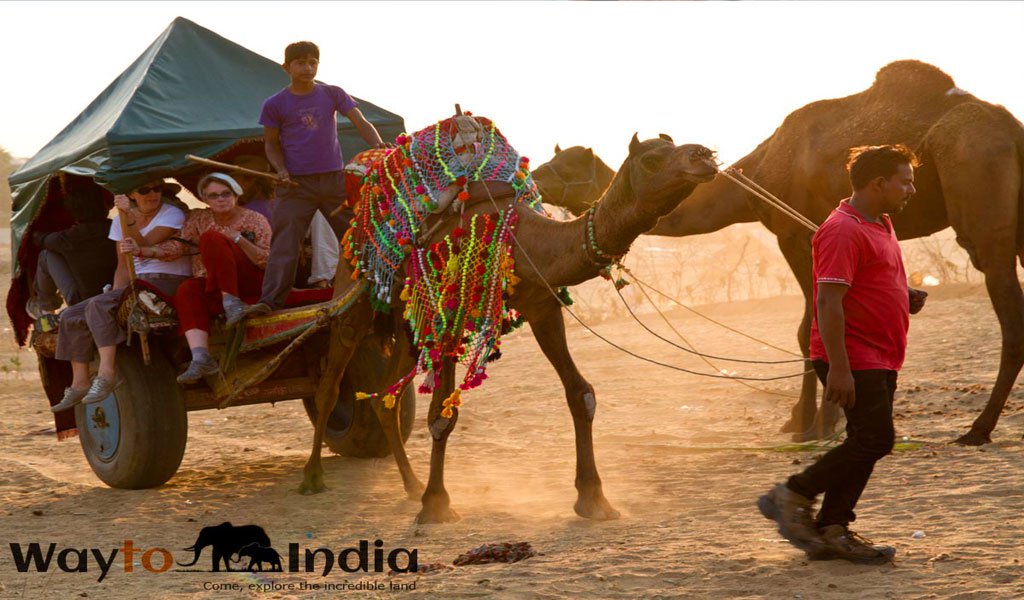 By Air: The closest airport to Pushkar is Sanganer, which is located 146 km away from Pushkar. Sanganer airport connects Pushkar to national as well as international flights.
By Rail: Ajmer Junction Railway Station is located at a distance of just 11km from Pushkar. Being a major city in itself, Ajmer is well-connected to other cities of Rajasthan and India. The most sought-after and comfortable train options are Pink City Express and Shatabdi Express.
By Road: The Marwar bus-stand in the north of Pushkar and the Ajmer bus-stand (11km away) to the east of Pushkar are well-linked to major cities and areas such as Jodhpur, Jaipur, Bikaner, Jaisalmer, Bhilwara, Nagaur, Chittorgarh, Nimbahera, Kota, Delhi and Gurgaon. Regular buses ply from Pushkar to Ajmer, Jaipur, Indore and Nagda every 15 minutes.
Stay at Pushkar: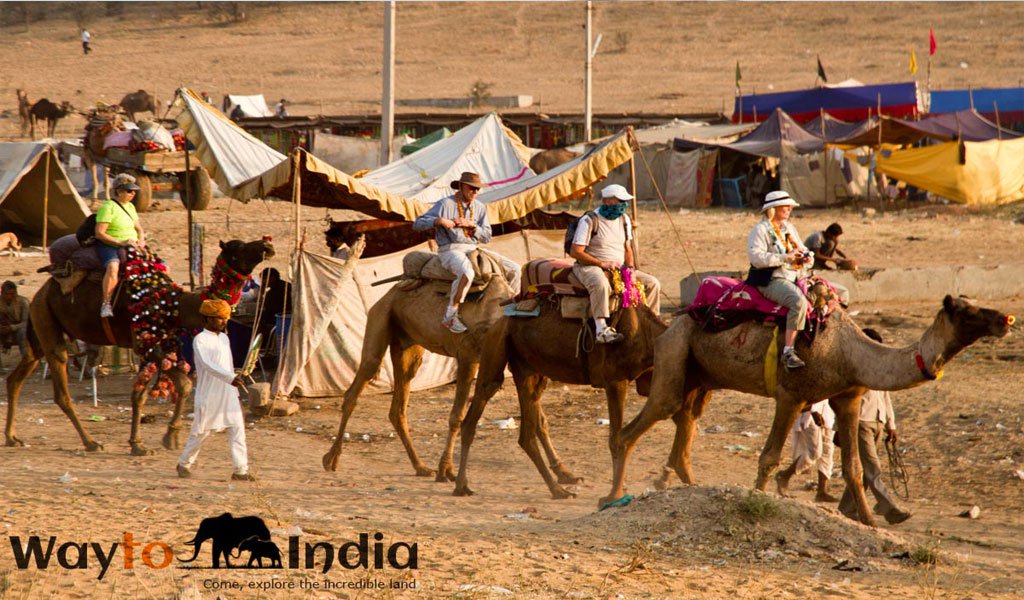 If you are planning to visit Pushkar during the Camel Fair, it is highly advised to book accommodation well in advance as hotel/inn prices can hike up to 10 times more than the average price.
Luxury tent services are also provided (if you want a taste of living like the tribal folk) with amenities such as running water, comfortable beds, shower, 5-star quality meals and Wi-Fi facilities.
Besides this, there is a range of resorts and hotels in and around Pushkar.
At Pushkar Camel Fair: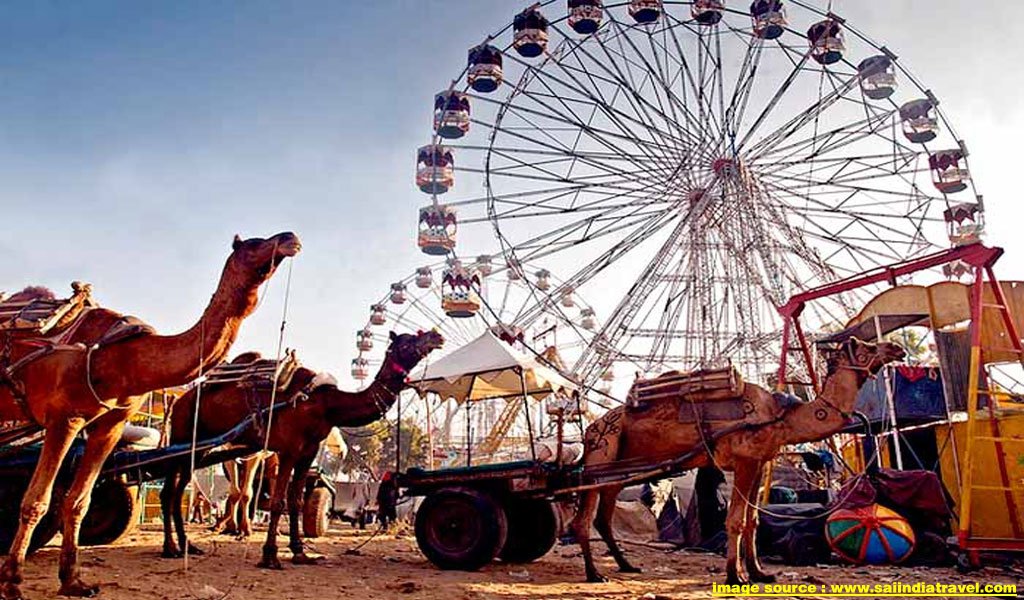 It is deemed the largest camel trade fair in the whole world with over  12,000 camels, cattle, and horses gathered in the dusty town.
More than 200,000 people, including backpackers, pilgrims, tourists, traders and locals converge for this grand celebration. The murmur of voices starts to become a loud pandemonium as traders walk down and begin decorating their camels, loudspeakers announce the various competitions (such as "matka phod", "longest moustache", and "bridal competition") to be held, with the occasional announcement about the lost child.
The dusty air is thick with smells of freshly fried, hot, flaky Kachoris, spicy Pakoras, and rich, wholesome Malpuas, Jalebis and other traditional delicacies that ensnare the senses and the colours of the bright Paisley prints and rustic, chunky jewellery that the local women don, seize the eye.
Trade begins in full-swing and is followed by camel races, "most beautiful camel" competitions and parading camels with heavy weights to gauge their strength and reliability.
Camels are freshly bathed and shorn and adorned in beautiful, dazzling clothes, bells, mirrors and chunky metal ornaments.
Camel preening can take as long as 3 hours as traders try their best to make their camels look spectacular. The pampered and proud camels appear to be glowing from all the attention as they're put up on pedestals. Traders also exchange animal products such as leather whips, saddles.
Camel rides are also provided for visitors. After the day's trade, the weather becomes chilly, typical of a desert, and twilight sets in with stunning orange and pink skies, the air smoky with the vapours and smoulders of the chillums and bonfires in front of every tent (where traders put up during the fair), where men sit and converse while smoking. Women cook rotis over open-fires and a peaceful rhythm of weariness and relaxation calms the senses.
To Amuse You at the Pushkar Fair: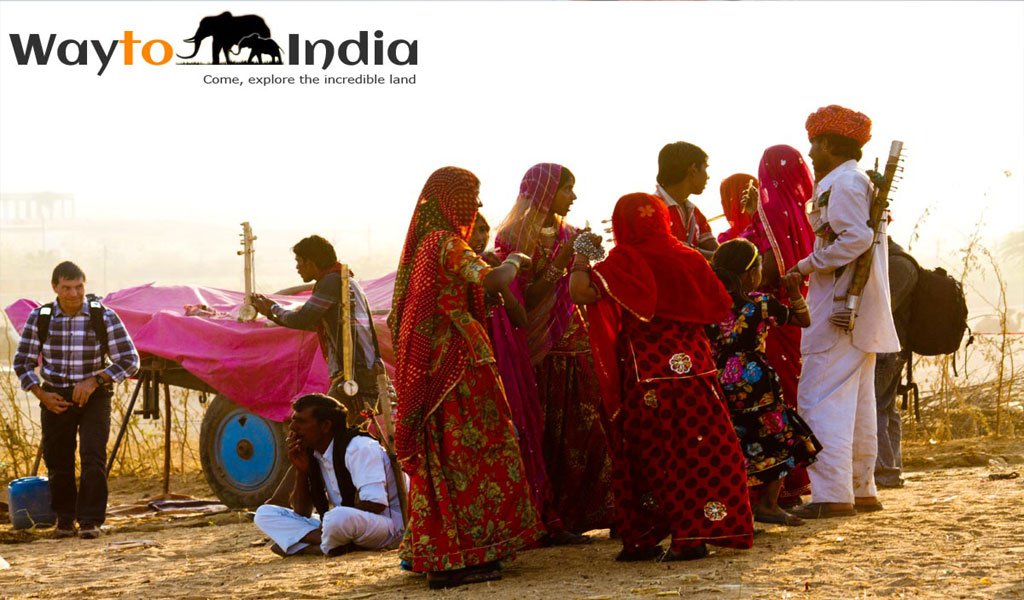 There is something for everyone at this wonderful, picturesque Mela with Ferris Wheel rides, fortune-telling "Amazing Computer", Bollywood songs, folk and tribal dance performances, snake-charmers, carousel rides, traditional food, all kinds of sheep, goats, camels, horses, cows, bulls decked with vibrant clothes and ornaments, Gypsy culture, turban-tying contest, hot-air balloon shows and even Circus and gymnast performances.
The trade fair is a shopper's paradise with diverse arts and crafts bazaars and multitudinous local goods on display.
Also representing the small "Firangi"(foreigner) population belonging to Pushkar are the few cafes like Out of the Blue and Honey Dew, which sell fantastic coffee.
Hot-Air balloon services are also provided to catch a gorgeous, bird-eye view of Pushkar.
Shopping at Pushkar: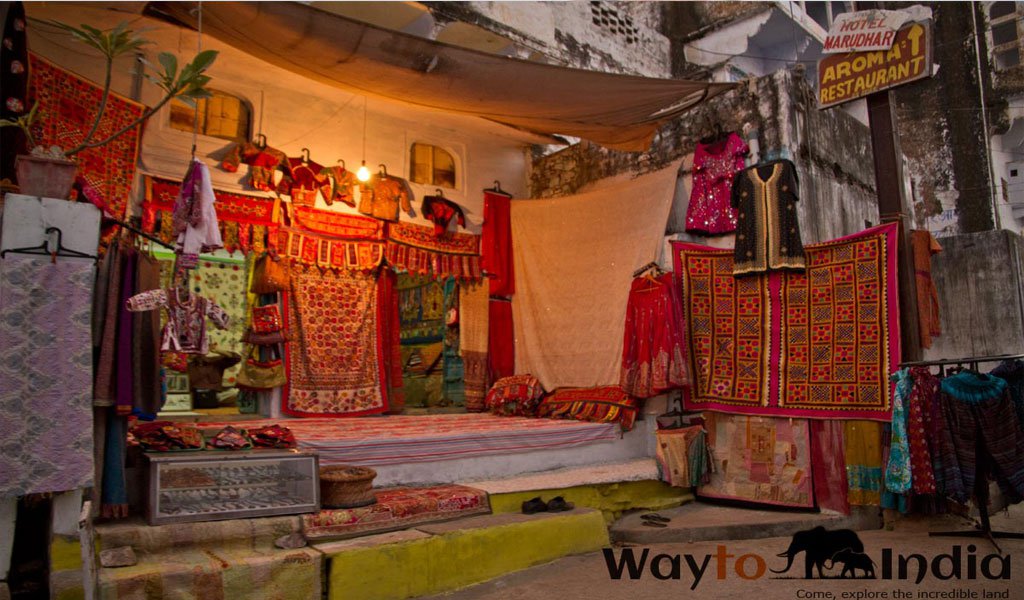 At the fair, the women engage in the trade of bangles, bracelets, earrings, necklaces all made of pure silver or Gold, which have a rustic, antique look typical of Rajasthani jewellery but studded with brilliant, deep-coloured stones.
Traditional, hand-made jewellery and glass-bead necklaces from Nagaur are also sold here. Besides this, there is a wide array of hand-printed textiles, brassware, saddles and halters, brought in from Ajmer and Jodhpur. Rajasthani puppets, pottery, miniature paintings, glass lamps, embroidered fabrics such as wall hangings and shoulder bags, and traditional music are also on sale here.
Barmer district south of Jaisalmer and other tribal areas of Rajasthan supply most of this stock. Other major shopping areas in Pushkar are Sarafa Bazar, Baza Bazar and Kedalganj bazaar.
Haggling is an significant part of the shopping process as sellers are long used to fooling the foreigners with hiked up prices.
Religion and Pushkar: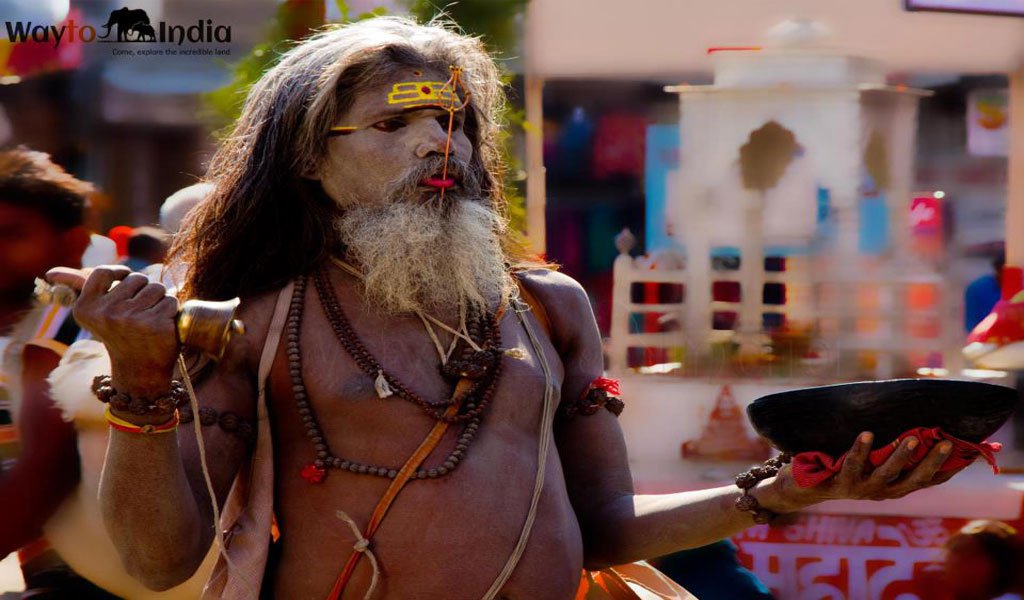 One of the most sacred places, Pushkar is a strictly vegetarian, temple town with a widely Hindu population.
The camel trade ends on the full-moon day(Purnima) as the many pilgrims flock to the serene Pushkar lake for a purifying,
Holy dip in the sacred waters of the Pushkar Lake, where Lord Brahma(Indian God of creation) is said to descend himself on the very same day thus blessing all the pilgrims who will go on to converge at the 14th century Brahma Temple.
Thousands religiously wash themselves while chanting "Asvodiyov Brahma". A dip in Pushkar Lake is said to wash away all sin and cleanse the body and soul alike.
The myth behind this auspicious occasion is that while Brahma was fighting a demon in heaven, a petal from his lotus dropped on to earth and formed the Pushkar Lake. The whole pantheon of 300 million Hindu Gods and Goddesses is said to be present at the lake on this day.
The religious aspect is present throughout with the sight of ash-smeared, dreadlock-sporting Sadhus (Holy men) draped in saffron cloth, and the sounds of bhajans blaring from speakers along with consistent poojas and artis being held side by side by assiduously practicing Hindus while the fragrance of incense and fresh flowers permeates through the air.
The vegetarian town parties hard (without any meat or alcohol) as they offer worship to the Gods and indulge in merry-making. However, the Sadhus do get the occasional high from sipping spiked Bhang drinks.
Other Attractions at Pushkar: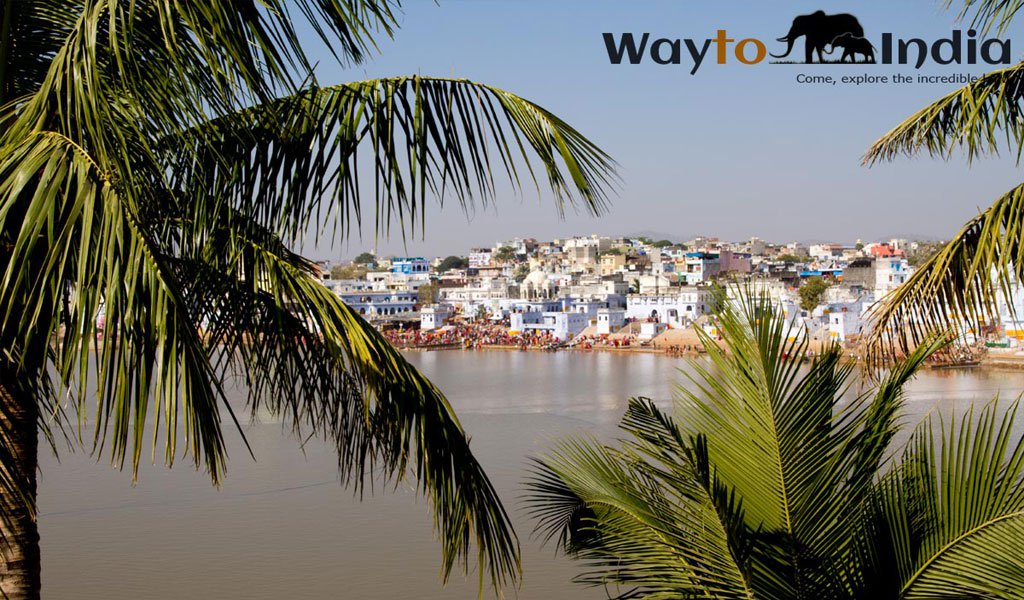 Besides the fair, Pushkar also has to offer "darshan" of Savitri Mandir, Vishnu temple, Panch Kunda Shiva temple, Brahma temple, visits to the Holy Ghats and of course the serene Pushkar Lake.
The ruins of the old city are also something that interests tourists, especially photographers. Pushkar Yoga Garden is also a popular spot; it is a breathtakingly beautiful place with the view of the lake and the surrounding hills, where spiritual energy and positive vibes elevate the senses and Yoga is a way of life.
One can also visit the famous Dargah Sharif in Ajmer, which is about 13.5 km away (roughly 30-40 minutes by road).
As a complete package, it is a perfect place to accommodate the Global Tourist who wishes to capture the real essence of Rajasthan.
The atmosphere of Pushkar is deeply saturated with Rajasthan's culture, religion, society, gastronomy and trade. Overwhelmingly frenzied and motley happenings at the fair accurately reflect India's vast, deep and scintillating spirit, and sundry culture.
Experiencing life alongside distinct West Indian folks and tribes soothes the mind as one observes both the blood-pumping, passionate zeal and the modest, natural, unpretentious and calming simplicity of nomadic life. It is a deep, existential epiphany striking both mind and soul hard, and leaving an indelible mark on the spirit.
The Pushkar Camel Fair holds a lot more than camel trade concealed in its wide wings; a journey among gipsies that allows you to take flight and overlook a land of many charms and colours, that is India.
Book your Pushkar Camel Fair tour by calling us on 8527255991 or writing to us on info@waytoindia.com.