The ancient treasure of Bhimbetka caves and rock shelters is among the world's greatest testimonies for the first traces of Homo sapiens, the modern humans. Sketching the human journey from the Palaeolithic Age to the Medieval Period, these caves host linear representations, geometric figures and paintings, the oldest being more than 30,000 years old. A must-visit attraction on any trip to Bhopal or Madhya Pradesh, Caves paintings at the Bhimbetka Rock Shelters are sure to blow your mind and let you establish connection with your roots.
Bhimbetka Rock Shelters – A Traveller's Guide
A Mystery to be Resolved – While the main caves pose as the dwelling place of Homo sapiens, who migrated to the Indian subcontinent from Africa, few shelters show the existence of Homo erectus who existed 100,000 years ago. Though, the matter is controversial, who knows what's hidden in the hundreds of rock shelters that are yet to be fully explored.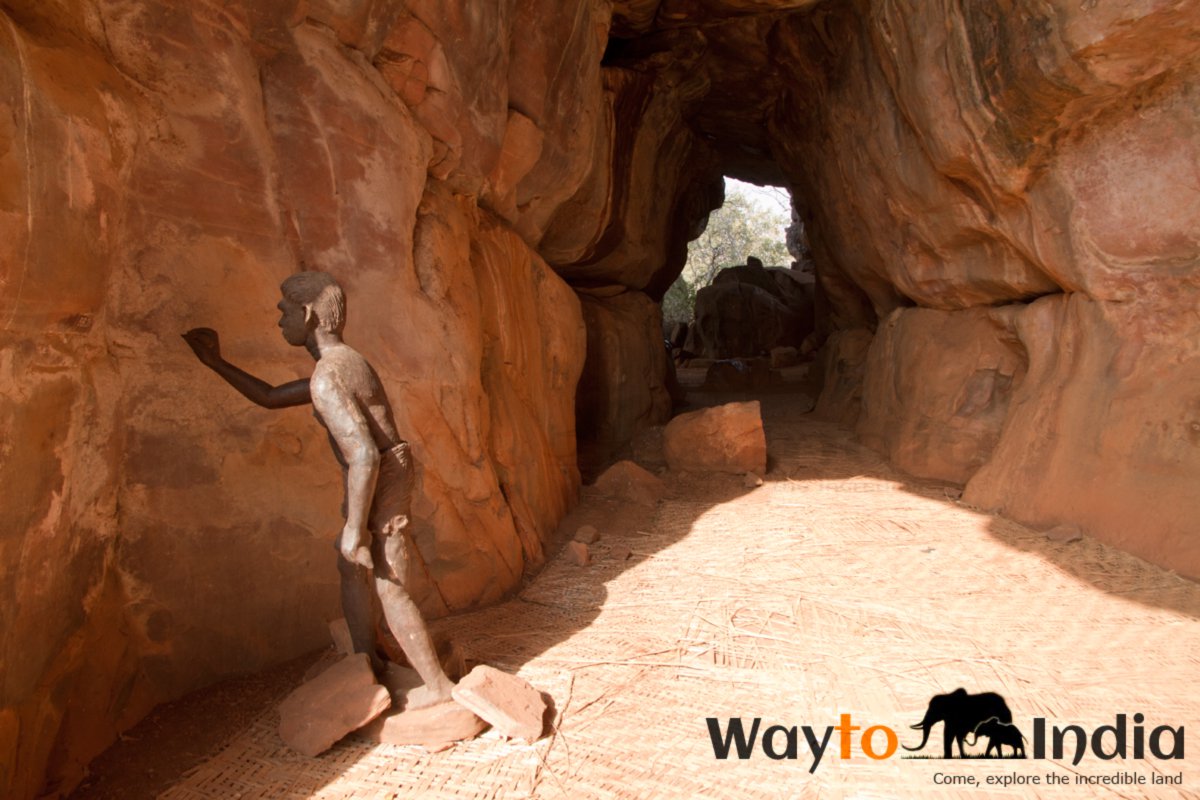 About the Site
Surrounded by dense forests and flaunting a rugged canvas, Bhimbetka Caves of Madhya Pradesh find solace amidst lofty quartzite rocks and craggy cliffs. Far from the modern urbanization, the entire setting seems to retain the overwhelming charm of the Stone Age.

About the Location
Bhimbetka Caves are located in the state of Madhya Pradesh at the southern end of the Vindhyas Range. The exact Bhimbetka Caves location is about 45 km. southeast to Bhopal, the state capital and the nearest city. The rock shelters are a part of the Ratapani Wildlife Sanctuary in the district of Raisen, boasting of lush green flora and rich fauna.

Main Attractions
The region claims more than 700 rock shelters, of which more than 400 are spread over 5 hills of Bineka, Bhonrawali, Bhimbetka, Lakha Juar East and Lakha Juar West (remaining 300 caves are at Munibaba ki Pahari, located in the sanctuary's buffer zone). Bhimbetka Group has 243 shelters, out of which 15 are open for public viewing.

Bhimbetka rock shelters are mainly famous for depicting the man's experimentation with creativity during different periods, including Upper Palaeolithic, Mesolithic, Chalcolithic, Early Historic and Medieval. The notable highlights of the main rock shelters include:
Rock Shelter 1: Silhouetted paintings of two elephants (the first one rode by a man carrying goad, spear and sword) and drawings of a horseman and a soldier.
Rock Shelter 3 (Auditorium Cave): Paintings of bulls, buffaloes, deer, tiger, peacock and an unfinished basket, along with the handprint of a child and line drawings representing humans and animals. Another highlight is the array of cupules on the rock surface.
Rock Shelter 4 (Zoo Rock): More than 250 animals from 16 different species depicted lend the cave its nickname. Scenes of royal processions, warriors and decorative designs are also visible.
Rock Shelter 6: Dancing figures of men and women.
Rock Shelter 7: Swordsmen and horse riders.
Rock Shelter 9: Paintings of a horse, an elephant and flower pots and buds in yellow.
Rock Shelter 10: A God-figure, believed to be that of Nataraja, a form of Lord Shiva.
Rock Shelter 11: Hunting scenes
Rock Shelter 15 (Boar Rock): Depiction of an unbelievably huge boar chasing humans.

Interesting Facts and Highlights:
Use of white and red colours, along with the hints of yellow, ochre and green.
Colours used for the paintings were prepared from manganese, hematite, red stone and wooden coal. Vegetable colours, leaf extracts and animal fat was also used.
Plant fibre was used for the painting brushes.
Rock Shelters at Bhimbetka hold connection with Bhima, the second of the five Pandavas from the great epic Mahabharata. The name literally translates to the sitting place of Bhima (Bhima's baithak).
Recorded as a Buddhist Site in the 19th century Archaeological Records of India, the place attained limelight as Bhimbetka Caves discovered by Dr. Vishnu Sridhar Wakankar and his team of archaeologists in 1957-58.
UNESCO designated it the status of World Heritage Site, bringing it on the international map as the Rock Shelters of Bhimbetka.


How to Reach Bhimbetka Caves?
Road: NH 12 which connects Bhopal with the city of Hoshangabad offers convenient access to the caves. Public transport buses run daily, but the journey is extremely tiring and time-consuming mainly due to the poor road condition. Accessing Bhimbetka Caves by private taxis is the best option.
Rail: Bhopal Railway Station is the closest rail access point. Taxis as well as bike rides (offered by the local residents) provide the further connection.
Air: Bhopal Airport (Raja Bhoj Airport) offers excellent air connectivity with the cities like Delhi and Mumbai.
Useful Tips for Visitors
Best Time: October-March (pleasant weather)
Entry Fee: INR 10 (Indians) INR 100(foreigners)
Vehicle Fee: INR 50 (Indians) INR 200 (foreigners) for light motor vehicles and INR 100 (Indians) INR 400 (foreigners) for mini buses.
Walking Distance: About 1.5 km. (about 2-3 hours) to explore all the 15 caves.
Timings: 06:30 a.m. to 05:30 p.m.
Weekly Holiday: None
Nearby Restaurant: A small restaurant at the T-point, about 4 km. before the site. Also sells packaged drinking water.
Nearby Accommodation: A government run guest house at the T-point. Prefer to stay at Bhopal.
What to Carry: Caps, hats, sunscreens and other sun protection items as it tends to get very hot. Water bottle and few snacks. Don't forget a camera to capture the timeless glory of paintings at Bhimbetka Rock Shelters Madhya Pradesh.
 If you wish to visit Bhimbetka , Waytoindia organizes tour packages to Bhimbetka Rock Shelters.For more details visit http://www.waytoindia.com/bhopal-sanchi-bhimbetka-tour-package