If you are planning a visit to Rajasthan, our blog on things to do in Udaipur shall be very useful for you.Imperial glory and romantic charm get redefined at Udaipur, the city which takes a break from the desert profile of Rajasthan and boasts of extravagant natural and man-made landscapes.
While Aravalli Hills surround the city as loyal guards, splendid lakes confer the ultimate exquisiteness over this historical Mewar capital. And then there are the architecturally affluent structures and a host of activities which keep the visitors entertained.
If you are planning a tour and preparing a list of things to do in Udaipur, give special preference to the following options.
Things To Do In Udaipur
1.Boat Cruise in Udaipur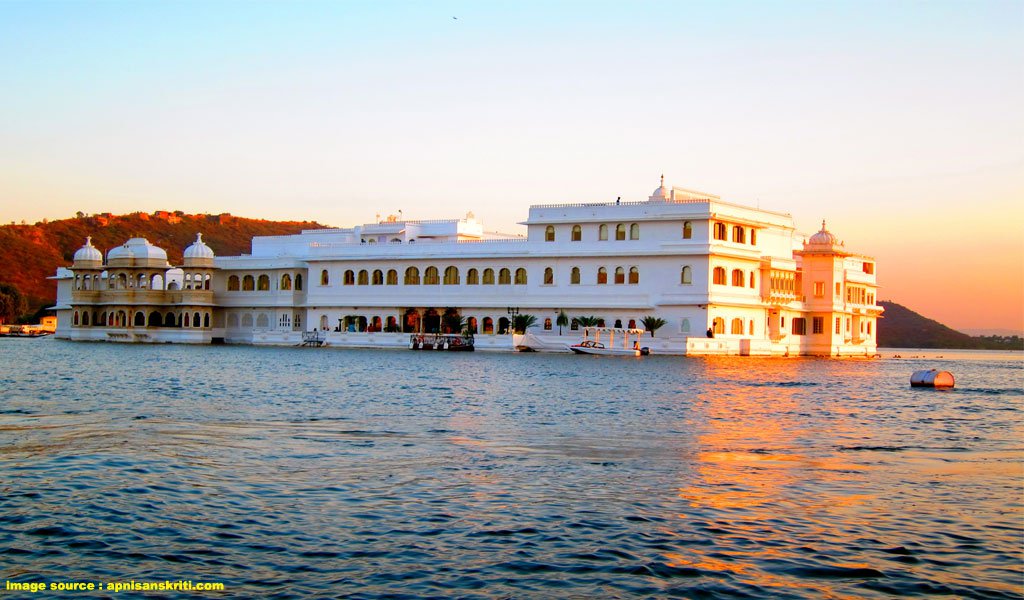 Proudly hosting the resplendent City Palace at the shores and picturesque islands in the middle, Lake Pichola lends a romantic ambience to Udaipur.
To experience it at its best, opt for a sunset boat cruise and you would be enchanted for the entire life.
When the sun prepares to take refuge behind the rugged Aravalli Hills, the entire panorama glimmers in the evening hues and the centuries-old palaces, temples and mansions bathe in gold.
You would probably designate it as one of the most romantic things to do in Udaipur.
Tips: Sunset boat ride costs INR 650 (for adults) and INR 350 (for children) while regular boat ride costs INR 400 (for adults) and INR 200 (for children).
Special Travel Tip On Boat Riding At Udaipur: Go to Doodh Talai at about 4 pm.First, enjoy a boat ride at Lake Pichola.Later, take a trolley ride to Karni Mata Temple from where you would be able to get stunning views of Sunset beyond Lake Pichola.
2. Watch Sunset from Sajjangarh

Sitting atop a hill and accessible via steep winding roads, the Monsoon Palace of Sajjangarh is the incredible crown of the city.
Offering remarkable views of the entire region, the palace has attained limelight for being a marvellous sunset viewpoint.
If you plan an extended trip to the palace, pay a visit to the Sajjangarh Wildlife Sanctuary which is a safe haven for the animals like sambars, chitals, wild boars and jackals and a variety of birds.
Tips: Taxis and auto-rickshaws (costing around INR 200 for the round trip) are available from the main city to Sajjangarh. The palace is open from 09:00 a.m. to 06:00 p.m. Entry costs INR 10 for Indians and INR 80 for foreigners.
3. Enjoy Puppet Show at Bhartiya Lok Kala Mandir

Tourists visiting Udaipur unfailingly include puppet shows among the top 10 things to do in Udaipur.
Why not? Promising a glimpse into the entertaining Rajasthani culture, the extremely engaging show at the Bhartiya Lok Kala Mandir leaves the spectators spellbound, amused and refreshed.
It is also a great opportunity to admire the cultural exhibits from across India at the museum premises.
Tips: The museum opens from 09:00 a.m. to 06:00 p.m. each day. Entry fee is INR 20 for Indians and INR 35 for foreigners. Camera fee is INR 20 for still and INR 50 for video. Additional INR 30 must be paid to watch the puppet show.
4. Savour Ayurvedic Massage

If you feel deprived of quality massages at the expensive salons and parlours around the world, Udaipur is the perfect place to enjoy it at a fraction of the cost.
The whole city hosts Ayurvedic centres and parlours where the head, back and full body massage would let you have the absolute soothing experiences.
In addition, there is no dearth of spa packages with attractive price tags you would be tempted to take.
Tips: If you stay at a hotel like Udaigarh Palace or Labh Garh Resort, you can access these facilities within the premises. Head or back massage (for 15 min.) costs around INR 250 while full body massage (for 45 min.) costs around INR 750.
5. Ride the Dudh Talai Ropeway

Rising from the spectacular rock garden and fountain garden of Dudh Talai, the ropeway gondolas promise breathtaking views of the sceneries adorned with hills, lakes, lake islands and shore palaces.
On the top, there is a beautiful temple dedicated to Mansapurna Karni Mata and a must-visit spot for sunset views.
Don't forget to carry cameras to capture some extremely fascinating sights.
Tips: Timings are from 09:00 a.m. to 09:00 p.m. Prefer an evening ride to view the entire panorama filled with colourful lights. Costs include INR 78 for adults and INR 39 for children.
6. Horseback the Invigorating Trails

When you are in Udaipur, don't leave the city without riding the horses the royal style, especially when you have the opportunity to ride the top breed Marwari horses.
The horse riding trails lead you through forests and farms, hills and countryside and traditional villages.
Unspoiled sceneries comprising of lakes and ranches are a perfect break from the chaotic city life. You may also prefer to spend nights in Swiss tents at some of the popular ranches.
Tips: Horse backing tours range from 2.5 hr. to full day as well as multiple days with camping, hiking and other facilities.
One may also take horse riding lessons.
One of these things to do in Udaipur would add a new dimension to your holiday.
You can visit Udaipur & Mount Abu by booking a Udaipur Tour Package.For more information visit https://www.waytoindia.com/udaipur-and-mount-abu-tour-package
You may also enjoy a visit to the heritage cities of Delhi, Agra & Jaipur(together famously called as the Golden Triangle of India) with Udaipur.For details about this tour visit the link https://www.waytoindia.com/golden-triangle-tour-with-udaipur.