We take you through a tour of 10 most colourful bazaars in India which are best known to lighten up your mood and to give you a feel of 'Vibrant India'.India is a trendy place for shopping and so are its bazaars , a common name for the local markets and street side shopping locations.
Despite the buzz in online shopping, Indians have still been able to maintain the aura of bazaars and have not let it die down the drains.
We take you to a tour of some of the most colourful bazaars in India which are best known to lighten up your mood and to give you a feel of 'Vibrant India'.
1# Colaba Causeway,West India (Mumbai)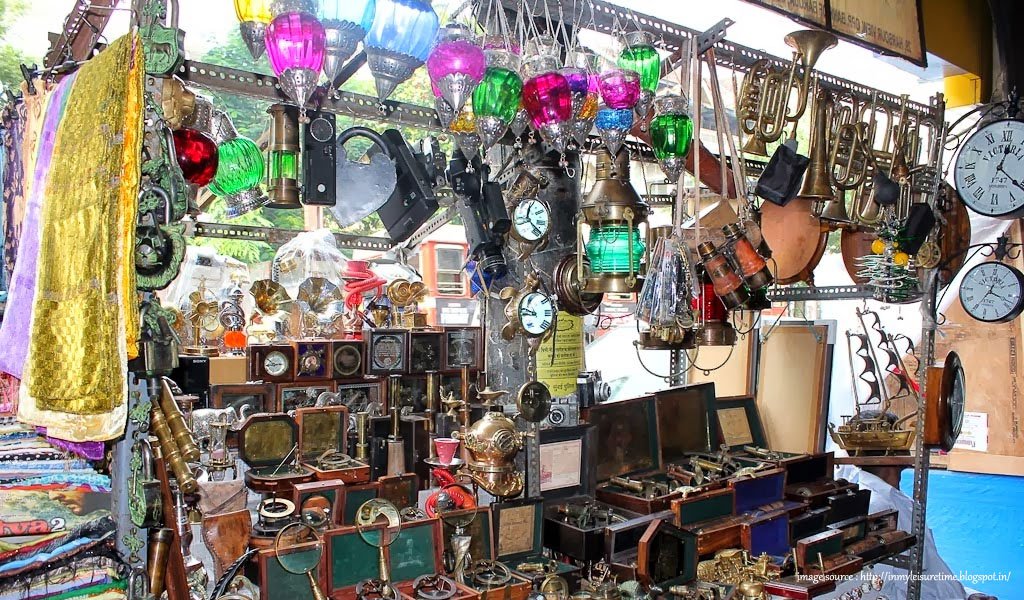 Colaba Causeway is one of the expensive street markets in Mumbai. Often flooded with international tourists, the market boasts of selling some really cool accessories, charms, trinkets, antiques and designer clothes.  You can also enjoy bargaining and get away by paying almost half of the quoted price for your shopping item.
Avante Cottage Crafts of Indian Supermarket is the must visit place to buy some reasonable Indian crafts. Colaba is located in the heart of the city and very close to the famous Taj Mahal Palace Hotel; hence you can easily hire a cab to reach here.
Delhi Darbar, Shamiana, Starbucks Coffee, Cafe Royal etc. are some of the favourite eateries at Colaba which make this place more happening and colourful.These are some of the notable things which have made us list Colaba causeway as one among the 10 Most Colourful Bazaars in India
2# Arpora Saturday Night Bazaar, West India (Goa)

Arpora Saturday night Bazaar is open from Saturday 4 p.m. until late night (around 11 p.m.) and is the biggest fun and entertainment place in Goa. However, the best time to visit is after 6 p.m., when you can see all shops open and good variety along with chaotic bustle. Indian stalls selling spices, Kashmiri carpets, jewellery, cuisines from around the globe and the stage with a live Indian style classical music concert define this night bazaar.
When in this market, you must try either the fresh fruit cocktails or the magic Tequila. Tourists from South Goa travel almost 50 km. to feel the taste and smell in this crazy yet fun late night market.Fun & frolic till late evening is what makes us list Arpora market as one among the 10 Most Colourful Bazaars in India
3#Chor Bazaar

Chor Bazaar is located near Bheendi Bazaar in the overcrowded Muhammad Ali Road in Mumbai. Due to Britisher's mispronunciation of Shor Bazaar, the market became popular as Chor Bazaar. To clear the misconceptions, Chor bazaar specialises in selling second hand goods rather than stolen goods.
Antique and vintage collections are the USPs of this market. It is believed that any item lost by visitors during transit can be recovered from Chor Bazaar. Chor Bazaar is closed on Fridays and the other days, you can visit this market between 11.00 am to 7.30 pm.
Grant Road (on western line in Mumbai Local Train Stations) is the closest railway station to the market and you can reach this market by walking for few minutes or by hiring taxi.
Since you may find things not easily discoverable elsewhere, we have listed Chor Bazaaar as one among the 10 Most Colourful Bazaars in India.
4# Law Garden,West India (Ahmedabad)

Open shops by road side at Law Garden offer you some of the authentic experience of shopping in late evening in Ahmedabad. This glittering street is a unique street market, with its special selling of embroidered wall hangings, colourful chaniya cholis (ethnic Gujarati dress with skirts and embellished top), antique jewellery, special Kutchi bed sheets and many more.
 Law Garden markets starts late in the evening, so if you are planning a visit, make sure it is post 6.00 p.m.  Law Garden got famous on account for law schools around and now sits in prime location within the city and is surrounded with lush green gardens and some special mouth-watering food stalls around. You can easily visit this place by hiring an auto rickshaw from stations, airport or bus stands or from any other corner of Ahmedabad city. Close by (within 2 km.) from Law Garden, you can also visit C.G.Road, which is also one of the must visit places in Ahmedabad.
An awesome range of ethnic wear and antique jewellery are some of the notable things which have made us Law Garden as one among the 10 Most Colourful Bazaars in India.
5# The New Market,East India (Kolkata)

The New Market is one of the oldest and well known markets of Kolkatta and is situated in Lindsay Street. It is a place that hosts more than 2000 stalls offering various products from clothing to eating.  You can enjoy unlimited shopping from 10.00 am to 8.00 pm from Monday to Friday and till 2.30 pm on Saturdays. The market remains closed on Sundays, so make sure you are not planning your visit on a Sunday.
This chaotic market, although tests your bargaining skills, offers you everything that is beyond your imagination. Hawkers selling eatables in this market lend a different atmosphere to this market and add to the shopping excitement.
An element of heritage has made us list New Market, Kolkatta as one among the 10 Most Colourful Bazaars in India.
6# Connaught Place, North India (Delhi)

Connaught place is one of the largest financial, commercial and business centres in New Delhi. This horse-shoe shaped market is surrounded by major banks, restaurants, airlines, jewellery shops, apparel shops and government buildings.
There is nothing that you would not get here. Bargain hard during road side shopping for mobile back covers, socks, hair bands, earrings, artificial jewellery, show pieces, wall hangings, cushion covers etc. You can find the best of brands be it Allen Solly, Woodland, Reebok, Hidesign, Tanishq, Liberty etc. be it for bags, clothes, shoes or jewellery.
This circular market is plush with awesome food houses to satiate your hunger. Evening is the best time to shop and enjoy your favourite delicacies at some of the well-known restaurants like McDonalds, Barista Coffee Shop, Nirulas and Ruby Tuesday.
CP, as it is popularly called, is easily accessible by taking a metro Rajiv Chowk. Janpath and Palika Bazaar are some of the main markets, where you can halt for latest trendy clothes and other modern goods. Perfumes, electronic items, handicrafts goods and leather goods are some of the best options to fill your bags with fun and happiness.
A heritage of the bygone British era, CP being one of the most popular market has made us list Connaught place as one among the 10 Most Colourful Bazaars in India.
7# Bapu Market, North India (Jaipur)

Bapu Bazaar is one of the most famous market in jaipur, famous for a perfect shopping experience with the sale of bed sheets, handicrafts, carpets and quilts, the famous mojries made from camel skin, cushion covers, salwar kameez sets, and fabrics.
Sukur Provision Store is one of the best store for buying Jaipur suparis and churans with tangy tastes and ayurvedic essentials. Shopping also bring weariness. The 'golgappas' and faluda kulfi in the market help you rejuvenate and to boost up your shopping spirits. You can also get a design of mehndi in your hands with the finest mehndi artists sitting outside the shops of Bapu Bazaar.
Being most famous market in Jaipur ,Bapu Bazaar has been listed by us as one among the 10 Most Colourful Bazaars in India.
8# Bohita Bazaar,North India (Nainital)

When you are looking to buy cheap woollen clothes in Nainital, Bohita Bazaar is the best hub for you. The Mall road at the market is famous for buying trendy yet cheap woollen shawls, sweaters and regular hoodies. If you are good at bargaining, you can buy the best goods at cheaper rates in Bohita Bazaar.  Different souvenirs are also available throughout this market. The tourists are also attracted towards wood enhancing items with artistic carvings available in this market. Tibetan Market is the ultimate option.
9#Commercial Street,South India (Bangalore)

Commercial Street of Bangalore is known to be one of the busiest markets and is always flooded with shopping lovers. The vivid street market is known for selling jewellery, books, home décor items, shoes, and apparels. If you are good in bargain shopping, experience at Commercial Street will be easy on your pocket. Lip smacking food options are also available in this bustling street.
10# Laad Bazaar,South India (Hyderabad)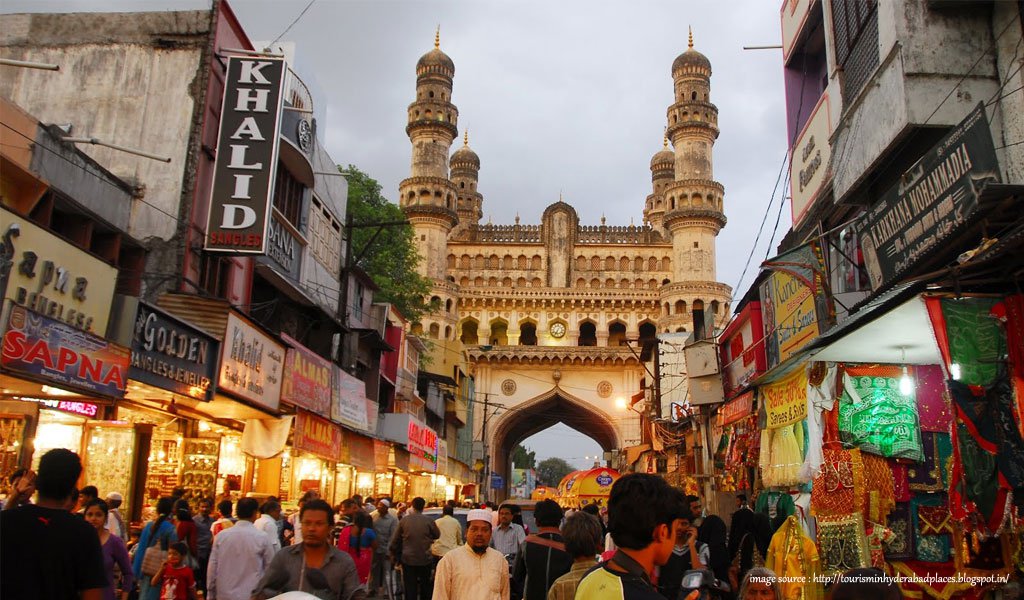 Laad Bazaar at Charminaar is one of the ancient markets in Hyderabad selling colourful bangles. If you are planning a wedding, you must visit this market for wedding shopping. There is more to Laad Bazaar than just the stone crusted or lac bangles.
You can also find some of the best perfumes, beautiful zari laces, hairclips, textiles and jewellery options in this market. It is recommended to just walk around the market given its narrow lanes. Auto rickshaws and cars are not allowed to enter here from Charminar end.