Annoyed by an unrewarding routine, you might often desire to escape and find refuge somewhere you can reinvent yourself in peace and solitude. Or, you might develop the urge to isolate from the world with your life partner and spend some comforting time embracing each other. There are many peaceful places in India which summon people with such longings, satisfy them fully and let them return empowered with new vigour. Though, there is absolutely no dearth of the most peaceful places to visit in India, choose one from the following compilation to start with.
Ki Monastery
Imitating a honeycomb with its fortress-like architecture, Ki (or Key) Monastery in the paradisiacal Spiti Valley of Himachal Pradesh soaks in utmost tranquillity. The 1000-year old training centre for the Buddhist monks, it overlooks the pristine River Spiti from a hilltop and is blessed with stupendous backdrops of the snow-capped Himalayas. Safe from the clutches of the urbanized world, the place is ideal for meditation or to simply relax gazing at the nature's grandeur.
Best Time: May-October
How to Reach: Nearest airport is at Bhuntar (about 240 km. away) and the closest railhead is at Jogindernagar (about 335 km.). By road, Manali-Leh Highway is more convenient than NH 22 (from Shimla).
Things to Know: The nearest village of Kaza (about 15 km. away) has accommodations, restaurants, petrol pump and an SBI ATM with a POS (for emergency cash if you have SBI cards). Limited accommodation is available at the monastery and there is a small cafeteria in the parking. The monastery opens from 06:00 a.m. to 07:00 p.m. The place is inaccessible from December to March due to heavy snowfall.
Auroville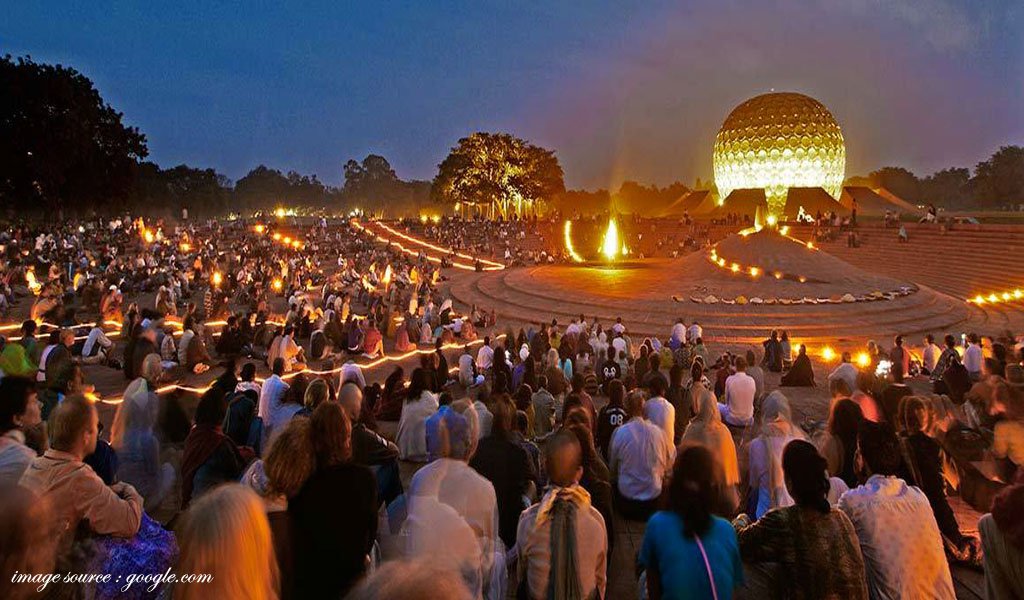 Popular as the 'City of Dawn', Auroville is a spiritual hub inhabited by people from over 40 countries. Located near the Union Territory of Pondicherry (or Puducherry), the place attains glory as one of the best peaceful places in India to experiment with your consciousness. Indulge in meditation at Matrimandir, a golden metallic sphere with elegantly manicured lawns all around, acquire peace at the Green Belt area and indulge in plenty of alternative healing courses and environmental projects.
Best Time: October-February
How to Reach: The scenic East Coast Road connecting Pondicherry with Chennai has a junction (accessible by bus from any of these cities) from where auto-rickshaws can be hired to reach the place. The nearest airport is at Pondicherry (about 12 km.), through Chennai Airport (142 km. away) is a better option. Pondicherry has the closest railway station.
Things to Know: While staying at the guesthouses in the township, all guests need to contribute INR 100 per day to Auroville. Auto Cards can be obtained from the guesthouses as many places don't accept cash. Mobile networks of Airtel and Vodafone have poor services; BSNL is a good option. Most of the cafes and restaurants shut down by 05:30 p.m.
Lansdowne

With unspoiled natural beauty, the cantonment town of Lansdowne in Uttaranchal enjoys amazing quietness, broken only by the chirping of exotic avifauna. Dotted with quaint colonial buildings, temples and churches and admiring the oak and blue pine canopies, the town is perfect for meditating in the laps of nature and also for a crowd-free romantic holiday.
Best Time: Throughout the year
How to Reach: Two routes connect the town with New Delhi, one via NH 119 and NH 58 (shorter and with better road condition) and the other via NH 58. The closest railway station is Kotdwara (about 45 km. away) from where the steep road climb (shared jeeps and taxis, not available after 08:00 p.m.) to Lansdowne consumes nearly 2 hours. Dehradun (about 150 km. away) has the closest airport.
Things to Know: Summers (March-June) enjoy extremely balmy weather (peak tourist season, book accommodations in advance), while monsoons (July-August) bless the place with captivating greenery (raingear a must). Winters (December-February) experience heavy snowfall and frequent landslides and must be avoided, except if you have adventure on mind. Trekking, bird watching and boating are the popular activities.
Pangong Tso

Finding a peaceful place in India is not difficult when you are in Ladakh. One such place is the spellbinding spectacle called Pangong Tso, a high-altitude lake flaunting multiple shades of blue and enjoying spectacular scenery of rugged mountains. Spend quality time undisturbed by the outside world, enjoy marvellous sunrises and sunsets and accompany rare-to-find animals and birds visiting the lake.
Best Time: May to September
How to Reach: Leh is the closest town (about 225 km.) and also the closest airport to the lake. Hire a vehicle, preferably an SUV or 4×4, to cover the distance (usually takes 5 hours) through dramatically changing landscapes and high mountain passes.
Things to Know: Indian visitors must carry photo IDs, while foreigners must obtain Protected Area Permit (in a group of 3 or more) from Leh and must hire a guide. The lake is located at the height of about 14,000 ft. Hence it is advised to stay at Leh, or Nubra Valley, for a day or two to acclimatize your body. Accommodations are in the form of tents (except one cemented one) and limited and so are the eating places.
Triund

While you admire the enchanting Dhauladhar Range with one eye and the sprawling Kangra Valley with the other, a beautiful rainbow might appear from nowhere and you drench in the overpowering calmness. This is what you experience from the summit of Triund in Himachal Pradesh after trekking through the mind-blowing expanses of rhododendrons, oaks and deodars.
Best Time: March-December
How to Reach: Reach the popular hill station of McLeod Ganj (about 489 km. from New Delhi) by road. You may start the trekking from there or reach Bhagsu Nag, another starting point nearby. The closest railway stations are at Kangra (about 25 km. away, narrow gauge) and Pathankot (about 90 km. away, broad gauge). Bhuntar Airport (about 170 km. away) is the closest airport.
Things to Know: It is a moderate trek, with the last one mile consisting of 22 curves that can be extremely tiring for the first-timers. At the top, accommodations (with no electricity and limited mobile networks) are limited and so are the eateries (only small tea stalls on the way). Be careful while trekking during monsoons (July-September). Always carry raingear due to unpredictable rainfall. Day hike is possible if you start early in the morning. A guide is compulsory.
Silent Valley National Park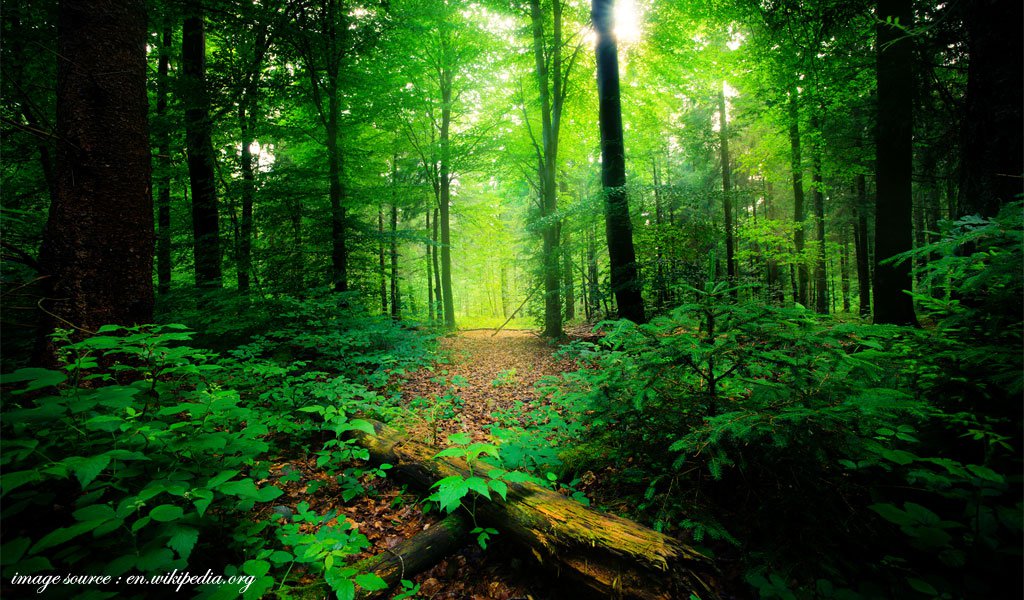 It's not just the name which advocates its inclusion in the list of top 10 peaceful places in India. Silent Valley National Park actually filters the unbearable noises and subjects your ears to the nature's melodies. A part of the Western Ghats World Heritage Site, the park hosts wealth of mountain rainforests and is home to the likes of lion-tailed macaque, Malabar Giant Squirrel and loads of other animals and birds.
Best Time: November-March
How to Reach: The main entry and visitor's centre is located at Sairandhri, which is accessible from the district headquarters Palakkad (about 68 km. away) via NH 213. Buses from Palakkad help the visitors to reach the nearest town Mannarkkad, about 37 km. away, or Mukkali, about 18 km. away from Sairandhri. The closest railway station and airports are Palakkad (about 66 km.) and Coimbatore (about 91 km.) respectively.
Things to Know: Mini bus (24-seater) and 20 jeeps (each accommodating 6 people) operate from Mukkali for day visitors. The entry is allowed from 08:00 a.m. to 01:00 p.m. Fees include INR 35 and INR 220 as entrance fee respectively for the Indians and foreigners; INR 175 per head for mini bus, INR 800 for jeeps, INR 200 for guide (compulsory), INR 25 for camera and INR 250 for video camera. Wear proper boots and carry salts to combat leeches. Prior permission is required for camping and trekking.
Dzukou Valley

Are you an adventurer seeking peaceful places for vacation in India? Look no further than Dzukou Valley, or the Valley of Flowers in Northeast India, which dons lush green meadows and carpets of exotic flowers and is pampered by unending calmness. Located at the border of Nagaland and Manipur, the valley unfolds unique surprises like chirpy streams and natural caves at every step of the 15-17 km. long trekking routes.
Best Time: June-September
How to Reach: First reach Dimapur by flight or train and then board a bus to Kohima (about 74 km. away). Hire a taxi from Kohima to reach Viswema (about 23 km. away) or Zakhama (about 16 km. away), each serving as the base camp for the trek.
Things to Know: Discover rare herbs, shrubs and flowers (especially the indigenous lilies) at the valley. Camping (carry required equipments) can be done with permission. Indian visitors require Inner Line Permit from Dimapur while foreigners must register themselves with the concerned authorities at Dimapur or Kohima. Porters are available for the trek.
Agatti Island

Turquoise lagoons and luxuriantly green palm groves separated by the clean silvery beaches. When you decide to choose among the peaceful places in India for honeymoon, Agatti Island of the Lakshadweep Group in the Indian Ocean beckons. Surrounded by the magnificent world of corals, you realize that the time has come to standstill and you are being overpowered by the unsurpassable calmness.
Best Time: October to mid-May
How to Reach: Board a flight to Agatti Aerodrome from Cochin International Airport.
Things to Know: Enjoy activities like scuba diving, kayaking and glass-bottomed boat riding. Picking corals, plucking coconuts and carrying alcohol are the punishable acts on these islands. Nude swimming or sunbathing is prohibited.
Sarnath

The place where Lord Buddha preached his first sermon deserves place among the top ten peaceful places in India. Sarnath, the small town near the holiest Hindu city Varanasi continues to bear the stamp of mysticism amidst beautiful patches on green and a different kind of relaxation in the atmosphere. Explore the Buddhist stupas, viharas and Ashoka's Pillar and some invaluable artefacts at the museum and delve deep into the place's serenity.
Best Time: October-March
How to Reach: Varanasi (about 10 km. away) is the closest city with a busy airport and railhead (Sarnath too has a railway station, but with limited connectivity). From Varanasi, local buses, taxis and auto-rickshaws can be hired.
Things to Know: The road from Varanasi to Sarnath is broken and dust-laden at places and thus, the short journey may consumer more than 30 min. Prefer to hire a taxi as auto-rickshaw rides are extremely bumpy. Avoid hiring unauthorized guides who may offer cheap deals. Friday is not a preferred day when the museum, an important attraction, is closed. Wear decent clothes.
 Majuli Island

World's largest river island, Majuli in the state of Assam is a scenic spectacle flanked by River Brahmaputra on both sides. Rich countryside dotted with rice fields and beautiful monasteries called satras, which also act as engaging cultural centres, the island showcases wonderful avifauna and enchanting scenes of rising sun. Fall in love with the verdant greenery spread all over and have some whispering dialogues with the nature.
Best Time: October-March
How to Reach: You must first reach Jorhat, either by road or in a flight from Guwahati. From here, board a bus or hire a taxi to reach Neamati Ghat (about 16 km. away) from where the ferries start to take the visitors to the island.
Things to Know: Be prepared to face frequent power cuts and lack of running water (hand pumps are available) while staying at the guesthouses and other accommodations on the island. Don't miss cycling to explore the amazing countryside and river cruises. Ferry timings are 08:00 a.m., 10:00 a.m., 01:00 p.m., 03:00 p.m. and 04:00 p.m. and the fare is INR 20 per head.
Leave all the worries and concerns behind and join these rejuvenating voyages to explore the most peaceful places in India.