Through this blog we share with you the best places to visit in South India.Those with itchy feet and wandering minds are warmly greeted by the spectacles of South India. The tropical wonderland flaunting lavishness through thick forests, tea gardens, and spice plantations also boasts of spectacular beaches and backwaters and islands soaked in solitude. While there are attractions like Ayurveda, waterfalls, houseboats and hill cottages for honeymoon couples, the adventurers are bowled-over by the activities like trekking, scuba diving, and wildlife safaris. And those seeking something truly exclusive are provided the opportunity to explore the grand architectural landscape with unimaginably designed Hindu temples and palaces and stunningly carved rock-cut wonders.
Best Places To Visit In South India
Want to explore the hill stations, beach resorts, wildlife and avian sanctuaries and temples along with the tempting cuisines, grand festivities and invigorating culture of South India? Here's a guide about when to visit South India and the best places of the region.
Best Time To Visit South India
Winter months from October-March are the best time for South India tours and host the peak tourist season in South India. December-February is particularly favourable for least humidity and cool climate at hill stations and warm beaches and backwaters. October-November experiences the second leg of monsoons which adds to the regions natural beauty and is a good time for Ayurvedic treatments.
Top Places To Visit South India
Alleppey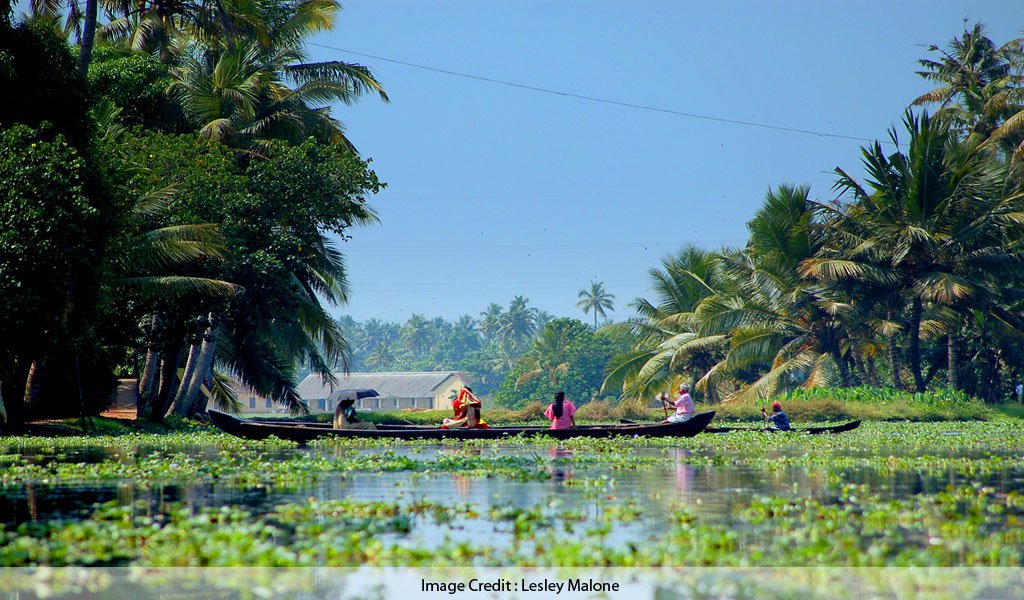 If you missed visiting Venice, visit the Venice of the East at Alleppey (also called Alappuzha). Dramatically laid-out amidst lush green paddy fields are the striking backwaters, lagoons, and canals that arrange a dream-like holiday for one and all. Stay at a houseboat and take pleasure in soothing massage and herbal treatments at an Ayurveda wellness center. Delicious Kerala food, classical music and bamboo and coir manufacturing practices are enough to keep your spirits elated. Beautiful beaches and some outstanding temples and churches are worth visiting as well.
How to Reach: Cochin Airport (83 km.) and Alappuzha Railway Station.
Andaman Islands

Located hundreds of miles off the main coastline, the Andaman Islands in the Bay of Bengal are adorned with tropical beauty and continue to be less-explored. Striking beaches, luxury beach resorts, and relaxing environs turn the islands of Neil and Havelock into dream destinations. Adventures like scuba diving and snorkeling let the visitors explore the marvelous marine world and coral reef treasures. Equally, enchanting is the variety of lip-smacking seafood which indeed is a highlight of the place.
How to Reach: Port Blair Airport.
Araku Valley

Nestled in the Eastern Ghats, Araku Valley is a beautiful hill station in the state of Andhra Pradesh. Coffee plantations make the place truly mesmerising while the opportunity to meet the tribal people adds immense value to the trip. Prefer taking the train journey to Araku Valley and you would be bowled-over by the natural grandeur while passing through numerous tunnels. Prime attractions of the region include Borra Caves (displaying natural stalactites and stalagmites), botanical gardens, waterfalls and more. Araku Tribal Museum is an interesting place to admire the tribal arts.
How to Reach: Vishakhapatnam Airport (107 km.) and Araku Valley Railway Stations.
Athirappilly

Visiting 'the Niagara of India' is indeed among the highlights of South India tours. Athirappilly Falls, the largest one in Kerala, is nature's very special craft with spellbinding beauty. Formed by River Chalakudy and surrounded by luscious greenery, it has starred in numerous Indian movies. You may trek to the top or to the bottom of the fall for some remarkable views. Jungle safaris in the jungles around the fall disclose wild attractions like elephants, tigers, bison and some of the most amazing varieties of hornbills.
How to Reach: Cochin Airport (39 km.) and Chalakudy Railway Station (28 km.).
Badami

Chalukyas, one of the strongest ruling dynasties of South India, turned the red sandstone outcrops at Badami into entrancing cave temples that continue to defeat the signs of aging. Resting around the calm Akasthya Tank, these temples have unbelievable rock carvings portraying various Hindu Gods and Jain Tirthankaras. In the close proximity are other heritage sites including Aihole (equally majestic temple monuments) and Pattadakal (a World Heritage Site with extravagant temple architecture) that are also the must-visit places.
How to Reach: Hubli Airport (109 km.) and Badami Railway Station.
Bandipur

Dotted with sandalwood, rosewood, teak and bamboo trees, the national park of Bandipur are your ticket to the fascinating world of Bengal tigers, Indian elephants, gaurs, golden jackals, chital, sloth bear, four-horned antelope, pythons, cobras, muggers and other wild species. Butterflies and birds in many varieties add multiple hues to the park. Wildlife safaris inside the park would escalate your adrenaline rush as you cross paths with the majestic tigers and other denizens of the jungle.
How to Reach: Mysore (about 78 km.) has the closest airport and railway station.
Bangalore

The cosmopolitan hub called Bangalore has a lot beyond the Silicon Valley profile. Be it the enchanting architecture of the government buildings like Vidhana Soudha and Vikasa Soudha or the historical palaces like Bangalore Palace and Tipu Sultan's Palace or the outstanding temples like the Bull Temple and Ragi Gudda, the city is definitely an architectural delight. Many churches, lakes and gardens adorn its face while upbeat malls and shopping districts entertain your shopping desires. When in Bangalore, don't miss the nearby adventure gateways promising thrilling activities like trekking, camping, rock climbing, caving, off-road riding and much more.
How to Reach: Bangalore Airport and Bangalore City Railway Station.
Chennai

The capital city of Tamil Nadu is known not only for its long beaches but also for cultural centers, national zoological parks, and arrays of temples and churches. You would need plenty of time to explore the top attractions that include Santhome Basilica, Chettinad Palace, Kapaleeshwarar Temple, St. George's Cathedral, St. Thomas Mount, Fort St. George, Marina Beach, Elliot's Beach, Big Mosque, National Art Gallery and more. Guindy National Park and Arinjar Anna Zoological Park introduce the visitors to the indigenous and exotic wild animals. Do join a heritage walk to discover the old world charm of the city which is also famous for its world-class malls and amusement parks.
How to Reach: Chennai Airport and Chennai Central Railway Station.
Cochin

No list of South India top 10 tourist places is complete without mentioning Cochin (Kochi), the city which was a busy spice trading center during Medieval Age. Today, you would be surprised to explore the timeless monuments contributed by different foreign powers. These include Paradesi Synagogue, Santacruz Basilica (Asia's first European Church), St, Francis Church, Dutch Palace, Bastion Bungalow and Chinese Fishing Nets. Kerala Folklore Museum hosts engaging cultural performances while attractions like eco-tourism villages, theme parks, Cherai Beach and Ayurveda massage parlors add to the wonderful list. Cochin Carnival (December) is among the top Indian fairs worth attending.
How to Reach: Cochin Airport and Ernakulam Junction.
Coorg

Imagine waking up to the sweet chirping of birds ready to savor the enthralling beauty of thickly-wooded slopes and explore the world of elephants, leopards, tigers, boars, and gaurs. Coorg in Karnataka promises this and much more from the silver cascades to the historical forts, churches and temples. If that's not enough, the fairy-tale hill station arranges adventures like white-water rafting, trekking, rock climbing and microflight flying. Top attractions include Iruppu Falls, Dubare Elephant Camp, Abbey Falls, Pushpagiri Wildlife Sanctuary, St. Anne's Church, Raja's Seat, Madikeri Fort and more.
How to Reach: Mysore Airport (121 km.) and Thalassery Railway Station (100 km.).
Hampi

Once the affluent capital of the powerful Vijayanagara Empire, Hampi today is a treasured World Heritage Site and among the not-to-miss best destinations South India has. The magnificently constructed Virupaksha Temple and Vital Temple flaunts extraordinary carvings while the royal ruins scattered over a boulder-strewn landscape are nothing short of a visual treat. It would be truly fascinating to walk past the royal enclosures, stepped baths, stables, and temples where one of the world's most influential empires once flourished. You would love the activities like bicycle tours, coracle rides and rock climbing that extend the place's tourism worth.
How to Reach: Hubli Airport (167 km.) and Hospet Junction (13 km.).
Hyderabad

Though a bustling metropolis, Hyderabad would never detach from its historical charm, thanks to the presence of iconic structures like Charminar, Chowmahalla Palace, Mecca Mosque, Golconda Fort, Qutub Shahi Tombs and much more. Art galleries, crafts villages, and museums promise interesting expeditions while the spectacular lakes like Hussain Sagar and numerous parks add nature's contrast to the overall city profile. There's no way you would leave the city without splurging on the irresistible Hyderabadi biryani, gosht, haleem, kheer, and khubani-ka-meetha. Painting and metalwork in the city are the things you would love to carry home.
How to Reach: Hyderabad Airport and Railway Station.
Jog Falls

India's second-highest plunge waterfall, Jog Falls falling from the height of about 830 ft. create a hypnotic sight to behold. Formed by River Sharavathi, the water falls in segments called Raja, Rani, Roarer and Rocket and creates melodious sounds that may keep you hooked for hours. Watch this gorgeous beauty from different viewpoints and unwind in the lush green settings. A number of ancient temples in the region should be on your list and you may also choose the river rafting adventure at the nearby destination called Honnemaradu.
How to Reach: Hubli Airport (170 km.) and Shimoga Railway Station (104 km.).
Kanyakumari

The southernmost tip of mainland India has Kanyakumari as a famous tourist destination located at the confluence of Bay of Bengal, Indian Ocean, and the Arabian Sea. The city enjoys a unique identity for hosting astounding sunrise as well as sunset views from its beach. Enjoy a ferry ride to visit Vivekananda Rock and explore various other attractions like Our Lady of Ransom Church, Padmanabhapuram Palace, Tsunami Monument, Thiruvalluvar Statue and Kanyakumari Devi Temple. Relax at the beaches and enjoy the authentic South Indian vegetarian cuisines.
How to Reach: Trivandrum Airport (91 km.) and Kanyakumari Railway Station.
Kovalam

When the best time to go South India arrives, Kovalam is among the most preferred places. One of the finest beach resorts in India, the place has its claim to fame in the form of the crescent shaped beaches with rocky outcrops and palm groves. Lighthouse Beach, Hawah Beach and Samudra Beach are the breathtaking beaches to be at. Water sports like surfing and motor boat rides as well as swimming is among the best things to do here. Stay at a beach resort and opt for Ayurveda and yoga facilities to enjoy rejuvenation.
How to Reach: Trivandrum (about 14 km.) has the closest airport and railway station.
Lakshadweep

Extending blue lagoons, smooth sand beaches, dense palm groves and rich coral reefs and such amazing treasures exclusively for you! That's what you experience at the crowd-free islands of Lakshadweep in the Laccadive Sea. The beautiful islands of Kadmat, Kavaratti, Agatti and Bangaram engage tourists in the adventures like scuba diving, kayaking, water skiing, sailing, deep sea fishing, snorkeling, yachting and much more. Staying at a beach cottage is indeed a lifetime opportunity for romantic couples and leisure holidaymakers.
How to Reach: Agatti Airstrip.
Madurai

No trip to South India is complete without discovering the alluring Hindu temple architecture with soaring gopurams or temple towers and intricate carvings. Madurai, deservingly called the Temple City, is home to Meenakshi Amman Temple which is a grand epitome of unimaginable art and architectural excellence. In addition, the majestic designs of Thirumalai Nayak Palace and other monuments would make your heart skip a beat or two. The city is also admired for its handloom sarees, paintings, antiques and brasswork that are indeed worth buying. Don't miss the authentic Tamil food rich in spices and unmatched flavors.
How to Reach: Madurai Airport and Railway Station.
Mahabalipuram

The coastal town of Mahabalipuram that once served as a popular seaport is now home to the World Heritage Site of rock-cut monolithic wonders that have nothing in parallel. Apart from the arresting Shore temple, there are Pancha Rathas (Fiver Chariots dedicated to the Pandavas from Mahabharata) and the world's largest open-air bas-relief called Arjuna's Penace. Numerous cave temples and lighthouses, as well as the gravity-defying giant rock, called Krishna's Butterball are other hotspots to add in the sightseeing list. You may also indulge into turtle walks, surfing, countryside biking or relaxing at the beaches. Join a yoga camp and buy attractive stone sculptures.
How to Reach: Chennai Airport (54 km.) and Chengalpattu Railway Station (28 km.).
Munnar

Painted in emerald, this picturesque hill station in Kerala is blessed with mist-covered wooded hills. Lush green tea gardens add another dimension to its beauty while the presence of lakes, falls and wildlife reserves enhance its tourism worth. Easily among the best places in South India for honeymoon, Munnar boasts of top attractions like Mattupetti Dam, Kundala Lake, Top Station, Anamudi Peak, Eravikulam National Park, Lakkam Waterfalls and Atukkad Waterfalls. World's highest tea factory called Kolukkumalai, Elephant Arrival Point, and Tata Tea Museum are few others to name. Don't miss activities like rock climbing, mountain biking, tea plantation tours, and boating.
How to Reach: Cochin Airport (111 km.) and Aluva Railway Station (112 km.)
Mysore

The power seat of Wodeyar Dynasty, Mysore preserves its royal charm and is among the well-planned Indian cities. Well-known for its imperial Mysore Palace (beautifully lit in the evening) and other attractions like Chamundeshwari Temple, Brindavan Gardens (entertaining musical fountain show every evening), Jagmohan Art Gallery, St. Philomena's Church, Mysore Zoo and Folklore Museum, the city also hosts outstanding Dashera celebrations (famous for elephant processions) in October. Enjoy the mouth-watering sweet called Mysore Pak and don't forget to buy the irresistibly beautiful Mysore silk sarees and perfumed incense sticks.
How to Reach: Mysore Airport and Mysore Junction.
Ooty

With Nilgiris (Blue Mountains) forming an enthralling backdrop for Ooty, one of the most celebrated hill stations in the region. Located in the acclaimed Nilgiri Biosphere Reserve, the place is dotted with gorgeous gardens featuring native as well as exotic plants, herbs, shrubs and trees. Lakes, tea gardens, dams and pine forests on one hand and temples, museums, colonial bungalows and tribal heritage on the other make Ooty a perfect holiday destination. A major highlight is the toy train ride in the World Heritage Site of Nilgiri Mountain Railway. You must visit the popular hotspots like St. Stephen's Church, Ooty Botanical Gardens, Ooty Rose Gardens, Pykara Dam, Wax World Museum, Ooty Lake and Doddabetta Peak. Do shop around for the locally produced tea, spices, gourmet cheese, and chocolates.
You may plan a Ooty Kodaikanal Tour Package through Waytoindia for which send a query on the link http://www.waytoindia.com/ooty-kodaikanal-tour-package .You would get the best quotation for your Ooty Kodaikanal Tour Package.
How to Reach: Coimbatore Airport (89 km.) and Ooty Railway Station.
Pondicherry

The former French colony on the southeast coast of India retains its colonial charm with European Architecture dominating the cityscape. Explore the French Quarter, colonial monuments and French War Memorial and relax at the scenic Beach Promenade. Don't miss visiting Auroville with the golden edifice of Matrimandir where hundreds of people perform yoga and meditation to achieve revival and peace. Sri Aurobindo Ashram is another attraction if you wish to reinvent the lost physical and mental stability. Churches, temples, and mosques are other sites adding overwhelming appeal to the place.
How to Reach: Chennai Airport (148 km.) and Pondicherry Railway Station.  
Thekkady

Home to Periyar National Park, Thekkady is your gateway to the rich wildlife of South Indian jungles. The park rests on the banks of serene Lake Periyar which also hosts exciting boat safari. Apart from tigers and elephants, it is home to lion-tailed macaques, gaur, sambar, giant squirrels and a wide variety of birds and butterflies. The place also organizes adventures like trekking, bamboo rafting, plantation tours and elephant rides. The celebrated art forms like Kathakali Dance Form and Kalaripayattu Martial Art can also be enjoyed at Thekkady.
How to Reach: Madurai Airport (150 km.) and Kottayam Railway Station (107 km.).
Trivandrum

The capital of Kerala, Trivandrum or Thiruvananthapuram, turns absolutely hostile during the best months to visit South India. Consider it as your chance for a wonderful holiday near tourist hotspots like Arippa (eco-tourism), Agastyakoodam (trekking), palaces of Kanaka Kunnu and Kowdiar and temples like Padmanabha (must-visit). In the close vicinity are the attractions like hill station of Ponmudi, beaches of Shanghumukham and more. The trip would be incomplete without visiting The Napier Museum, Keralan Museum, Sree Chithra Art Gallery, and other similar venues.
How to Reach: Trivandrum Airport and Trivandrum Central Railway Station.
Wayanad

Truly a wonderland, the Wayanad District of Kerala is a treasure trove of such exclusive tourist attractions that you would need days to explore them fully. The gushing waterfalls of Soochipara, Meenmutty, and Chethalayam, the peaceful lakes like Pookode and Karalad and the evergreen forests heavens like Kuruva Island are the captivating places. In addition, visit Edakkal Caves that host carvings and paintings from Stone Age and Neolithic Age. Trekking to Chembra Peak (well-known for a heart-shape lake) is one great experience to have. Don't miss exploring wildlife riches at wildlife sanctuaries of Muthanga and Tholpetty while many remarkable temples would lie on your itinerary.
How to Reach: Calicut Airport (98 km.) and Nilambur Road Railway Station (92 km.).
You must be feeling spoilt for choices. Pick up any of these places and you would never be disappointed.