We share with you the top festivals of India in this special article.India is a potpourri of distinct cultures and traditions, intermingling together to make it the most vibrant land of rambunctious, sensory-busting, colourful festivals.
Top Festivals of India that Allure Foreign Tourists
Festivals are a great way to break away from the mundane and discover the true beauty of India that lies in its cultural heritage, spirituality and interesting folklores. Festivals of India have always intrigued tourists from across the world which allows them to harmoniously unify with the cultural diversity and explore an enthralling side of the country that leaves them amazed and inspired. WaytoIndia brings to you a comprehensive list of top festivals in India for foreign tourists. We hope you will love this journey of cultural miscellany, traditions, colours and vivacity that holds people of India together.
Kumbh Mela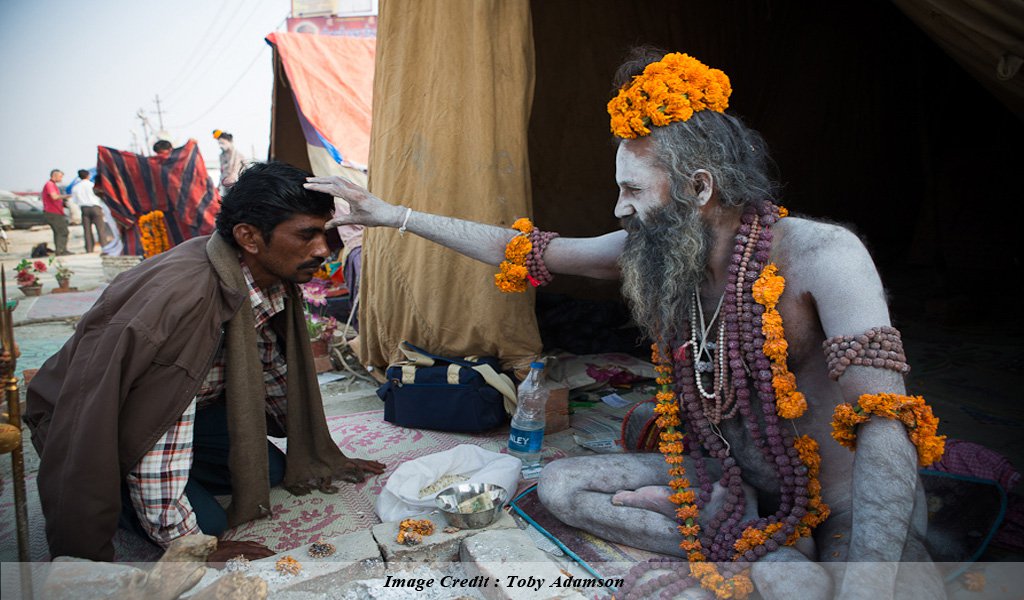 One of the largest human congregations in the world, Kumbh Mela is one festival that you should definitely be a part of at least once in a lifetime. The festival of the Pot of Nectar of Immortality is held every 3 years in four sacred pilgrim centres in India – Prayag in Uttar Pradesh, Haridwar in Uttarakhand, Ujjain in Madhya Pradesh and Nasik in Maharashtra. Pilgrims from around the world gather together on one of these pilgrim centres on certain auspicious days of the year and bathe in the sacred river to gain immortality and wisdom. Get up, close and personal with radiant saints and yogis of Himalayas, and watch them parade and bathe.
Holi

Holi is inarguably one of the most amazing festivals of India that every traveller must be a part of to discover the country's religious significance and cultural traditions. The Festival of Colours marks the beginning of spring and is celebrated in the month of March. People commemorate the festival by smearing colours or gulal on each other's face and sprinkling coloured water with a sprinkler. Thandai or Bhaang, a semi-liquid delicacy made from certain portion of cannabis and other edible ingredients, add to the spirit of the festival. Some places in India where Holi is celebrated with immense zeal and fervours are Mathura & Vrindavan in Uttar Pradesh, Shantiniketan in West Bengal and Jaipur in Rajasthan. So, be ready to be smeared with the colours of India.
In fact, if you are a photography lover, there is hardly any place to be on Holi in India other than Nandgaon and Barsana where lathmar Holi is celebrated where the women folk of village Barsana (mythologically the village of Radha Rani, the consort of Lord Krishna who was incarnation of Lord Vishnu as per the Hindu beliefs ) beat the menfolk of Nandgaon with sticks.The whole atmosphere is charged with festivities and colour.If you wish to  read more about this colourful festival, you may read our blog on the link https://travel-blog.waytoindia.com/holi-in-vrindavan-nandgaon-and-barsana/ .To be a part of this colourful fiesta you may pre-register yourself by sending an enquiry on info@waytoindia.com .
Temple Festivals of Kerala

Treat your senses to the extravagance and ecstasy of Kerala's temple festivals, beginning in the month of February and continuing till April. The key highlight of the festival is an elaborate and majestic procession of elephants that marks the beginning of any ritual. Among the temple festivals of Kerala, Thrissur Pooram is one of the most popular, held during April/May. Witness scores of elephants, beautifully adorned, standing still in a procession as drummers create a blissful orchestra of sound and music. Arattupuzha Pooram is another major festival and the most emphatic of all in India.
Janmashtami

Janmashtami commemorates the birthday of Lord Krishna who is believed to be the 8th incarnation of Lord Vishnu according to Hindu mythology. It is celebrated for two days in the month of August or September and signifies India's divine spirituality. Mumbai in Maharashtra and Mathura & Vrindavan in Uttar Pradesh are the best places to be a part of Janmashtami celebration in India. There are numerous temples in Mathura-Vrindavan that are beautifully decorated during this time and also hold massive display of important scenes from Lord Krishna's life. However, Mumbai adds a distinct flair to the festival with its Dahi Handi ceremony, where clay pots containing items like curd, butter or money are hung high. Participants of the ceremony have to form a human pyramid and one of them has to reach the clay pot and break it. Others try to break the pyramid by splashing colours on the Govindas.
[For those who are planning a tour to India and wish to experience both the heritage and modernity of India, they may book their Golden triangle tour with Mumbai by sending a query on Golden Triangle Tour With Mumbai ]
Durga Puja

Durga Pooja or Durga Puja is the biggest festival of the Bengalis (a term loosely used to refer to both people who live in West Bengal state as well as to those who live elsewhere but speak Bengali language ) and perhaps the finest mix of traditions, colours, vibrancy and spirituality. It is believed that no other festival in India exudes such high spirit, diversity and extravagance as Durga Puja. It is inarguably one of the top 5 festivals of India for foreign visitors. Kolkata in West Bengal is the ultimate place to be a part of this grand festival that commemorates the power of Goddess Durga, representing divine energy. It is a conglomeration of culture and arts that come alive in its pandals, idols of Goddess Durga and much more. Pandal hopping, food, new dresses, adda are the best ways to celebrate Durga Pooja. You may experience Durga Pooja festivities if you are in Delhi at Chittaranjan Park area of South Delhi.
Diwali

When it is about the best festivals in India, Diwali – The Festival of Lights – needs special mention. It is one of the most popular festivals that are blissfully intertwined by ancient mythology and spirituality. It is celebrated in the month of October or November, depending on the phases of the moon. The festival is characterised by Pooja of Goddess Laxmi and Lord Ganesha (and Goddess Kali in some regions), bursting firecrackers and lighting earthen lamps known as diyas. Homes are beautifully decorated with colourful lights and diyas, and rangolis made of flower petals and gulal, which is a sight to behold. Diwali is a festival of happiness, fun and spirituality, emphasising true beauty of India.
Onam

Onam is a festival typically celebrated in Kerala over a span of ten days, and is considered one of the richest festivals in India in terms of heritage and cultural exuberance. It is celebrated on the first months in the Malayalam calendar. One of the key attractions of the festival is Pookalam, a beautiful rangoli made from flower petals that adorn the front doors of homes. Pookalam competitions are also held during this time and is a must see to witness the most beautiful and finest expositions of floral designs that are compared to none in the world.
Ganesh Chaturthi

If you happen to be in Maharashtra during late August or September, you simply cannot miss to be a part of Ganesh Chaturthi, the biggest and most popular festival in the state. It is celebrated with immense pomp and grandeur for 11 days, when stunning idols of Lord Ganesha are made and worshipped majestically. On the 11th day, the idols are taken on a lavish procession, accompanied by vivacious singing and dancing, and immersed in the sea. The procession to the sea, or Visarjan, is a spectacle to behold.
Pushkar Camel Fair

The famous fair held in the beautiful state of Rajasthan truly takes the form of a grand festival, celebrated in the month of November every year. Just like Kumbh Mela, it is one of the biggest congregations of camels and cattle, dressed beautifully and accompanied by thousands of traders and pilgrims from around the world. However, the festival is not just about the Ship of the Desert; it comes to life with masses of mystics, musicians, folk dances and acrobats that enhances the spirit of the festival.
Waytoindia.com organises Photography Tours in India and takes the photography enthusiasts to every nook and corner of the country on guided tours to some of the best places for photography in India.To know more about these tours of to register yourself for these tours, you may visit the link Wildlife Photography Tours and send an enquiry.
Hemis Festival

The Hemis Festival is one of the most famous and biggest religious festivals, celebrated with immense pomp and grandeur in Ladakh every year. The colourful festival is celebrated for two days and falls on the 10th day of the Tibetan lunar month. It commemorates the birth anniversary of Lord Padmasambhava (Guru Rimpoche), the founder of Tibet Tantric Buddhism. The festival is celebrated at the courtyard of Hemis Gompa, the biggest Buddhist monastery in Ladakh. The Mask Dances are the primary attraction of the festival and is considered a part of Buddhist tantric addition.
Teej in Jaipur

Though Teej is celebrated in many parts of India, it is one of the most widely celebrated festivals of Jaipur that attract tourists from around the world. On this day, women adorn themselves beautifully and offer prayers to Goddess Parvati for good health and wellbeing of their husbands. The sight of Rajasthani women performing traditional folk dance in green coloured clothes and singing Teej songs while swaying on swings adorned with flowers is a spectacle to behold. Teej procession in Jaipur is most extravagant, with antique palanquins, chariots, cannons pulled by bullock carts, caparisoned elephants, dance groups, bands, etc. form a part of the procession.
Konark Festival

The annual Konark Dance Festival in Odisha is a "global exposure of Indian dance and culture" that attracts visitors from around the world. Many Eminent dance artists of international repute participate in this festival and perform Kathak, Odissi, Bharatnatyam, Manipuri, Kuchipudi and other classical, tribal and folk dances and music of India. The stage is set at the astounding 'Salamander' or the dancing hall of the Sun Temple, an architectural wonder. Besides amazing dance performances, Sand Art exhibition and display of Odisha's temple sculptures are other attractions for tourists here.
Jaisalmer Desert Festival

Jaisalmer isn't all about rugged desert beauty and sandstone forts and palaces. It is acclaimed globally for its annual Jaisalmer Desert Festival that allures travellers from across the world. With enthralling events such as turban tying, camel racing, firework display, Mr. Desert and Miss Moomal competitions, and the longest moustache competition, the grand Indian festival emphasises the cultural heritage and rich traditions of Rajasthan. The 3-day extravaganza is a must-see on your tour of India, highlighting  a myriad colours, expressions and ethnicity.
Gangaur Festival in Jaipur

Gangaur is one of the most vibrant and widely celebrated festivals in Jaipur that rejoices with great zeal and fervour in commemoration of Goddess Parvati. The festival commences on the first day of Chaitra month, right after Holi, and continues for 18 days. During the festival, married women in Jaipur performs prayers in honour of Goddess Parvati for the wellbeing, prosperity and long life of their husbands. The grand Gangaur procession begins from the City Palace and converges near the Talkatora. The sight of the procession is an experience to witness for a lifetime.
Thrissur Pooram, Kerala

Thrissur Pooram, popularly known as Elephant Festival, is held annually in Thrissur, Kerala. It is one of the most spectacular and vibrant festivals of India, where thirty beautifully-adorned elephants parade majestically through the city to reach the Vadakkunnathan Temple. The 200-year old festival is the best way to have flair of India's rich cultural heritage. Panchavadyam(rhythmic sound of the drum), folk dancing and astounding display of fireworks are certainly a visual treat for the visitors who come here for a truly immersive experience.
Rath Yatra in Puri

Rath Yatra, or the Chariot Festival, is one of the most remarkable festivals of India that showcase exceptional fanfare and grandeur. The festival is celebrated every year in Puri, Odisha, during the months of June or July. The world famous religious festival attracts over one millions pilgrims from around the world. The Jagannath Temple in Puri is one of the most sacred temples in India. During this festival, the beautifully decked idols of the three deities of the temple – Lord Jagannath, Lord Balabhadra and Goddess Subhadra – are taken to the streets in a grand procession. Chariot pulling is the most exciting part of the occasion and is also considered most sacred.
Nehru Trophy Boat Race, Alappuzha

As August knocks the door, Alappuzha's Punnamada Lake in Kerala comes to life with the charm and vibrancy of the Nehru Trophy Boat Race. It is the most famous boat race in the world and gloriously takes the form of a festival, the preparations of which begin many days ahead. It is held annually on the second Saturday of August. Gigantic and beautifully bedecked snake boats row down the lake with vigorously slashing oars to win the much prestigious trophy. Besides the boat race, spectacular floats, grand water processions and exquisitely decorated snake boats are the primary attractions of the festival that attracts millions of tourists to Kerala.
Urs Festival in Ajmer

The annual Urs festival is held at Ajmer in Rajasthan and commemorates the death anniversary of renowned Sufi saint Moinuddin Chisti. The festival is held for 6 days and the last day is considered most auspicious and special. There are many customs and traditions related to this prestigious Muslim festival that attracts thousands of devotees from all over the country and abroad. It is celebrated in Mazaar Sharif, the famous dargah in Rajasthan. The night-long qawwali songs are one of the biggest attractions of this festival.
International Kite Festival, Gujarat

The International Kite Festival, or Uttarayan, is one of the biggest festivals of India and is celebrated in Gujarat with great pomp and fervour. The event attracts visitors from different parts of the world who come to witness the breathtaking sight of kites of all sizes and shapes adorning the sky most extravagantly.The festival is rejoiced to welcome the summer or the harvest season. One can see infinite varieties of kites during this festival, which has been influenced by international participants in the recent times. The event emphasises a true part of the culture in India.
Sindhu Darshan Festival, Ladakh

The festival, held in Ladakh on full moon day (Guru Purnima) in month of June, is a commemoration of River Sindhu or the Indus. River Sindhu is an icon of unity and communal harmony in India. Through this festival, millions of pilgrims pay honour to the holy river. The occasion is also a symbolic tribute to the soldiers of India who endanger their lives to protect ours. During this festival, various cultural groups from around the country bring water from other prominent rivers in earthen pots and immerse these in River Sindhu as a mark of communal harmony and peace.
Bikaner Camel Festival

Rejoiced in honour of the Ship of the Desert, Bikaner Camel Festival is a fiesta of myriad colours, expressions and rich cultural heritage of Rajasthan. The 2-day festival begins with a colourful procession of beautifully bedecked camels against the stunning backdrop of Junagarh Fort. Besides this, folk dance performances, fire dance, authentic Rajasthani delicacies, local folklores, puppet shows and firework display are the biggest attractions of this festival. Don't miss to shop exquisite handicrafts, pottery, jewellery and rare delights.
Surajkund International Crafts Mela

The Surajkund Mela is held during the first fortnight of February every year, presenting a blissful concoction of vibrant colours, regional and international traditions and crafts. The festival is a celebration of intriguing cultural heritage and folk traditions of India. It also presents a platform to showcase India's and international handicrafts, handloom and art forms. Food courts serving ethnic cuisines from around the world, folk performances and beautiful evening recitals make the festival more intriguing and entertaining.
Rann Utsav, Kutch

Rann Utsav, the celebration of which commences from December every year, is a mesmerising carnival of dance, music and appreciating the beauty of Rann of Kutch. Visitors from across the world stay in exquisite white tents bordering the majestically white Rann of Kutch. Discover the vivid colours, arts and crafts, and unparalleled beauty of the desert in full moon night. Sit back and relax, enjoying traditional music and folk dancing with the stupendous desert as your backdrop.
International Yoga Festival in Rishikesh

The International Yoga Festival in organised annually by Parmarth Niketan Ashram in Rishikesh and attracts visitors from different parts of the world. The root of the festival lies in Yoga, wherein you can be a part of over 60 hours of Yoga classes from masters of national and international repute. From traditional Yoga practices to contemporary styles from premier international Yoga schools, the experience is unforgettable. Every year, thousands of international tourists visit Rishikesh to be a part of this grand Yoga festival.
Hoysala Mahotsava, Halebid and Belur

The annual dance festival is held at Halebid and Belur in Karnataka and attracts thousands of visitors from across the world. The magnificent event is a tribute to India's rich culture and heritage and showcases the exquisite sculptural extravaganza of the majestic Hoysala temples. Well known classical dancers from India and other countries participate in this dance festival, emphasising the richness and glory of this cultural fiesta.
Ellora Festival, Maharashtra
The world-famous Ellora Festival is held in the month of March every year and exhibits India's cultural heritage and diversity in its classical dance forms and music. The event highlights the best talents from across India in the fields of classical music and dance. Being a part of this magnificent music and dance event on the backdrop of 1,400-year old caves and astounding rock carvings would certainly be an experience to cherish forever.
Taj Mahotsav , Agra

Taj Mahotsav – truly a cultural fiesta of India's rich art and crafts, heritage, dance and music, and cuisine! The sheer backdrop of the splendid Taj Mahal, one of the Seven Wonders of the World, adds to the charm and uniqueness of the festival. The 10-day long gala event is celebrated from 18th to 27th February every year at Shilpgram in Agra. It exhibits the best art and crafts, music, dance and cuisine from across the country, showcasing India's intriguing cultural and traditions.
Hampi Utsav, Karnataka

Hampi Utsav, popularly known as Vijaya Utsav, has a rich history that dates back to the period of the Vijaynagar reign. Hampi is a World Heritage Site in Karnataka and the festival showcases cultural extravaganza of India. Internationally acclaimed artists, in the fields of art, dance and music, bring out the grandiose of cultural heritage and royal exuberance, beautifully complemented by the exquisite carved ruins of Hampi. The festival is magnificent and enigmatic, and attracts visitors from all over the world.
29.Chithirai Thiruvizha Festival, Madurai

Chithirai Thiruvizha is an annual festival of Madurai and is celebrated during the month of April. The celebration lasts for one month and is one of the longest festivals of the world. With this grand festival, devotees pay tribute to Meenakshi and Alagar, a form of Lord Vishnu. It is held along the backdrop of famous Meenakshi Amman Temple in Madurai. The greatest attraction is the grand wedding celebration of Meenakshi Amman and Lord Shiva, and is a spectacle to behold.
Modhera Dance Festival

Dance to the rhythm of Garba, a dance form of Gujarat that depicts its glorious culture. Be a part of myriad hues, glimpses and cultures as artists from different parts of the world come together to exhibit India's rich traditions steeped in its dance and music. The famous Sun Temple in Gujarat, nestled along the banks of River Pushpavati, makes the perfect backdrop for this cultural fiesta. Tourists from across the world can have glimpses of various dance forms in India, showcasing its richness of heritage.
Dev Deepawali, Varanasi

The Dev Deepawali, or the Diwali of the Gods, is celebrated in Varanasi, Uttar Pradesh, just fifteen days after Diwali. It falls on full moon in the month of Kartika, or November to December. It is this time of the year that the City of Temples comes alive with immense fervour and zeal, and seems like a true abode of the Gods. The sight of exquisitely bedecked ghats of River Ganga and the evening Ganga Aarti is a spectacle to behold forever. It is truly a celestial manifestation of spirituality, lights and vigour.
Hornbill Festival, Nagaland

The world famous Hornbill Festival is celebrated in Nagaland every year with immense gusto and fervour. The cultural carnival is named after Hornbill, a globally acclaimed bird which is also displayed in Nagaland's tribal folklores. It is truly a stupendous manifestation of cultural displays and traditional extravaganza of the state. The key highlights of the festival are colourful tribal dance and music, traditional arts and sculptures, Naga Morungs Exhibitions, traditional archery, musical concert, cultural medley of various tribes and Naga wrestling.
Goa Carnival

It is Goa's most popular festival and is an extravagant fiesta to eat, drink and be merry. The carnival has a touch of Latin singing-dancing-drinking and is a 3-day extravaganza of limitless fun, frolic and excitement. The huge processions with floats, bands, balls and dances are the biggest attractions of this gala festivity and allure thousands of local and international tourists. The festival is a mark of Goa's cultural exuberance and religious prodigy.
Island Tourism Festival, Andaman and Nicobar Islands
Andaman and Nicobar Islands is a famous holiday destination among foreigners and therefore, the 10-day long grand fiesta of Island Tourism Festival is a must-see for foreign travellers. Held during December-January, the festival showcases cultural performances, magic shows, tribal songs and dances and other live performing art forms. Aqua sports, exhibitions of flora and fauna, parasailing and tele-games are added attractions of this carnival.
Deccan Festival, Hyderabad
Indulge in rich cultural heritage and royal exuberance of the Deccan at the famous Deccan Festival. The 5-day long fiesta is held begins on 25th February every year and showcases Hyderabad's crafts, arts, culture and internationally renowned Nawabi cuisine. Cultural programs that include Ghazals, Qawalis and mushairas, shayeris; Pearls and bangles Fair; and Food Fair with authentic Andhra and Hyderabadi cuisines are the greatest attractions of this festival.
Discover intriguing cultural aspects and rich traditions of India with WaytoIndia's special festival tours. Our travel packages are tailor-made to meet your unique needs and budget. We also offer guided tours for groups. At WaytoIndia, we ensure the most reliable, safe and unforgettable holiday experience to take you through a journey of India's true beauty and charm.