Honoured as the 'precious jewel of eternal snow', the mystery of Mount Kailash is always masked in intrigue and legends. Placed in the remote western highland of Tibet, the perennial Mount Kailash (6638 meters) eclipse the entire region. Resembling a snow-capped, symmetrical cone-shaped rock, the mystery of Mount Kailash is mirrored in diverse mythical and fictional works.This blog is first among the series of blogs that share information about Kailash Mansarovar Yatra.
It is lauded as the ultimate pilgrimage destination for Hindu, Jain, Buddhist and Bon religions. Mount Kailash enjoys the unique privilege of being the spiritual epicentre for these all four religions. Every year thousands of devotees participate in Kailash Mansarovar Yatra for their spiritual ablution.
Kailash Mansarovar Yatra
Now let's unveil some legends and secrets of the mysterious Mount Kailash –
Spiritual Importance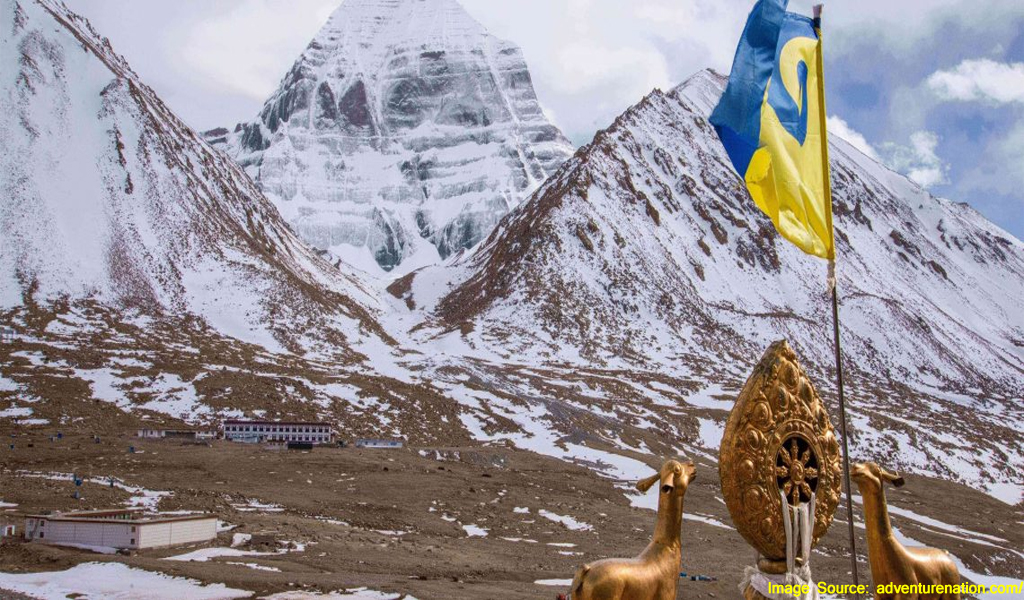 (image Source: www.adventurenation.com)
Hindus pay homage to the abode of Lord Shiva by accomplishing Kailash Mansarovar Yatra, where they participate in the religious pilgrimage known as Kailash Parikrama (53 km. circuit). Jains believe that their religious founder, Teerthankar Rishabh Dev attained the ultimate happiness (Nirvana) in this mountain. According to Buddhist legends, Mount Kailash is a dwelling place of the wheel of bliss and they also believe that the sages responsible for funnelling Buddhism from Tibet and beyond abide by this mountain. In many mythological texts, the mountain is compared to the doorway to heaven.
Topographical Relevance
Correlations of spiritual facts about journey to Kailash Mansarovar  are numerous. Mythicism mentions Mount Kailash is the centre of our world, called Axis Mundi and that it stabilises our atmosphere to keep all living beings alive. It further mystifies us by the bizarre juxtaposition of the sacred peak with the ancient monument, Stonehenge (6666 km.), North Pole (6666 km.) and South Pole (6666 + 6666 = 13332 km.). According to our ancient scriptures, other synonyms for Mount Kailash are cosmic axis, world pillar, and world tree. Another interesting fact about Mount Kailash is that it is located at the heart of six mountain ranges symbolising a lotus.
Impossible Summit
Another interesting fact about Mount Kailash is that it has never been scaled by any mountaineer. Almost 4000 people have passed the Mount Everest (8848 meters) hurdle whereas no mountaineer has ever triumphed over Mount Kailash (6638 meters).
According to our religious anthologies, it is considered a sacrilege to climb Mount Kailash, as it is foretold that you could anger the residing Gods that could ultimately lead to losing your life. The momentous question therefore is, has anyone climbed Mount Kailash? It is believed that the only person who has successfully climbed Mount Kailash is a Buddhist monk, Milarepa who managed this feat 900 years ago. Since then, no expedition to the summit has ever been successful, as the climbers either gets lost or the sudden climate variances halt their journey indefinitely.
Tale of Twin Lakes

The mysterious Mount Kailash also houses two lakes at its foothills, Lake Mansarovar and Lake Rakshas tal. Although these twin lakes are located proximate to each other they are different as day and night, as they represent positive and Negative energy respectively.
The amazing facts about Mansarovar Lake are that it is a freshwater lake that stays calm despite any weather conditions. The lake is shaped like a sun, conveying its representation as solar forces.
Lake Raksha tal, on the other hand, is a saltwater lake that is constantly stormy while representing lunar forces as it is shaped like a crescent moon. Separated by the thin cervix, our Vedas believed that these twin lakes of Mount Kailash represent both good and evil as Mansarovar Lake is considered sacred whereas Raksha tal is renowned as devil's lake.
Time Travel Phenomenon
Miracles of Mount Kailash don't end here, during Kailash Mansarovar Yatra, the devotees have experienced a rapid ageing phenomenon. Their 2 weeks growth rate of nails and hairs are achieved within 12 hours. Many believe that the revered mountain's energy is responsible for this peculiarity.
Tale of Four Faces and a Swastik
The topmost part of this venerate peak has 4 distinct sides and each side faces the 4 directions like a compass. The interesting fact about Mount Kailash is that these trajectories are covered in high-value substances such as the crystal (East), ruby (West), gold (North) and lapis lazuli (South).
During sunset, you are gifted with one of the miracles of Mount Kailash. The devotees of the Mount Kailash Pilgrimage tour are invigorated with a revered vision where the peak casts a shadow that resembles a holy swastika which is a symbol of luck and auspiciousness.
Tale of Four Rivers

Another mystical and spiritual fact of Mount Kailash is that the four sacred rivers of India – Brahmaputra, Indus, Sutlej, and Karnili originate within 100 km. from the mountain and yet they end 2000 km. apart from each other.
Pyramid Theorem
Due to Mount Kailash's unusual shape, the scientific community has led to a series of speculations that the peak could actually be a giant man-made pyramid built in ancient times. Some scientists also believe that Mount Kailash has occulted a complex of hundred smaller pyramids. The idea of the pyramids near Mount Kailash region is not new as Vedic scriptures (Ramayana) have quoted this mountain as a megalithic structure built by celestial beings. The mysteries of Mount Kailash go to the time of Ramayana.
The mysticism of Mount Kailash doesn't end here and even with so many studies and many theories, it is cogitated that no one has ever understood the real reason why it cannot be climbed and what other secrets the revered mountain has stored in its bosom. We could only speculate upon the phenomenon surrounding Mount Kailash and these secrets, mysteries, legends, and myths are a part of this great mountain, however, intimating they may seem. This aura of mystery has beguiled many and one can indulge its curiosity through Mount Kailash Pilgrimage Tour.
How to visit Kailash Mansarovar?
At present, the Yatra to Kailash Mansarovar can be accomplished through the below three modes:
One may fly to Kathmandu, Nepal from where local flights are available to Nepalganj-Simikot. From Simikot, helicopter service takes the pilgrims to Hilsa where the pilgrims cross a bridge to enter Tibet. From Hilsa the buses take the pilgrims to Taklakot. At Taklakot(also called as Burang) after acclimatising with the high altitude area the pilgrims proceed to Mansarovar. Further from here the Yatra is by trekking or mules.
The second less frequented and costly route is by flying to Lhasa in Tibet and from there either taking the Tibetan Rail to Shigaste from where again pilgrims go to Mansarovar by road. Many pilgrims also fly from Lhasa to Ali Airport from where they go by road to Mansarovar to start their journey to Kailash Mansarovar.
New road route to Kailash Mansarovar was opened up via Lipulekh Pass in 2020 that cuts the road trip from about 5 days of trekking to about 2 days of drive up to as much as 2 km short of China border.
Make a memorable getaway with Kailash Mansarovar Yatra with us. Contact us at info@waytoindia.com to know more about Kailash Mansarovar Yatra Tour Package. Also write to us to know about 12 Jyotirlinga Yatra in India.