Madhya Pradesh, the Heart of Incredible India, is a blissful concoction of adventure, culture, and spirituality. Tucked amid Madhya Pradesh's amazing beauty is Pashupatinath Temple Mandsaur.Pashupatinath Mandir Mandsaur, situated on the banks of River Shivna and is one of the most outstanding shrines in the city of Mandsaur.
Thousands of devotees from around the country pay a visit to the temple to seek blessings of Lord Shiva, the principal deity here. The Hindu god is worshipped as Ashtamukhi Pashupatinath, which is the prime highlight of the Mandsaur Shiva Temple.
Pashupatinath Temple Mandsaur
History of Pashupatinath Mandir Mandsaur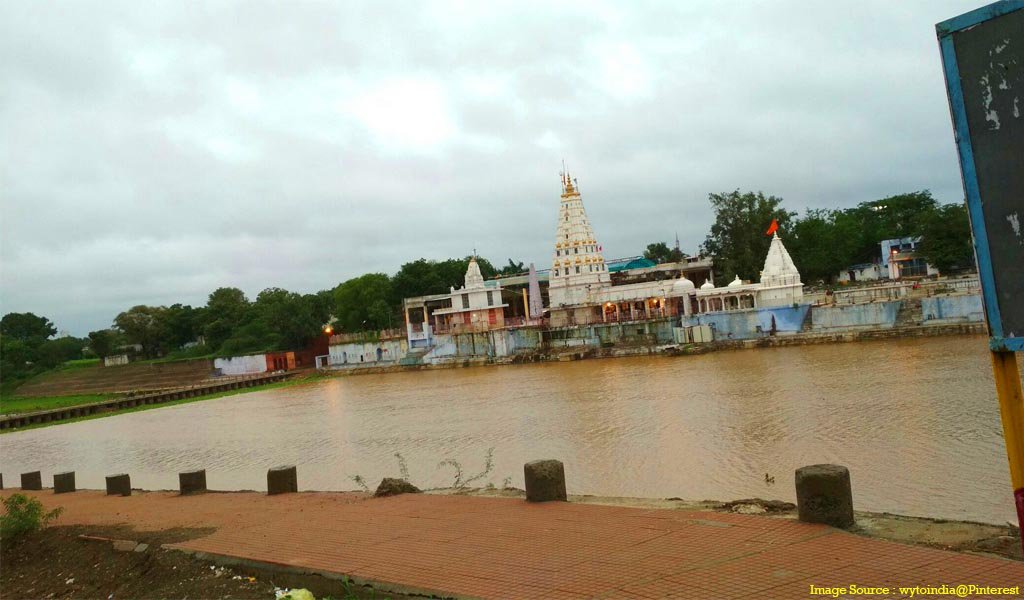 The history of the temple dates back to the Gupta period, during the 1960s. The eight-faced Shiva is a rare iconography and belongs to the 1st millennium CE.
According to the legends, the Ashtamukhi Shiva Linga was found in the riverbed of Shivna by a laundryman, Udaji. He used to wash clothes on a huge stone, almost 15 feet tall, on the banks of River Shivna. One night while sleeping, he dreamt of Lord Shiva telling him that he washes clothes on his idol.
Next day, it was found that the stone on which Udaji used to wash clothes is actually a Shiva Linga. When people of Mandsaur tried to carry the idol to Ujjain, the bullocks did not move a mile.
That night Udaji again dreamt of Lord Shiva instructing him that the temple should be built there only. This is the beginning of constructing Pashupatinath Temple Mandsaur.
According to the Hindu mythology, the Shiva Linga reached Mandsaur's Tapeshwar Ghat on Sunday. After 21 years, 5 months and 4 days, it was incarnated on Monday. The day of incarnation is celebrated in the form of a Mela, which attracts heavy footfall from the surrounding areas.
About Shiva Linga At Pashupatinath Temple Mandsaur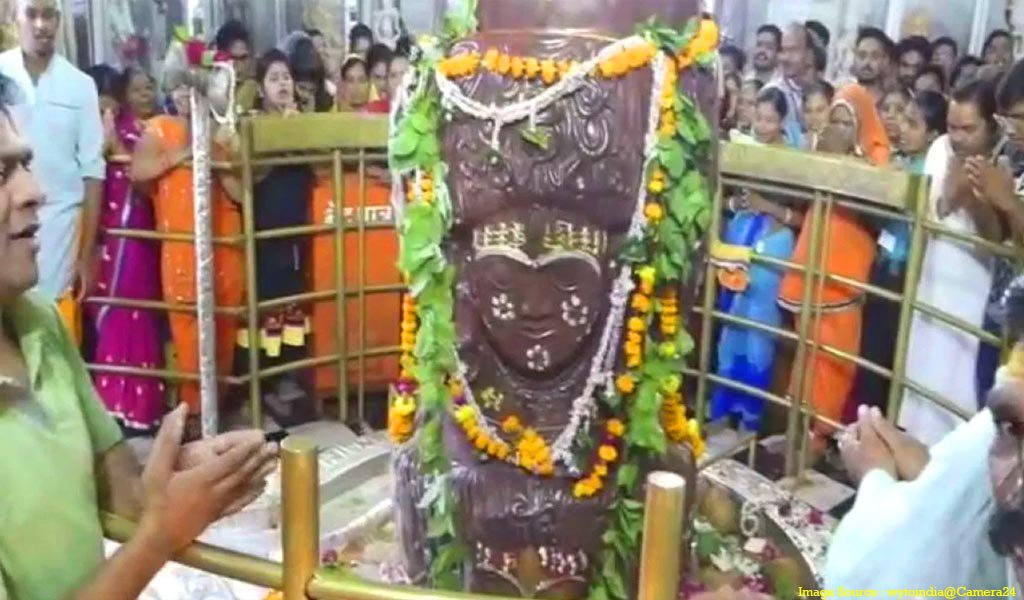 One of the most striking features of Pashupatinath Mandir Mandsaur is its Ashtamukhi (eight faces) Shiva Linga. It is likely from the 1st millennium CE and was discovered in the Shivna River.
The idol is 4.5 metres (15 kg) tall and weighs 4.6 tons. It is a rare and unique sculpture of Lord Shiva, wherein there are two sections. The upper section of the Linga has four heads, while there are four other heads carved below in the lower part.
The eight faces symbolise different aspects of Lord Shiva according to Shaivism theology: Mahadeva, Pashupati, Bhavam, Isana, Ugra, Sharva, Asani and Rudra.
All the faces have wide open eyes, with a third eye on their forehead. Each adorns jewellery such as necklace, earrings, etc. They have intricate hair that probably symbolises the unique culture of its time.
An unusual phenomena related to the Shiva Linga is that every monsoon, the water level of River Shivna rises 90 feet only to touch the idol of Lord Shiva. This is termed as Jalabhishek, i.e. worshipping the God with water.
Best Time to Visit Pashupatinath Temple Mandsaur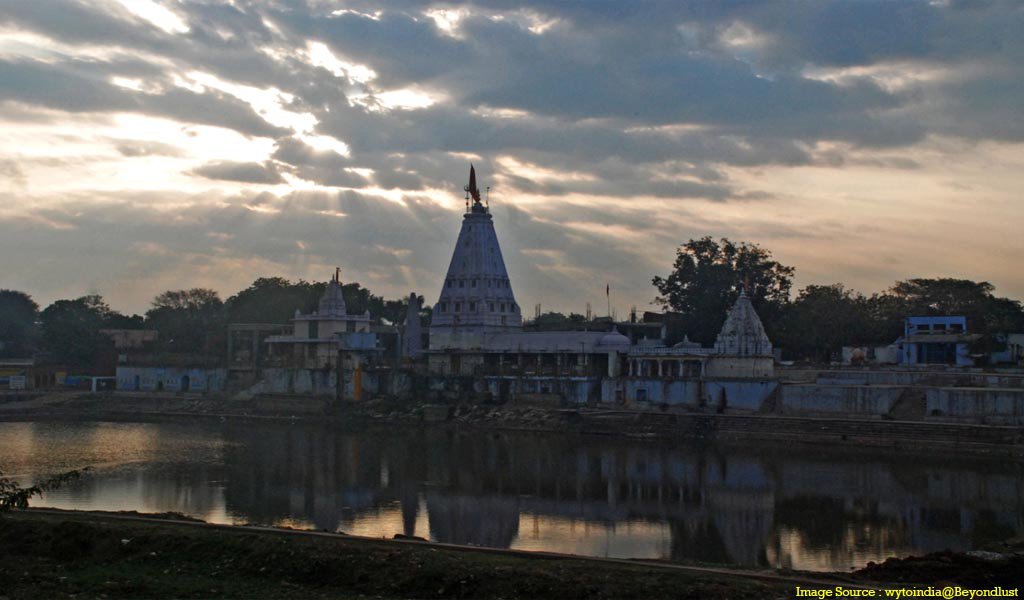 October to March is the best season to visit Mandsaur Shiva Temple. The weather condition during this time is pleasant and one can witness the gala festivity of Maha Shivaratri and Kartik Ekadashi held during the months of October and February. Monsoon brings heavy rainfall in Mandsaur and it is better to avoid visiting the temple during this season.
Temple & Puja Timings Of Pashupatinath Mandir Mandsaur
The Pashupatinath Temple Mandsaur remains open 7 days in a week, from 6 a.m. to 8 p.m. One can offer prasadam to the almighty in the morning or in the evening. Prasad timing of the temple is from 12 p.m. to 2 p.m.
Festivals
The pious occasion of Maha Shivaratri is celebrated with immense pomp and grandeur at the Pashupatinath Mandir Mandsaur. It is the most important festival here and is typically held during the month of February. The festival attracts thousands of devotees who visit the famous shrine to seek the blessings of Lord Shiva. The pilgrims pay homage to Lord Shiva by offering Bilva leaves, fasts and night long prayers.
Another popular festival celebrated in this temple is Kartik Ekadashi. The festivity takes the form of Margashirsha Fair, held annually in the month of October or November. Be a part of these celebrations that exhibit India's rich spirituality and cultural heritage.
Location & How to Reach Pashupatinath Mandsaur
The famous shrine is nestled on the banks of River Shivna in the city of Mandsaur, Madhya Pradesh. The city was once a part of the princely state of Gwalior. Mandsaur is well-connected to other major cities of the country via airways, train and by bus.
By Air: The Pashupatinath Mandir Mandsaur is easily accessible via domestic flights from across the country. Mandsaur does not have its airport, but one can board a flight till Maharana Pratap Airport in Dabok, Udaipur, and reach the city via train. The distance from Dabok Airport to Mandsaur is 145 km. Other nearest airports are Indore Airport (209 km) and Bhopal Airport (342 km). From the airport, one can board a train or bus to reach the Mandsaur Shiva Temple.
By Train: Other major cities of India have regular trains connected to and from Mandsaur Railway Station, making it easy & quick to visit the shrine. Actually, it is advisable to search for a train up to Ratlam Junction from where there are several trains for Mandsaur which take about 1.30 Hours.
If you consider travelling to Mandsaur via train, here's some valuable information to make the trip hassle-free.
Ratlam to Mandsaur: One of the easiest ways to reach Pashupatinath Mandsaur is via Ratlam city, Madhya Pradesh. The distance between Ratlam Junction and Mandsaur Railway Station is 84 km. There are 19 long-distance Ratlam to Mandsaur trains and vice versa. It takes approximately 1 hour and 42 minutes for Mandsaur to Ratlam trains to reach.
Indore to Mandsaur: One can board a train up to Indore from anywhere in the country and take another Indore to Mandsaur train to reach the temple. The distance is approximately 202 km. There are 3 trains having stoppages at Indore and Mandsaur. To return, Indore-Jodhpur Express is the fastest Mandsaur to Indore train you can avail.
Ujjain to Mandsaur: The distance between Ujjain and Mandsaur Railway Station is 180 km, and has good rail connectivity. There are two Ujjain to Mandsaur trains running daily and 8 trains running weekly between the cities.
Bhopal to Mandsaur: There are several Bhopal to Mandsaur trains, covering a distance of 364 km in an average of 7 hours. Of all these trains, one originates from Bhopal and the rest eight trains have stoppages at Bhopal and Mandsaur. There are also 8 Mandsaur to Bhopal trains for easy commute.
Besides these, there are regular trains running between Mandsaur and other cities like Jaipur, Udaipur, Ahmedabad, Kolkata, Hyderabad, etc.
By Bus: The city is also accessible via regular buses running from other major cities of the country.
Hotels Near Pashupatinath Mandir Mandsaur
For devotees visiting the popular Pashupatinath Temple Mandsaur, there is a good choice of plush hotels, budget accommodation and lodges. If you are looking for 2 or 3-star hotels with modern amenities, Hotel Maruti, Sanghvi Palace and Hotel Dev Residency are ideal choices. Hotel price starting from INR 1999/-.
There are many budget hotels and tourist lodges in Mandsaur, with prices starting from INR 400/- only. Some nice options are Resort Shamgarh, Hotel Mahak Palace, Galaxy Inn and Hotel Samrat.
Where to Eat Near Mandsaur Pashupatinath Temple?
There are several restaurants near Mandsaur Pashupatinath Temple that offer tasty food, good quality and fine ambience. The cuisines served here have unique flavours of Rajasthan, Malwar and Gujarat. Some popular names are Rituvan Restaurant, Hotel Megdut, Tirupati Restaurant, Aashirwad Restaurant and Jain Bhojanalaya.
Places to Visit Near Pashupatinath Temple, Mandsaur
Devotees visiting Mandsaur Shiva Temple can also visit the nearby Nalcha Mata Temple, which is located 3 km from the shrine. Another enchanting place to visit is the Gandhi Sagar Dam. Built on the Chambal River, the dam presents an astonishing sight that you will cherish forever. You can also visit nearby cities like Ujjain, Bhopal and Indore.
You may book your 12 Jyotirlinga yatra by calling us on 8527255991.
Visit the incredible Pashupatinath Temple Mandsaur to behold India's rich spirituality, architecture and heritage.Contact WaytoIndia.com at 85272 55991 or info@waytoindia.com for any kind of inquiry and dedicated service.