You must have trekked the Himalayas or ventured into deep jungles in search of Swayambhu (self-manifested) forms of Lord Shiva. But, Nishkalank Mahadev is one of a kind where you have to patiently wait for the sea to give you the way to reach the historical temple.
Thousands of years ago, people meditated for years to please Lord Shiva who would then appear in front of them, bless them with boons and establish himself in the form of Lingams at those spots. We are the fortunate beneficiaries of those people's arduous efforts as we get to see, touch and worship the divine Lingams almost effortlessly.
This blog on Nishkalank Mahadev Temple shares information about what makes this temple special, how to reach this temple, Where is the temple located and many more questions that might be intriguing your mind.
Nishkalank Mahadev Temple
What's Special about Nishkalank Mahadev Temple?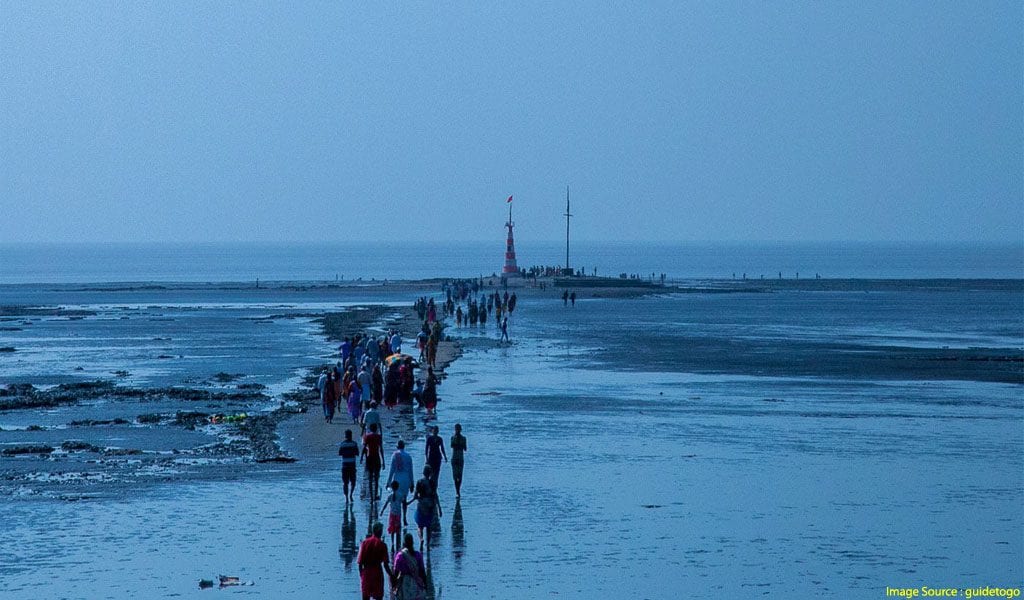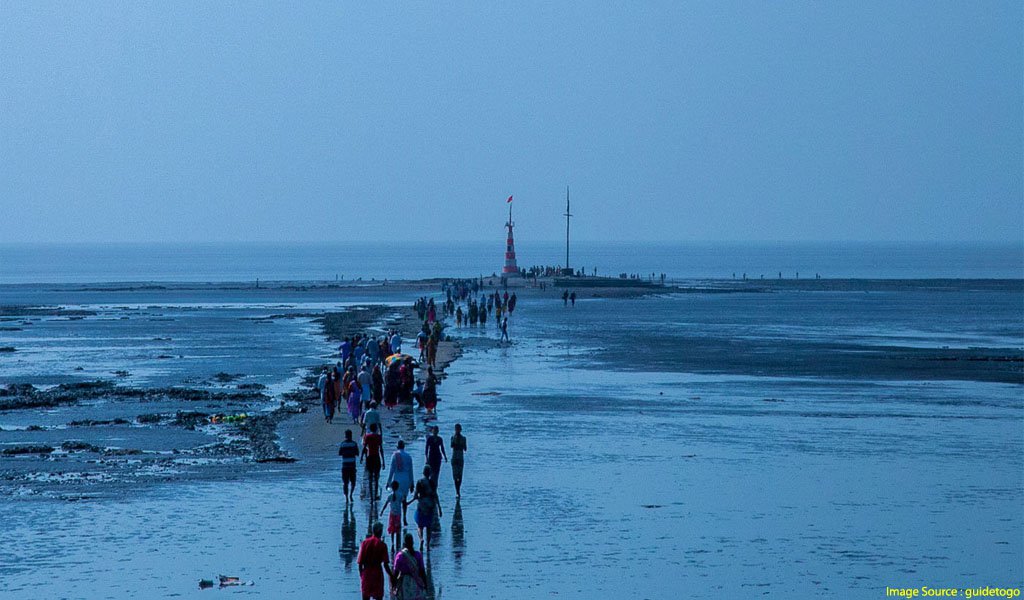 Here, Lord Shiva is worshipped as 'free of kalank' or nishkalank (flawless, pure and sinless). In other sense, those who worship Shiva here get rid of the gravest of sins and flaws.
An interesting aspect of the place is that it hides under seawater during high tide and reappears during low tide. You may consider the sea as a human mind and sea tides as sins or negative thoughts.
When your mind is full of sins and negativity, you fail to recognise Shiva who is believed to reside inside every mind. As sins and negativity begin to recede, you feel the lord residing right in your mind.
Similarly, Nishkalank Mahadev Temple is inaccessible during high tides. As the tides recede, Lord Shiva welcomes the devotees with open arms.
Where's Nishkalank Mahadev Located?
Nishkalank Mahadev is located about 1.5 km. from Koliyaak Beach of Koliyaak Village in the Gulf of Khambhat formed by the Arabian Sea.
The place belongs to Bhavnagar District in the state of Gujarat and is about 24 km. from the city of Bhavnagar which serves as the district headquarters. Some of the other important cities near the temple include:
Rajkot (about 193 km. away)
Diu (about 194 km. away)
Ahmedabad (about 197 km. away)
Junagadh (about 228 km. away)
Vadodara (about 230 km. away)
Somnath (about 278 km. away)
Surat (about 385 km. away)
About Nishkalank Mahadev Temple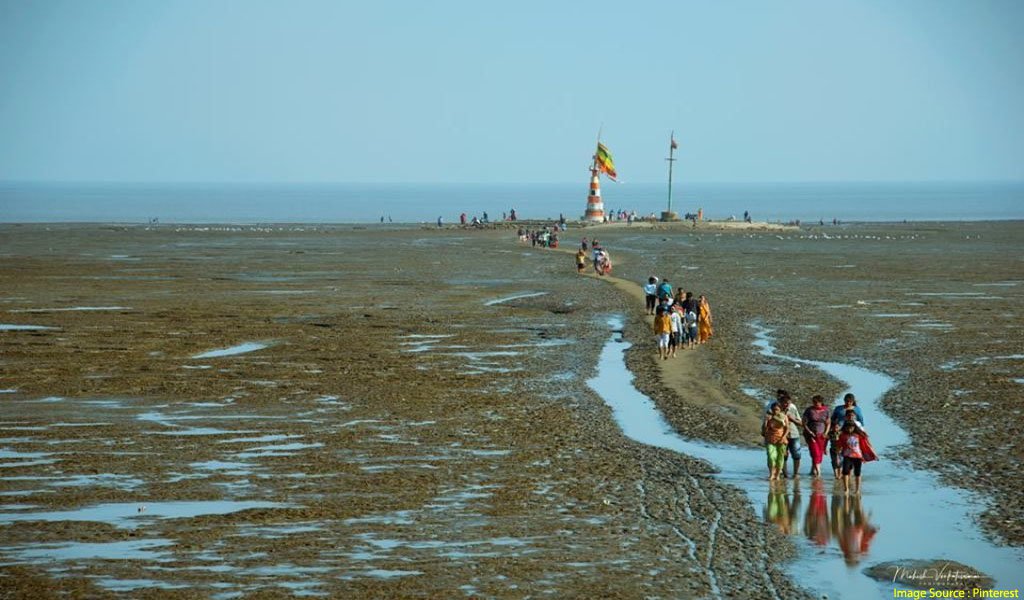 Unlike other Hindu and Shiva Temples, Nishkalank Mahadev is an open-air temple with no walls and roofs.
There are 5 Shiva Lingams, each believed to have appeared of its own, situated on a square platform. Each Lingam has a statue of Nandi (the bull mount of Lord Shiva) facing the Lingam.
In addition, there are statues dedicated to Lord Ganesha (son of Shiva) and Goddess Parvati (consort of Shiva). A 20 ft. high pillar with a flag on the top is a special highlight of the place.
When the temple is submerged under water during high tide, only the flag and a small portion of the pillar are visible from the beach.
The mythology behind Nishkalank Mahadev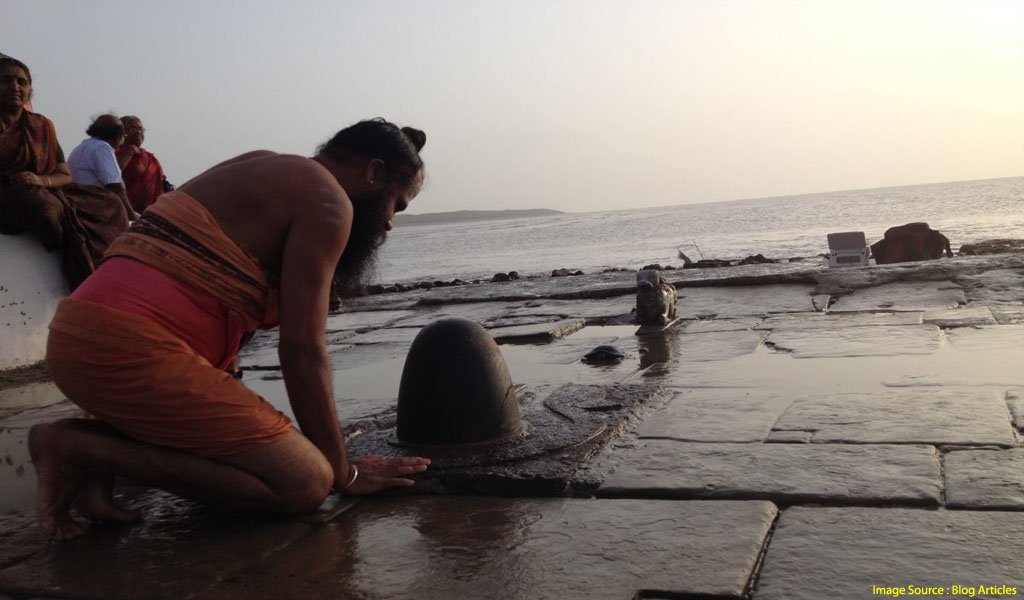 According to the popular legend in Hindu mythology, Nishkalank Mahadev is located on the spot where Pandavas (five brothers, named Yudhishthira, Bhima, Arjuna, Nakula, and Sahadeva) who fought the Battle of Mahabharata against their cousins and other relatives to establish dharma or righteousness.
It is believed that after the killing of their own relatives and extreme bloodshed during the war, Pandavas were grief-stricken and couldn't deal with the burden of sins. Their mentor, Lord Krishna, suggested to them that the only way to get rid of their sins is by pleasing Lord Shiva. He gave them a black flag and a black cow to the brothers and asked them to follow the cow wherever it goes. He also instructed that wherever the flag and the cow turn white, it would be the ideal spot to meditate and ask for absolution from Shiva.
The Pandavas wandered for miles and many months following the cow.
Finally, the cow and the flag turned white near the present-day Koliyaak Beach. All five brothers immediately started meditating at the spot to please Shiva.
After their long penance, Shiva finally appeared individually in front of each of the brothers and granted them forgiveness.
Finally, the lord established himself in the form of five Lingams, each named after the respective Pandava. Since then, the temple attracts devotees who believe that worshipping Lord Shiva here would take away their sins and sorrows as well.
How to Worship the Lingams?
A highlight of Nishkalank Mahadev is a small pond called Pandava Kund. The devotees wash their hands and feet in the pond before praying to the 5 Lingams.
The main items used for worshipping the Lingams include milk, curd, and coconut. You may also carry flowers and bel patra (a kind of leaves that are very dear to Lord Shiva).
Significance of the Flag
The flag on the top of the pillar is never believed to fall or tear, even when surrounded by the violent sea tides. In fact, the deadliest earthquake in the history of Gujarat failed to cause any damage to the place. One flag hoists for 364 days after which it is replaced by a new one and the ritual is performed by the royal family or Maharajas of Bhavnagar. The flag hoisting marks the onset of the annual Nishkalank Mahadev Bhavnagar Bhadarvi Fair.
Bhadarvi Fair
It is believed that the Lingams appeared here on Amas or Amavasya (no moon/new moon day) of the Hindu calendar month of Bhadarva (August of English calendar).
To commemorate the occasion, a fair is held at this place on the same day every year. The devotees in huge numbers throng the place during the fair with the firm belief of seeking blessings and salvation from Shiva on the auspicious occasion.
Immersing the Ashes of Dead Ones
Another popular ritual associated with Nishkalank Mahadev Bhavnagar Gujarat is immersing of the ashes or remains of the dead people in the holy water surrounding the temple. The Hindus believe that doing so grant moksha or salvation to their dead relatives and family members.
How to Reach Nishkalank Mahadev?
By Air: Bhavnagar Airport is the closest one, about 25 km. away from the temple. From here, you can hire auto-rickshaws or cabs to reach the temple. However, the airport offers limited connectivity and that too with the city of Mumbai only. Diu Airport (about 204 km. away) too has air connectivity with Mumbai only. Rajkot Airport (about 198 km.) is connected to Mumbai and Delhi. The best option is Ahmedabad International Airport (about 212 km. away) which has excellent connectivity with all major airport across India and with a few international destinations too. From here, you need to hire a taxi to reach the temple.
By Rail: Bhavnagar Terminus Railway Station (about 33 km. away) offers excellent rail connectivity with the cities like Delhi and Mumbai. After getting down at the station, auto-rickshaws and cabs are the convenient options readily available to reach the temple.
By Road: Roads leading to Bhavnagar and further to Nishkalank Mahadev Temple are in good condition. You can travel in state transport buses from many cities including Ahmedabad till Bhavnagar and then continue the journey to the temple by local transport options. Taxis and private cars from any part of India can help you directly reach the beach.
From the beach, you must cover about 1.5 km. to the temple on foot. There's no other way to access it.
Best Time to Visit Nishkalank Mahadev
The place can be accessed throughout the year, though the best time is during winters (October-end to early-March) as the weather is pleasant during this period. It is considered auspicious to visit the temple on Amavasya (new moon day) of every month. Nishkalank Mahadev Temple darshan timings would depend on low tide period.
Top Places and Activities near Nishkalank Mahadev
Takhteshwar Temple (about 30 km. away): Dedicated to Lord Shiva, it is an exquisite white marble structure located on the top of a small hill in the city of Bhavnagar.
Nilambagh Palace (about 31 km. away): Now a heritage hotel, this beautiful palace was built in the 1860s and boast of a terrific mix of Indian and western architectural styles.
Victoria Park Garden (about 29 km. away): Spread over an area of 500 acres, it is a beautiful bird-watching area which is home to the birds like peacocks, tailorbirds, sunbirds, robins, bulbuls and more. Many types of butterflies and a few animals like nilgai can also be found here. The pretty Gaurishankar Lake is located near to the garden. Entry fee is INR 20 per person.
Aksharvadi Temple (about 29 km. away): An epitome of architectural excellence, the temple boasts of intricate carvings, terracotta work, and beautiful paintings.
Khodiyar Mata Temple (about 39 km. away): Dedicated to Khodiyar Devi, it is a popular pilgrimage site in the region. An interesting feature of the temple is arrays of coconuts tied to the tree trunks inside the temple by the devotees.
Palitana (about 76 km. away): One of the two purely vegetarian cities of the world, Palitana is also known for accommodating the world's largest temple complex with nearly 1,000 temples dedicated to Jain Tirthankaras. Most of these are located on the holy Shatrunjaya Hill and are such marvelous marble creations that can leave anyone spellbound. Some of the most popular temples include Samovsaran Temple, Adishwar Temple, Adinath Temple, Chaumukh Temple, and Narsinh Kesharji Temple. It is a must-visit attraction near Nishkalank Mahadev.
Blackbuck National Park (about 76 km. away): Located in Velavadar, the park is home to blackbucks as well as other animals like wolves, bustards, foxes, jackals, lesser floricans, hyenas and more. Entry fee is INR 20 for vehicles with 6 Indians and $20 for vehicles with 6 foreigners.
Mahuva (about 89 km. away): A picturesque beach town, Mahuva is known as the 'Kashmir of Saurashtra' for its eye-pleasing beauty. Coconut groves, lush green farms, and peaceful beaches are the top highlights here. Also, there are some popular temples like Tatkaleshvar Mahadev and Bhavani Mata Mandir.
Facilities near Nishkalank Temple
Accommodations: good accommodations can be found in the city of Bhavnagar. Hotels offering decent rooms starting at INR 1,500 can be easily found.

Those who are looking or luury hotels, can book Efcee Sarovar Portico ,Bhavnagar, located Opposite, Victoria Park Rd, ISCON Mega City, Near, Vidhyanagar, Bhavnagar, Gujarat 364002, Contact Number +91 27 8241 2222 .
Those who wish to book a mid-price hotel may book Top3 Lords Resort Bhavnagar, Located at Plot No.1&2, Budhel – Vertej Cross Road, Near BPCL Petrol Pump Bhavnagar, Budhel, Gujarat 364002 with contact numbers +91-0278 2883071 , +91-0278 2883072.
Those looking for budget accommodation may book Narayani Heritage, Bhavnagar located at Neelambaug Palace, Near Kumar Sala School, Dairy Road, Bhavnagar, Gujarat 364002 with contact details +91 278-2424241 / 278-6453005/ 278-6453002.

Food: At Koliyaak Beach, one can find street food and refreshing coconut water. At Bhavnagar, one can relish the delicious Gujarati cuisines like fafadiya ganthiya and bateta bhungala. The food can be spicy. There are some decent eating places located across the city.Rasoi Dining Hall located near Madhav Jyot, Kalubha Rd, Opp. Gokul Sweets, Kalubha Rd, Bhavnagar, Gujarat 364001 is a fantastic option if you wish to try Gujarati Food.Sankalp located at Shop No 108, 1st Floor, Eva Surabhi Complex Opp. Swaminarayan Temple, Waghawadi Rd, Bhavnagar, Gujarat 364002 is a good option for South Indian food.
Shopping: Gujarati-style intricate jewellery is among the top items to buy in Bhavnagar. You may also look for local handicrafts, especially clothes.
Travel Tips for Nishkalank Mahadev
The most important thing is to know the Nishkalank Mahadev Temple timing. Usually, the period begins around 09:00 a.m. and lasts till 02:00 p.m. on days starting from new moon day till the eighth day. From the ninth day to the fourteenth day, the period extends from around 04:00 p.m. to 07:00 p.m. On full moon day, it is almost impossible to reach the temple. Make sure that you don't take any risk and take advice from the local people regarding the best Nishkalank Mahadev Temple timings.
Koliyaak Beach is unsafe for swimming due to violent water.
Be careful of crabs while navigating the path to the temple.
As the water recedes, the sand beneath it becomes slippery. Make sure you wear the right kind of shoes.
It is recommended to walk on the small water channel rather than the slippery sand for better convenience.
Sharp pebbles and pieces of broken glasses may cause injuries. Avoid covering the path barefoot.
Various items for worshipping the Lingams are easily available near the temple as there are many vendors who come here every day. Some of them also take their items on push-carts till the temple.
Many priests are also available at Nishkalank Mahadev Temple Koliyak if you need assistance to perform prayers and rituals. Unlike other Hindu temples, priests here are non-demanding.
Avoid taking any kind of plastics to the sea. After the water returns, plastics thrown at the temple would pollute the sea.
During winters (December-February), one can find migratory birds like flamingos in addition to the native seagulls. You can buy small stuff being sold at the beach to feed them.
Visiting Nishkalank Mahadev Temple Bhavnagar Gujarat is indeed a once-in-a-lifetime opportunity. If you get the chance, grab it with both hands.
We can make all arrangements if you wish to visit Nishkalank Mahadev Temple Bhavnagar.
Those Shiv Bhakts who wish to visit 12 Jyotirlinga Tour Package, may call us on 8527255991 or write a mail to us on info@waytoindia.com.
Another article that may be of interest to you is about Somnath Dwarka tour package that makes you visit two of the most important temples of Saurashtra.
You may also book Badrinath helicopter service with Waytoindia by sending us a mail on info@waytoindia.com.