Temples of South India exhibit sheer grandeur, magnificence and religious ethnicity.Listed here are famous temples of South India that display breathtaking architecture which stands as a strong backbone of South Indian culture and traditions.  Listed here are top places to visit South Indian temples that are renowned for magnificent temples and unparalleled architectural splendour.
Temples of South India
1. Tirupati, Andhra Pradesh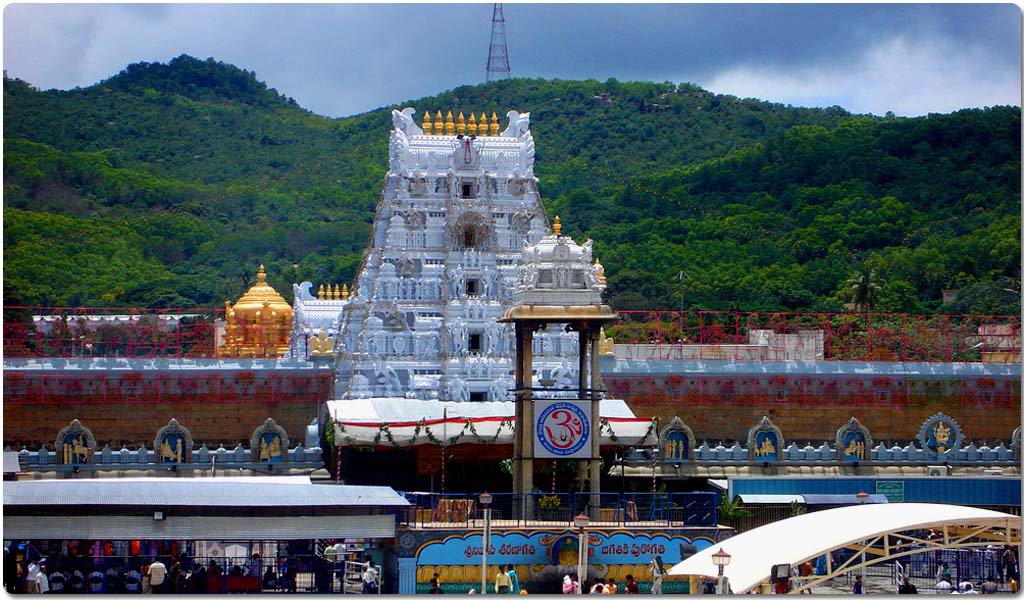 Tirupati is situated 67 km from Chittoor in southern part of Andhra Pradesh, and is renowned worldwide for its historic Tirupati Temple. It is the most popular and richest temple in India, presenting the most acclaimed shrine of Sri Venkateswara, the Lord of Seven Hills. Tirupati Temple features splendid architecture that will leave you spellbound and thus we have added it to the list of 9 Places to See Magnificent Temples of South India . Besides, there are other beautiful temples in Tirupati such as Padmavati Devi Temple, Sri Govindarajaswami Temple, Kodandaramaswami Temple, and Sri Kapileswaraswami Temple.
2. Kanchipuram, Tamil Nadu


Kanchipuram is renowned as the "City of a Thousand Temples," boasting splendid architectural beauty and rich cultural heritage that dates back to the era of Pallavas, Cholas and Vijaynagar kings. Here, one can find temples of both Vishnu and Shiva, built by different rulers of the Pallava dynasty, Cholas, Vijaynagar, British and Muslims. Some of the most prominent pilgrimage attractions of Kanchipuram are Kamakshi Amman Temple, Kailashanathar Temple, Kumara Kottam, Ekambareshwar Temple, Ulahalanda Perumal Temple, and Varadaraja Temple.All these reasons have made us list Kanchipuram in 9 Places to See Magnificent Temples of South India.
3. Mahabalipuram, Chennai


If sheer architectural magnificence and cultural heritage astonishes you, Mahabalipuram is the place that will mesmerize you with its awe-inspiring Mahabalipuram Temple. The temples in Mahabalipuram exhibit enchanting transformation from splendid rock-cut architecture to mesmerizing structural building. The artwork represents man-made caves, rathas, structured temples, and open air bas-relief, with sculpture that depicts stories of day-to-day life. Some of the most popular temples here are Mahabalipuram Temple, Shore Temple, Rathas, and Mandapas.Thus Mahabalipuram is surely one amongst 9 Places to See Magnificent Temples of South India.
4. Madurai, Tamil Nadu


Madurai is one of the ancient cities of South India and a hub of pilgrimage and learning for centuries. It boasts the world-famous Shree Meenakshi Sundareswar Temple that attracts thousands of pilgrims every day. The temple, covering 15 acres, feature 12 towers and 4500 pillars with innumerable breathtaking sculptures. Another popular temple in Madurai is Azhagar Koil, where Lord Vishnu presides as the brother of Devi Meenakshi.
5. Rameshwaram, Tamil Nadu


Rameshwaram is an important pilgrimage center in South India and is often referred to as "Benaras of the South." Ramanathaswamy Temple in Rameshwaram is a magnificent piece of art, featuring the longest pillared hallway in India and astonishing painted ceiling. The presiding deity is Sri Ranganatha or Lord Shiva in the form of Linga. Other pilgrimage attractions in Rameshwaram are Agnitheertham, Dhanushkodi, Gandamadana Parvatham, and Erwadi.
You may book your Rameshwaram tour with Waytoindia.com by sending an enquiry on info@waytoindia.com.
6. Tanjore (Thanjavur), Tamil Nadu


During the era of the Cholas, 70 outstanding temples were built in Tanjore, with the most magnificent one being the renowned Brihadeswara Temple. The temple is meticulously sculpted from stone, with the dome standing proud at a height of over 60 meters. The presiding deity is Lord Shiva. Other prominent temples are Temple of Goddess Bhagavathi, Kumari Amman Temple, Nagaraja Temple at Nagercoil, Temple of Swami Nelliappar and Sri Kanthimathi Ambal in Tirunelveli, and Subramanya Temple.
7. Tiruvannamalai, Tamil Nadu


Tiruvannamalai is a sheer spectacle, presenting one of the largest temples in India, the Arunachaleswara Temple. The temple is dedicated to Lord Shiva and exhibits magnificent architecture, comprising of a massive area, and features three courtyards and nine towers. It is one of the most popularly visited temples in India.
8. Bangalore, Karnataka


The IT hub of Bangalore is also renowned for its magnificent Bull Temple, dedicated to Lord Nandi Bull, Vahana of Lord Shiva. The temple exhibits spectacular Dravidian style architecture and is one of the oldest temples that attract devotees from around the country. The mammoth shrine of Bull is the key highlight of the temple. It also has a Ganesh Temple inside with a massive deity made of 110 kilos of butter.
9. Tiruchirapalli, Tamil Nadu


Tiruchirapalli is home to India's largest temple, the Sri Ranganathaswamy Temple. It is dedicated to reclining form of Lord Vishnu and is spread over a massive area of 156 acres. It features 21 gopuram (towers), where the main tower is 73 meters high and is the 2nd tallest tower in Asia. Tiruchirapalli is also famous for Rock Fort Temple, Vinayaka Temple, and Thayumanaswamy Temple.
To read about famous temples in South India, visit the link https://travel-blog.waytoindia.com/famous-temples-in-south-india/
Waytoindia.com organises regular trips to Temples of South India.For itinerary, you may refer to South India Tour tour plan.
also check out – Top Ten Hill Station In South India