Navagraha Temples in Tamil Nadu are a congregation of nine temples dedicated to Navagrahas – the nine celestial planets according to Hindu astronomy.
The ancient temples date back to the Chola dynasty near Kumbakonam and are among the best temples in Tamil Nadu.In this blog we take you through the journey of Navagraha Temple Tour in Tamilnadu.
Navagraha Temple Tour
              " History of Navagraha Temples"
Legends have it that once Sage Kalava, who had leprosy, was suffering from serious ailment and prayed to the Navagrahas for healing. The nine celestial planets were pleased by his dedication and cured the sage from his pain. This angered Brahma, the God of Creation, as he felt that the Navagrahas do not have the power to provide boon to human beings. He, therefore, cursed that the nine planets would suffer from leprosy and were sent to earth in the white wild flower jungle, Vellurukku Vanam.
The Navagrahas prayed to Lord Shiva to relieve them from Brahma's curse. Lord Shiva said that Vellurukku Vanam belonged to them and the planets would have to grace the devotees who worship them from the place. Each temple is situated in a different village, and is considered the abode of the Navagrahas. Most of the temples are dedicated to Lord Shiva as their primary deity. However, the Surya Temple is dedicated to the Sun God and other Navagrahas.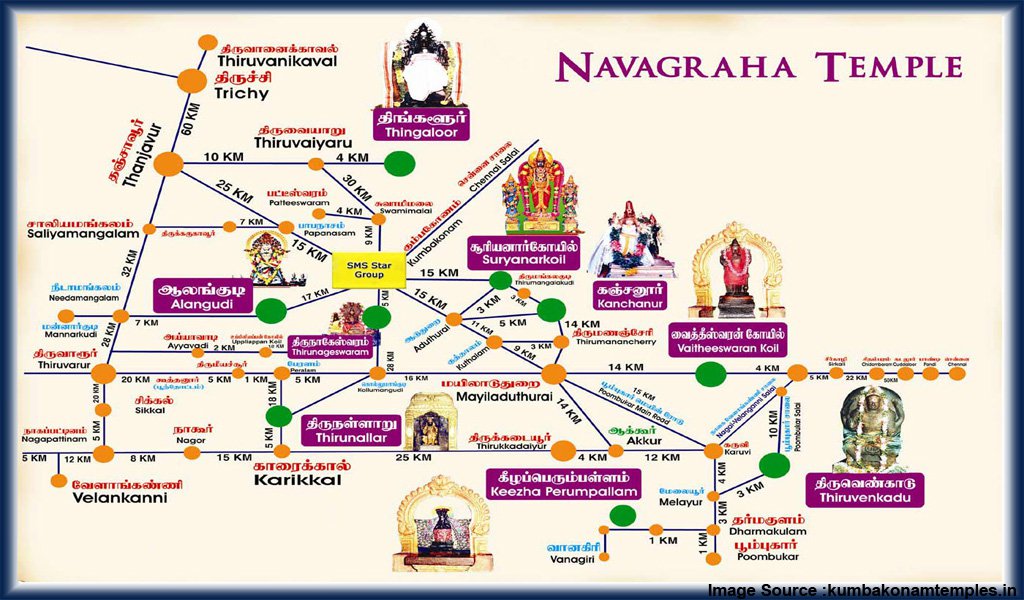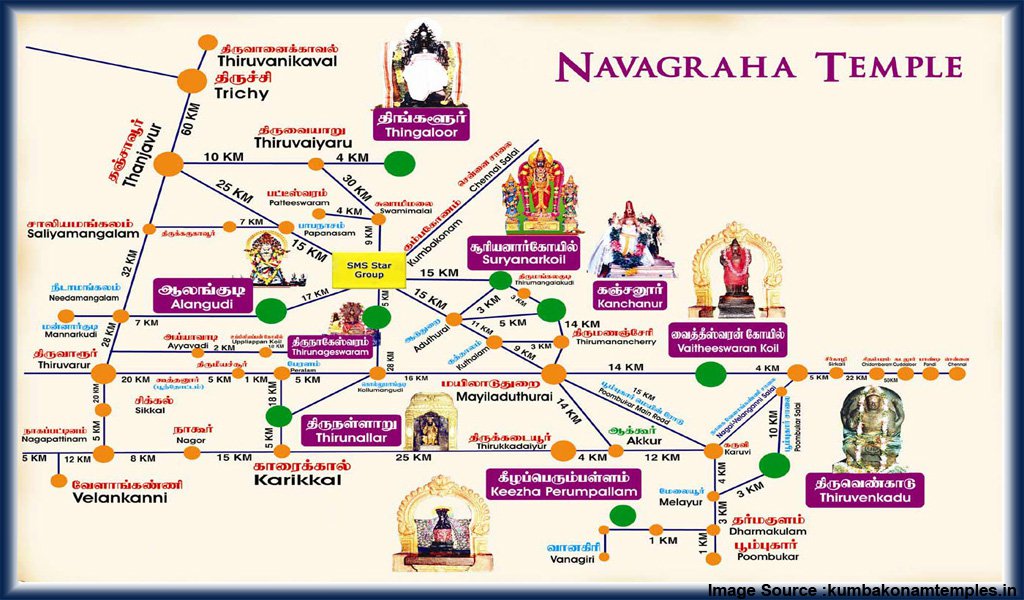 Navagraha Temples
Suriyanar Koil

Suriyanar Koil is an ancient Hindu shrine and one of the Navagraha temples in Tamil Nadu. It was built during 1100 A.D. by Chola king Kulothunga I and is dedicated to Lord Suriyan, or the Sun. Suriyan here presides with his consorts Pratyusha Devi and Usha Devi. It also has separate shrines for the other eight planetary gods as per Hindu astronomy. The temple is built in Dravidian architectural style and has 5-tiered rajagopuram, a gateway tower and a granite wall that encloses all the shrines of the temple. Pongal is celebrated with immense fervour and pomp, and is regarded as Thanks Giving to Lord Suriyan.The Navagraha Temple Tour from Kumbakonam includes a visit to Suriyanar Koil Temple.
Thingalur Kailasanthar Temple 

The Kailasanthar Temple is one of the Navagraha Temples in Tamil Nadu, located in Thingalur, 18 km. from Kumbakonam. The temple is dedicated to Lord Chandra, or the Moon God, the second planet of the Navagrahas. A striking feature of the temple is that it is also a Shiva Sthalam and Lord Kailasanthar (Shiva) and his consort Goddess Periyanakiamman are the primary deities worshipped here. Legends have it that Lord Chandra worshipped Shiva to relieve him from Brahma's curse and gained his blessings. Thus, it is believed that those who have Chandra Dosha can get relief from their pain and suffering by offering prayers at this temple, which is a part of the Navagraha Temple Tour Package.
Vaitheeswaran Koil

Vaitheeswaran Koil or Pullirukkuvelur Temple is one of the nine Navagraha temples in Tamil Nadu and is associated with planet Mars or Angaraka or Kuja or Sevvai, one of the Navagrahas. Like most other Navagraha temples, the main deity here is Lord Shiva as Vaidyanathaswamy and Goddess Parvati as Thaiyalnaayaki. Shiva is worshipped as Vaitheeswaran in this temple which means "Lord Doctor" who has the cure for all ailments in the world. The shrine also has a bronze image of Angaraka or Mangal (Planet Mars) and is worshipped with immense devotion to seek healing from illness. The image is taken out in a procession every Tuesday as it is considered an auspicious day to worship Mangal.A visit to this temple is also a part of the Navagraha Temple Tour Itinerary.
Thiruvenkadu 

Swetharanyeswarar Temple at Thiruvenkadu is the 4th Navagraha Sthalam in Tamil Nadu and is the abode of Lord Budhan or planet Mercury. The presiding deity is Lord Shiva as Swetharanyeswarar and Goddess Parvati as Brahma Vidya Nayaki Ambal. There is also a separate sanctorum for Lord Budhan, who bestowes wealth and wisdom. The unique incarnate of Lord Shiva in the form of Agora Murthi is one of the primary attractions of this temple. The Chariot Festival is one of the most special occasions celebrated in the temple.
Alangudi

Alangudi or Apatsahayesvarar Temple or Guru Sthalam or Tiru Irum Poolai is a Hindu temple dedicated to Brihaspati, or the planet Jupiter or Guru. Like most other Navagrahas in Tamil Nadu, the main deity in the temple is Lord Shiva in the form of Aranyeswara or Apatsahayesvarar and is accompanied by his consort, Umai Ammai. It is regarded as Guru Sthalam and is one of the 275 Paadal Petra Sthalams where Campantar, one of the four most regarded Saivite saints have sung the glories of this temple. The temple is located on the south of the River Cauvery. Lord Brihaspati is revered for his excellence in wisdom, fine arts and education.
Kanjanoor

The Kanjanoor Agneeswarar Temple is one of the Navagraha Temples in Tamil Nadu and is dedicated to Lord Sukran or planet Venus. Lord Sukran is believed to resolve problems related to love, marriage, comforts and beauty, and is worshipped by men for the wellbeing of their wives. Again, Lord Shiva as Agneeswarar is the main deity at Sukran Navagraha Sthalam as it is believed that Lord Agni had worshipped Shiva here. There are several other deities who are worshipped here besides Lord Sukran. Beautiful inscriptions from the Vijayanagar and Chola period and stone images of Sivakami and Natarajar can be seen here.
Thirunallar 

Darbaranyeswarar Temple or Thirunallar Temple is dedicated to Lord Shani or planet Saturn, located in Thirunallar in Karaikal district of Pondicherry. The presiding deity is Lord Shiva as Darbaranyeswarar and is believed to be made of dharba grass. Lord Shani or Saniswarar is also worshipped here and is treated as the door keeper of the temple. The tradition is to worship Lord Saniswarar before entering the main sanctum of Lord Shiva. According to myths, King Nala was once affected with innumerable problems due the adverse effects of Saniswarar or due to Shani Dosh as it is said. The king took a holy dip at Nala Theertham, a water tank in the temple, and got relieved of all evil effects.
Thirunageswaram

Sri Naganathaswamy Temple in Thirunageswaram is one of the popular Navagraha temples in Tamil Nadu and is associated with Lord Rahu. Lord Naganathaswamy (Lord Shiva) and his consort Giri Gujambika are the main deities of worship in this temple, and are enshrined with Goddess Saraswati and Goddess Lakshmi. Lord Rahu is also seen with his consorts Nagakanni and Nagavalli. According to Hindu mythology, serpents Adi Sesha, Kaarkotakan and Dakshan worshipped Lord Shiva here, and therefore, the temple attracts devotees who want to get relieved of Naga Dosha. One of the uniqe features of the temple is that Lord Rahu is seen with a human face, while in other temples, he is worshipped with a serpent face. Another striking aspect is that during milk abhishekam, when the milk is poured over the idol of Lord Rahu, it turns blue and is clearly visible.
Keezhperumpalam

The Naganatha Swamy Temple in the village of Keezhperumpalam is dedicated to Ketu, the shadow planet, and therefore, is also known as Ketu Sthalam. However, the primary deity is Naganatha Swamy or Lord Shiva. In this shrine, Lord Ketu is seen with head of a snake and body of an asura. He appears in divine form, his head as five-headed snake and with folded hands worshipping Lord Shiva. Rahu and Ketu are associated with the legend of the serpent that helped Shiva to churn the Milky Ocean.
Some of the devotees who are short of time so Navagraha Temple Tour in 1 Day or Navagraha Temple Tour in 2 Days.However, we at Waytoindia.com suggest you to spare at least 4 Nights & 5 Days to undertake Navagraha Temple Tour.