Incredible India – the term aptly describes the State of Madhya Pradesh too. We explore in this blog the places to visit in Madhya Pradesh,  located in the heart of India, where cultural boundaries blur to accommodate a delightful concoction of different religions.Wherein, the Hindu, Muslim and Buddhist people live amidst peace and harmony.
Places To Visit In Madhya Pradesh
The rich topography of this land comprising of gently flowing rivers, hilly terrains, lush green carpeted forests, rocky ravines, plain Vindhya plateaus and the intimidating Satpura mountainous slopes adds great allure to the State. Madhya Pradesh is truly the heart of Indian sub-continent.
From the tourist's point of view, let us check out the best places to visit in Madhya Pradesh and their Salient points:
1# Sanchi Monument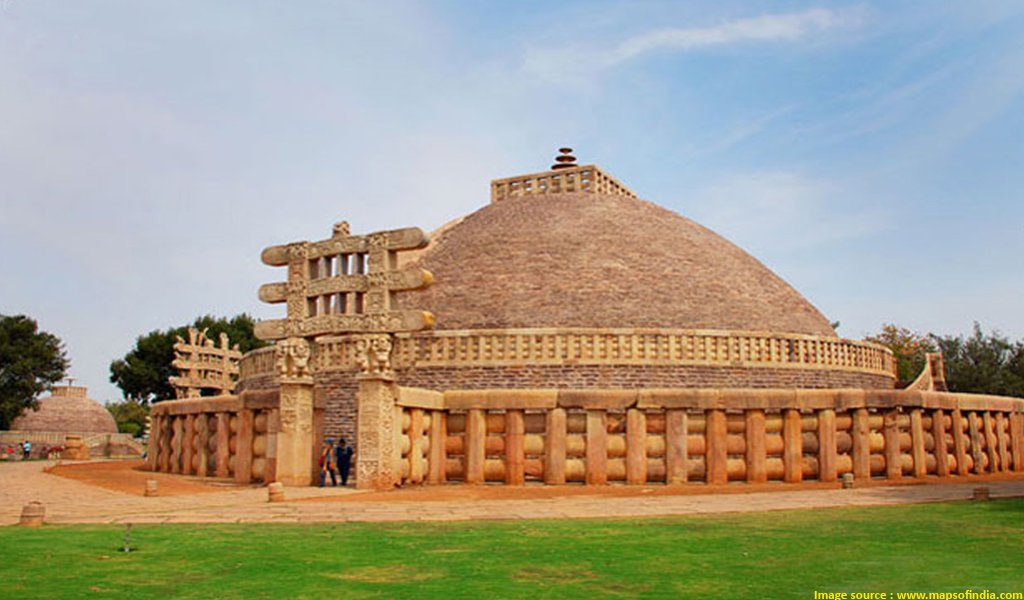 The grand Sanchi monument is counted as one of the popular UNESCO World Heritage Sites from India and is thus one of the most important places to visit in Madhya Pradesh. This stupendous structure is located near Bhopal city of Madhya Pradesh State. Erected by Emperor Ashoka in the third century BC, it is renowned for its monolithic pillar, beautiful temples, stupas and artistic grandeur. The ancient structure in Sanchi also known as the 'Great Stupa', which was constructed using special kind of hemispherical bricks adorned with a Chatra crown on top.
Chief Attractions– The Sanchi Stupa is a well-preserved monument with due respect to the government of Madhya Pradesh for initiating it. Sanchi is a wondrous specimen depicting architectural beauty and olden Buddhist art; it is undoubtedly one of the top 5 tourist places in Madhya Pradesh.
How to reach Sanchi – One can access Sanchi from Bhopal via the nearest airport Raja Bhoj Airport. Sanchi is connected to Bhopal city via trains and bus services to reach Sanchi.
Special Travel Tips for Sanchi: 

While driving from Bhopal, you would be crossing the tropic of cancer, a place where the government has erected a sign for the same.This is a stopover for a photo opportunity.
While you are at the Stupa, walk around the stupa as it is considered auspicious.
Just outside the monument compound is Chetiyagiri Vihara which houses relics of the Buddha's disciples Sariputta and Moggallana.
Do not miss to see 5th Century AD Pillar No 26 related to Ashoka the Great.
2# Khajuraho Temple Monuments

The scintillating erotic sculptures are the greatest draw for tourists visiting the Khajuraho temples located in the South-East region of Jhansi in Madhya Pradesh. The Khajuraho Group of Monuments is also among the list of World Heritage Sites (UNESCO), and thus, one of the best places to visit in Madhya Pradesh.
Built during the reign of Chandela Dynasty Kings (950- 1050 AD), out of the 85 majestic Khajuraho temples, only 20 remain today.  A Khajuraho tour of the temples reveals illustrious imaginative exquisiteness; they were constructed in a unique way amid mesmerising architecture, giant Shikaras and stone carvings.
These Monuments are an amalgamation of Jain as well as Hindu temples subdivided into three complexes – Southern, Western and Eastern. The Kandariya Mahadev temple is primarily a Shiva Shrine with numerous artistic carvings depicting several Hindu Gods, Goddess and others in various poses.
Chief Attractions– Best places to visit in Khajuraho include the structures built inside the three complexes mentioned above, historical museums, art galleries, Panna National Park and Benni Sagar Dam to name a few.
How to reach Khajuraho– One can access Khajuraho by air, the nearest airport is Khajuraho. Train travellers can alight at Khajuraho station while road travellers can catch State or private buses from any city in the State.
Special Travel Tips For Khajuraho: 

Do not miss a visit to Ken Gharial Sanctuary which is also famous for the nearby Raneh Falls.
If time permits, also visit Pandav Falls, where it is believed that Pandavas of Mahabharata fame had spent some time during their Agyatvas (exile). You have to drive to Panna National Park and the falls are located after climbing down rough stairs.
3# Kanha Tiger Reserve

One of the supreme wildlife spots in the Indian subcontinent, the exhaustive Kanha Tiger Reserve is spread over 232279 acres of wilderness. The park is located in the Maikal range covering the Mandla and Balaghat areas of Madhya Pradesh State.
Kanha Reserve has earned its name as one of the best tourist places in Madhya Pradesh comprising of dense bamboo forests, emerald meadows and deep gorges; home to the wild feral animal species.It is surely one of the places to visit in Madhya Pradesh that you must visit.
The Tiger Reserve has attracted animal lovers and adventure enthusiasts worldwide to observe wild species in their natural habitat.The park boasts of sizable wildlife population that includes great Bengal Tigers, ferocious leopards, fearsome sloth bears and groups of untamed wild dog packs.
Chief Attractions– Tourists can enjoy the thrilling jungle safaris, trip to the Kanha Museum and Medicinal plantation in Kanha.
How to reach Kanha National Park – One can access the tiger reserve sanctuary via Jabalpur, at a distance of 156 km. from the Park. Train travellers also have to alight at Jabalpur station to reach Kanha. Several State and private buses also ply towards the Kanha Reserve from Jabalpur.
4# Gwalior City

The historic city of Gwalior in Madhya Pradesh is an important tourist destination with medieval forts, palaces, dam and temples. Standing tall and proud over a massive heap of sandstone, the great Gwalior Fort is the brightest jewel for Gwalior tourism. The Gwalior Fort takes visitors back in time, where battles were fought and heart-wrenching Jauhars of the self-respecting Rajput clans.
There are total six palaces, three holy shrines and water tanks housed within the walls of the gigantic fortress.
Man Singh Palace is one of the grand palaces with the complex, built during the late 14 century, it depicts olden Hindu architecture with large open courtyards and artistically designed apartments.
Chief Attractions of Gwalior– A tour package for Gwalior should necessarily include the Gwalior Fort and Scindias exquisite Jai Vilas Palace amongst other places.
How to reach Gwalior – One can gain access to this tourist city from its own airport dome Gwalior Airport, at a distance of 8 km. from the city centre. There are numerous buses plying towards Gwalior from all parts of India. The city is connected to all major cities in India through Gwalior Junction station and Birlanagar Station.
5# Orchha Village

Orchha village lies near the Betwa Riverbank in the State of Madhya Pradesh, founded in the year 1501.  This medieval village is rich in primaeval culture; the ancient temples and palaces are proof to its past grandeur.
Orchha was the capital of Rajput Bundela in the 16th century period and Raja Mahal is one of the oldest palaces in it. Orchha is a very picturesque place, where visitors can observe an amazing mixture of man-made architectural wonders coupled with natural floral beauty. This makes it one of the places to visit in Madhya Pradesh that should be on any traveller's list.
The laid back and relatively stress-free lifestyle of the locals induce tourists to stop at this remarkable village and enjoy a historic tour of the place.
Cheif Attractions of Orchha: Orchha houses a vintage Rama Raja Temple, where Lord Rama is worshipped in the form of a king. The ancient Raja Mahal and the delicately chiselled Jahangir Mahal with intricately sculpted balconies and dome-like cenotaphs is another tourist spot that garners praise.
How to reach Orchha– Access this quaint village via air from Gwalior Airport, at a distance of 108 km. or also via Khajuraho Airport that is at a distance of 140 km. The closest train station is Barwa Sagar or Jhansi Junction at Uttar Pradesh. Road travellers can catch buses from Khajuraho or Gwalior bus stations.
Discover India's glorious past at heritage structures, catch a glimpse of spirituality at ancient temples or get adventurous on a wildlife exploration; a tour of Madhya Pradesh is unavoidable for global and Indian tourists, who desire to capture the real essence of central India.
Tourists can map out a suitable itinerary to all the major places in Madhya Pradesh such as wildlife sanctuary tour, Heritage temple pilgrimage or Gwalior, Orchha, Khajuraho city tour.
6# Mandu

Located in the Dhar district of Madhya Pradesh, Mandu is best visited in Monsoons, when the lush green hillocks and the exquisite historical monuments reverberate with Cuckoo sounds.One of the not to be missed places to visit in Madhya Pradesh, Mandu is a photographer's paradise in the monsoons when one can capture the reflections of Jahaz Mahal and other archaeological sites in their cameras.
Chief Attractions of Mandu – Some of the must-visit places of tourist interest at Mandu are Jahaz Mahal, Hindola Mahal, Hoshang Shah's Tomb, Rewa Kund, Jami Masjid, Roopmati's Pavilion & Baaz Bahadur's Palace.
How to reach Mandu- the nearest airport is at Indore which is about 85 Kms.Nearest railway stations are Indore & Ratlam which are connected to Mandu from all major metros in India.Road connectivity between Indore and Mandu is also good.
Best Place to stay – Malwa Resort, a property of MPTDC is one of the good places to stay.There are several options including tents out of which one can choose from.
7# Omkareshwar & Mahakaleshwar Jyotirlinga

Among other places to visit in Madhya Pradesh, especially if you are a Hindu are the Mahakaleshwar & Omkareshwar Jyotirlinga.While Mahakaleshwar Jyotirlinga is at the holy city of Ujjain, the Omkareshwar Jyotirlinga is about 80 Kms from Indore.
For those who are not aware of what a Jyotirlinga is,  a Jyotirlinga or Jyotirlingam (Sanskrit: ज्योतिर्लिङ्ग), (Devanagari: ज्योतिर्लिंग) is a devotional object which is a physical representation of the Supreme God Shiva.God Shiva is one of the 3 Gods of the Trinity as per Hindu religion.
For those who have never been to Mahakaleshwar, remember not to miss the early morning Bhasma Aarti at the Mahakaleshwar Temple.Those who wish to book Bhasma Aarti, they may visit the link http://dic.mp.nic.in/Ujjain/mahakal/ where they can book Bhasma Aarti online.
Ujjain shall also be hosting the Kumbh Mela in 2016, so for those of you who are interested in witnessing this great event, book your tickets now.You may also write to Waytoindia.com or info@waytoindia.com to book your package for Kumbh Mela at Ujjain.
How to reach Omkareshwar: You can take a flight to Indore which is the nearest airport or even a train to Indore from most of the metro cities.Further, from there you can either take a taxi or you can go to Sarwate bus stand from where there is an hourly bus that charges about Rs 80/- up to Omkareshwar.However, please note that the bus service between Indore & Omkareshwar is only between 6 am to 12:30 pm.
How to reach Mahakaleshwar: You can take a flight to Indore which is the nearest airport or even a train to Ujjain from most of the metro cities.Further, from there you can either take a taxi.
For those who need any assistance in visiting Omkareshwar and Mahakaleshwar, kindly note that Waytoindia.com organises 12 Jyotirlinga Tour Package each year.To enrol for these tours, you may write to info@waytoindia.com or call on 8527255995.
8# Bhimbetka Rock Shelters

40 Kms from Bhopal are the Bhimbetka Rock Shelters which depict the palaeolithic art.The caves men of the palaeolithic age had made awesome paintings that depict the everyday life of these cave dwellers.Bhimbetka is also one among the places to visit in Madhya Pradesh that are not to be missed.
How to reach Bhimbetka: Bhimbetka is in the Raisen district of Madhya Pradesh and is about 45 Kms from the state capital Bhopal.You can reach Bhopal by air or by train from where a local taxi can be hired for visiting Bhimbetka caves.
While driving back from Bhimbetka to Bhopal, ask your driver to take you to Bhojeshwar Temple which houses a 7.5 feet tall Shiva Lingam.
9# Pachmarhi

Famously known as Satpura ki Rani or Queen of Satpura, Pachmarhi is a hill station in the state of Madhya Pradesh in India.It has been an army cantonment since the days of British Raj in India.It is believed as per the Hindu mythology that Pachmarhi was discovered by Panch or five Pandavas of the Mahabharata fame.Today Pachmarhi is a famous tourist destination where tourists from across India and also abroad visit every year.
Must visit places of tourist interest in Pachmarhi : Some of the must-visit places in Pachmarhi are Rajat Prapat ( a beautiful waterfall) , Dhupgarh ( highest peak of Satpuras), Bansri Bihar, Little Fall, Naagdwari, Draupadi Kund, Mid-Point Of India, Duchess Fall , Pachmarhi Hill , Waters Meet, Patharchatta, Crumps Crag, Lady Robertson's View, Mount Rosa, Handi Kho & Reechgarh.
How to reach Pachmarhi?  Bhopal being about 200 Kms from Pachmarhi is the nearest city with air connectivity to Pachmarhi.Pipariya railway station is the nearest railway station to Pachmarhi which is just about 50 Kms from Pachmarhi.There are also buses between Bhopal and Pachmarhi operated by Pegwar Travels which can b booked online on redbus.in.
Waytoindia.com also organises trips & packages for families and groups for Pachmarhi.For booking a trip, you may write on info@waytoindia.com.
One of the tours that we would like to suggest to guests who wish to visit India is Golden Triangle with Khajuraho Tour. To read more about the tourist places in Madhya Pradesh, you may read our blog on the link https://travel-blog.waytoindia.com/tourist-places-in-madhya-pradesh.